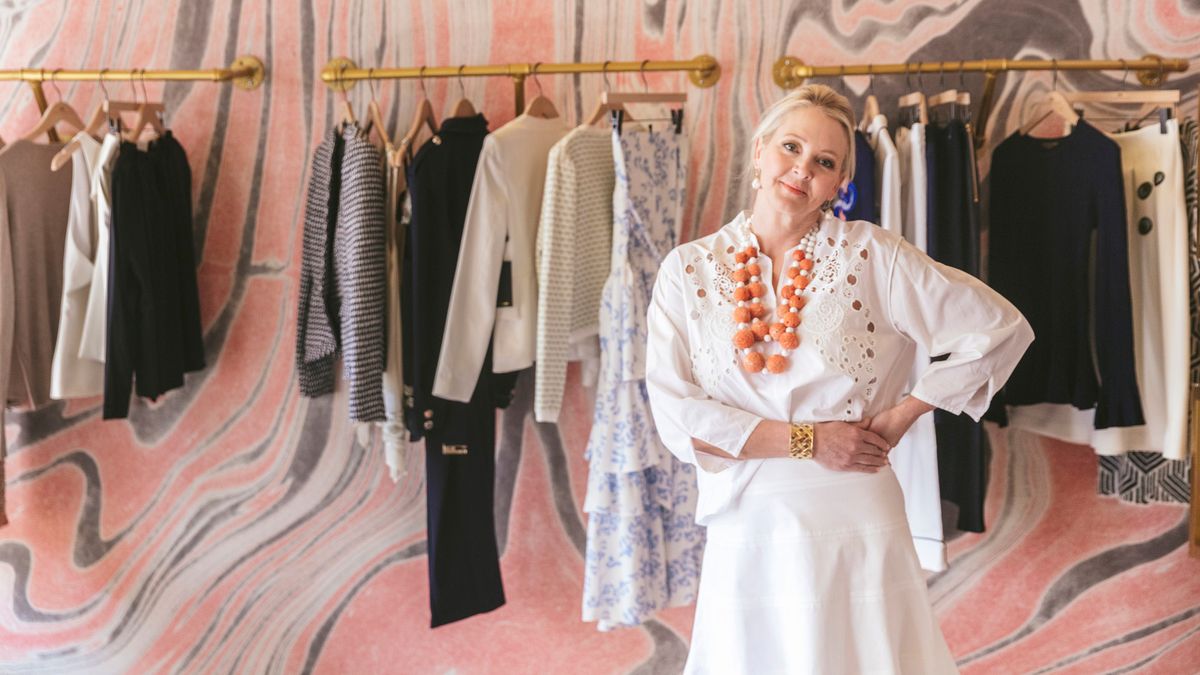 Decor
Everything we learned from her most recent project, and why pink is universally flattering.
With barely two weeks to spare,
Alvin Valley
found himself in need of an interior designer to outfit his pop-up boutique in Palm Beach. The solution was resoundingly clear:
Danielle Rollins
. The multifaceted talent has dipped her toe into so many pools—fashion, journalism, commercial spaces, residential spaces—so her veteran eye is bursting with knowledge. "Creating an outfit is not really that much different than doing a room," Rollins explains. "It's all about scale and proportion and fabrics. I've been doing them so long now that they're sort of interchangeable."
Lucky for us, Rollins is not stingy when it comes to sharing said expertise. Her Instagram is a haven for more than just the beautiful finished product. The designer peels back the curtain to reveal how she actually achieved those impressive layouts. And the DIY concepts are surprisingly and
refreshingly
doable. A stencil painting here, a deep scrub there, a mirror on the wall and voil
à
, your space is transformed. OK, it obviously involved a bit more than that, but you get the gist.
The limitations that stimulated these resourceful tactics were eerily familiar. A time constraint, a limited budget, a small space—sounds just like the last time we decorated our own apartments. Not to mention, the pop-up nature of the store meant that everything had to be easily removable once the duration ended—just like a rental. "When I'm doing these things, I have to think about time, speed, cost efficiency, durability, and then, of course, the wow factor," Rollins tells Coveteur. Below, we've rounded up her best tips for sparking magic with limited resources, but head to her
Instagram stories
for even more of her wonderful intel.
---
Paint Isn't Only for Walls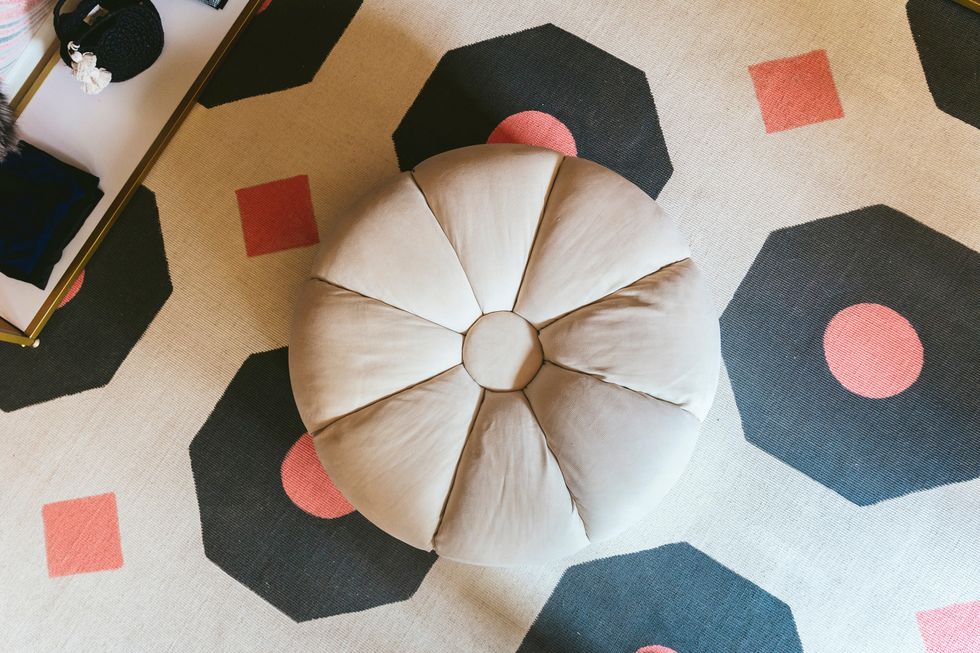 Photo: Nick Mele
"The sisal carpet that was in there was stained and dirty. The time frame for us to take the sisal out, have new sisal done, have something measured, put in, have new pads...I said, 'Well, why don't we just paint it?' He was like, 'I had no idea you could paint it.' Most people probably wouldn't. You can paint anything. I always have this philosophy that there's nothing a bar of soap and a can of paint can't make better. I think it's an old-school trick for people who live in the Bahamas and Palm Beach and those kinds of places. Just give it a fresh coat of paint—it's like putting a Band-Aid on it. That was my solution. My friend
Mary Meade Evans
is the most talented decorative painter I've ever worked with. She did that same hexagon pattern on a floor in my Kips Bay room here in Palm Beach a couple of years ago, so I knew she had the template. I love painting a floor, whether it's a hardwood floor, whether it's carpet, even if it's plain concrete because it instantly updates it and it gives it such a wonderful feeling."
Work Within the Space You Have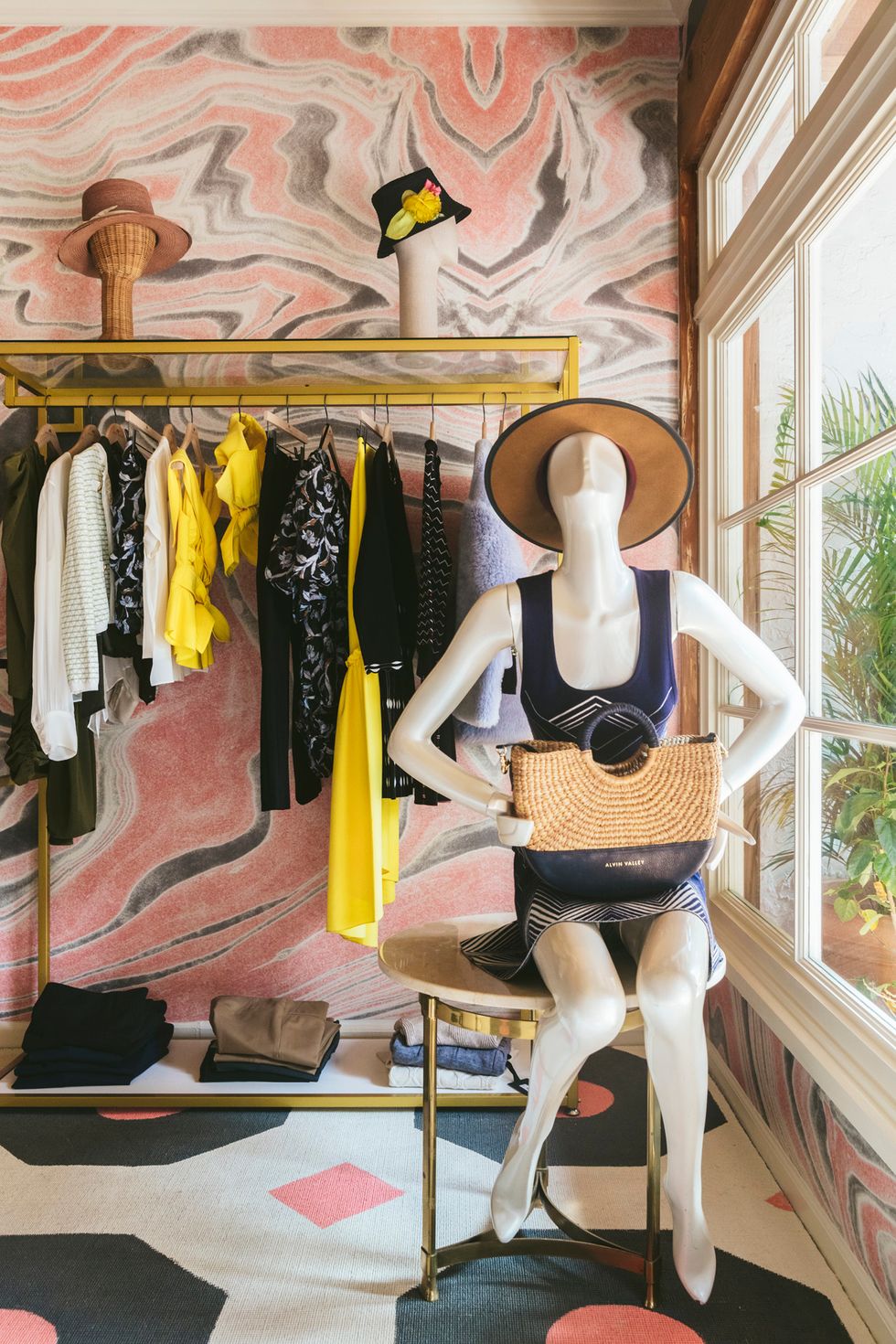 Photo: Nick Mele
"A lot of people get hung up on the details of 'Oh, it needs to have this molding. It needs to have that extra detail.' I'm one of those people who, when designing and decorating, would rather work with what's there and just work quickly so you can get on with enjoying the space."


Lean Into Visual Tricks for Expanding the Space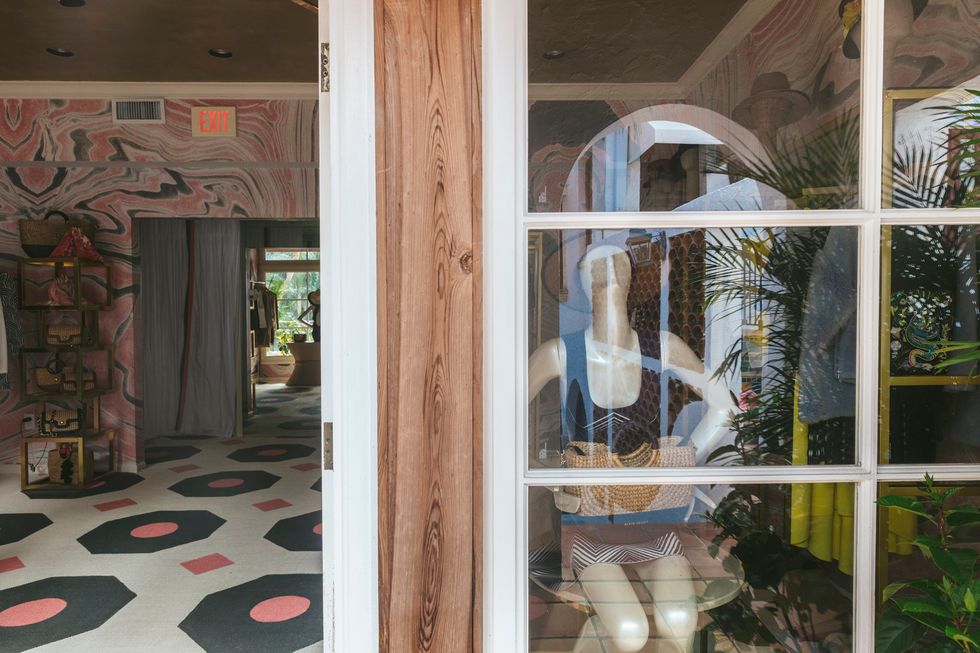 Photo: Nick Mele
"A good thing about painting any kind of pattern on a floor, whether it's hardwood, concrete, whatever, it visually expands the whole field because your eye travels with the pattern and it makes it instantly feel much, much larger than it is. That was also part of the goal because it's a pretty small space."


Mirrors Are Your Friends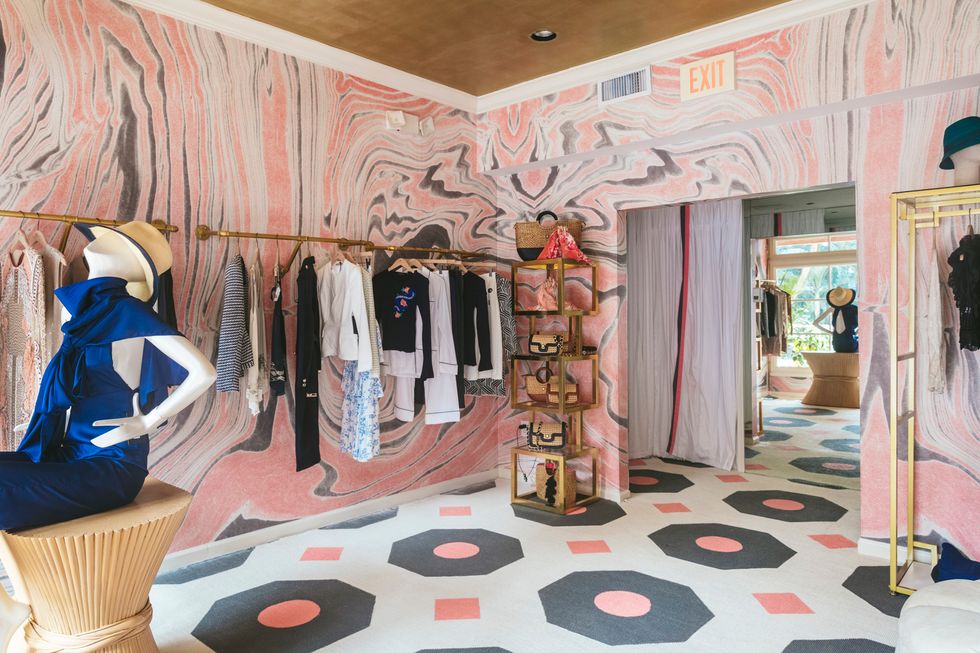 Photo: Nick Mele
"We mirrored that back wall. I was thinking if you came in, it would double the feel of the space because you would be looking into the mirror, but you're seeing all of the courtyard and the palm trees from the exterior all bouncing around. It was about creating a larger-looking space than it is while also making it feel welcoming. I wanted it to pull the outside inside, which is always my goal when I'm working in a tropical environment because there's so much beauty there. Then, half your work is already done."


Wallpaper Doesn't Have to Last Forever
Photo: Nick Mele
"[Alvin Valley] had this marbleized moment he kept thinking about. He wanted it to look like the inside of a piece of quartz or to have the feel of an agate. That's where the wallpaper came in. We worked with this company I love called
Mitchell Black
that does the most beautiful removable papers I've ever seen. They are computer generated. So I gave them the measurements and the pieces came actually cut to that exact space. Then they can come off since it's a pop-up shop."
Ask Yourself What Function the Space Will Serve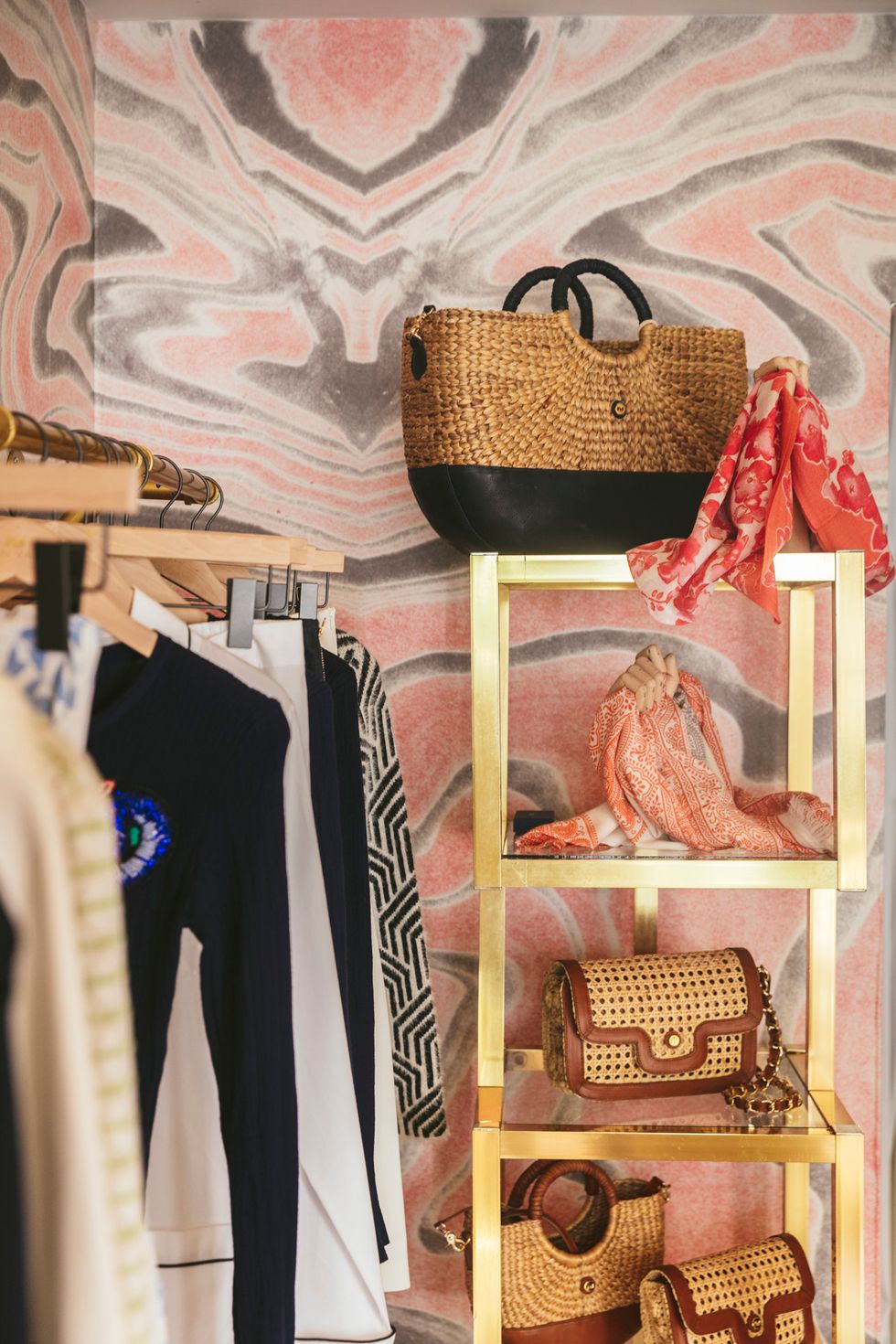 Photo: Nick Mele
"We thought a lot about what was going to be displayed and where and how the mannequins were going to play into it. I was kind of like, 'Oh, if you're going to shop and you're going to be looking here, this is where you can put your handbag.' It was like I do when I'm looking at a home because I always think, 'Oh, if I'm going to be sitting in here, what activity would I be doing? Where's the table? Where is this going?' We were trying to create a space that people wanted to come to just to see Alvin and kind of hang out. But then we also considered how the clothes would really look in that space hanging or folded."


Think Pink!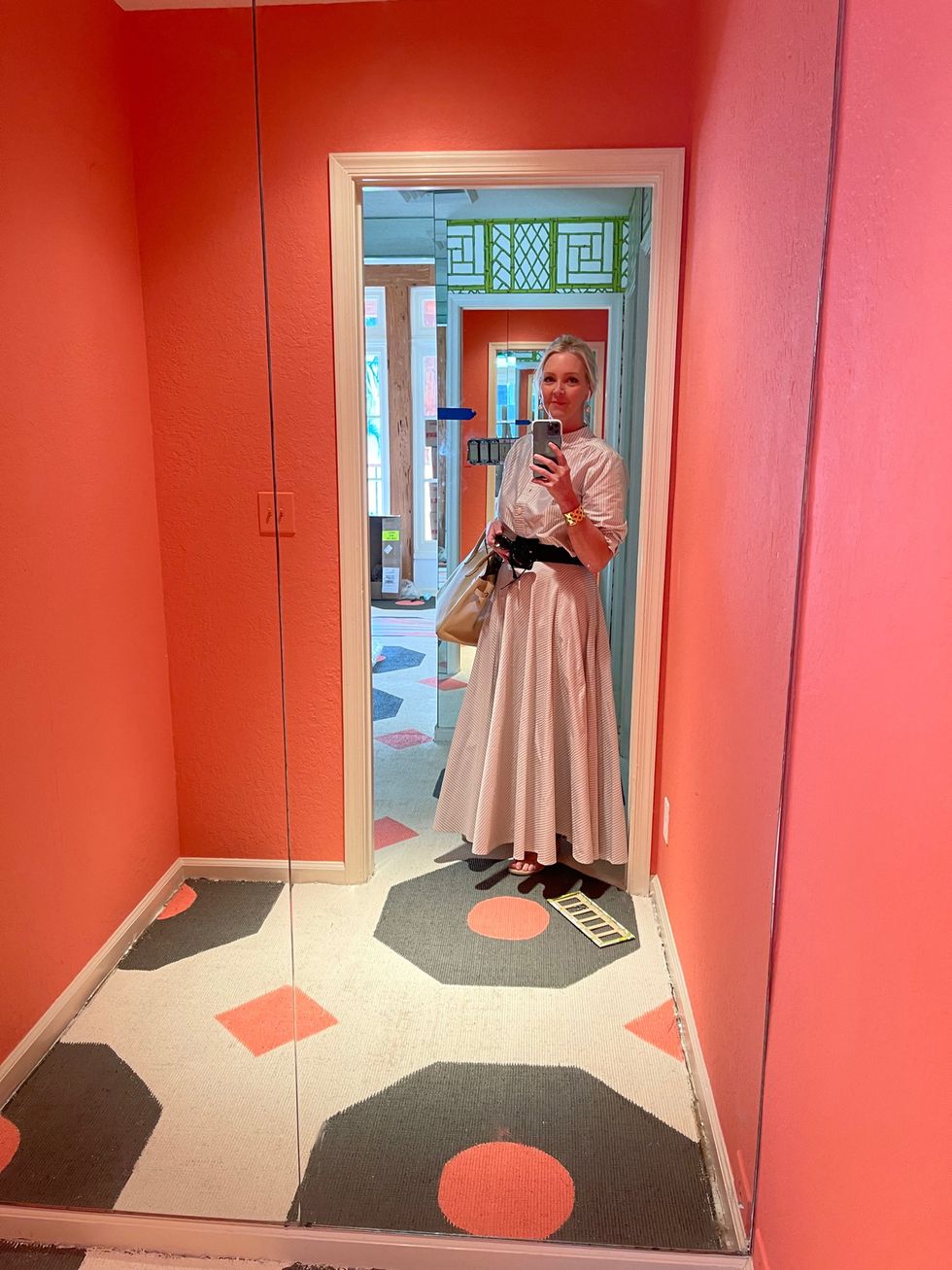 Photo: Courtesy of Danielle Rollins
"Pink is the one color that always makes your skin look unbelievably good, so I tend to use it in dressing rooms and bathrooms. Pink is reflective. It always adds a little rosy glow to your skin. I have a pink bedroom. I've always joked that I'm a single woman so I need all the help I can get. A pink bedroom would certainly do the trick. The color has so many tones, from coral to soft pink to hot pink to a raspberry. It is the one shade that is always flattering to every complexion. If you can put it on overhead or put it in accents, you'll never look dull and lifeless. I tend to almost always do some kind of peach tone in a dining room for that same reason. With the lights, it really gives me a beautiful, reflective glow."
Here's What She Used:
Benjamin Moore
Benjamin Moore
Benjamin Moore
Mitchell Black
Bloem
Yixinhome