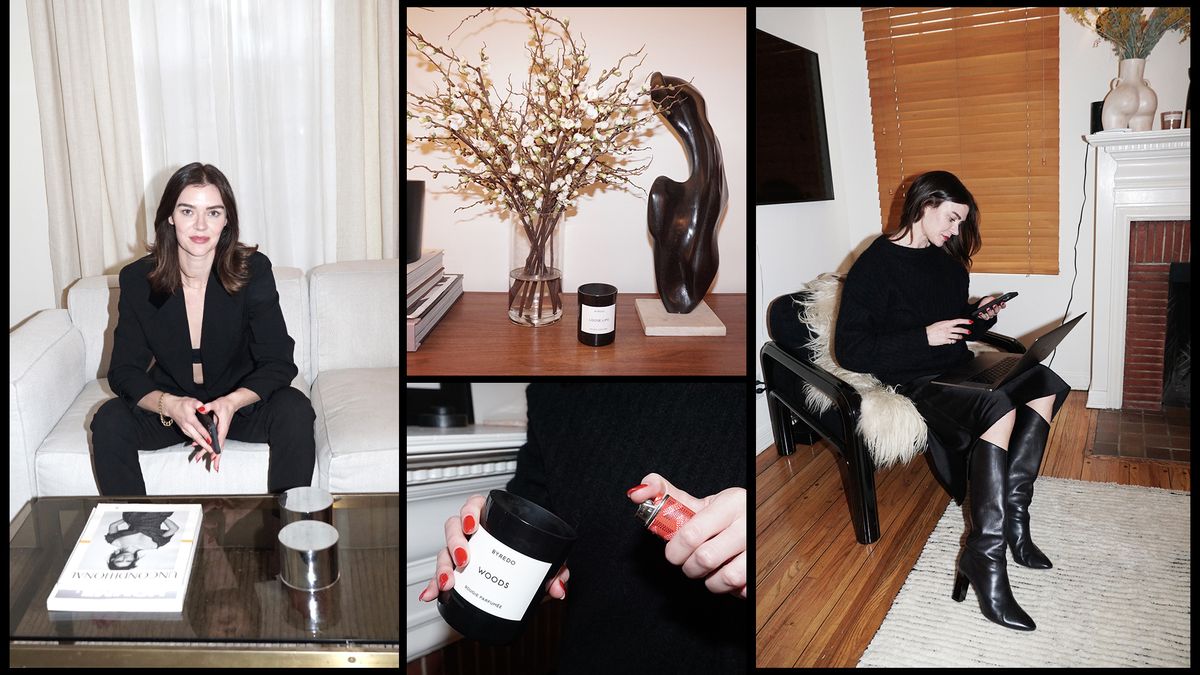 Career
Teamwork makes it all work.
Graphics
Stacey Toth
To say Carrie Barber has had a productive year would be an understatement. After working for the beauty industry's biggest names, the creative director brought her artistic talents and entrepreneurial spirit to
Make Beauty
. While WFH isn't necessarily new to her routine, Barber has found little ways to maintain her sanity. From regimented morning rituals to collaborative sessions with her team, this powerhouse has continued to stay focused and creative throughout quarantine. Read below for her expert WFH tips and hopes for the future of beauty. 
---
How do you start your days?
"I usually wake up around 6:00 or 6:30 AM because I love to take my time in the morning. I make espresso on the stovetop, put on whatever I was watching the night before that I fell asleep to, and take care of anything urgent work-related. Then I work out, take a shower, feed my dog Gio, and start work around 8:30 or 9:00 AM."
Are you incorporating movement or exercise into your routine? If yes, anything you're loving at the moment?
"At the beginning of quarantine it was really hard for me to work out at home and without people. I was very resistant to it, but after a few months I realized how much I needed it for my energy level and mental clarity. I try to work out at least 30 mins a day; throughout the week I cycle through
Core Club Pilates
by Amanda Kassar, FaceTime training with my best friend Marissa Hamera, or
Forward Space
."
Talk to us a little bit about your work environment right now. Are you back in the office, or working remotely from home?

"Before COVID, I was freelancing and worked from home a few days a week, so it wasn't a huge adjustment, initially. As I am new to my role at Make, I found it harder as time went on, and when we started reformulating and redesigning, I really missed being with my team. We just started going back to the office a few days a week. We are all very safe, coordinate who and when will be there so we don't overlap. Right now, with what I am working on for Make, it's very hard to do over video calls, especially the packaging design and product development processes."

What are the most critical things needed for creativity and to survive a workday?

"When I am the most creative, I am having fun. At times I feel very overwhelmed with how much I don't know about building a brand and running a business, but I love the people I work with so much, I could not get through the day without them. They teach me something new every day and we always have a good time doing it. It bears repeating, I 100 percent could not get through the day without them. And GIFs on Slack."

How do you stay focused and motivated throughout the day? Any tricks you can share?

"I have the most energy and focus in the morning. I recently learned that I work best in short intervals. I can't sit for hours working on one thing. I have to switch it up. I make multiple to-do lists so that everything actually gets done. And I take a lot of breaks during the day. I end up working longer days, but it's the only way I get everything done with the focus it needs."


It's a tricky time in our world, and economically speaking, it's unclear what the future holds. How do you foresee this time impacting your industry?

"It's definitely a difficult time, and as it continues to evolve, we have to evolve with it. Beauty seems to be an industry that is thriving throughout the pandemic, but I also think it's challenging e-commerce and DTC brands to innovate and connect with consumers digitally. I still believe in brick-and-mortar retail and believe it will come back."

From a creative standpoint, who or what has been your biggest influence?

"My dad was, and still is, the biggest influence on me. He was kind, hardworking, very creative, and loved to have a good time. He passed away a few years ago, but he continues to be one of my biggest motivators."

Tell us a little bit about your style right now? What's your go-to uniform?

"I fully embraced sweats at the beginning of COVID, but I have always been someone who enjoys dressing up, especially for work. When I had a corporate job, we used to have a uniform and it felt good (and empowering) to dress well for work. Now I get dressed almost every day. It's one of those little things that adds to my mood and self-esteem. Most days it's a big sweater with some worn-in jeans or slacks and a t-shirt. My go-to uniform will always and forever be all black."


Are there any style essentials you rely on for your winter wardrobe?
"If I could wear a jacket or coat year-round, I would. Being in L.A., we don't necessarily have winter, but it does get cold. It's my favorite season here because I get to bring out all the cashmere sweaters, leather pants, and amazing jackets I used to wear when I lived in New York."
Let's switch gears for a minute: Are there any beauty products essential to your day-to-day?
"Ironically, when it comes to beauty, I am very lazy. My skin changed during quarantine, so I had to adjust and add in a few things.
"In the morning I wash my face with
Ayur-Medic Anti-bacterial Wash with Exfoliating Beads
, which was recommended to me by Vanessa Hernandez. I follow with
Vintner's Daughter Active Essence
, which helps with hydration and balances my skin because I used a lot of acids. Then I layer on
Naturium's Azelaic Topical Acid
and finish with
The Plant Ceremide Rich Cream
, also by Naturium.
"At night, I double-cleanse starting with the
DHC Oil Cleanser
on dry skin, followed by
Naturium's Niacinimide Gelée
. Sometimes I leave it on a little longer as a flash mask if my skin needs a little extra love. I then use
Biologique's P50
, the
Hanacure Nano Emulsion
, and end with
Creme de la Mer
."
Ayur-Medic
Vinter's Daughter
Naturium
Naturium
DHC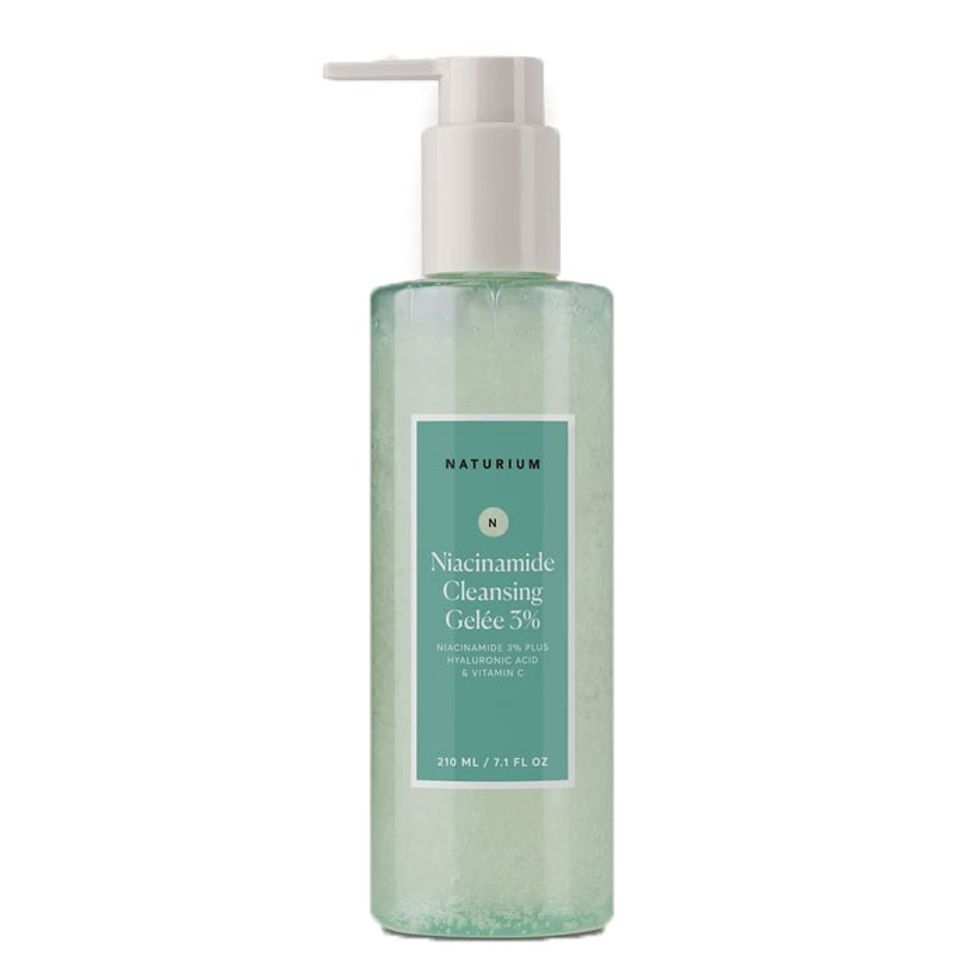 Naturium
Biologique Recherche
Hanacure
La Mer
How do you unwind at the end of the day? Cocktails? Recipe, please!
"The first thing I do when I finish work is FT with my boyfriend, who lives on the East Coast. With the time difference, he is about to go to bed when I finish with work. Then I feed my dog Gio, feed myself, pour a glass of wine, and put on whatever show I am watching, which is currently (and forever)
Mad Men
. I recently discovered
Stanley's Wet Goods
in Culver City, and they have an amazing selection of pet-nat and orange wine, which I love to drink because *hot tip* you can have a glass or two or three without a headache the next morning."
Photos: Ashley Glasson
Want more stories like this?
How This Beauty Entrepreneur Keeps Her Cool and Stays Focused
Beauty Guru Neada Deters Shares Her Holistic Approach to Self-Care
This Female-Founded, Black-Owned Business Boasts the First Drive-Thru Beauty Supply in America