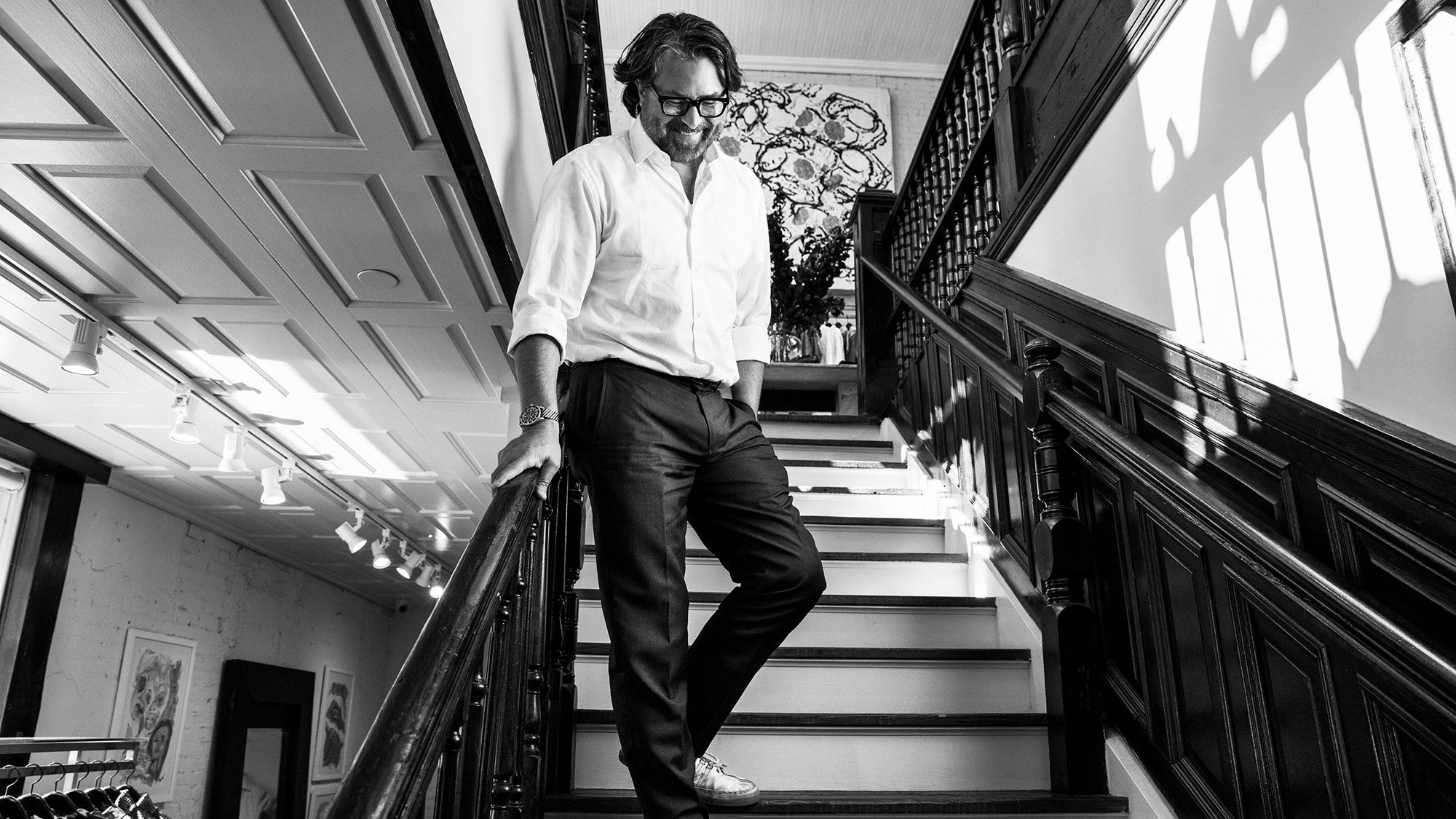 Designers
The Alabama-based fashion cognoscente explains what his label evokes and predicts where style is heading.
As the sun set on a quiet Thursday afternoon, the Southern charm of Billy Reid revealed itself through a computer screen. Typically, the atmospheres he evokes are found at his stores, awaiting customers to explore resplendent fabrics, hues, and decor with a sense of comfort and warmth, but today is different. Reid is connecting with us via Zoom on an iPad from his country cabin—about 20 minutes from his store and permanent residence in downtown Florence, Alabama—to talk about life. After all, anything less would boil this fashion designer down to just a fashion designer, and he is far from only that. What it takes to understand William Reid as Billy Reid is a breakdown of the cultural bits that make him tick—from fashion and food to music and art.

For a brief moment, Reid virtually flips the screen so that I can see where he is positioned. At a window overlooking a serene lake landscape, he sits in front of an expansive, white living room subtly dotted with wood and leather furnishings, a guitar, found objects, and gifted art. Light fixtures above and next to him are adorned by hand with found local driftwood. He's wearing his own label, often cracking a casual smile below black optical glasses and lively wisps of hair. I couldn't help but think in that moment that if there was one human connected to the Billy Reid stores around America, this is him.

I also realize there is no chasm here—between his personal and public spaces. Like his home, his 14 US-based stores elicit a similar mood. Antique objects, lived-in furniture, and rotating art punctuate modern spaces with a sense of lived-in luxury complemented by splashes of Balvenie whisky waiting for relaxed guests in a rocks glass. "I'm home," I think each time I'm in his store.

From his perch, Reid painted a full picture of how far he's come since creating his eponymous label in 1998, how the pandemic has shaped his sense of versatile style, and what we can expect from his brand next.


---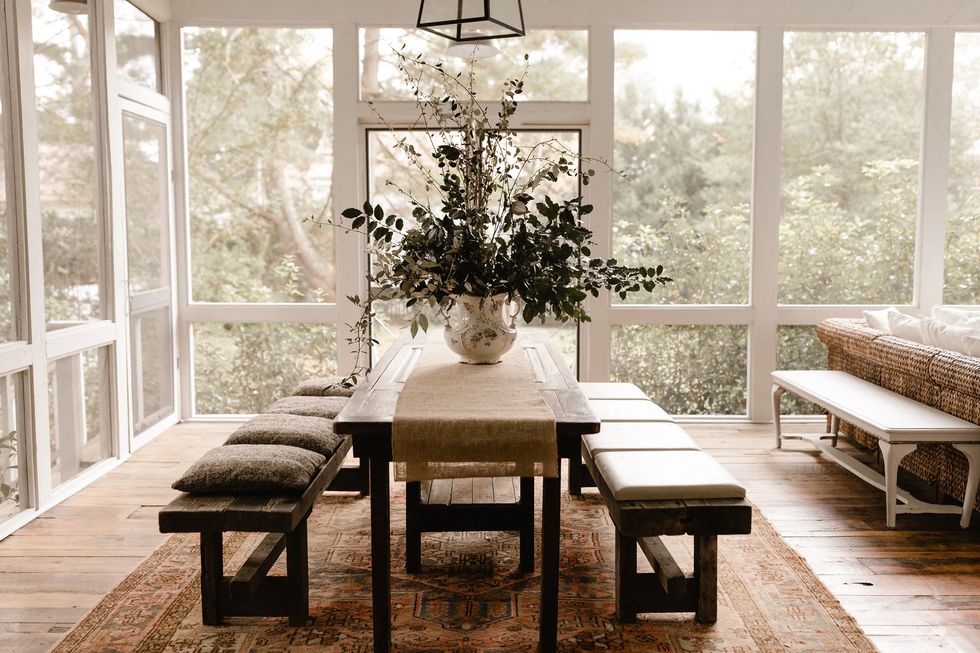 Photo: Courtesy of Billy Reid
As the tale goes, your interest in fashion dates back to your childhood. How did your mother and grandmother influence your vision of style?

"I grew up in a really small town of about 3,000 people in Amite, Louisiana. My mom had a really cool store in the '70s and '80s and operated it for about 20 years. It was literally in my grandmother's old house with a kitchen in the back, so it was really a gathering place. This was back in the first days of Gloria Vanderbilt, Guess, Sergio Valente, Calvin Klein, and Jordache jeans… She was such a great retailer, and more than anything, she was a great host. It was like Steel Magnolias set in a clothing store."

What were your formative years like in fashion?

"I worked part-time in a men's clothing store in high school called The Royal Oak—one of the first stores to carry Ralph Lauren in the South—and still to this day, one of my style icons is the guy who owned the store. Him and his wife were friends of my parents and were the most stylish people. I didn't have any desire to get into fashion though, because I was an athlete and wanted to be a coach. I started as a PE major at Southeastern Louisiana University but flunked out. My mom said, 'You need to get out of here.' So I went to Texas to study fashion design at the Art Institute of Dallas and took a job with Saks Fifth Avenue. It immediately gave me exposure to luxury fashion. I stayed for four years and then quit my job and moved to California without a job because my buddy and I decided we wanted to be actors. I lasted three days."

From there, you worked for Reebok across a number of years and positions, moving with them to New York and Boston before returning to Texas to get married, freelance for new clients, and start your own label. What were those years like?

"I launched William Reid in 1998, and the first season out I only opened two accounts—but they were Fred Segal and Stanley Korshak. I thought we could parlay that into something, so we made a limited amount of production in Italy. It sold really well, and they kept re-ordering; we did trunk shows, and I worked the floor trying to sell the collection. The next season we opened 35 accounts, and things took off. I moved the company to New York and commuted between there and Dallas for three years. We started doing fashion week, I won the 2001 CFDA award for Best New Menswear Designer, and my show right after that was on September 10, 2001. And then everything unraveled. Everything fell apart."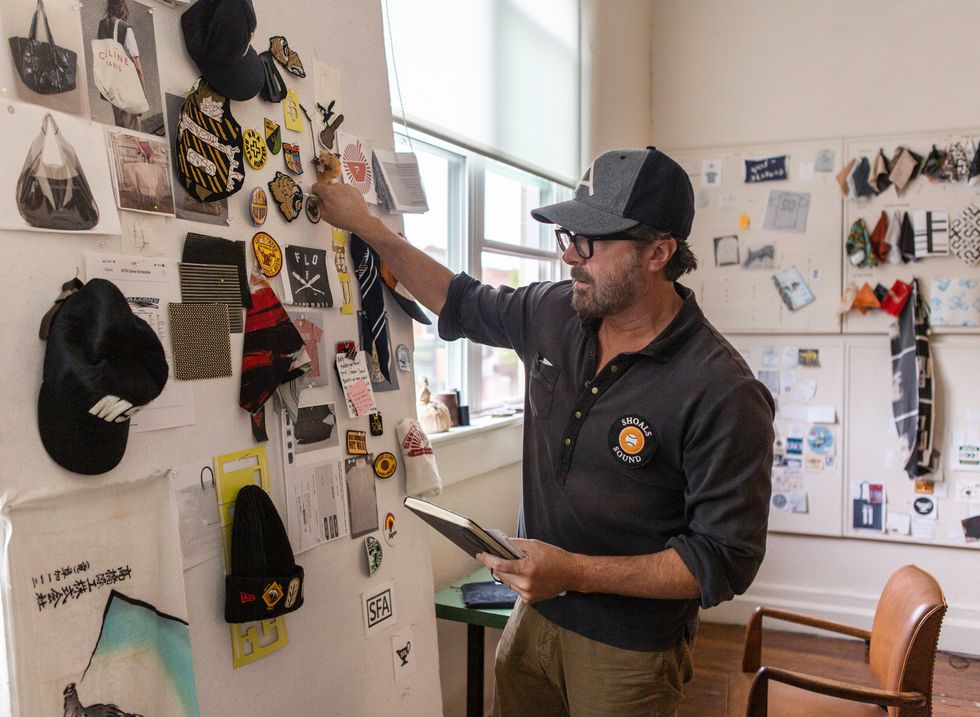 Photo: Courtesy of Billy Reid
From there, you moved to Florence, Alabama, for the first time to be with your wife's family?

"Yes, just trying to reset life. I didn't know whether I would be mowing grass or bartending. I got some freelance work and tried to keep William Reid alive for a season, but that didn't pan out. I was approached by some retail partners that thought we could turn William Reid into a retail concept. I wanted a fresh start at that point and for it to be more real. No one ever really called me William, they called me Billy, so I thought that was the first change. Then we opened three stores. At that time, it was all retail—no wholesale. The idea was to go back to what my mom had, a vibe, and spit that out in a new way. We wanted to have that experience—to get a personal sense of what I was about. I wanted hospitality on steroids.

"One of the shops we opened here in Florence was in an old house that had a kitchen. It was a family business. I was upstairs in the design studio, and my wife was downstairs running the store. We built it one customer at a time until we opened on Bond Street in New York in 2008. The day we opened the doors was the day the stock market crashed. It was déjà vu. So I said, 'How about we go to a place we really want to be? Let's design our work around our life, not our life around our work.' Thank goodness it all worked out."

What specific parts of your Southern lifestyle are implemented in your stores and clothing?

"I can't separate the personal from the business. It's how I've always operated. When we opened the first few stores, we literally took furniture from our house and put it in the stores because we wanted them to feel like a part of us. I wanted that sense of warmth and invitation. Even though the influences of things come from all over the world—we develop textiles in Europe and Japan and get inspiration from all over—it's definitely seen through a Southern lens. What we've really tried to do is take that and make a collection and make a space that can feel right, wherever it is."

Are today's customers looking for something different than they were pre-pandemic?

"The only difference is that now, with the tailoring aspect, people are looking for versatility. We're working from home, so you don't need to wear suit jackets much anymore. But how can it be street relevant? How can you wear that with a pair of jeans or sweatpants and look cool, versus wearing it with a pair of flannel trousers? That search for versatility forces pieces to be a little softer, a little less structured, and fabrications that can do both of those things."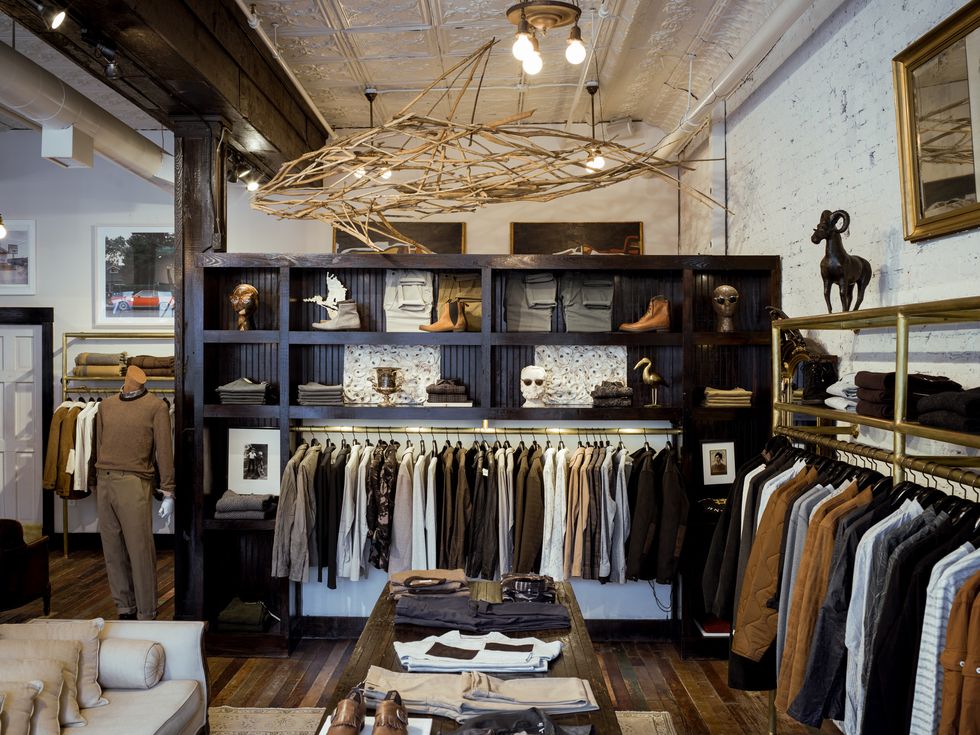 Florence, AL store
Photo: Courtesy of Billy Reid
How has the pandemic impacted the way you're designing your pieces right now? Do you predict another new shift in the way people will dress after COVID-19?

"I think there will be a shift in that people will want to dress, and dress up, again. They'll look forward to occasions and wear special pieces, and I think tailoring will be a part of that for both men's and women's. One thing the pandemic has forced us to do is focus on making less, more important things, which is something I'm a big believer in anyway. I felt at times that the collection had gotten so vast. We were trying to do so many things—from tuxedos and dinner jackets to jeans and t-shirts and everything in between.

"Strategically, from a business standpoint, it's forced decisions from those categories. Right now, we're not making as many tailored jackets or trousers. I love making trousers and tailored jackets and wish we could make 20 and put them out, but now is not the time. We also want things to be useful and ageless. Having ageless things is a really modern approach to design."

Another modern approach to design is incorporating other aspects of your life into the brand, like your relationship to gastronomy. You've previously featured pieces in collaboration with Southern Foodways Alliance—a partner of yours for your annual event, Shindig, too. How does food impact your fashion?

"Food has always been a huge part of my life. Growing up, my grandmother was an amazing cook. As we started to open our shops, I wanted to take things that were personal to my lifestyle—like food, music, and art—and share that. That's a big part of building a community. The Southern Foodways Alliance does incredible work. They've helped create an economic engine for undiscovered chefs and restaurants that have been around for decades. Early on, I met the director and we immediately hit it off. We became great friends, and we still are. It just seemed right to be doing things together.

"We had a kitchen in the back of the store, so chefs would come in, we'd have unbelievable parties, and we started doing it in different cities. We felt it created a hospitable moment in the store, and it felt so natural. It's something I believe in, and it's helped build a loyal base of people that get it. It's been one of the most favorite things that I've had a chance to do in my life. And the same idea goes for music, in some ways."

Where does your interest in music stem from?

"It definitely goes back to my childhood again. I've been a wannabe musician my entire life. I've played guitar since I was 12—I write songs and share it with friends. It's been one of the most constant things in my life. By having our shops, I was able to pick out every song that went through the speakers, especially when we first started with the first studio being above the shop. It still is, even though we've moved spaces. It's important to me to turn people on to new, old, or undiscovered things that they've never heard—even familiar things they may have forgotten."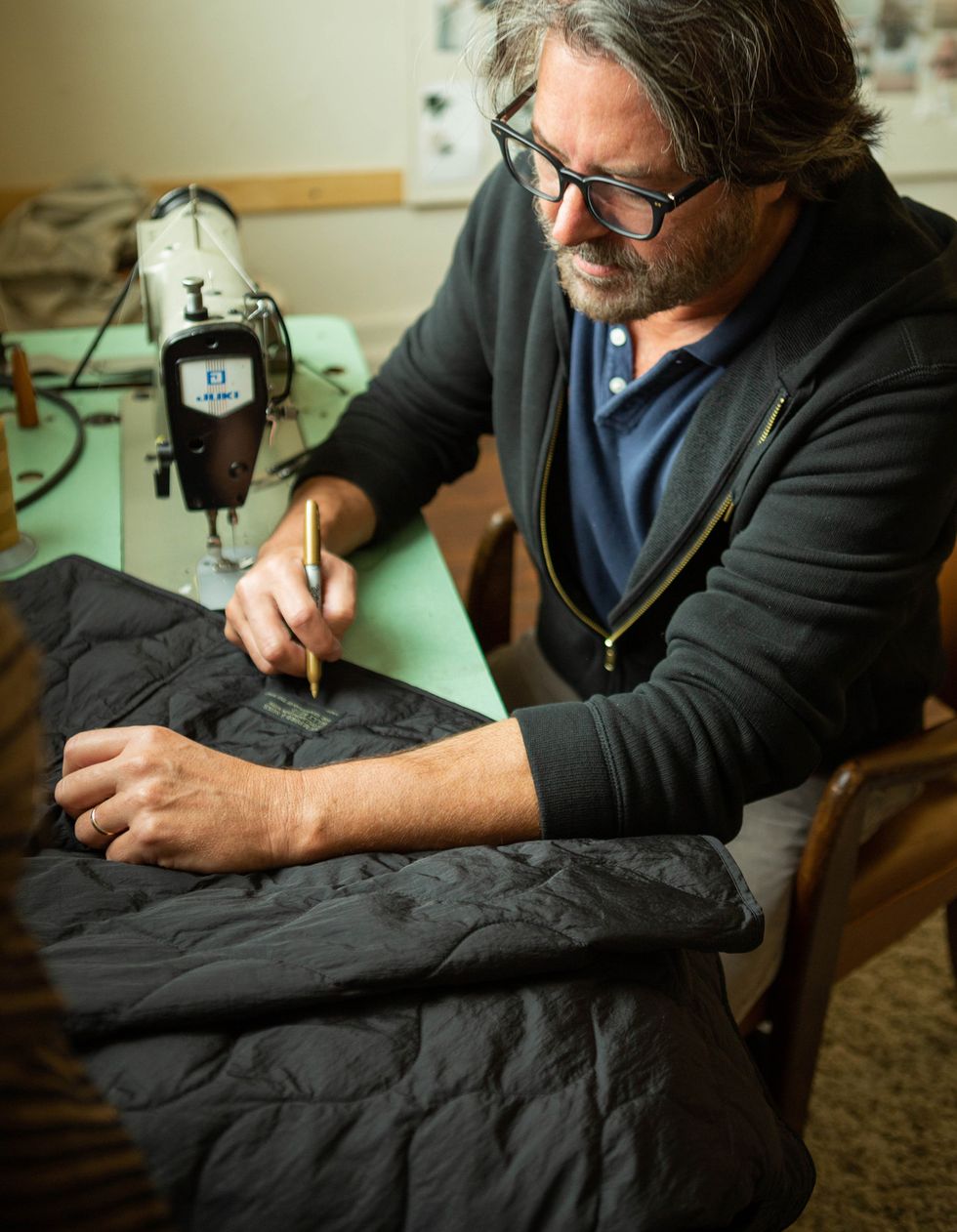 Photo: Courtesy of Billy Reid
How did your love for music grow to include a collection in collaboration with Mumford & Sons last fall?

"For Mumford & Sons, it was three years in the works. I met those guys when they first started. We were dressing them, we all became friends, and we went through years of family things together, like weddings. When they visited here, I took them into the archives and said, 'OK, y'all pick out one thing each.' So when we started the collaboration, they said, 'We want to take those archive pieces and reinterpret them for ourselves.' That was the starting point. It was a real connection—a friendship, and connectivity to the garments."

What's your relationship like to art? Why do we see what we see in your stores?

"I don't claim to be an art aficionado. In many cases, these artists have been customers. You meet them, they send you something or write you a letter. Or it just happens upon me. I love to go antique shopping, thrifting, and to estate sales, no matter what city I'm in. Finding those little nuggets are wonderful. We rotate a lot of the art around our shops to our house. At our home, it's that mix of old, new, and found objects that I love, and how it can be turned into something completely modern."

The future of fashion and the future of the shopping experience are also evolving before our eyes amid the pandemic. Where do you see the future of the shopping experience going?

"I'm a big believer in stores. I believe that shopping is an activity, and that isn't something that just goes away. It doesn't mean that digital shopping isn't going to continue to be an important vehicle. For so many of us, it's been a survival mechanism during the pandemic. But being able to connect digital with hard retail, and making those two things seamless, is very important. My motto is 'make the virtual personal.' That's been something we're working toward. But within the store, you want to be entertained and find something unexpected. You want to be able to touch something and say, 'Wow, that feels amazing.' That's not [what] you can feel over the computer.

"We're also constantly looking for new product ideas—whether it's homeware or working with an artist to sell their work. We want to put things in stores that are for sale, like the sofa you're sitting on or the carpet you're standing on. I look at that as a full circle and see it as an opportunity. Maybe that's because so many of my shops are in tourist areas where, when people come visit, they go shopping. That won't change.

"It's up to us as designers and retailers to create that full-circle experience that will make folks want to get out of their pajamas and get out on the street, come in, and have that experience. Digital will continue to be unbelievably important, but I think they can support each other. That's the way we want to approach it."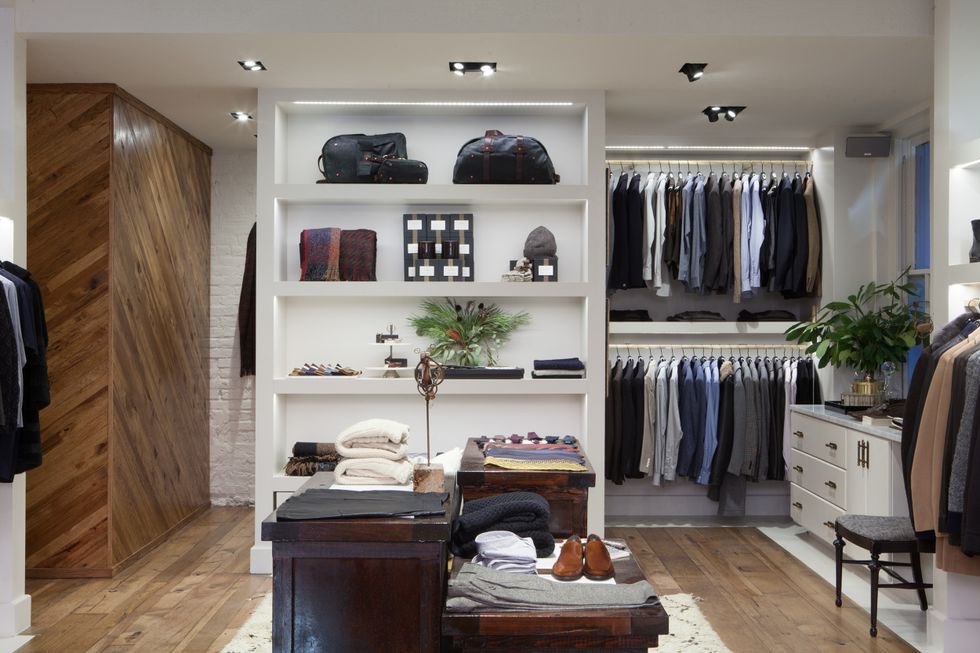 West Village, NYC store
Photo: Courtesy of Billy Reid
Another thing the pandemic has influenced is the importance of collaboration—something you've been engaged in for decades. How do you typically approach a collaboration?
"The perfect recipe for collaboration has to start from a real place. It's not something you fake. Would I love to do a collaboration with Valentino? Absolutely. But does that make sense? It might, because I love Valentino. That might be a connecting point, but it really should start from something like my collaboration did with Krewe. I'm from Louisiana and knew them when they started out. We're from the same place, know the same people, and share customers, so that was a perfect mix and a great starting point.
"For the project with Levi's, at the time we were working in the same factories where Levi's was making their 'Made in USA' production, and I'm such a Levi's buff, so that made so much sense for me."
What's your take on sustainability today?
"Sustainability is super important, and we are continuing to evolve. Fashion is such an imperfect process. It can be a dirty process, how things are grown and milled. It's been slow, but over time it will continue to improve. We've looked for recycled cashmere, eco-friendly and recycled wool, organic cottons… More and more, as we develop fabrics, we're trying to put those into the collection. This fall will probably be one of the biggest shifts, as we've been able to affect a significant part of the collection with a more eco-friendly approach to textiles.
"The other part is shipping and packing. I would love to see us get to a zero-plastics initiative, without things packed in poly bags and on plastic hangers. When we ship it to Nordstrom, they're requiring us to put it in plastic and back on a plastic hanger, so we're trying to change some of those things, although it's a slow process. It's on everyone's radar now, and I think over the next couple of years we'll see such great change in the industry. I hope."
What are you working on now? What's next?
"We went through some pretty extensive branding work this past year—very customer-centric. The collection is 22 years old now, and at times, you can get off track. You can be chasing graphic sweatshirts while your customer isn't looking for an entire collection of that. We sent out a survey and over 1,200 customers responded, so we're taking research from that. Going through this pandemic was almost perfect timing because it allowed us to focus and ask, 'What are people looking for?' They're looking for sophisticated, wearable, ageless, special things with sustainable qualities. And that's been really helpful for me because I have never really looked at it like that before. I just made what I wanted to make and put it in the store. Aside from that, we really want to continue collaborating—whether it's with this community of makers or bringing other people in—and looking at other categories, specifically home, home accessories, and decor. I'm having a ball."
Photos: Courtesy of Billy Reid
Want more stories like this?
Fashion Sustainability Is No Longer an Option—It's a Necessity
How Mara Hoffman Used the Pandemic as Her Fashion Wake-Up Call
Casablanca's Charaf Tajer Designs Collections Wrought with Escapism