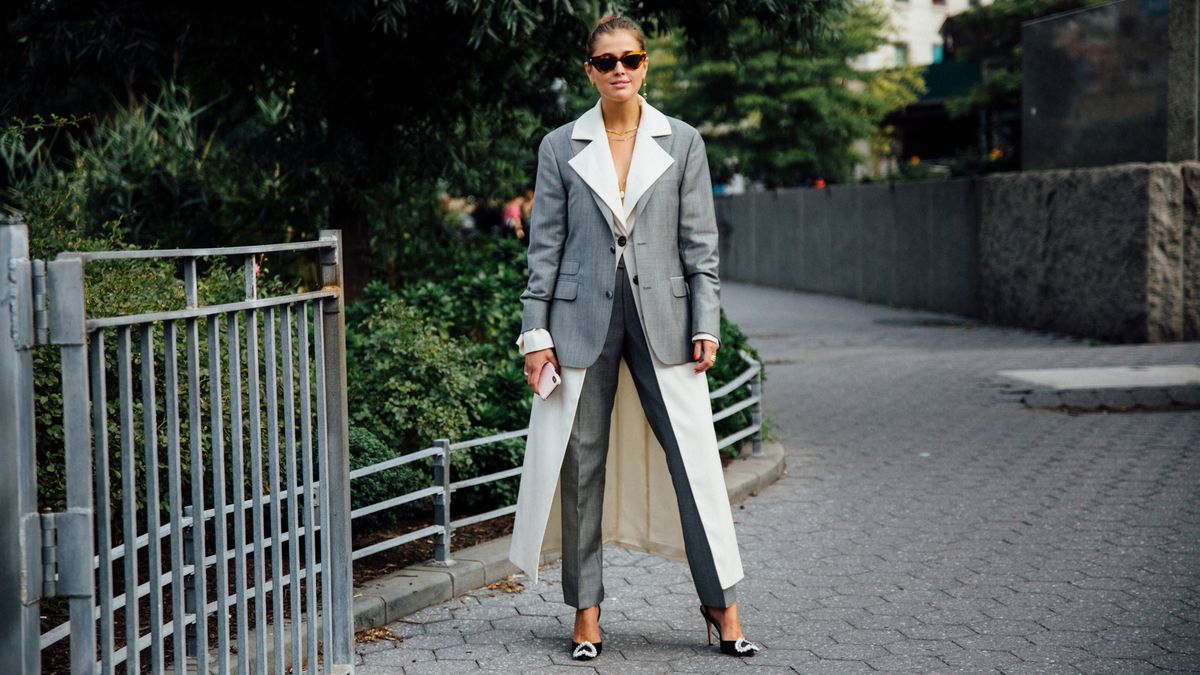 Fashion
Will it be the same post-pandemic?
Emily Malan
Fashion has its flaws, but one major perk of working in the industry is its freedom of dress. In my personal experience—which ranges from a major magazine to e-commerce to PR—a sort of unspoken casual, polished look has emerged as the consensus. If you can make jeans and a t-shirt look polished, whether that be with a blazer or accessories, you can wear it. This flexibility in dress codes has produced a large overlap between what I do for work and my off-duty sartorial choices.

Traditional office jobs—the lawyer, the businesswoman, the politician, etc.—are not always afforded the same luxury and instead create, in essence, two entirely separate wardrobes. There's that of your personal life, then there's the wardrobe you create for work, which those of us in creative industries are typically not as familiar with. Since the onset of the pandemic, those lines have been blurred. Executives are taking Zoom meetings in Nike quarter zips and lawyers spend a Wednesday in overalls and a tank.

With the concept of returning to the office hovering on the horizon, the idea of corporate workwear comes blaring back to reality as the world dances between a newfound respect for comfort while harboring a desire to feel confident and, for lack of a better word, good about ourselves again. This state of flux raises the question: Is the possibly antiquated concept of a formal dress code actually necessary to carry out our jobs? Or has comfort ruined that for us forever? Instead of delving into our typical network of makeup artists and fashion stylists, we tapped a few friends of Coveteur in more corporate-structured industries for a candid take on what returning to the office—whenever that may be—will look like.

Meghan, 32, is a lawyer at a Boston-based law firm, currently working from home in Hawaii.

Her pre-pandemic dress code:

"Generally, before the pandemic, I would wear heels. I had a whole bin of heels at my desk. I would always wear a jacket if it wasn't a full suit. I think I was beginning to steer away from the traditional suit, but whenever I was going to court or meeting the client—depending on the type of meeting—I would have a suit. I'd say more regularly, it would be a dress or black high-waisted pants or some sort of sweater."

Emily, 24, is an NYC-based financial analyst working from her mother's basement across the country.

Her pre-pandemic dress code:

"It's corporate America, so you should always have a blazer at your desk. Make what you wear appropriate. You can maybe wear a sweater or a cardigan, but if you have really senior meetings, you should be wearing a blazer. They obviously give us a formal dress code, but I think a lot of it is kind of unspoken. You look around and figure it out. They don't want you to look out of place. They don't want you to have purple hair or septum piercings. Things like that, I think, would be an issue. I did wear heels every day until I got runner's knee."

Autumn, ~50, is a town commissioner working from her family's home in that same mid-sized town.

Her pre-pandemic dress code:

"I would say, for meetings, I would usually wear, not necessarily a suit, but a blazer with dress pants when we were in person in meetings, but it would vary a little. If we were doing something outdoors, a ribbon cutting on a greenway or something like that, then you might dress down some for that. I would say, for the most part, I'd wear a dressy sweater or a blazer and shirt, that sort of thing, with loafers or flats."


---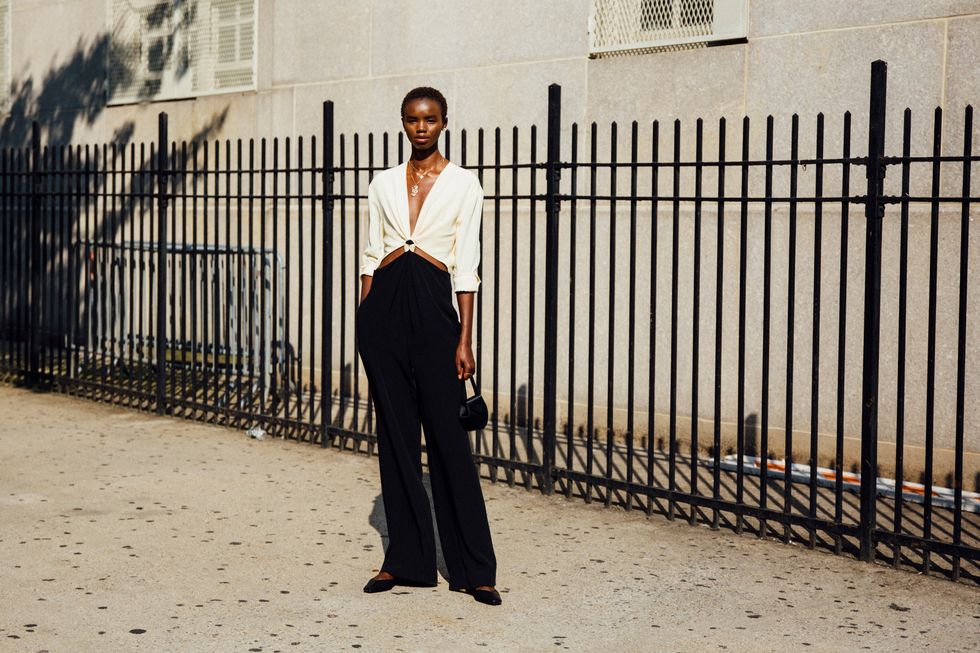 How are you currently dressing for work?

Meghan: "It seems ridiculous, but lawyers are very much trained to know that if you're in court, you wear a suit, and that seems to be staying the same even over video. Talking with clients and partners in internal meetings, I will try to keep it more casual just because that's the vibe we're in now and I don't want to overdo it. I've been trying to be conscious of being in a totally different climate—I don't want to be wearing a tank top— so that I look somewhat appropriate."

Emily: "Comfort is my main priority. I'll usually wear leggings or joggers with my slippers, of course. For more important meetings, I'll do a nicer sweater. If I had an interview or a client presentation, I will do a button-down and a blazer. For casual days, like right now, I'm wearing a Patagonia. Honestly, if people go for a walk or a jog, they'll roll up in a Nike quarter-zip. I don't think I would do that, but you do see so much more casual dress. You see it a lot at an analyst level, but even from people that are much older, so I don't think it's just young people. You almost don't recognize them."

Autumn: "It's probably gotten slightly more casual via Zoom. It seems like the men still wear collared shirts, but not suits. I'll sort of stay in that dressy-casual sweater and/or blazer sort of thing. Informally, I would say we've taken it down a notch to a slightly more casual place, but I still wouldn't go to my Zoom meetings in my fleece—staff meetings I might, but I wouldn't for any public-facing meetings."





"I'm being mindful that I don't want to look too formal in the Zooms that I do with clients."



How does personal style fit into this equation? Was it frowned upon to lean too much into fashion? Do you think the point of a dress code is to, in some ways, limit personal expression, or to equalize?

Meghan: "I think it's really hard to find a balance. I remember running to Ann Taylor at 7:00 PM on a Tuesday because I had an important meeting the next day and I just wanted to get something new to feel put together and formal. I hate that constant sequence. It was hard because not everyone can buy Theory and Vince and have that be their go-to. Especially being shorter, I can't just buy anything. Over time, I've tried to get rid of all the stuff that doesn't really fit properly. I never really felt put together in formalwear, so I would keep it really neutral."

Emily: "You have to walk that line of wanting to be professional, but also wanting to be taken seriously. This is what you're going to be doing every day, so you want to have some sense of self that comes through in your style. For me, with a skirt for example, it was always like, 'How is the length? Is it too tight?' Then you're thinking, 'Oh god, is this kind of sheer?' It's going to be on your mind all day. But it's things like how to play with a blazer—maybe a fitted blazer that has a more exciting fabric. It got easier the more I did it. I would always look to women in their late 20s or early 30s who are more senior than I am. I wanted to be fashionable, but I'm not known for the way I dress, I'm known for the way I perform. You also don't ever want to be seen as thinking, 'I can wear whatever I want,' because I think it can be taken that way."

Autumn: "I'm probably the least fashionable person. I live in three different North Face jackets that I switch out periodically... I can't think of anything specific that I 'liked' about the stricter dress code, other than I think a certain amount of decorum is warranted, either in person or virtual. The guesswork [that a strict dress code could eliminate] hasn't been an issue."





"I always wanted to be fashionable, but I'm not known for the way I dress, I'm known for the way I perform."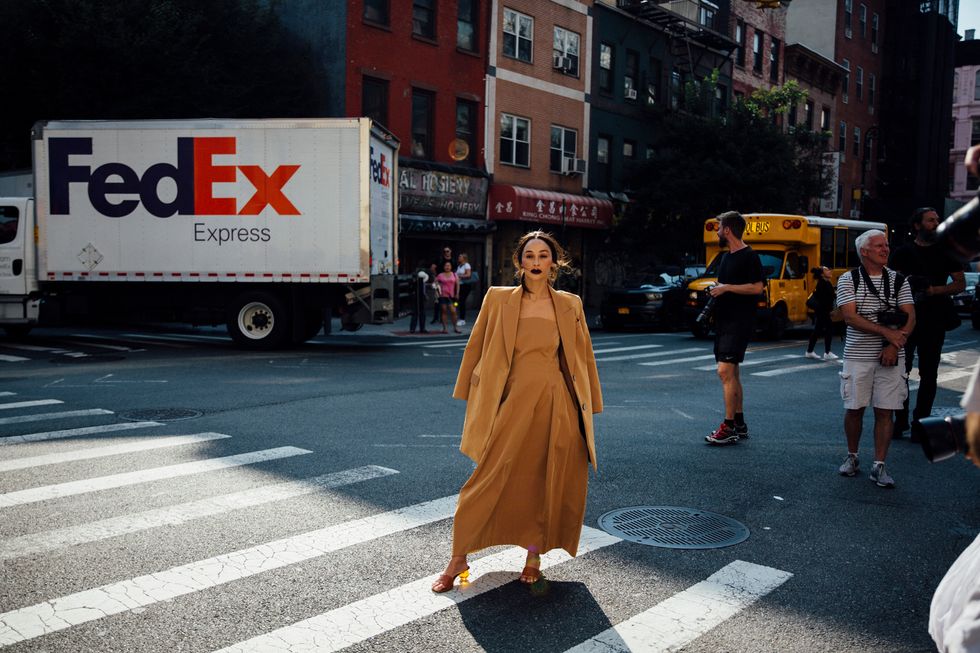 Thoughts on returning to your pre-pandemic dress code?

Meghan: "I don't think I'll ever dress like that again."

Emily: "Honestly, through Zoom and work from home, we've gotten such intimate glimpses of people's personal lives. They're holding their babies. Their dog is barking, their wife walks in the background. It's not less professionalism, but I just don't think it will be as strict because we almost know each other better."

Autumn: "I do kind of dread wearing 'real' shoes again."





"I don't think I'll ever dress like that again."



After this crazy year, what have you learned about how your choice of clothing affects how you dress? Can a formal dress code put you in the right headspace for work?

Meghan: "Generally, I would be trying to plan my outfits so that I would feel confident and like what I'm wearing. I think that definitely plays a huge role. For the first few years of practicing law, I'd wear pencil skirts a lot. Then I realized I hate wearing pencil skirts. They're not comfortable. They don't fit me. I'm not going to spend all this money on them. So I started thinking about what kind of pants I could wear. I think it's a progression, but yes, it does affect your mental focus on the job. Being comfortable certainly is important. This year has made it seem more so than I probably thought it was, but it definitely makes a big difference in how your day goes. Sometimes, I would wear something I thought was cute but was terrible in terms of comfort. It has a major effect. Now I'm just trying to find quality over quantity of clothes that can be comfortable and put together. I'm thinking more about my mental state in terms of what I'm wearing so I can be in the headspace to work."

Emily: "When you look good, you feel good. It's not so much 'I look hot,' it's 'I look put together and I look classy and I look ready to do my work.' Then you perform better and you're more confident."

Autumn: "I think you're absolutely correct. For me, in particular, getting appropriately dressed, even for Zoom, feels respectful. I don't know if that's the right word, but it feels appropriate, sort of honoring the position, honoring the importance of the decisions we're making."





"I'm thinking more about my mental state in terms of what I'm wearing so I can be in the headspace to work."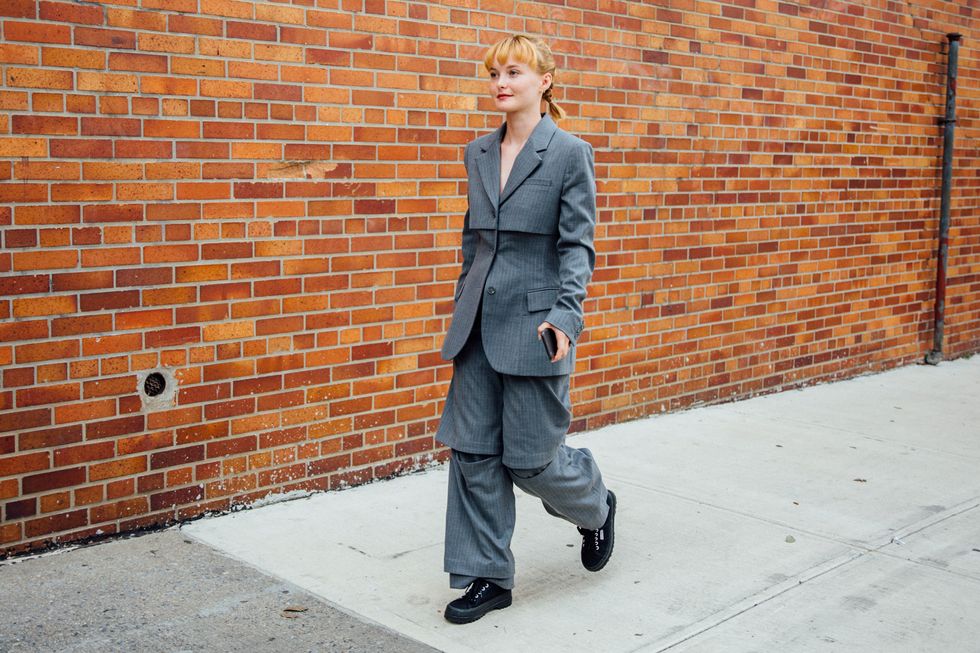 Ideal dress code?

Meghan: "Business casual, yes, but that is such a broad interpretation. I think those days of business formal and then casual Fridays are gone. That is really antiquated, and I don't think people even really know what that means anymore. It's just not realistic. I used to feel weird at my previous law firm on casual Fridays when people would wear sweatshirts and jeans. I don't like that. So I think it's about finding that balance which is still to be determined, and a lot of people generally don't think about their style in that equation. Even if things go back to normal, I'm not going to wear these suits that don't really fit me, that weren't tailored to me, just because I have them."

Emily: "It's hard because I love putting an outfit together, I really do, and I've also invested a lot in these clothes that I don't really ever wear anymore. It's going to be hard not being in sweatpants, though. I'll probably dress relatively similarly to how I did before, but maybe with less emphasis on blazers and probably not so many heels."

Autumn: "I don't know that I would change anything. I think it's pretty appropriate. Obviously there aren't any kind of written rules, but in terms of the norms that people follow, it seems right."





"I think those days of business formal and then casual Fridays are gone. That is really antiquated, and I don't think people even really know what that means anymore."



Do you think the pandemic will actually change anything?
Meghan:
"I think it depends on the law firm. At my law firm, yes, I think things will change because people think more about comfort and practicality now. If it wasn't already clear, I think the pandemic certainly solidified that. At a law firm, people are still going to judge what you're wearing. It does reflect on the professional part of the job. It's heading in a way that's a little bit more toned down, but may have to correct itself eventually and become a little more 'formal.' I think people will find more of a middle ground and just be more practical in understanding that you can have flexibility that maybe wasn't there in law firms before."
Emily:
"Yes, this is a one- to two-year period where the world is madness, but we still have decades of our career going forward. So I do think, at least in a corporate environment, things will probably lean more towards what it was before. It's still corporate America. I think you'll still need to dress up, depending on the situation, but I don't really think it will be quite as strict. I don't know. I don't know anything at this point."
Autumn:
"I think that's a great question we don't know the answer to yet. If I'm reading my crystal ball, I think that we've had sort of a 20-year move towards more casual and will continue in that direction. I don't see us going back to the '80s—I interned and worked in DC then. I feel like it's more of a trajectory in that direction, towards a sort of middle place of business casual."
Want more stories like this?
What Does Power Dressing Look Like for the Next Generation?
What Will Fashion Look Like After the Pandemic?
Who Do We Actually Get Dressed For?