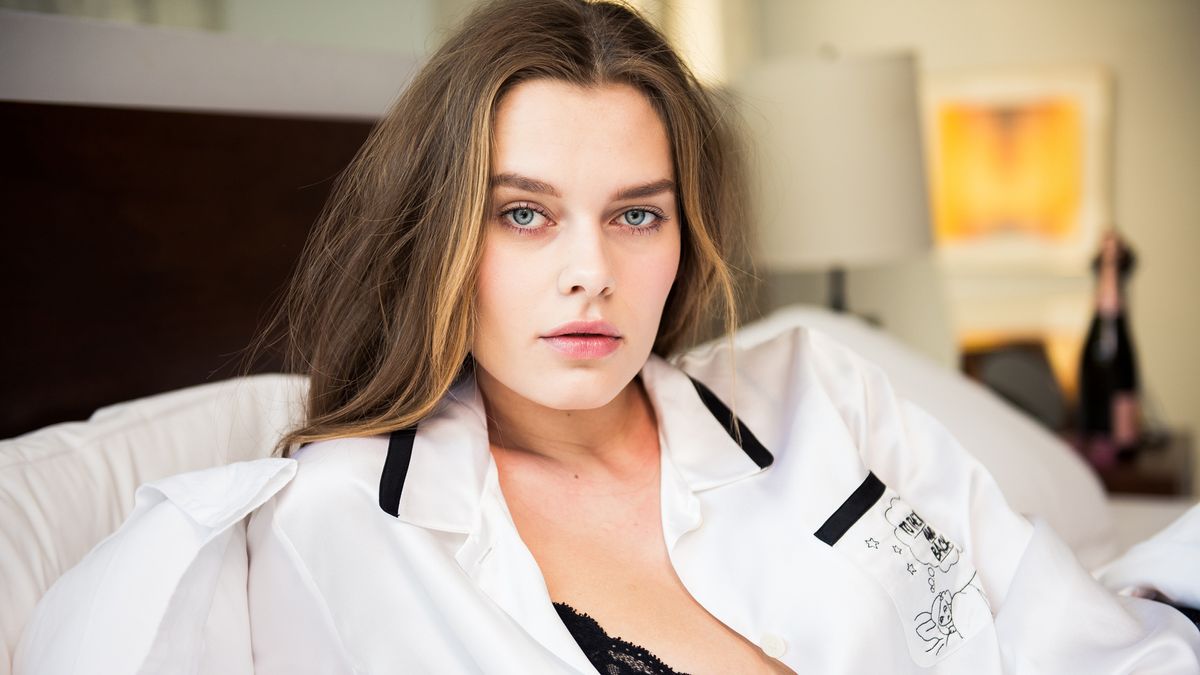 Skin
What Exactly Is Vegan Collagen—and How Can It Benefit Your Skin?
Everything you need to know about this new (and rare) technology.
While Veganuary has seen us swapping cheeseburgers for Impossible Burgers and our leather boots for faux options, many of us have also looked to revamp our skin-care regimens with vegan options. Of course, vegan beauty is nothing new, but as more and more brands begin to exclude animal-derived ingredients from their products, we're seeing
new technology emerge
that makes taking the leap into veganism easier than ever.
Case in point? Vegan collagen. Some products have been around for a few years, mostly in ingestible form, and now there are a couple of skin- and hair-care options, but what exactly is it? Does it work the same way as its non-vegan counterparts?
First, let's take a look at what collagen actually does for the skin.
Collagen is one of the most abundant and important structural proteins found in our body. It makes up the connective tissues found in our bones, skin, muscles, tendons, and ligaments and is responsible for our skin's strength and elasticity. Our bodies naturally produce it, but it begins to deplete by the time we hit our mid-20s, hence the popularity of
ingesting supplements
and applying topical products formulated with it. Traditionally, this collagen is derived from animal sources.
While we see it in many anti-aging skin-care products, board-certified dermatologist
Dr. Amanda Doyle
explains that it's not as effective as it's claimed to be—at least not in the way we might think. "Topical collagen never took off because of its large molecular weight, which makes it too large for it to penetrate effectively into the skin," she says. However,
because topical collagen is a great humectant
, it's an effective moisturizer that can improve the appearance of lines and wrinkles and is still widely used in skin care.
Currently, there are two types of plant-based collagen products on the market replacing the need for animal-derived collagen products: genetically engineered vegan collagen, and vegan collagen boosters (which don't actually contain collagen)—the first being less common, but likely to gain popularity as it becomes more widely available.
---
Genetically Engineered Vegan Collagen
Thanks to scientific developments, vegan collagen is functionally equivalent to the animal collagen that is used in skin care. "Collagen can now be made by using genetically modified yeast and bacteria sources," explains Doyle. "Vegan collagen is made by adding human genes that produce collagen to the microbial genetic structure, which leads to production of collagen components by the yeast or bacteria. A digestive enzyme called pepsin is also added to assist with placing the collagen components into actual collagen molecules."
Dr. Ava Shamban
, board-certified dermatologist and founder of
Ava MD Dermatology
, explains that the chemical composition of collagen is the same across all species, consisting of three different amino acids that form a triple helix. "Today, using recombinant technology, we can have the same triple-helix amino acid sequence engineered that mirrors the sequence found in human- (or animal-) tissue-derived collagen, thus creating vegan collagen." Currently, this technology is only used in formulating topical products and not in ingestibles.
But does it work? According to Vanessa Thomas, cosmetic chemist and founder of
Freelance Formulations
, it's too new and too rare to really know just yet, but because it's so similar in structure to animal collagen, Doyle says that it likely would have the same issue of being too large a molecule to penetrate the skin. However, Tyler Moore, social media manager of vegan beauty brand
Truly
, says that vegan collagen molecules are smaller than animal-based, making it actually capable of penetrating
the top layer of the skin
.
Regardless of molecule size, however, it still has the same moisturizing benefits of topical animal collagen, which can reduce the appearance of lines and wrinkles, at least temporarily. "Even if not penetrable, it still has the humectant benefits, and in this case it's more a result of the structure of the collagen, not the size," says Shamban.
Vegan Collagen Booster
Because actual vegan collagen is hard to come by, and is currently quite expensive to produce, a lot of brands offer collagen boosters instead. "Collagen boosters are mixtures of vitamins, minerals, plant extracts and/or herbs that help promote and support our body's own collagen production," says Doyle. These are commonly found in supplement or powder form, meant to be ingested as a capsule or mixed in with smoothies and drinks.
Unlike the popular supplements that contain animal-derived collagen, these don't contain any collagen at all. "These collagen boosters use vitamins such as vitamin C and zinc, which are essential in the body's collagen production," says Thomas. "Zinc activates proteins essential for collagen synthesis and activates a protein called collagenase that allows our cells to remodel collagen during wound healing. Vitamin C directly triggers DNA to regulate and maintain the amount of collagen while fighting free radicals and aiding in the skin's regeneration process, helping repair damaged cells and rejuvenate the skin."
But are they effective? "No one knows, honestly, but based on the ingredients involved, it would indicate they have overall benefits," says Shamban. "The tricky part is, ingesting these boosters and quantifying direct dermal benefits is not easy."
Considering that it's unclear whether or not
ingestible animal collagen supplements are beneficial to the skin
, reaching for options that help your body produce and support its own is a great vegan alternative. "Anything that is helping to diminish or prevent our collagen loss overall is beneficial," says Shamban. Even if it ends up having no profound skin-transforming effect, ingesting vitamins and antioxidants won't harm your skin, so there's certainly no downsides to giving it a try.
In general, vegan beauty has some major pluses. "Any time we can eliminate or reduce the need to derive food or product from animals, it's generally better for us," says Doyle. "Plant-based products tend to be more environmentally friendly, and there's a feel-good component of knowing no animals were harmed in order for a cream or supplement to be made." Veganism and environmental benefits aside, Thomas adds that in the case of vegan collagen, there may be fewer allergic reactions to these products, as well as much more consistency across different batches due to it being man-made.
With this in mind, vegan collagen (and vegan collagen boosters) are likely to continue to grow in popularity. "The world is naturally moving to a more holistic and plant-based method of doing things," says Thomas. "Once this ingredient becomes more available, we definitely see this trend becoming a big deal, and the vegan collagen market has high projections." So expect to see this new technology take off, this Veganuary and beyond.
Below, we rounded up our six favorite vegan collagen and vegan collagen-boosting products:
If you dream of waking up each morning with glowing skin, consider this rich night treatment from Algenist's Genius collection. The brand's exclusive active vegan complex—which binds together plant-based protein chains to piece together vegan amino acids, forming a whole collagen molecule that structurally mimics animal collagen—strengthens and conditions the skin overnight, leaving it supple and smooth by morning. Additionally, algae-derived alguronic acid minimizes the appearance of lines and wrinkles while ceramides and Mary thistle hydrate and support the skin's barrier.
This affordable daily serum from Pacifica aims to boost hydration to create a healthy, dewy appearance. The brand's vegan collagen is produced through a plant-based fermentation process that creates animal-free collagen proteins that mimick animal-derived collagens through structural, biochemical, physical, and biological properties. It's also packed with moisture-boosting ingredients like hyaluronic acid and vegan squalene.
Truly's genetically engineered vegan collagen is paired with vitamin C and retinol (known collagen boosters) for a potent anti-aging serum that targets an array of skin woes such as uneven texture and fine lines. The result is a smoother, plumper, absolutely glowing complexion.
This completely vegan beauty elixir credits antioxidant-rich superfoods and adaptogens such as blue pea flower, prickly pear, and goji berry to help stimulate the skin's collagen production. It certainly doesn't hurt that it's absolutely delicious and will turn your matcha lattes and smoothies the prettiest shade of blue.
These daily supplement packs provide the body with the specific amino acids and vitamins it needs for collagen synthesis to occur, promoting the health of your skin as well as joints, soft tissue, and bones. It's also packed with immune-system-boosting nutrients with antiviral properties.
This bio-fermented collagen-boosting liquid supplement supports natural collagen production and fights free-radical damage thanks to an array of antioxidant-rich (and delicious) ingredients such as maqui berry, acai, papaya, and blueberry—just to name a few. It also contains probiotics to promote a healthy gut, which, in turn, can improve skin health.