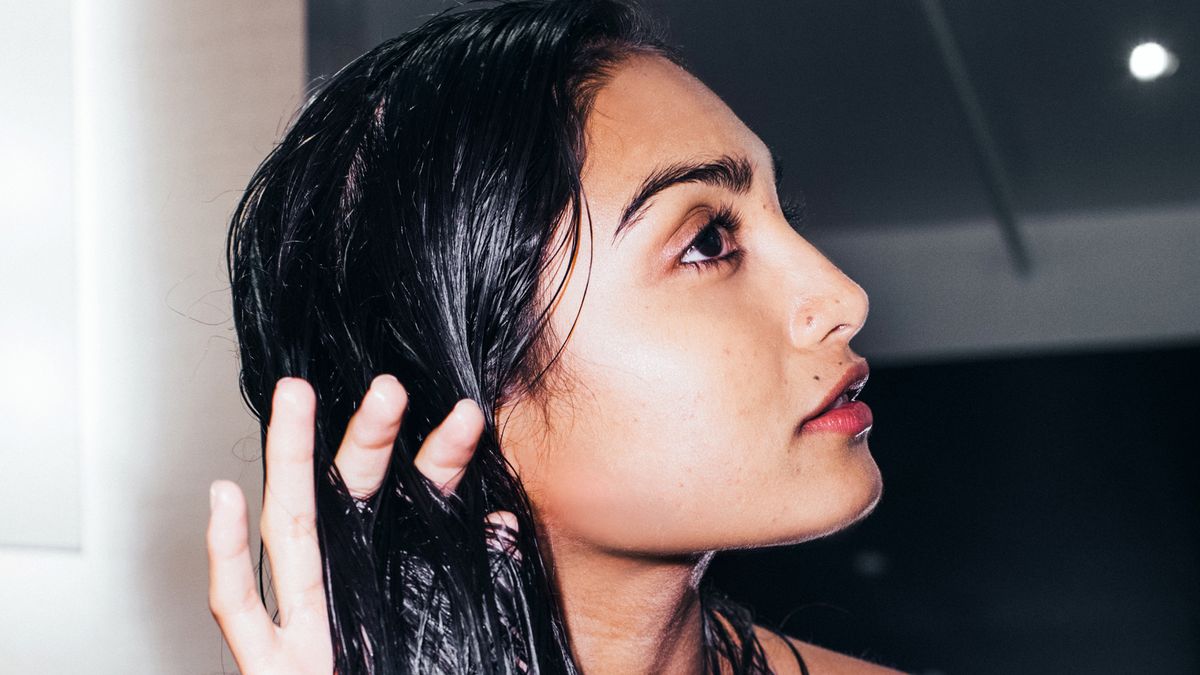 Hair
Yes, It's Time to Start Using Retinol for Your Hair
Everything you need to know—from benefits to risks, and the formulations to try.
Skin care as hair care is a trend we've grown to know and love. Whether it's micellar-water shampoos, scalp scrubs with salicylic acid, or entire hair-care ranges inspired by trending skin ingredients (The Inkey List, we're looking at you), we truly learned our lesson in 2020. That lesson being, it's a pretty solid idea to inject as many savvy ingredients into our hair-care regimens as in our skin-care routines.

However, while much of the hair-care world has already dabbled in reliable favorites such as hyaluronic acid, clay, and even vitamin C, retinol hair care has been a relatively untapped phenomenon. But could our hair benefit from the gold standard of anti-aging in skin care?

When used in skin care, vitamin A derivative retinol helps to promote growth of skin cells, encouraging cell turnover and stimulating collagen production. The targeted ingredient "reduces the appearance of aging skin, uneven texture, and age spots," explains London dermatologist Dr. Elif Benar. "It also smooths and refines texture, and makes the skin more plumped and firm," she adds.

With all this considered, does retinol have the potential to work its magic in hair care? The changing landscape of beauty and the expansion of retinol across it seems to suggest so.


---
What can retinol do for hair?
Research into what forms of vitamin A like retinol can do for the hair is scarce, but does exist. The findings of several studies have determined that certain retinoids can be beneficial to both the hair and scalp. The most successful combination found to work in said studies is that of all-trans-retinoic acid (tretinoin, a retinoid) and minoxidil. This duo was found to be best at improving scalp condition significantly and
promoting hair growth
. It's even been
lauded as a potential alopecia treatment
.
While more research needs to be done into retinol specifically, certain skin and hair experts, such as dermatologist Dr. Steven Shapiro and trichologist and celebrity colorist Hannah Gaboardi, are beginning to sing its praises already. Gaboardi notes that retinol can work by increasing blood flow to hair follicles in the scalp, in turn encouraging hair growth. Dr Sue Anne Chan, resident dermatologist at Monpure (a brand that, full disclosure, has its own retinol-powered hair serum), also says of its scalp benefits: "The key to healthy hair starts at the scalp. Using a gentle form of retinol here will help to regulate sebum production and help with excess oils in the hair. It also works as a reset button for the scalp, clearing the area of debris so that other hair-care ingredients have optimal absorption."
Dr. Wendy Roberts, board-certified dermatologist and member of DevaCurl's Expert Curl Council, agrees that retinol-powered products are especially handy when used alongside ingredients. "Retinol can increase the penetration of other products, especially in the area of hair loss, where we are trying to get products down the follicle to stimulate new hair growth," she says.
In short, it's thought that retinol in hair care can work by helping with absorption of other strand-strengthening ingredients, resetting the scalp, and aiding hair growth.
What are the potential dangers and downsides?
Like many new and experimental beauty practices, retinol in hair care has its potential issues
—
and not all experts are on board with its use just yet. "I really don't see a benefit to using it on hair," says Christine Hall, Aveda's vice president of research and product development. Hall's opinion is echoed by legendary British hairdresser Paul Edmonds, who notes that "retinol is known to increase cellular turnover, therefore [results] could end up looking like dandruff."
It's true that using retinol on your hair and scalp can potentially result in some unwanted side effects. Ironically, the most serious side effect of retinol that was reported on several years ago was actually
hair loss
. However, it's important to note that this was when the ingredient was used in skin care and was often down to overuse. Lesser possible side effects can be similar to those when using retinol on your face, says Craig Taylor, creative director at London salon HARI's. These include "redness, irritation, burning, itching, drying, and flaking of the skin."
However, these are side affects that can be avoided or easily rectified in most cases through "less frequent applications and a reduction in the amount applied," says Dr. Shapiro.
The type of retinol you use is also crucial. While those with sensitive scalps (or skin in general) are probably best to avoid the ingredient altogether, anyone wishing to try it should opt for specific retinol-powered hair products, most of which use relatively mild and low forms of retinyl palmitate, the least irritating of all retinoids. "Retinyl palmitate can help strengthen the scalp by improving cell turnover and boosting collagen production to create the best conditions for the hair to grow," says Taylor.
One thing that all experts can agree on is that retinol hair care will increase sun sensitivity just as it does on the complexion. Because of this, it's crucial to remember your SPF, particularly at your parting to protect the scalp. The easiest way to apply this is with a spray SPF, like
Neutrogena's
.
The retinol hair products to try
The world of retinol hair care is still relatively untapped, but we recommend watching this space in the coming year. These retinoid-powered formulas are the best of what the market currently has to offer:
Gaboardi recommends this duo, which sees retinyl palmitate on its Inkey List. "It features natural ingredients that reduce thinning and shedding, and stem-cell technology to increase blood flow and reignite the growth phase in hair," she says.
Dr Dennis Gross' retinol offering is the ultimate "skin care as hair care" product. It features some of the dermatologist's go-to anti-aging skin-care ingredients (like peptides, salicylic acid, and retinol) to revitalize the scalp in the same way they do the complexion.
Mentioned by Dr. Wendy Roberts, Spark's targeted treatment stimulates new hair growth in the follicle. One of its key ingredients? Retinol, of course.
Developed by British brand Monpure (which delivers to the US), this formula also uses gentle retinyl palmitate. Dr Chan, the brand's resident derm, says the product promises to "exfoliate and stimulate cellular turnover, and can help boost the effects of other ingredients in the formula, such as pumpkin seed extract—which stimulates hair follicles."