This Emerging Brand Is Shaking Up the Fashion System with Collections That Are Personal
Because in 2021, we should be able to connect with our clothes.
Designers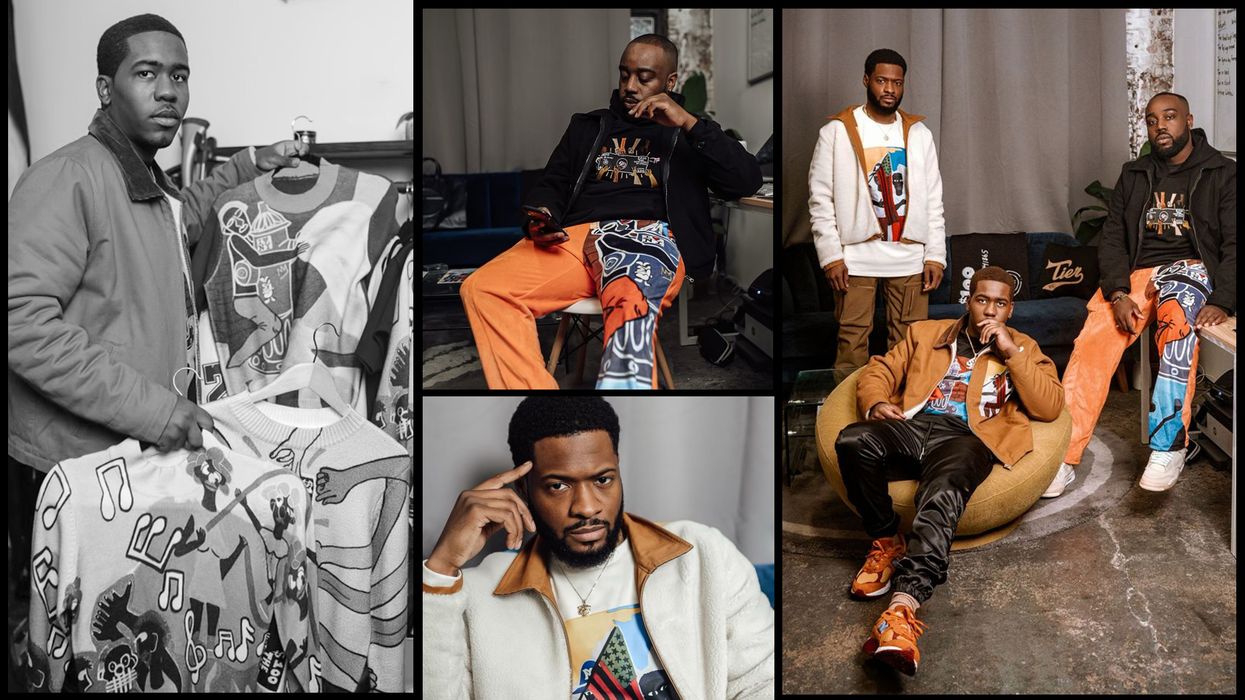 Welcome to our How to Shop Like series, where we spotlight personalities within the fashion industry and take a deeper look at their personal relationships with fashion and how they shop—think all the best insider tips and tricks. This week we're chatting with the founders of Tier, Nigeria Ealey, Esaïe Jean-Simon, and Victor James.
The fashion industry has been under intense scrutiny this year as we reconsider questionable attributes like fast fashion and an outdated calendar. Unfortunately, those set-in-stone norms are hard to divorce when so many institutions are built upon them. That's why an outsider's perspective on the system with few preconceived notions of how you
should
run a brand may be just what the doctor ordered. Enter
Tier
, founded by Nigeria Ealey, Esaïe Jean-Simon, and Victor James—none of whom were technically trained in fashion, but art instead. While that came with its own learning curves, they were not so beholden to seasonal production or delicate wholesale models and could instead approach the industry with fresh eyes and a more personal touch.
Each member of the trio actually specializes in art and graphic design—a notion that is evident after one glance at their collections. Each co-founder admits that Tier is slowly taking up a greater residence in their own wardrobes—a sign that the clothing is meant to be both worn and loved. We caught up with them to discuss all things personal style, their refreshing approach to the fashion industry, and the items they can't get enough of (hint: sneakers and hoodies are mainstays).
---
Shop Their Favorites: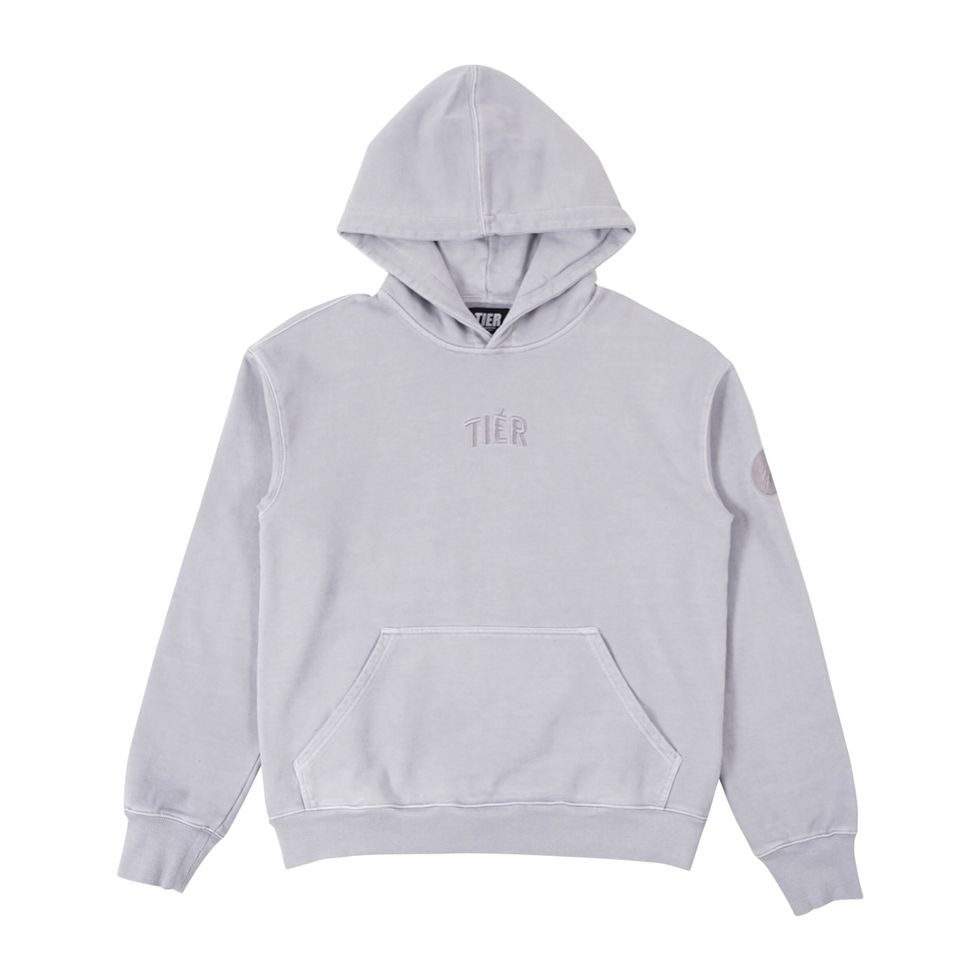 Tier
Off-White
Visionary Society
Tier
New Balance
Barriers
How did you get involved with fashion?
Esaïe Jean-Simon:
"My background in fashion is nothing too technical as far as education. I always had an appreciation for fashion growing up in Brooklyn—seeing the streetwear culture and how clothing has such an influence. With Tier, it's been an honor for me to be an artist in a sense, as well, because I've been an artist—drawing, sketching, things of that nature—since I was a kid. Growing up, meeting Nigeria and Vic, it all came full circle, so I was able to continue to explore my imagination while building on theirs."
Victor James:
 "Just like Esaïe, I had no real technical foundation, just more of a sense of the culture, a sense of style. My parents instilled in me the idea that your appearance matters. Ever since the first time I was able to pick out my own outfit, it was over. I just ran with that. I always had a passion for consuming fashion of all types. Streetwear, Japanese, high fashion—I like it all. Also, my background is more in the actual art form—drawing, painting, visual arts. That translated well into Tier and what I do now. We just really use our own knowledge coupled with research, and we continue to learn the art form of fashion."
Nigeria Ealey:
"I wouldn't say that I had any traditional background when it comes to fashion in terms of going to fashion school and interning when I was younger. I feel like my love for fashion really came from when I was a kid and I used to watch anime and cartoons and things like that. My background is also more on the art and graphic side. Fashion was always something I gravitated towards because of the environment I was in. I had to wear a uniform my whole life, so every day that I got a chance to dress up would be one of those situations where I had to have a great outfit. It was about going out looking good, but it was more so a time to express who I was. Fashion for me came in the form of expression. The same with art. I got my bachelor
'
s in graphic art and my master
'
s in media management and taught art to kindergarteners through fourth graders for two years. It was easy because art, fashion—those things are intertwined."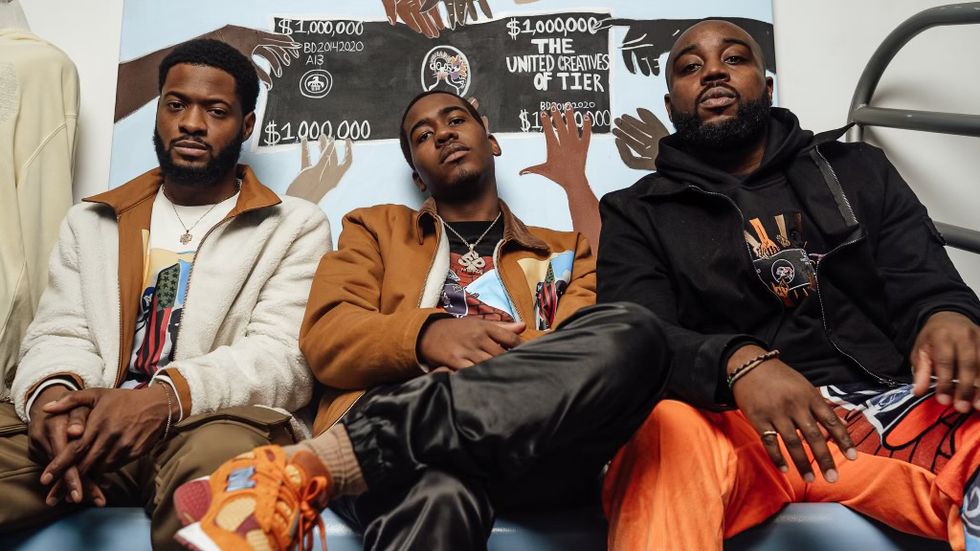 Photo: Courtesy of Tier
Why did you decide to launch a line?

NE: "From a young age, me personally, I always wanted to have my own clothing line. Vic and I were really just talking first and bouncing off ideas. I really liked his sense of creativity and what he was doing, and the same with Esaïe. So we just started meeting up more and more. At the time, both of them had just graduated college. I was in my junior or senior year. It was something that we all felt was necessary, to make a clothing line not for the sake of making clothes, but something that actually expressed our experiences as one artist, our experiences as creatives, our experience as Black people in general. It was sort of like an outlet for us to tell our stories through as a whole and as individuals."

Do you think you had a different perspective not coming up through the fashion system?

NE: "It's that notion of people not teaching you what's right or wrong or what you should or shouldn't do. Everything that we have now, we built up from almost nothing. We had to figure out manufacturing, marketing, branding, which things attract certain people, which things don't, while trying to make sure that the messaging we were putting out there made sense. We had to go through a lot of trial and error, but there's beauty in that process. We're sitting here today and we're doing great. It's good to say that we did this on our own in our own way."

VJ: "That idea that we came up with when we were just hanging out in the basement, it could have just stayed there. We didn't allow it to just stay there. We got our pens and pads out, started to brainstorm, and made it happen. Often, people just talk about things, but they don't really get it done."

NE: "There are people that have amazing ideas and things that they want to do, but sometimes either they lack the work ethic because work ethic and ideas go hand in hand. You can't have an idea and expect it to magically come out. You actually have to do the work, and it's all dependent on your mindset about how much you want to do this thing. Sometimes people have cool ideas that they just want to hand off to others because they don't have the bandwidth to focus on it. That's also fine, but I would think that it's really important to know why you want to do something because you can have the best idea in the world, but if your work habit and efforts to get that brand off the ground lacks, then it's going to always be nothing."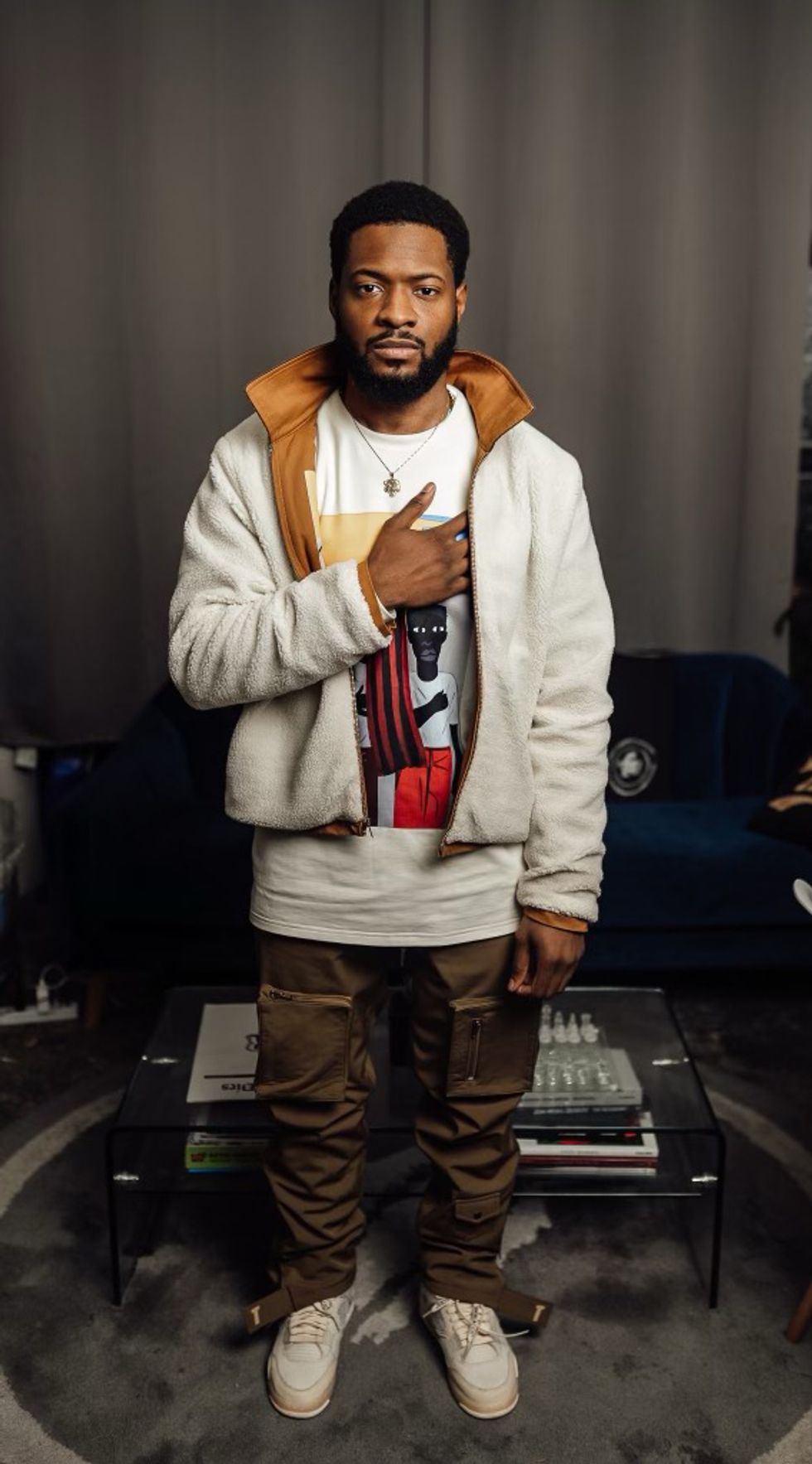 Photo: Courtesy of Tier
You talk about art so much. Walk me through how you conceptualize a collection:

NE: "We have a cool way of working. There are times where Esaïe will have this one idea. The idea is cool, but it's just that, an idea. That's when Vic and I come in and we're like, 'Hey, we can expand on this here and vice versa.' That happens with all of us. One of us comes up with a concept, and then the others expand on it, making sure that it makes sense. People like clothes, yeah, but they need to feel connected to items, whether it's a color, the message. People want that feeling of being one with their garments. It just goes beyond making something cool. Comfort is also something that's super big for us when making clothes. In terms of concepts, each of us just take turns. Sometimes projects that we do may have more of a personal meaning to me than it does to Esaïe or Vic or to Vic than it does us two. It's just about being comfortable in knowing that sometimes we're going to do things where one person takes the lead and being comfortable with working in those realms."

EJS: "When it came to developing a concept like Old News, Yesterday's Paper, that came to me by just absorbing the New York culture. Vic and Nigeria did a great job elevating it and making it more wearable every day."

How do you each view your personal style, and how does that notion play into your designs?

EJS: "Right now it seems like all I really wear is vintage clothing, Tier, and a really, really good sneaker. The items that we're developing are encompassing more and more of my wardrobe. I told myself I have to be selective with what Tier pieces I take home because I'm running out of space, but somehow it all made its way into my home, and other branded clothing are no longer options when it's time to get dressed. It's not intentional, but it definitely shows we are beginning to really love everything that we release personally, as well. You know what we're doing, why we're doing it, and it just makes sense."

VJ: "Ideally, pieces we create are ones you would naturally want to wear. Especially as a brand owner, it makes shopping easier. I've always enjoyed thrifting, so vintage clothing is definitely one of the top items on my list as far as my style. I like to dabble in everything, honestly. I just like being able to channel whatever feelings I have through my clothing. The fact that Tier is beginning to offer those different elements is perfect for me because that's like my whole aesthetic."

NE: "Ninety-nine-point-nine percent of times you see me, I'm wearing Tier. I actually made it a habit to wear my own stuff. At the end of the day, as a brand owner, you've also got to think about the aspect that people need to see you in your own stuff. People want to know how it looks on you and how you wear certain pieces. There is beauty in wearing things that you create personally. My personal style really is sneakers over everything. If I'm shopping, I'm shopping for sneakers. The only clothes that I really shop for are from brands of my friends or cool people that I know. I like to be comfortable every day. I like to put on sweats and then pair it with some sneakers. I have over a hundred pairs of sneakers. Honestly, I just like anything cool—something that has a cool message, whether it's new or vintage. If I could wear sweat suits every day, I actually would."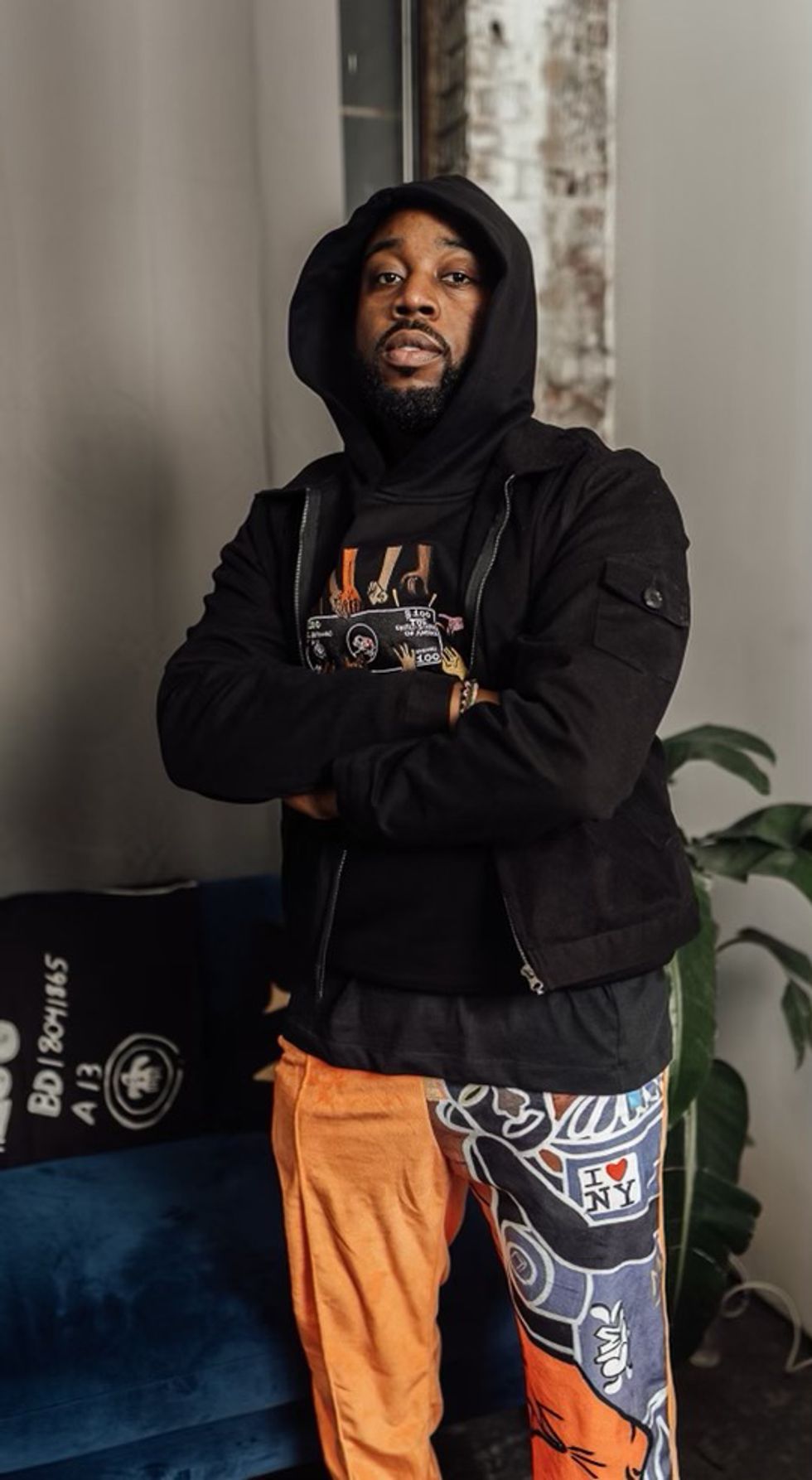 Photo: Courtesy of Tier
Who are some of your favorite small fashion brands of the moment?
NE:
"Definitely
Visionary Society
,
Barriers
,
The Crate
."
VJ:
"
Who Decides War
,
Pyer Moss
,
Nomä
."
NE:
"There are so many cool Black-owned brands out there that are actually high-quality. Marketing is great. Rollout is great. Products are great."
Most worn items in each of your wardrobes?
EJS:
"For me, it's not a specific item, but my favorite medium is a hoodie. I love a hoodie no matter what you wear it with—jeans, corduroy pants, cargos, a matching bottom. It's very versatile. It lives in every season. I can layer it up really well. It's just so cozy. That
'
s it."
VJ:
"It doesn
'
t matter what my outfit is, I really think deeply about the sock I
'
m wearing. My favorite sock right now is a cream sock. I think I
'
m just going to invest in them because I just love a nice, chunky cream sock."
NE:
"Sweat suits and sneakers."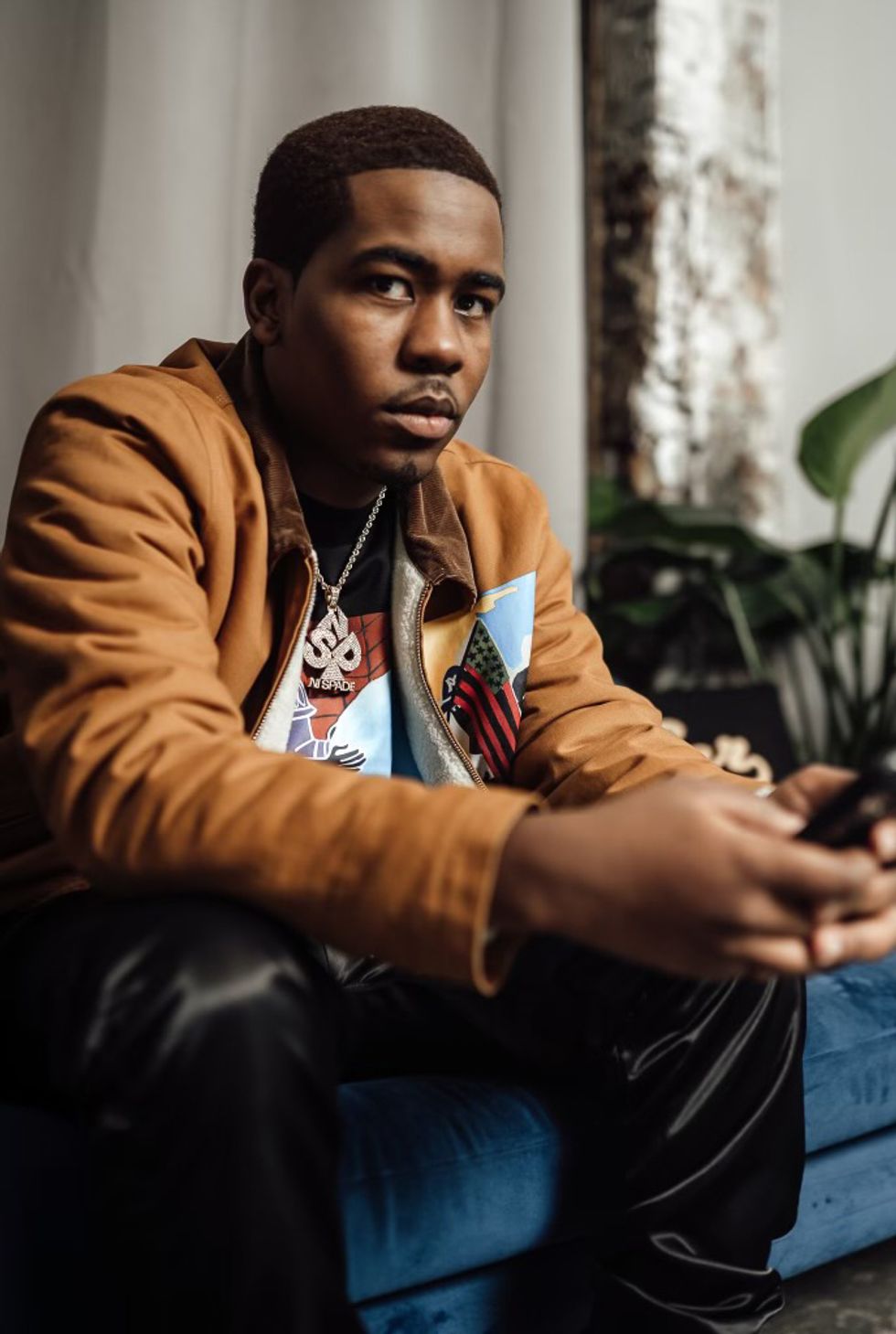 Photo: Courtesy of Tier
Favorite fashion purchase you've ever made?
VJ:
"I really love my
Jordan 5s
—the Off-White one that Virgil designed. That's probably, to date, my favorite purchase."
NE:
"My three, because I don't have one, are the
Joe Fresh Goods New Balances
—I paid a crazy amount of money for them, but I had to get them—the
Visionary Society flannel
, and the
Barriers hoodie
."
VJ:
"I paid a lot too, but I don't feel bad about it."
EJS:
"My favorite purchase of all time is a
Travis Scott hoodie
I got when we went to Astroworld. I kid you not, I wore that hoodie so much. It also had an emotional attachment because it was the first time we as college bros all went out to Houston, organized a trip, and absorbed a different culture outside New York. That attachment to what we did and how we left that city upside down is the reason why that hoodie stands out to me now."
How did you decide to approach the fashion calendar?
NE:
"Personally, we work project by project. We really try to stray away from seasons, but it is a norm, especially in the direction we're heading. We're just trying to find a happy medium. Let's say you dropped something, and then you do another drop a month later. You've got to give people a chance to digest certain things and also give people a chance to realize this isn't something old just because something new came out. We live in a world with fast fashion, so people don't want something if the brand has something newer. They feel like they need to be in the newer items versus items that they may actually like, items that may last more. At the end of the day, we control that narrative, so we're going to always do what makes sense to us, but we also understand that we've got to give certain things time to breathe and digest."
Are you excited for where the fashion industry is going?
VJ:
"I'm definitely excited."
NE:
"I'm excited. This year was our best year as a brand. To think that this happened during the type of year that it was for the world
—
I feel extremely blessed and thankful every day, knowing that nothing we do is in vain. I definitely do see this industry growing and growing more and more. I'm just excited to see what happens next year. People like cool things, but ultimately, whether it's a fantasy [or] whether it's real, people need other things to hold on to."
Photos: Courtesy of TierWant more stories like this?
How Mara Hoffman Used the Pandemic as Her Fashion Wake-Up Call
Kids of Immigrants Co-Founder on Collaboration and Personal Style
Bloody Osiris' Fashion Sense Literally Knows No Boundaries