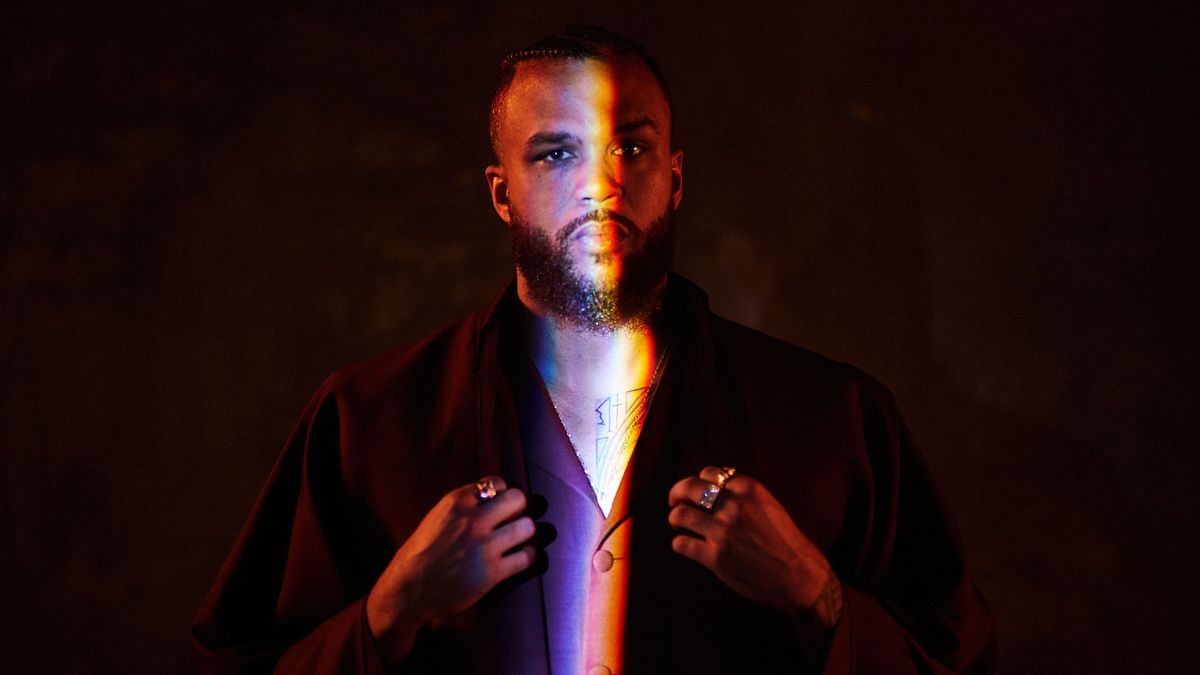 Celebrity
Why Jidenna Believes Pan-Africanism Is More Important Than You Think
The "Classic Man" is back and better than ever.
In recent months the world's attention has quickly shifted to highlighting and sharing more Black stories within media and pop culture. Through the darkness of racial injustices and systematic oppression, many beautiful stories that have inspired and uplifted generations of Black people have come to light. During this time, it's never been more important to finally see the beauty and plight of Black people accurately represented in mainstream media, especially with those of us behind the scenes creating and depicting our own stories. For Nigerian-American artist
Jidenna
, this is nothing new. After his mega-hit "Classic Man" that was released back in 2015, Jidenna became known as one of the sharpest, most well-dressed men in the industry. While his reputation still rings true today with his impeccable style, Jidenna is more than just a handsome comb-over in a three-piece suit.
After his latest studio release,
85 to Africa
, an album heavily fueled by Afro and Caribbean beats that paid homage to the artist's roots that hail back to the motherland, we saw a very different side of him. Fast-forward just a year later, and now he's on a journey to bridge a gap through Pan-Africanism. For Jidenna, being Black and really homing in on our roots isn't a fad, it's something he's put his life, music, and heart into. Which really comes to life in his latest single, "Black Magic Hour."
With an opportunity to break the stereotype of "magical" Black people and showing the effort and science that we put into ourselves, Jidenna takes us on a heightened journey of various voodoo religious customs and practices while highlighting its culture in his latest music video. Intrigued by his approach to his latest song (to be featured on the upcoming project
African On All Sides)
, I had the utmost pleasure of catching up with him about his efforts through Pan-Africanism and what he's feeling the most when it comes to his personal style.
---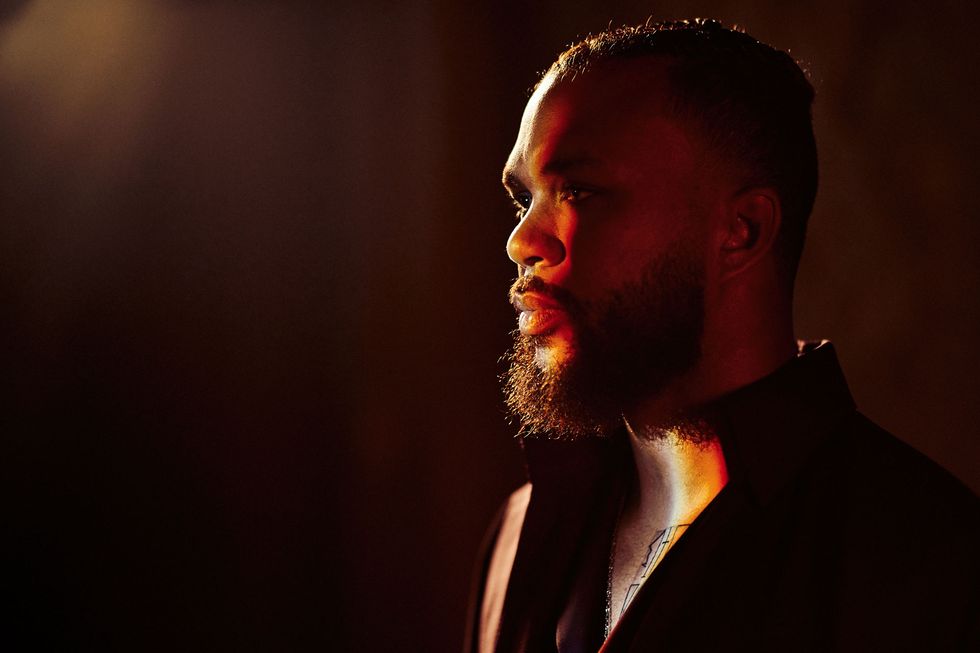 Photo: Patrick Struys
Let's talk more about the
African On All Sides
Project. What more can we expect from it outside of "Black Magic Hour"?"African On All Sides
is a compilation that I'm a part of by Bullish Recordings, which is headed by Steve Rhythm. His message to the world is that Africa is more than just Afro beats. There's a lot of different genres that are sprouting up. Gengetone from Kenya, you've got Gqom music from South Africa—which people got a taste of on
Black is King
—then you have trap music just like you have here, you have Drill Music, and you have a whole bunch of genres that people don't even know yet. So this project will feature a range of artists from the continent and the diaspora that do a variety of genres."
Speaking of the continent and the diaspora, I can tell that Pan-Africanism is really important to you. You're very passionate about trying to bridge a gap between the motherland and then those from the diaspora. How and why are you doing that?
"The only way a Black person anywhere in the world will be respected is if Africa is respected. The root has to be respected, the trunk has to be solid for the branches to truly flourish. And while that sounds like a metaphor, on the economic level it's practical. There is no immigrant society in this country that doesn't repatriate and send money back home. By sending money—and this is not charity—this is sending money that could be investments, it could be giving it to family, it could be putting it back into property back home. By doing so, there's also perks you get. When you go and need a manufacturer for a certain item or to get a certain service, you get a discount because you are doing it with your people. And these are the things we are missing out on. To me, what I care about is the spiritual and financial wealth of Black people, and it will not be possible without Pan-Africanism. That's what I want to see across the diaspora."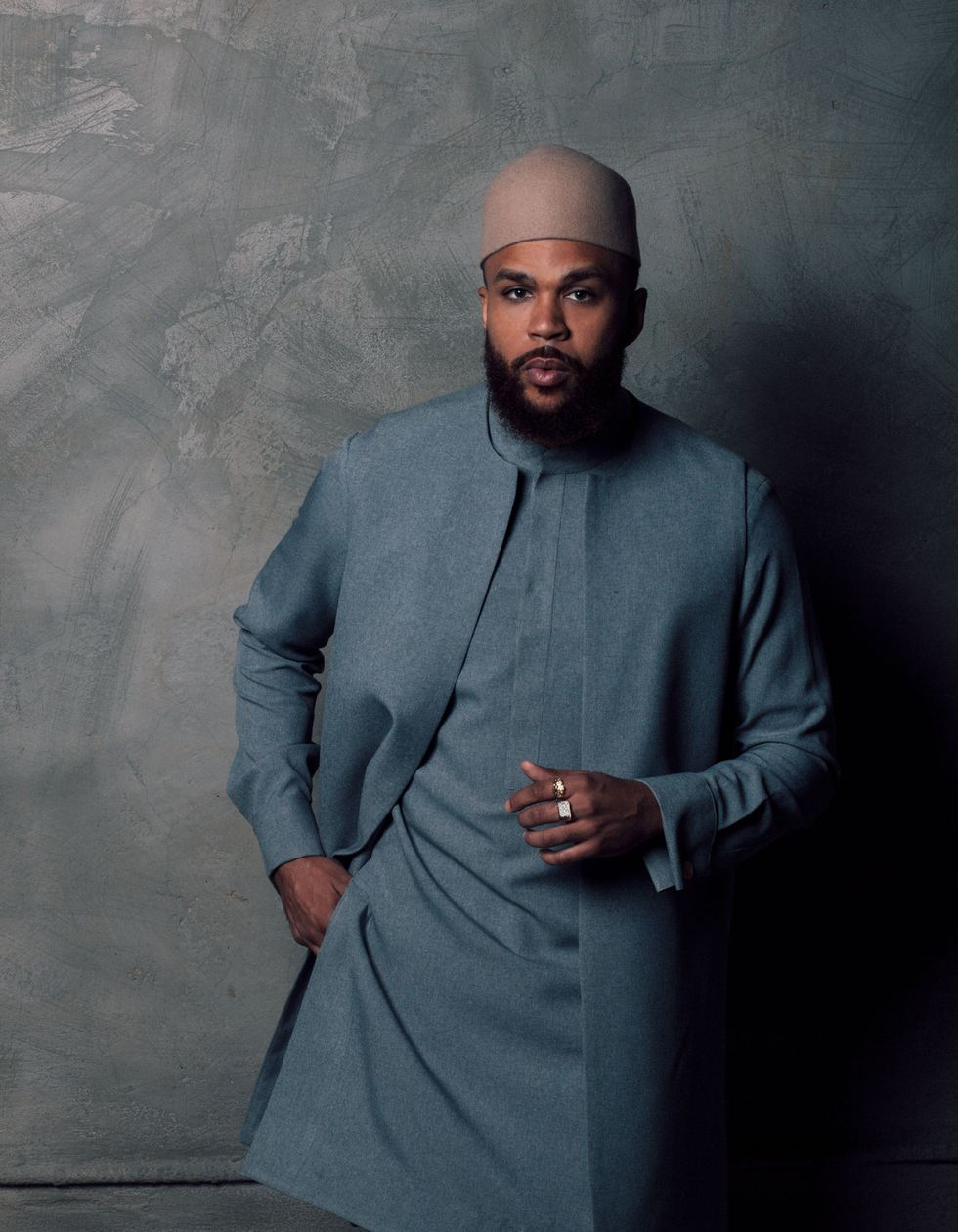 Photo: Tyler Adams
Let's go back to "Black Magic Hour." A certain line really stuck out to me: 'They call it Black Magic when they're baffled by the physics.' Can you share a bit about the meaning behind that?
"When people—as well as Black people sometimes—look at Black people, we tend to use words such as
talent
, and then we have the phrase Black Magic, which was originally a derogatory term. Now I'm using it and kind of flipping it in hip-hop fashion. We look at everything as if we don't have a science to this. As if there's not an art to a rapper or a basketball player. As if a tech entrepreneur or a Black woman business owner who goes into Silicon Valley and finds some success...as if...there's not a science behind her success. It's almost as if we are creative, lucky, or talented, and that's how we get through. I don't like that sometimes we look at ourselves that way— that's what I care most about, that we change that and then other people [stop] looking at us like that. It makes us raw, talented Black bodies, and that's what we've been for too damn long.
"This was the myth that was created around this magic negro figure. Although it sounds good in theory, it was always meant to dehumanize us. We are human beings with angelic powers and we are really great with our science, which makes it look like effortless talent. To me, we have real science, we have skill sets, we are creative people, but that ingenuity is not just artistic or athletic, we're great at those and other fields because of our mind. Our minds are scientific minds, and that's how I've always looked at us. I've looked at the roots of voodoo religion in science, and it's not just motherf*ckers cutting up chicken heads and then yelling out incantations. There is a real science to it, and that spiritual technology is something that Africans have always had—and always will."
What were some of the inspirations you took to create the "Black Magic Hour" music video?
"When I was real young, I grew up literally like, a block away from Little Haiti in Boston in the Milton region. There was this character that I always heard about named Papa Legba. Papa Legba's roots are from West Africa, specifically from the Yoruba tradition, and he goes by a few names—Ashu I think is one, and Elegua is another. But I knew him as Papa Legba, a trickster that teaches and reminds people of what they are doing. He does it sometimes in a pretty mischievous and dark way; he's also a gatekeeper of the ancestors. So that was for me tapping into the trickster, the Black magician figure. Those were some of the inspirations for the scene where I'm levitating.
"I wasn't able to get the mask that I desired, but we did get a mask that was actually used for ceremonies—not like a decorative mask. The altar that is there is my actual altar, but just put on steroids thanks to
Set By Skye
. Skye was a fantastic set designer and art director that's on our team. Then the overall creative was
Whipple RieWilely
, who has been working with me from the jump. But those were the main inspirations. What I love about voodoo religion is that it's a world of multiple religions swirled together, which is closer to how I am—I like to mix and match."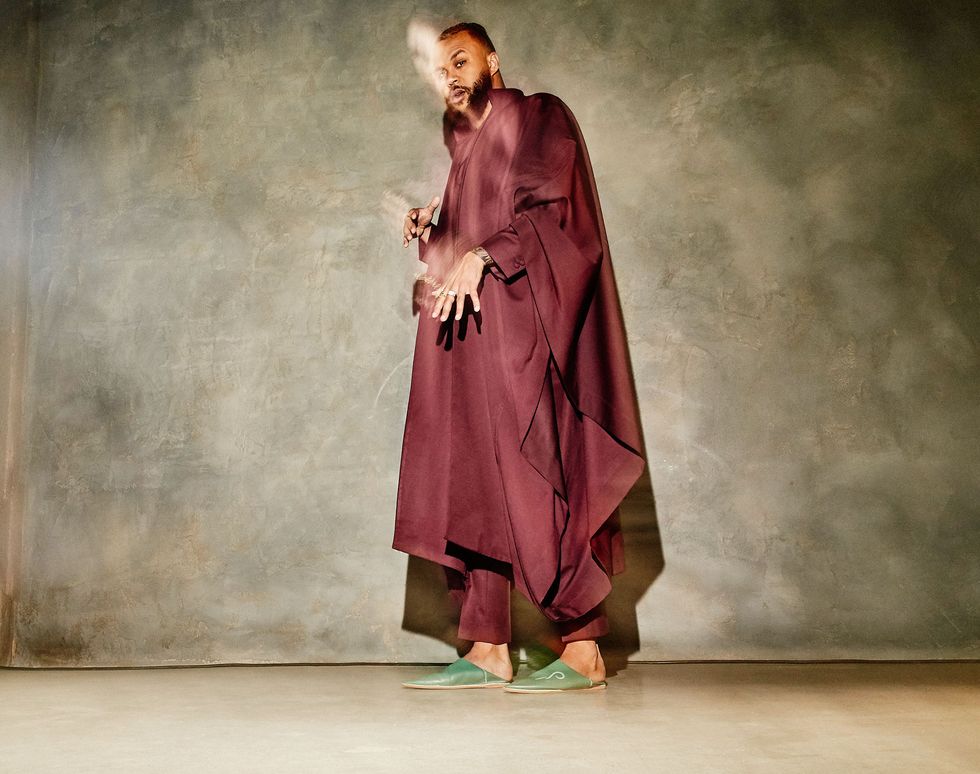 Photo: Patrick Struys
Let's talk about your style. How has your music influenced your change in personal style?
"As we speak, I'm wearing these huge pants that I like by designer Kenneth Nicholson. They're really wide, but it looks like African hippie flared pants. That's what I'm on now—I'm on some  Afro-bohemian chic shit. Last year I was on this classic like, James Dean mixed with some FILA shit. So I always like taking different silhouettes and just building around them. Last year was also t-shirts, bandana tied around the neck, high-waisted pants, and some sneakers. While the year before was all traditional, and then the year before that was the suit.
"I've always evolved like, every couple years, I can't stay in the same uniform, but I am a fan of uniforms. When I moved from suits to traditional [dress,] it was because I started traveling more and more to Africa for business, as opposed to just for family visits. People wear suits out there, of course, but the other suits—our suit is traditional. I've always thought it was fly, and my whole team—many of which are Black Americans—all incorporate traditional [dress] into their outfits. My tour manager and my main manager will wear a traditional outfit with pinstripes and some Jordans and then put a grill in their mouth. So we flip it in different ways."
I know your roots are from Nigeria; what are some other African countries that have inspired your look, taste, and sound?
"South Africa, Ghana, Senegal, Kenya, Mozambique—just a lot of the countries that I've traveled to. There are little things that I pick up when I go to local joints, from style to words and melodies—but most of all I pick up the power. When you start rolling through different countries throughout Africa, and it starts to feel like the 'United States of Africa' where you're hopping through because of the privilege of your blue passport and green passport, it's an amazing, liberating feeling as I'm traveling. I get to see how much I relate to so many different cultures that I'm not directly from. That's what I want and [am] fighting for everyone else."
Who are some of the designers that you're into at the moment?
"My go-tos are
Atafo
, which is Mai Atafo's line, and
Ozwald Boateng
, a Ghanaian-British gentleman. He played a large role in my entry into suits, and Mai Atafo played a large role in my entry point into traditional styles."
Top photo: Patrick Struys
Want more stories like this?
Venny Etienne on His New Collection and Designing for Beyoncé's Black Is King
Meet the 24-Year-Old Art Curator Championing International Black Artists
Meet the Collective That's Changing the World of Art Collecting