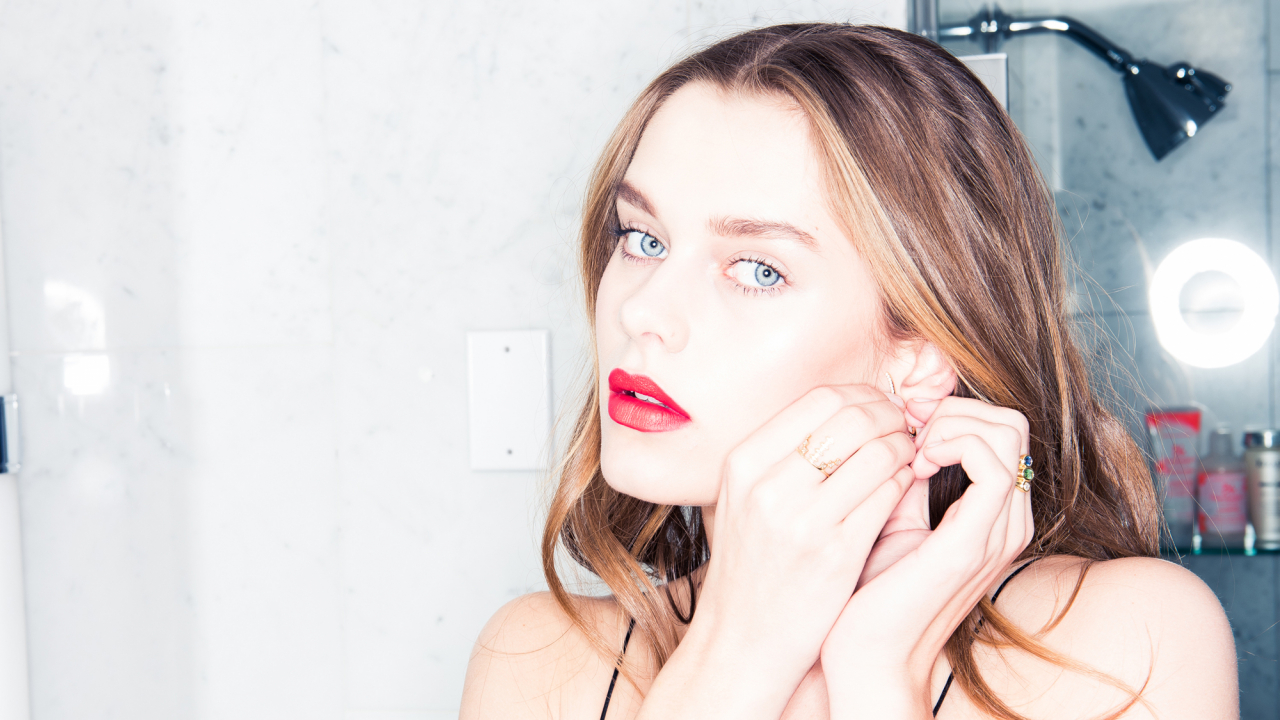 Ask a Makeup Artist: The Industry Secrets to That Glass Skin Glow
Dewy, radiant skin requires more than just highlighter.
K-Beauty has given us many gifts over the years: an appreciation for snail slime, an 8- or 12-step skin-care routine, and, of course, the ubiquitous glass-like skin. If you're not yet familiar with the term, it's essentially a complexion that looks so dewy and flawless, your skin looks like glass with the sun reflecting off it. It's the type of radiance we mere mortals dream about when we see celebrities walk the red carpet—or is it? It turns out that with a few key products and some expert application, you, too, can achieve glass skin from the comfort of your own bathroom. But it's not as simple as a single swipe of highlighter...
To learn more about getting that stunning glow, we spoke with two iconic makeup artists, Cassandra Garcia and Beau Nelson, who between them handle the faces of stars like Kate McKinnon, Scarlett Johansson, Kristen Stewart, Zoë Kravitz, and Aidy Bryant, to name a few. Their secrets to glass skin are below, plus a few of their favorite products.
Skin Prep
Any makeup artist will tell you that they refuse to apply a drop of foundation or blush without adequately preparing the skin. As Nelson explains, "The better you skin-care prep, the better your skin will look regardless of the finish you want." He and Garcia both emphasize using skin-nourishing and hydrating products beforehand in order to help the skin look and feel its best, from the moment of application and lasting throughout the day and night.
"For glass skin, I use a lot of hyaluronic serums and more creamy moisturizers to add glow," says Nelson. "A light exfoliation prior is also helpful, especially around the nose." If you're using any sort of complexion product, this will help prevent flaking and dry spots (a dead giveaway that you're wearing a base).
Garcia loves to give her clients a quick face massage prior to makeup with a cleansing oil so that the skin is clean, refreshed, and hydrated—it can also help reduce residual puffiness for a more sculpted effect. "Using a cleaning oil actually massages it into skin so it will be soft and supple but not overly greasy," she says. "Follow with your favorite balmy moisturizer." An ultra-rich moisturizer, like the cult-favorite Weleda Skin Food, will keep your complexion hydrated, even if you're wearing makeup for a long period of time (which can sap your skin of moisture).
Perfect the Complexion
Nobody has flawless skin (no matter how many "makeup-free" selfies they may post), so there's zero shame in using a few complexion products to even out your tone and texture. Nelson and Garcia both embrace a less-is-more approach when going for a glassy finish.
"I'm a big skin person, so I use transparent layers to build coverage where needed," Nelson reveals. "The more skin that shows, the more natural you'll look. Conceal under-eyes and around the nose, and use foundation strategically." You can use either your fingers or your favorite sponge or brush to tap in the product, giving it a bit of time to set before adding another layer or two.
Garcia uses concealer to spot-correct, particularly under the eyes to disguise dark circles, and on any spots that need a little extra coverage. As she says, "Since the skin is already hydrated, the [product] should glide on. Try a formula that is not too creamy so you can skip the powder setting." Depending on how much coverage you think you need, you can play around with light, medium, and full-coverage formulas—you can even add a few drops to your favorite moisturizer for a seamless finish.
Glossy Highlighter FTW
Obviously, highlighter is a must for a glass-like finish. "I love things that look glossy," says Nelson. "To me, glass skin is different from heavily highlighted skin. One looks metallic, and one looks ultra dewy." He prefers highlighting balms over a powder formula in order to achieve this look, even going so far as to use a legitimate lip gloss for an "extreme effect." To finish off the look, he likes to spray each side of the face with a hydrating mist for a little bit of extra glow.
Garcia is also all about the gloss for a glass-skin look, emphasizing placement for either a powder or cream formula. "Apply it to the high points of the cheek and pop a little in the inner corner of the eye," she says.
Fair warning—if you are using especially glossy formulas, it's wise to keep your hair up and away from your face to prevent any strays from sticking to your product. A small price to pay for ultra-dewy skin.
Glassy, Not Greasy
With skin that looks this dewy, you do risk looking like you just ran a marathon—a sweaty effect that we'd prefer to avoid. Again, placement is key here.
Nelson reiterates that for glass skin, "you want the glow to be mostly applied on top of the cheekbones, inner corners of eyes, and the Cupid's bow of the lips. A little glow everywhere else should be taken care of by the type of skin prep and foundation you choose."
Garcia recommends avoiding any highlighting in the center of the face for this type of look. "Shine in the center tends to look a little sweaty/greasy." A little highlight down the center of the nose is fine, but otherwise keep your highlight to the cheekbones, eyes, and above the lips.
To help prevent that all-over greasy effect, Nelson will add a powder product to help mattify and create a contrast with the rest of the skin. "I use powder on a very small domed shadow brush to mattify under-eyes, around the nose, and above the arch of the brows," he says. "If people are being photographed, I also apply a small amount to the center of the face."
However, Garcia prefers to skip any mattifying products unless she has a client who already has an oily T-zone (and will therefore look more shiny as the day goes on). In that case, she says, "I may use a lighter moisturizer or something oil-free. This way I am not adding too much shine on an already naturally dewy face. Think about working with what you got and enhancing that natural sheen."
Finishing Touches
Such radiant and glowy skin needs little else for this kind of look, but Nelson does suggest using a bit of cream blush to top off the effect. "It makes the glow next-level because it gives your skin a healthy radiance," he says. Tap a bit of product onto the apples of your cheeks and blend it out along your cheekbones for an extra-sculpted look.
Above all else, Garcia stresses keeping your skin hydrated and illuminated—that means drinking plenty of water beforehand, in addition to embracing glossy products. "Choose to use what makes you feel your most gorgeous and glowy," she says. Concentrate on adequate skin prep and ideal product placement, and you'll have the glass skin of your dreams in no time.