Ask a Makeup Artist: How to Shade Match Your Foundation Online
No more foundation faux paus.
Makeup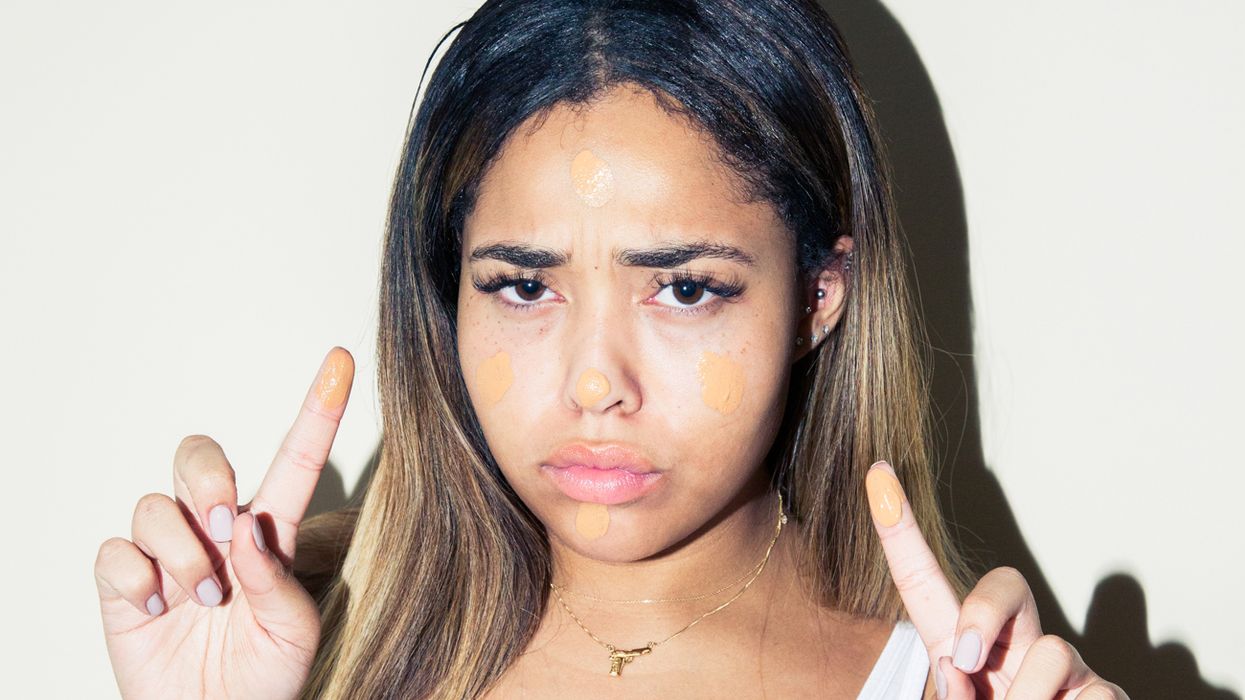 Like finding the right pair of shoes that equally complement your style, foot width, and height comfort, choosing the right foundation that matches your skin tone, skin type, and desired coverage level can be an uphill battle. Throw on the weight of the pandemic (which means that many stores no longer display foundation testers), and the fact that many people are turning to online shopping versus in-store to buy new products, and the shade-matching troubles multiply.

We know how gratifying it is to find the perfect formula and color that looks and feels like second skin, which is why we haven't given up on finding the perfect one just yet. And with the help of professional makeup artist Jillian Dempsey, you won't either. Below, we're sharing everything you need to know on how to shade-match your foundation online, plus a few extra tips to keep in your back pocket while making your next foundation purchase.
 

IDENTIFY YOUR SKIN TONE & UNDERTONE
First things first on the quest to find your next go-to complexion product—knowing your skin tone and undertone (yes, there's a difference). While skin tone refers to the color you see on the surface of the skin (usually labeled fair, medium, tan, dark, or deep), undertone refers to the natural colors under the outermost layer of your skin (warm, cool, or neutral).
Sure, you can find a foundation that matches your actual skin tone and be done with the process, but it might appear mask-like and mismatched during seasonal shifts if it's not the right undertone. Thankfully, many foundation brands that have a wide selection of foundation shades (namely,
PUR Cosmetics
,
Cover FX
, and
Fenty Beauty
) have made things a little less complicated while shopping online: They've separated their colors into different shade ranges, and each range features images of models that have varying skin tones so that you can identify which model is closest to your own. This makes the initial step of figuring out which category your skin tone fits into easier, especially when access to in-store testing is not available.
Deciphering your undertone, however, is not as clear-cut. Here's how to differentiate: A warm undertone has more yellow or orange hues in it. You'll know if you have a warm undertone if you have green veins on the inside of your wrist or if your skin typically tans (versus burns) in the sun. In this case, look for a foundation shade that lists the words
"
golden,
"
"
olive,
"
"
tan,
"
or
"
chestnut
"
 in the color description.
On the flip side, a cool undertone is when there's more pink or blue tones present in your skin, which you'll know because your veins lean blue or you typically burn in the sun. If this sounds like you, opt for foundation shade names that have the words
"
peach,
"
"
porcelain,
"
"
cocoa,
"
or
"
rose
"
 in them.
Finally, if you're neutral, your skin has a combination of both cool and warm tones in it and you should go for shade names that sound like
"
nude,
"
"
buff,
"
"
ivory,
"
or
"
walnut.
"
KNOW YOUR SKIN TYPE
Because you won't be able to feel how hydrating or drying a foundation is when shopping online, it's important to be mindful of formula descriptions, as they can give you insight as to what skin type it's best suited for. Foundations come in many different forms—from cream and liquid to powder and stick—and what may work for one skin type (say, oily) won't necessarily work for another (for example, dry).
Skin types generally come in three main variations: dry, oily, and combination. Dempsey recommends liquids, creams, and air-cushion foundations for those with dry skin, and suggests avoiding words like
"
matte
"
 and
"
powder
"
 in your foundation description. Instead, look for labels that call out the words
"
moisturizing,
"
"
hydrating,
"
and
"
easy to blend
"
if your skin skews parched.
In contrast, if you're oily, she says to seek out powder foundation formulas as well as oil-free liquids and sticks. "Words like 'absorbing,' 'staying power,' 'oil-free,' and 'shine-free' are best for oily skin, while words like 'glowy,' 'dewy,' 'moisturizing,' and 'ultra-hydrating' should be avoided," explains Dempsey. Finally, if your skin lies in between dry and oily, you're likely a combination skin type, which Dempsey says gives you more options. "It's easier to choose from all categories if you're a combination skin type. Words like 'easy coverage,' 'effortless,' 'seamless,' and 'universal' will match your skin type best," she says. 
CHOOSE YOUR COVERAGE
Struggling to figure out what coverage is right for you? With so many options to sift through and skin-care concerns to consider, it's easy to see why. In summary, a full-coverage foundation refers to the maximum amount of product pigment to block pigmentation. According to Dempsey, it typically comes in stick, powder, or cream form and is what someone looking to cover up discoloration, hyperpigmentation, or breakouts can opt for.
A medium-coverage foundation, however, will still show a bit of skin after blending it in and usually comes in liquid form. This is for someone who has some flaws to conceal but doesn't want to feel the weight of a full-coverage formula and still wants to see some natural skin tone peek through. A light-coverage formula is minimal, meant to subtly even out your skin tone, and is usually available through air-cushion gels, liquid, and some creams. Dempsey says this type of coverage will typically still show your freckles and is the best for allowing your skin to breathe. If you wind up with a foundation that feels and looks too heavy for your liking, you can always add a few drops of moisturizer into the formula (blending on the back of your hand is easiest) in order to make the coverage a little more sheer.
---
Dempsey recommends this light-coverage foundation for its HD finish and featherweight feel. Dry skin will find it extremely moisturizing (thanks to a blend of jojoba oil, olive squalane, and shea butter), while problematic skin will love its pore-blurring properties. Apply it in sheer layers using a damp beauty sponge, and let the formula settle into your skin before adding additional product.
A cult favorite for many reasons, Dempsey touts this smoothing liquid foundation as being one of her favorite medium-coverage picks. Its finish is luminous but not overly so; it's just enough to make your skin look airbrushed and filtered sans cakiness. Apply it with a stippling brush for heavier coverage, or use a damp beauty sponge for a subtler look—either way, its micro-fil technology will provide a flawless, radiant finish.
Looking for a foundation that provides coverage and nourishes the skin while doing so? Dempsey says to go for this one by Sisley Paris, which boasts an anti-aging formula rich in skin-tone-evening red vine extract, moisturizing cherry blossom extract, firming soy peptide extract, and moisture-trapping plant-based sugar. It also promises up to eight hours of wear (no touch-ups required)—oily skin, rejoice.