Meet the Designer Making Clothes Out of Discarded Electrical Wire
Discover where she finds her inspiration and how she curates her own wardrobe.
Designers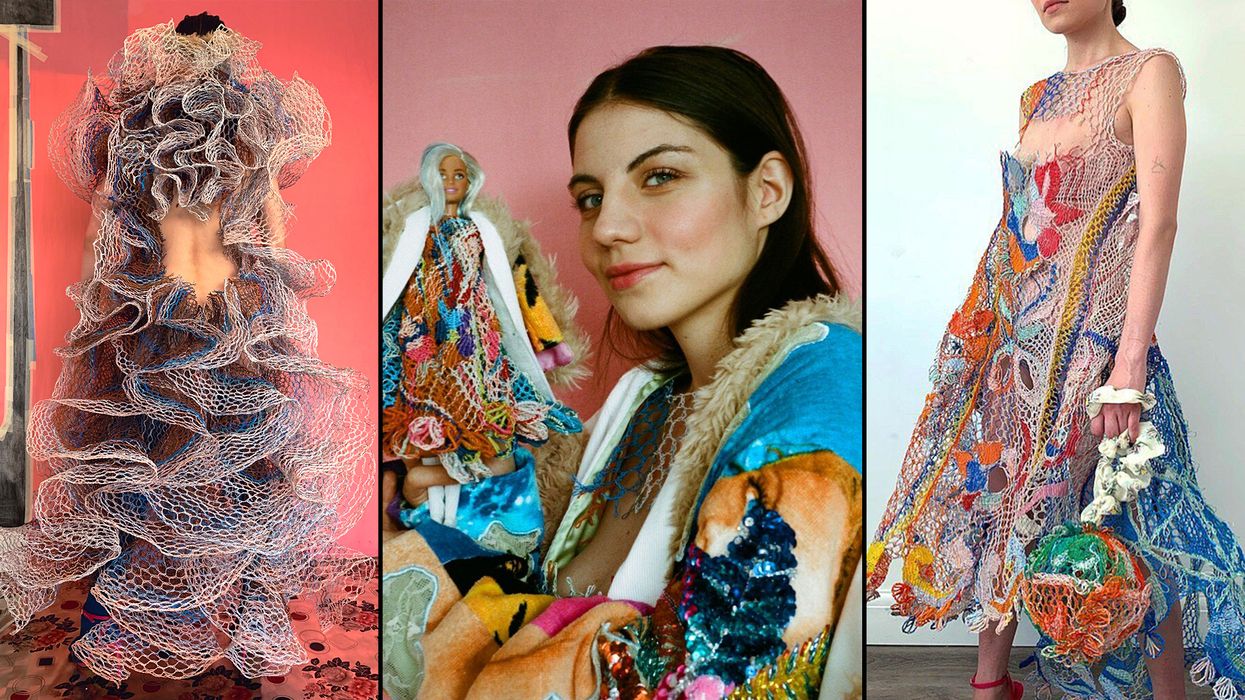 Welcome to our How to Shop Like series , where we spotlight our personalities within the fashion industry and take a deeper look at their personal relationship with fashion and how they shop—think all the best insider tips and tricks. This week we are chatting with designer Alexandra Sipa .
Take a glimpse at young designer
Alexandra Sipa's Instagram page
, and you'll see intricately woven mesh-like pieces rendered in abstract colorways and patterns resembling something between mesh and netting. You would have no idea the material is actually constructed out of discarded electrical wires. The wire acts as a sort of boning that distinguishes her structured pieces from draped netting or tulle—or basically anything designers have constructed before.
Born and raised in Bucharest, Romania, Sipa is on the fast track to success. Since she graduated from Central Saint Martin's in May and shortly thereafter launched her own line, her designs have been featured in
Vogue
,
Vanity Fair
,
Dazed
China, and
Elle
Romania. She has done all of this with a very small team operating out of her own apartment—a familiar sentiment in 2020. "I've just graduated (during the pandemic) in a way I never expected to," says Sipa. "However, I'm very happy with what I was able to accomplish from my flat in London."
We are always excited to see how a strong sense of design translates into personal wardrobes. Not to mention, we were extremely curious about how she would style her avant-garde pieces IRL. So we picked Sipa's brain about her own sense of style, why she decided to launch a line, and everything that influences her work.
---
Shop Alexandra's Current Picks:
Winsor & Newton
Aesop
Candy Kittens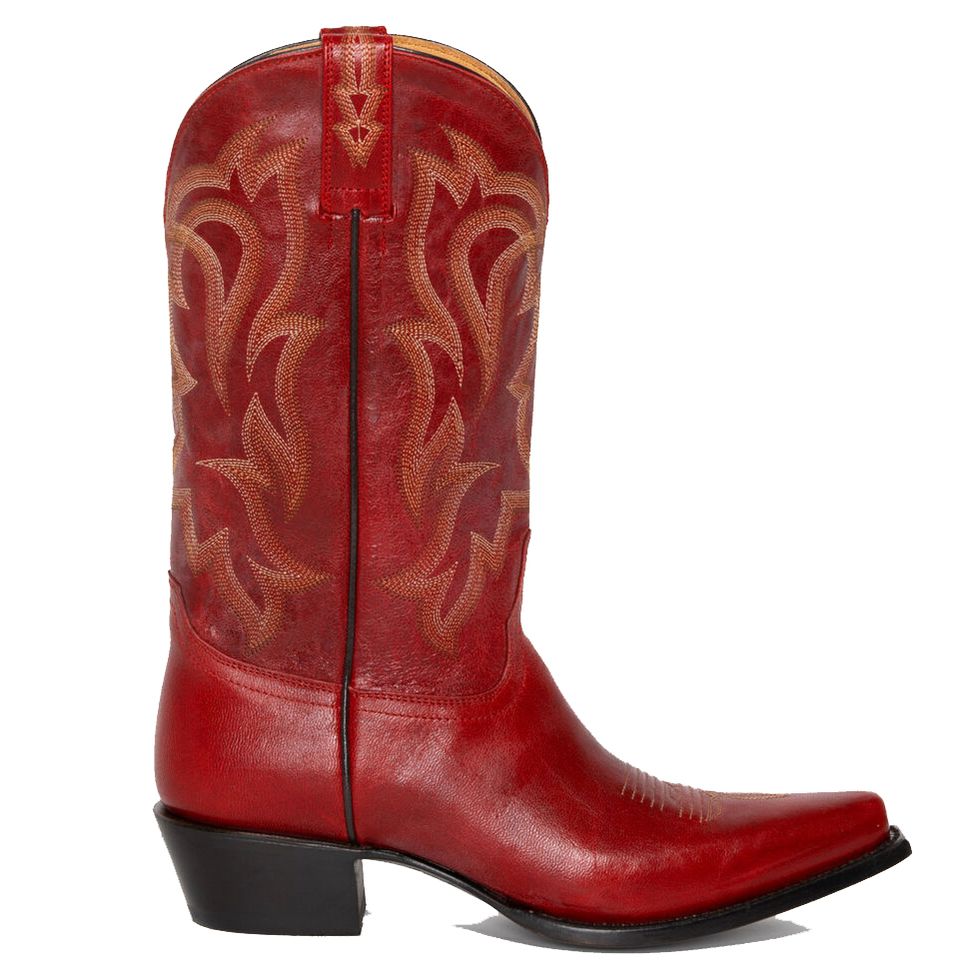 Shyanne
When did you first fall in love with fashion?

"Probably playing with Barbie dolls and making clothes for them. I used to watch the first seasons of Project Runway and recreate the challenges on my dolls during the show, draping them with toilet paper and using sugar and glue as glitter."

Why did you decide to launch your own line?

"It came organically. After I finished my graduate collection, my partner, Lucas Baker, and I started looking into how we can make it commercial and what pieces can be easily made and worn by people. I want to make pieces that people will treasure."

How would you describe your personal style? How does it compare to your designs?

"I love colors and mixing tons of patterns and textures in the same outfit, much like my designs. Combining kitsch with sophisticated styles."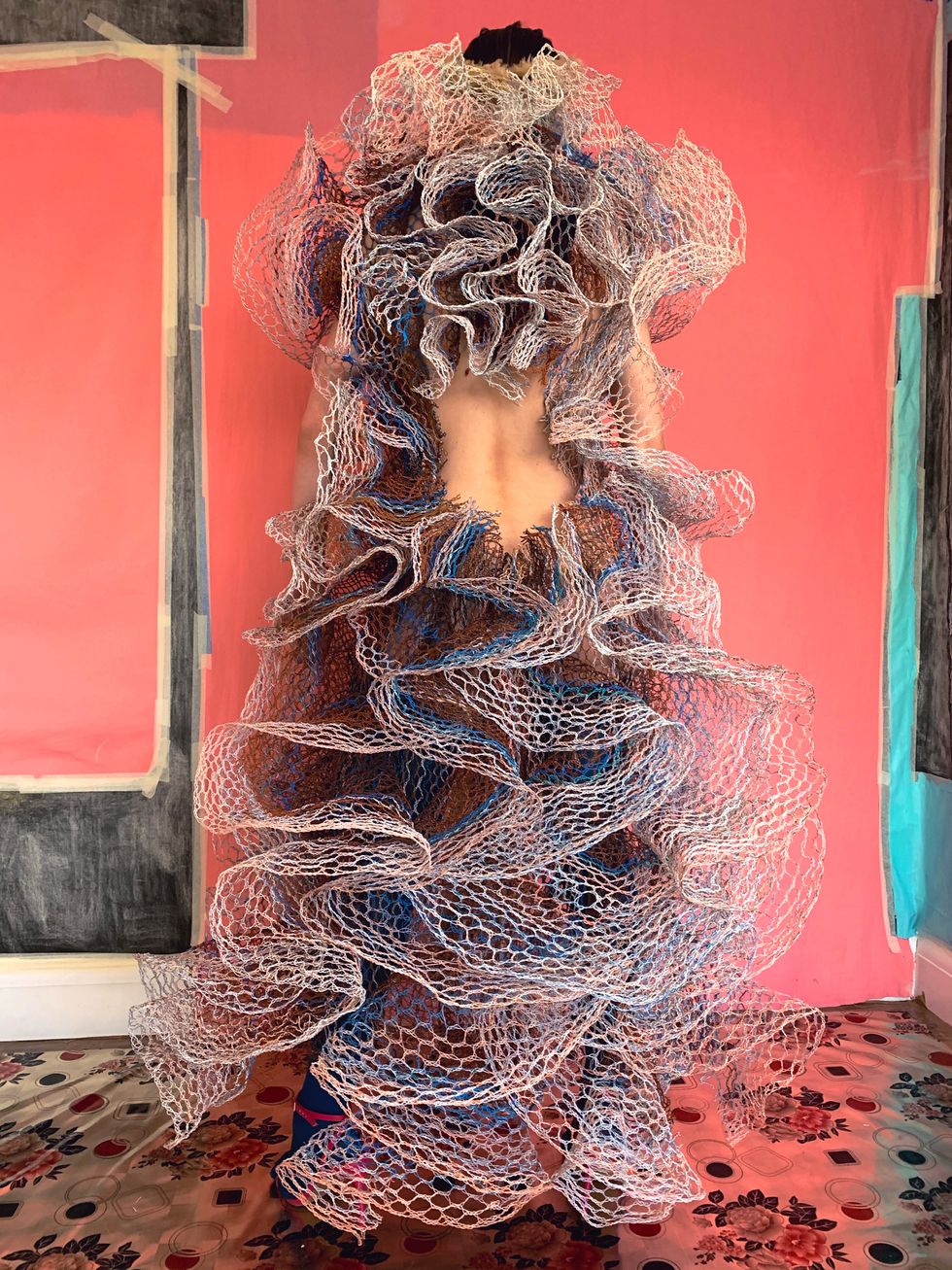 Photo: Courtesy of Alexandra Sipa
What inspired you to use electrical wire for your pieces?

"A lot of random things happened. I was researching during my second year for our sustainability project. I noticed that e-waste is not widely recycled and wondered if there were any opportunities there. At the same time, I was looking into my family's heritage in Romania: the interiors, the lifestyle, and the aesthetic. My grandma's house is full of bright colors and patterns mixed with doilies and lace. I had a few broken charging cables and headphones lying around in my apartment, and I started taking them apart, trying to weave them into a fabric. I just thought about how great it would be if I could make a refined lacelike fabric out of them. After that, I kept building on the idea, learning new techniques, perfecting my skill, and adapting. It took a really long time to get good and fast at it. Only now, after two years of practice, I feel confident in my skill."

Do you have a uniform?

"Freddy Jeans, a t-shirt, and my Beach Towel Jacket from the Romanian Camouflage collection."

What do you let yourself splurge on?

"Candy."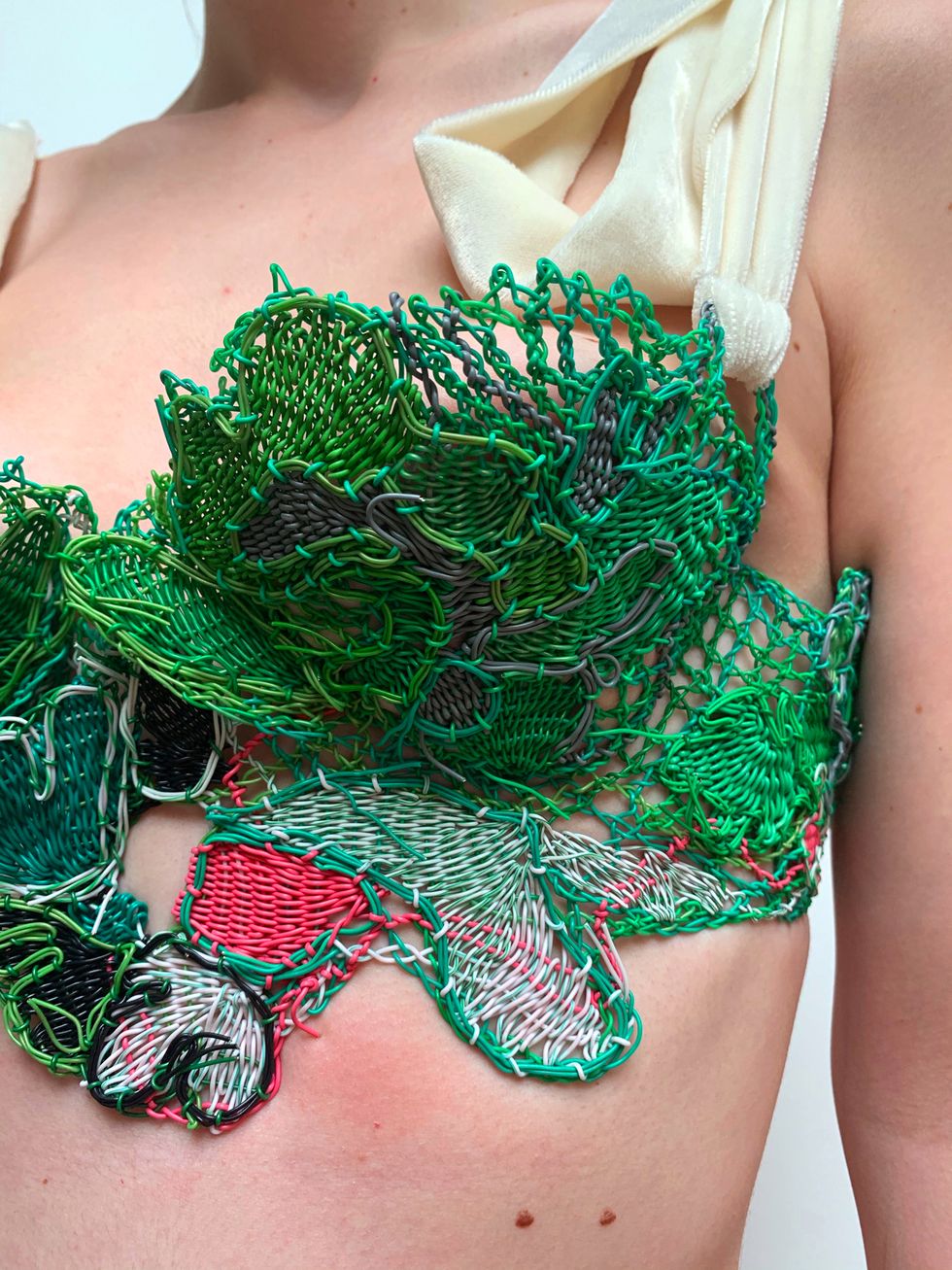 Photo: Courtesy of Alexandra Sipa
What has been your favorite purchase of all time?

"My latest sewing machine."

How does your design work influence your own style?

"It makes me wear leggings way too often—haha. Because I work with my hands so much and I'm always making, sewing, and pattern cutting, I tend to get lazy when I'm in the studio and wear the most comfortable clothes."

Where do you look for inspiration for design? Is your answer the same in terms of your own style?

"For the past couple years, I've been researching different aesthetics from Romania, starting with my grandma's house and then looking elsewhere, such as neighborhoods and markets in Bucharest. And yes, the same for my own style."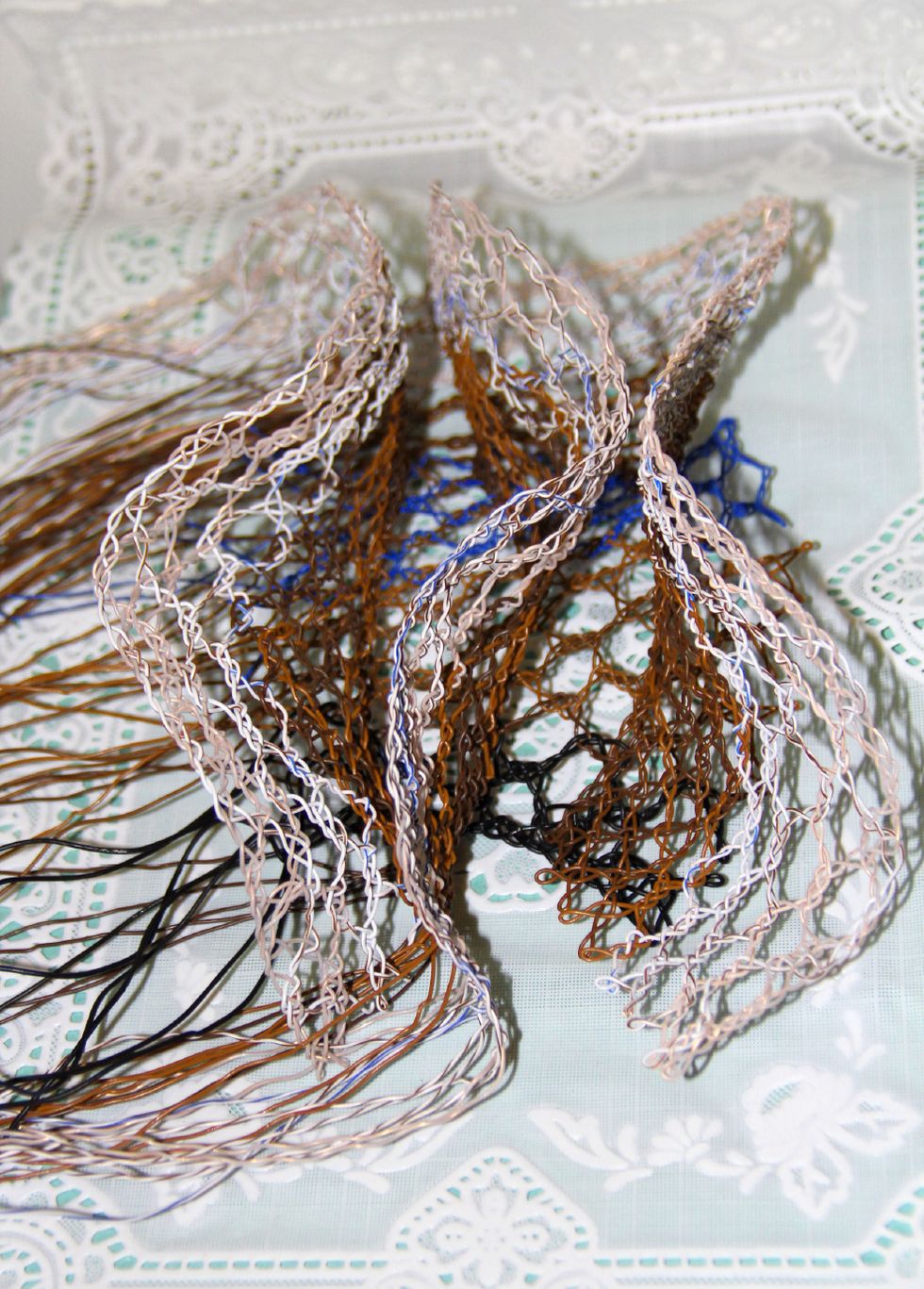 Photo: Courtesy of Alexandra Sipa
Which stores do you frequent?

"Tesco—haha."

What would your closet be full of if money were no object?

"Lanvin from the Alber Elbaz era."

Vintage or new?

"Vintage."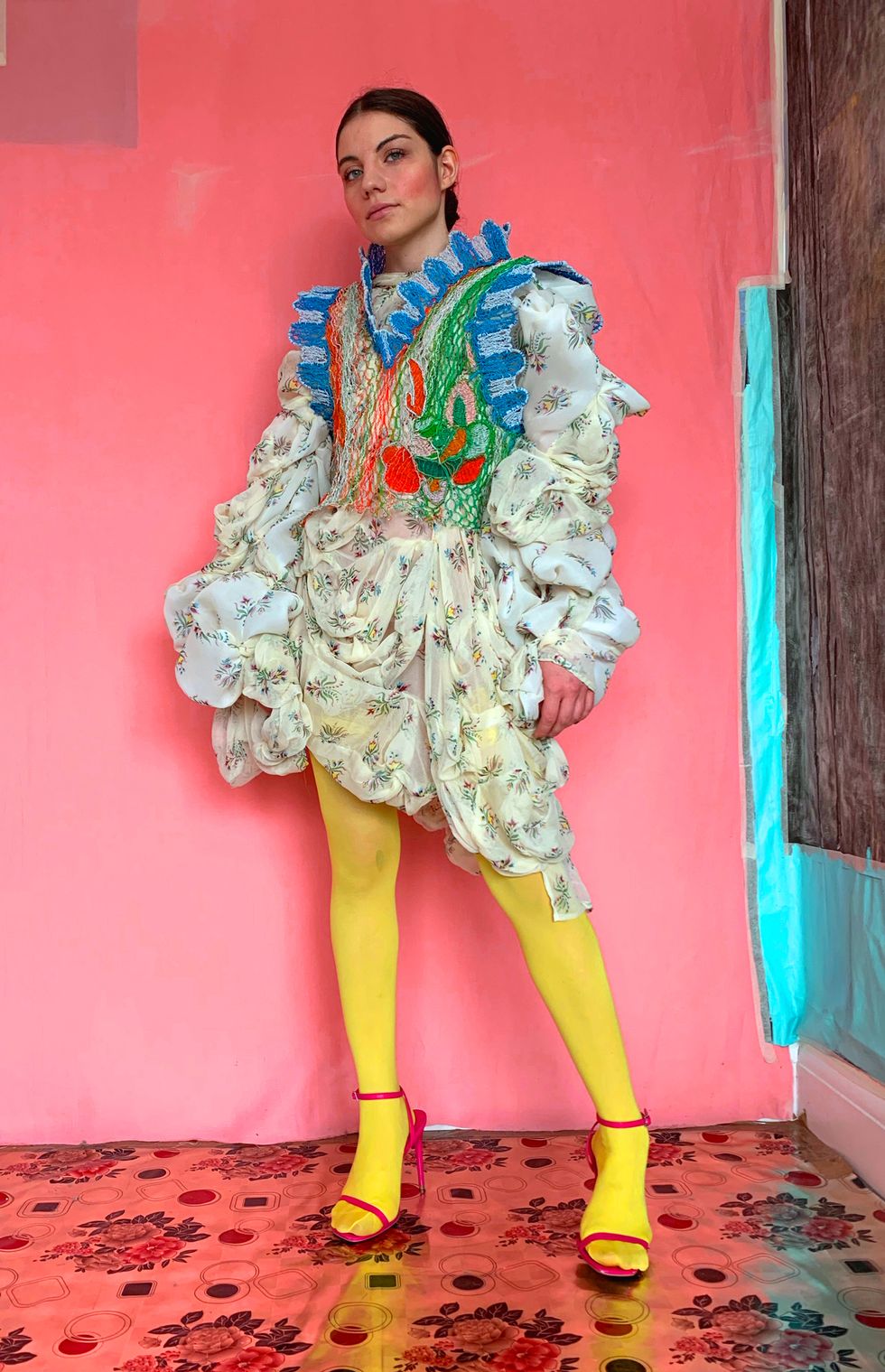 Photo: Courtesy of Alexandra Sipa
Who are your favorite style icons? Favorite designers?

"My style icons are Caroline de Maigret, Camille Rowe, and my grandmother. My favorite designers are Raf Simons, Pierpaolo Piccioli, and Jonathan Anderson at Loewe."

If you could envision one icon wearing your designs, who would it be?

"Alexandria Ocasio-Cortez."

Your pieces are more avant-garde. How would you style them for real life?

"The lace bras and bodysuits would go great with a pair of high-waisted jeans and a long jacket or an oversized shirt, finishing it off with lace rings on every finger."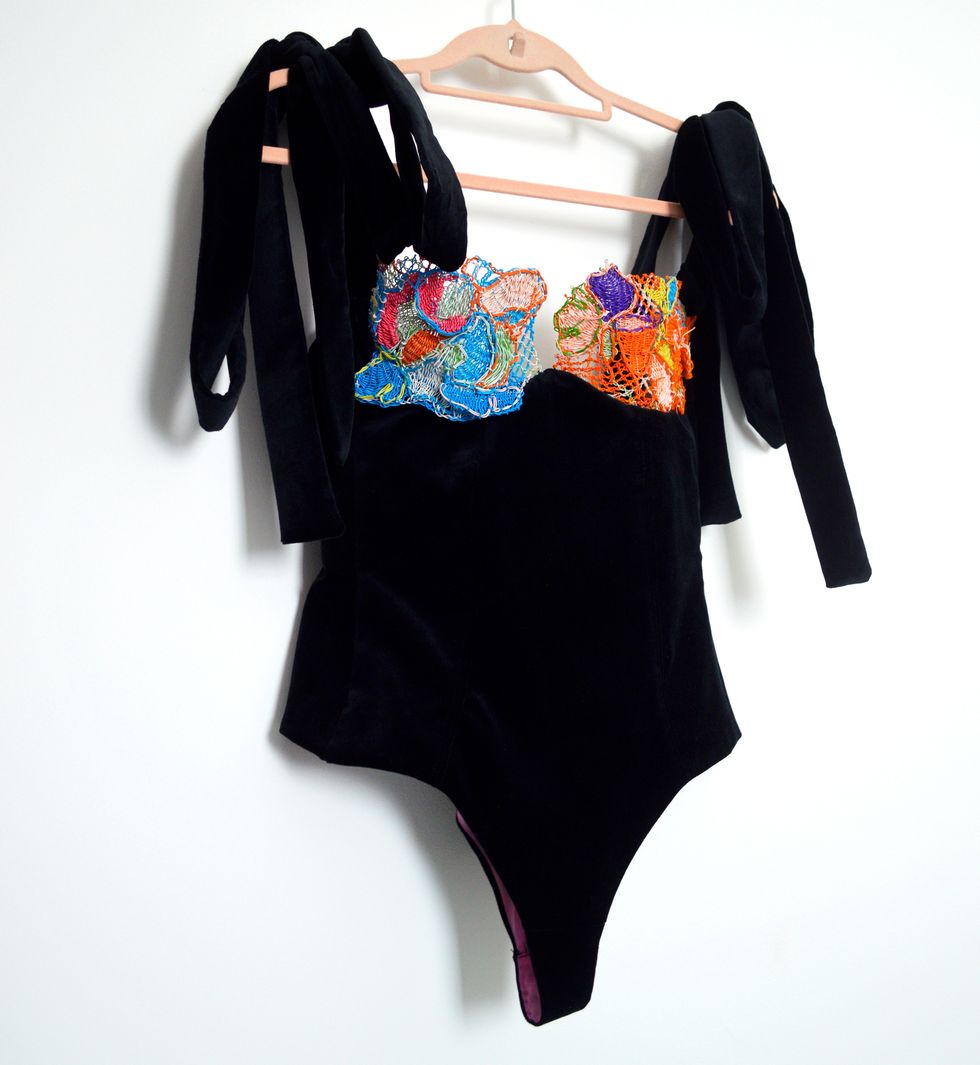 Photo: Courtesy of Alexandra Sipa
What does your current WFH wardrobe look like?
"Snoopy shorts and
Sesame Street
Cookie Monster t-shirt."
Who are your favorite small fashion brands of the moment?
"Paula Canovas del Vas, Nensi Dojaka, and Stefan Cooke."
What are the top five most-worn items in your wardrobe?
"1. Rainbow leopard-print Freddy jeans.
2. My boyfriend's Fucking Awesome hoodie.
3. Vintage Escada shirt.
4. Lace rings from my Romanian Camouflage collection.
5. Vintage Helmut Lang coat."
What era of fashion is your favorite and why?
"The 2000s because during this time, I feel there was an explosion of creativity, and it was a time of excessive fantasy in fashion, including Riccardo Tisci at Givenchy, Marc Jacobs at Louis Vuitton, Christopher Bailey at Burberry (spring 2011 is one of my favorite shows ever), Alexander McQueen, Galliano at Dior, the beginning of Phoebe Philo at Celine, etc. I grew up and discovered fashion during this time, so I'll always be sentimental about this era. Also, I have a soft spot for fashion films from this period, such as
The Devil Wears Prada
and
Confessions of a Shopaholic
."
Photos: Courtesy of Alexandra Sipa
Want more stories like this?
How to Shop Like Vintage Fanatic Jane Aldridge
How to Shop Like Object Limited Founder Anna Gray
Why DIY-Inspired Clothing Is Our Favorite Trend of the Moment