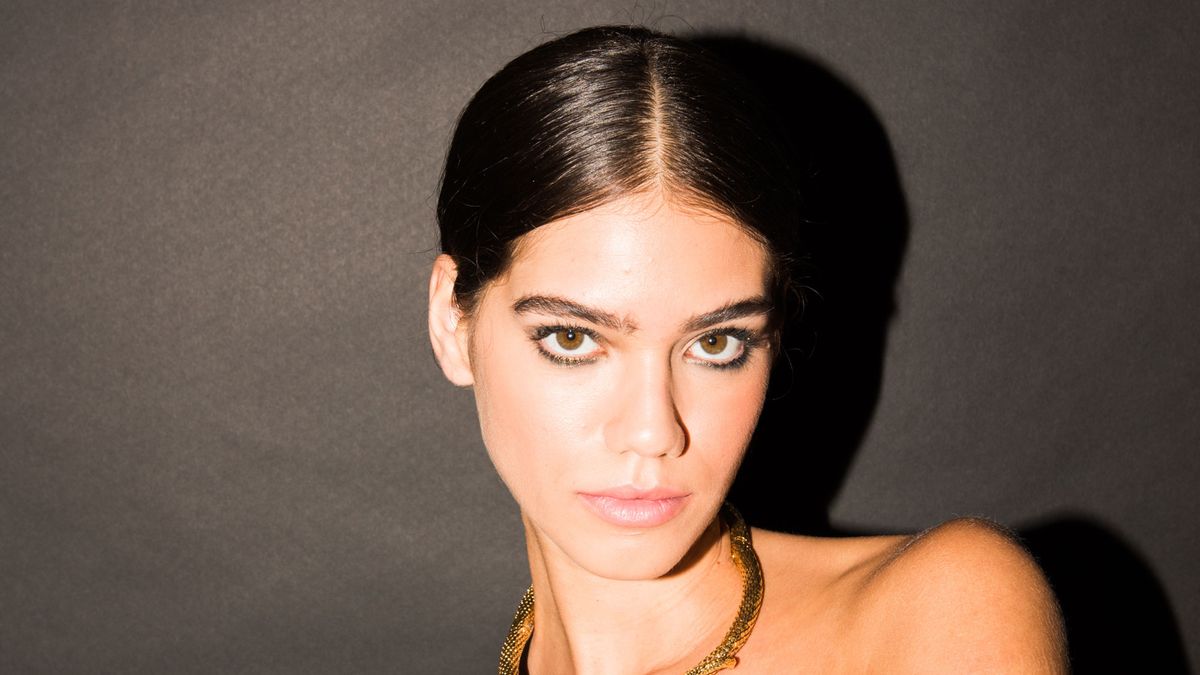 Makeup
Expert advice to improve your technique.
Of all the makeup products we love to use, eye makeup is the category that gives us the most grief. There is some serious technique involved whether you're trying to craft a subtle smoky eye, create a rhinestone masterpiece, or apply liquid eyeliner so sharp it could cut glass. One of the most important factors to consider in order to achieve the look you want is your anatomy—the shape of your eyes, lids, and bone structure. Hooded eyes especially require a bit more care and expertise to successfully wield your product of choice and avoid the product transferring or wearing off throughout the day. Luckily, with a few tips from the experts, you'll have everything you need to apply your favorite shadow and liner like a pro.

We spoke with two artists, Anthony Nguyen and Kanako Takase, to learn the best makeup techniques and tricks for hooded eyes.
 

Prep the Eye
One of the primary concerns for eye makeup on hooded eyes is the product potentially transferring. Both Nguyen and Takase recommend taking steps prior to using either shadow or liner to keep the formula where it's supposed to be. "Eyeliner and shadow can be challenging on hooded eyes because, depending on application, it may not be as visible or flattering when eyes are open versus closed," says Nguyen. "Primer definitely helps shadows stay put." Takase agrees that primer can work, but prefers to set the area with transparent loose powder, "especially if you apply concealer on the eyelids before eye makeup."
---
Urban Decay
Laura Mercier
Rare Beauty by Selena Gomez
Product Choice
Nguyen stresses that waterproof formulas are your friend when you have hooded eyes, especially for liner (whether liquid, gel, or pencil), as it helps the product stay put and last until you're ready to remove it at the end of the day. Takase also notes that you should take into account the finish of your eyeshadow, as "shimmery eyeshadow [on] a hooded eye can pick up more highlights than others. This leads to the eyelids looking puffy." If you don't like this effect, stick with matte and powder finishes, and avoid anything with iridescence or shimmer.
Placement Is Key
Where you apply your product is all about embracing your eye shape, from liner to shadow. "The area [where you] apply and the amount of makeup is the key. Hooded eyelids can cover up parts of the areas you have applied the eyeshadow, and if the eyeliner is thick, there is no space to see the eyeshadow. It is very important to know the balance of how to use the space," says Takase. Nguyen suggests playing around with both upper and lower lid applications to help define your eyes. "Smudged-out liner or shadow below the bottom lash creates a flattering and diffused look for hooded eyes. Try tight-lining using a pencil liner under the upper lash line to create a natural yet effective look."
Application Tricks
Eyeshadow
Everyone has their preferred way of applying their eyeshadow, but Nguyen recommends that people with hooded eyes look straight ahead, rather than down, during application. "To best define a hooded eye, it's a great tip to do eyeshadow with eyes open, looking straight ahead, so you know how far to take the shadow above the crease without it disappearing—and always blend." Stick to smaller blending brushes here so that you can see exactly where you're applying the product and avoid applying too much.
"Make sure not to bring the eyeshadow too wide on the hood. Focus on applying darker shades right into the outer corner and not have it drag into the middle of the eye or above the hood. When applying the highlighting shimmery shade in the middle of the eye, make sure to not go up to the hood or higher. It attracts the light and makes the hood [look] bigger," says Takase. Buff the shadow either with a clean makeup brush or your finger to achieve that diffused effect on the edges.
Eyeliner
If you usually keep your eye closed when you apply eyeliner, it's time to switch it up. "It's easier to apply upper eyeliner with the eye open and head tilted back so that the liner has time to set and not crease on the lid," says Nguyen. "Adding a dark eyeliner in the waterline smudged out will create more depth." Even for waterproof formulas, it's best to give your preferred product at least 30
–
60 seconds to dry. It'll be worth it to keep your lines crisp and clean. Pro tip—keep a handheld fan nearby to expedite the drying time.
Takase suggests applying your eyeliner just between your lashes, almost on the rim of the eyelid—if you're using a pot liner, a small, dense, flat brush will be your best friend for this technique. Otherwise, just tap small dots of product in between the lashes. Then, for the wing, she recommends "extending [the line] past the outer corner of the eyes," to create the sleek, lifted effect. And remember—a cotton bud dipped in micellar water is your friend if you don't get the line right on the first try.
Shop some of their favorite eyeliners for hooded eyes:
"[This is] one of my favorite liquid liners that doesn't crease. This option is great for hooded eyes to avoid transferring and for clean, crisp lines." —Anthony Nguyen
"For pencils, Make Up For Ever Aqua Resist Color Pencils are great for the waterline, and it doesn't budge." —Anthony Nguyen
"This felt pen gives a very smooth stroke, so it's easy to control, and it dries fast. There are 10 colors—my favorites are pine green and night sky blue." —Kanako Takase