Food
In this episode of
In the Kitchen
, founder and CEO of
Purely Elizabeth
Elizabeth Stein
 walks us through her must-make brunch dish, apple cinnamon sheet-pan pancakes. Get ready for your kitchen to smell AMAZING because this recipe is packed with savory spices like cardamom, ginger, nutmeg, and cinnamon. Unlike most fall treats, these pancakes are guilt-free, as they're made with nutrient-rich ingredients, pack a mean amount of protein, and are grain-free. Bonus: These pancakes are seriously easy to make, trust us. Welcome to your new brunch go-to.
---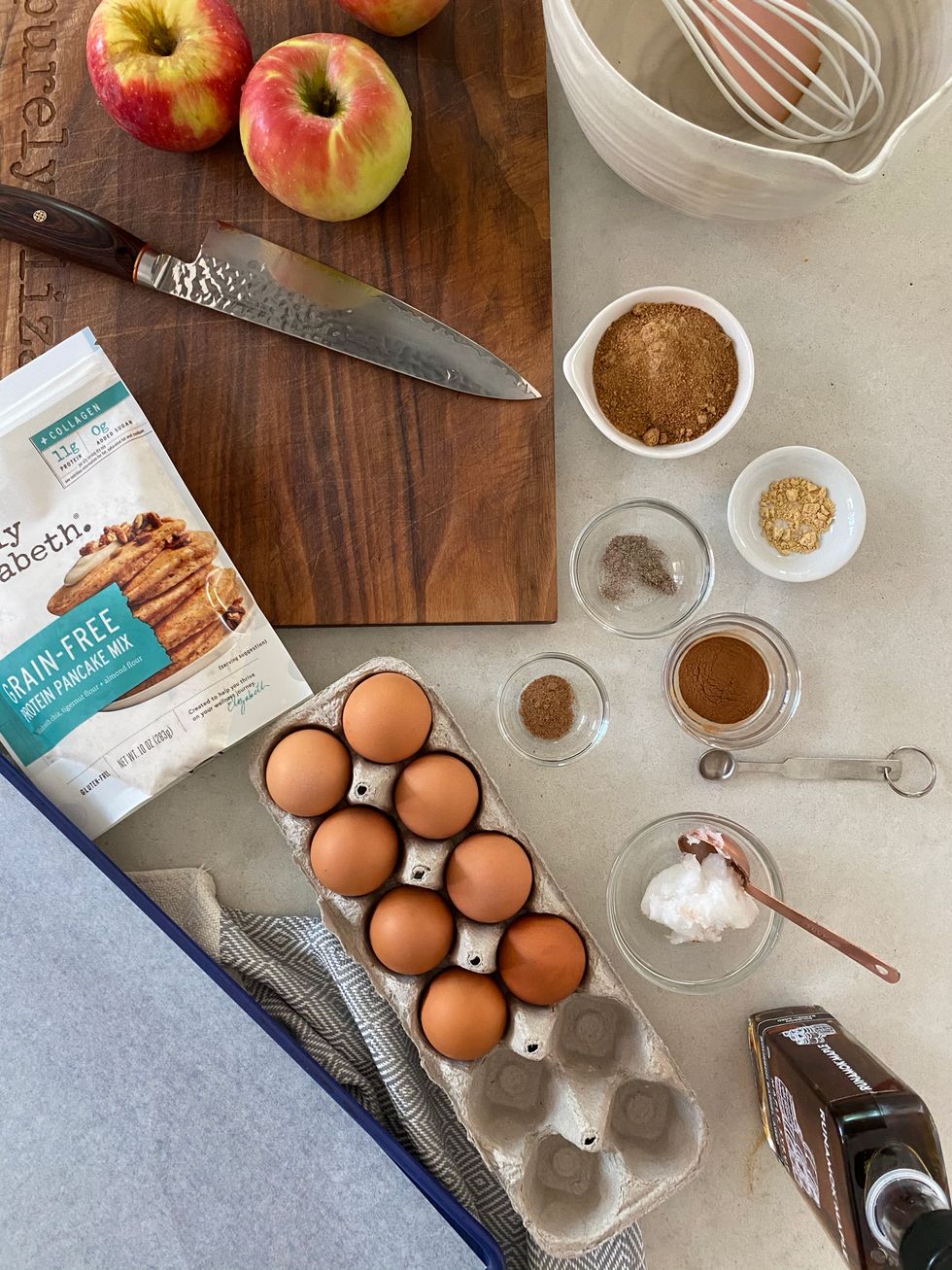 Photo: Courtesy of Elizabeth Stein
Ingredients:
Vegetarian, grain-free
For the apples:
2 tbsp coconut oil, melted
3 Gala apples, thinly sliced into rounds
1/3 cup coconut sugar
1 tbsp cinnamon
1/4 tsp nutmeg
1/4 tsp ginger
1/8 tsp cardamom


For the pancakes:
1 Pouch Purely Elizabeth Grain-Free Protein Pancake + Waffle Mix
4 eggs
1/2 cup + 1 tbsp coconut oil
1/2 cup + 1 tbsp water
1/4 tsp nutmeg 1/4 tsp ginger


Yogurt topping (optional):
1/2 cup yogurt
1 tbsp maple syrup
1 tsp cinnamon
1 tsp vanilla extract


Photo: Courtesy of Elizabeth Stein
Directions:

1. Preheat oven to 425 degrees F and line a baking sheet with parchment paper.

2. In a small bowl, whisk together coconut sugar, cinnamon, 1/4 tsp nutmeg, 1/4 tsp ginger, and cardamom.

3. Drizzle coconut oil over parchment paper. Line the baking sheet with sliced apples, layering them so each one lays slightly over the next.

4. Sprinkle with sugar spice mixture and bake for 20-25 minutes or until apples look soft and tender.

5. Before you pull the apples out of the oven, prepare your pancake batter.

6. Whisk eggs, oil and water in a medium bowl.

7. Add full pouch of pancake + waffle mix and the ginger and nutmeg. Whisk until combined.

8. Pour over the apples and evenly distribute the batter. Bake for 10 minutes.

9. Let cool for five minutes before serving.

10. Flip each slice over to reveal the apple topping. Alternatively, using a large cutting board, carefully flip the full sheet over on top of the board, peel back the parchment paper and serve.

11. Top with yogurt, maple syrup or your favorite pancake topping!
Purely Elizabeth