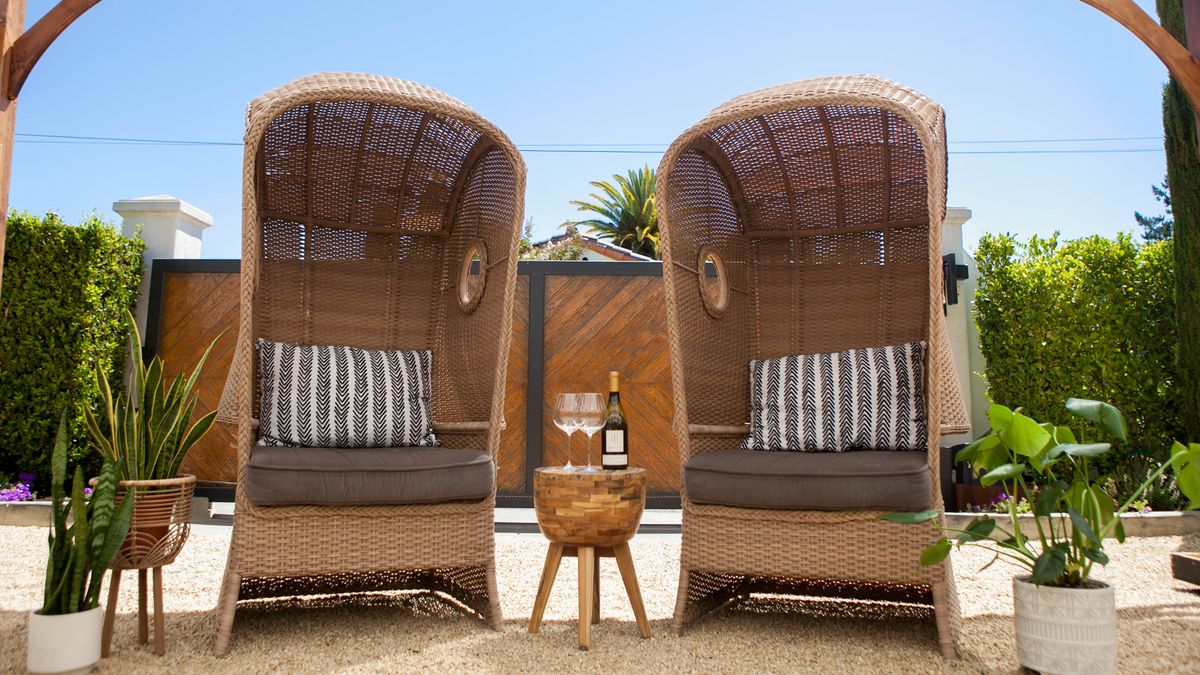 Travel
Need an Escape? Let This Road-Trip Guide to California Serve as Inspiration
Put these outdoor experiences on your next itinerary.
Sixteen days on the road. That's what my always overly ambitious travel personality committed to in the middle of a pandemic. The result? An elixir that soothed the jitters, uncertainties, and longing to be outdoors that so many of us have felt this year, and a reminder that there is a world out there, with places and memories within reach. This was my first time doing any traveling this year, and doing so didn't come without extreme consideration of what would be the safest and most socially responsible way to approach things. The answer came in the form of outdoor adventures.
My route started in Los Angeles and continued up the coast to Los Alamos, Big Sur, Carmel, Monterey, Half Moon Bay, Mendocino, Sonoma, San Luis Obispo, then back to Los Angeles. I tapped my favorite car rental app,
Kyte
, to deliver my four-wheeled travel partner for the next two weeks. The benefits of having contactless delivery of a car straight to your home cannot be understated. To capture the picturesque moments through the state, I used the
Nextbase 522GW Dash Cam
, which also allowed me to get directions, listen to audiobooks, and sing (or scream) along to my favorite music. The California coast set the backdrop to delicious wine experiences, apple farms, meditation, hiking, picnics, a Skunk Train (more on that soon), and of course, reflection. My quarantine blues were replaced with the kind of travel moments that I used to take for granted. Here are just some of the outdoor experiences that can help inspire your next getaway.
---
LOS ALAMOS, CA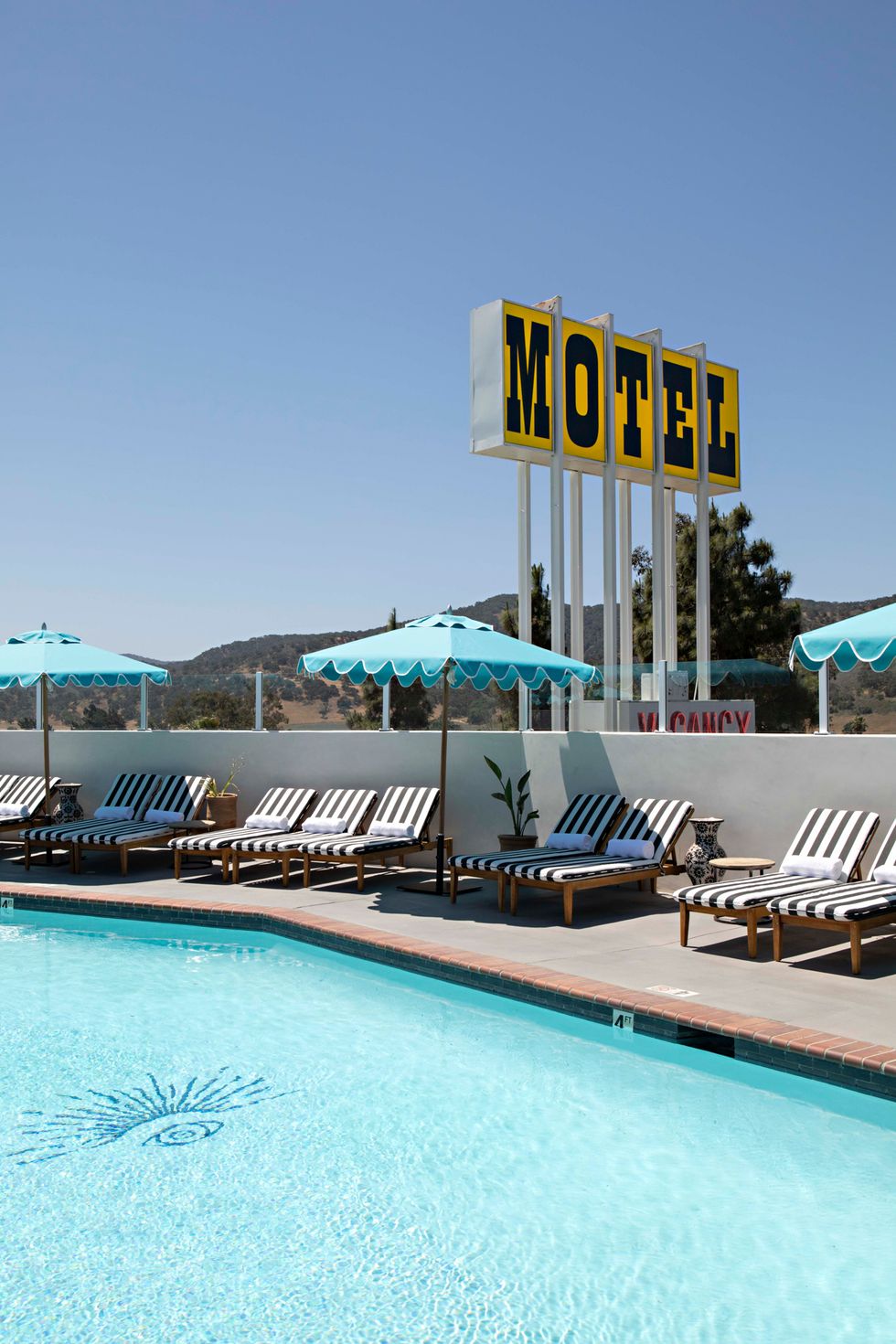 Photo: Courtesy of Skyview Los Alamos
Los Alamos is an old frontier town in Central California. Think the Wild, Wild West, but without cowboys, and lots of wine, antiques shops, and Michelin-worthy food. Just under an hour from Santa Barbara, it was the perfect, slow-paced kickoff to my outdoor adventures.
Checked Into:
Skyview Los Alamos
. A winding hillside dotted with palm trees led to what felt like a camp retreat for adults, with sweeping views of the St. Ynez Valley. This roadside motel turned luxury boutique has outdoor firepits, socially distanced Adirondack chairs, a pool, and plenty of outdoor spaces to eat. You can also use their complimentary bikes to explore.
How I Got Outdoors:
With over 100 wineries and antique stores, Los Alamos left plenty of opportunity to wander around their small towns and visit a few tasting rooms. Surprisingly, I also had some of the best outdoor dining experiences here, in part because of the sourcing of fresh produce. Lunch at the French bistro
Bells
included a gazpacho bursting with flavor and their award-winning beef tartare, so tender I didn't want to finish it. For dinner, just down the road,
PICO
's lush outdoor and well-spaced garden made my introduction to
Lumen
wines and Chef John Wayne Formica's duck confit even more special.
Let This Inspire:
The art of a vintage hotel experience, a walkable town adventure, antique shopping, and wine, of course. Try to find smaller towns near you that offer tasting experiences that highlight local produce. And again, lots of wine.
BIG SUR
If you have watched any episode of Netflix's
Ratched
and your mouth dropped at the stunning scenery, you've gotten a glimpse of Big Sur. Taking Highway 1 through this coastal stretch shrouded by fog, bursts of sun, and views of the sparkling Pacific Ocean was, quite simply, breathtaking.
Checked Into:
Post Ranch Inn
. Located in a redwood forest with captivating cliffside views of the Pacific Ocean, this resort is the ultimate close-up with nature. There are tree houses on the property that are built on stilts nine feet off the forest floor with a stairway to each entrance. Post Ranch Inn offers yoga, meditation sessions, nature hikes, and star gazing—but it was grabbing my book and watching the sunset views here that really gave me the peace I was seeking. No televisions and limited cell-phone service also proved to be a blessing in disguise, as this is the type of place you never want to stop looking at or leave.
Let This Inspire:
A commune with nature on lesser-known trails. Accommodations you would normally not think to try, like a tree house or tent. Anything to get you closer to the dirt, the sea, and the sky.
CARMEL and MONTEREY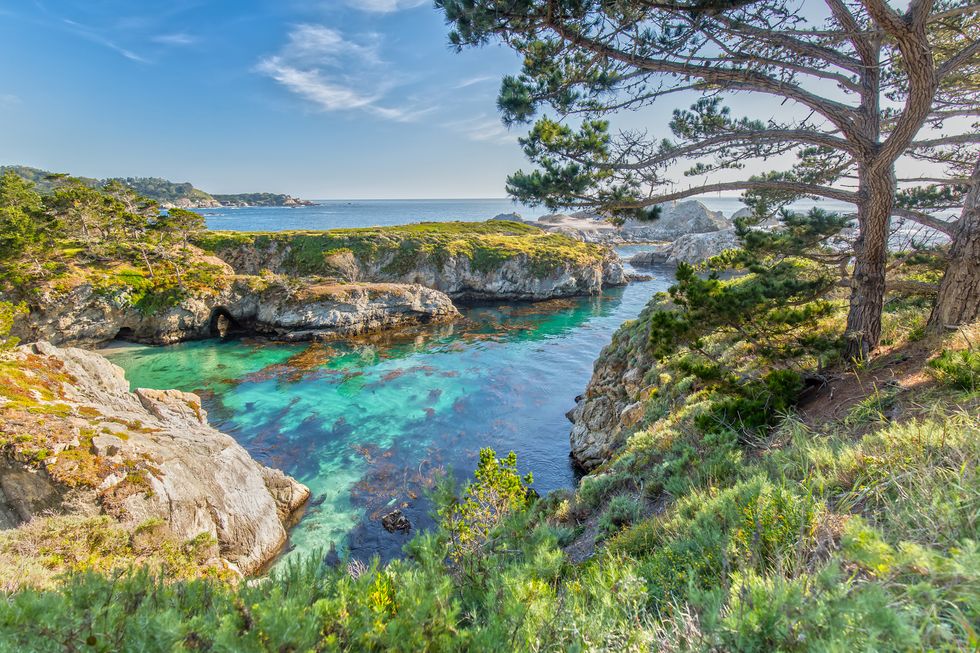 Photo: Courtesy of SeeMonterey.com
Oh, Carmel-by-the-Sea. Oh, Monterey. The location of
Big Little Lies
and countless other shows because of its sheer beauty. The kind of terrain that offers outdoor adventures you never want to end. Carmel and Monterey are seaside towns full of boutique shops, shorelines sprinkled with surfers, and scenic hiking.
How I Got Outdoors:
The 17-mile drive is an unforgettable joy ride through century-old cypress groves, coves with seals and waves crashing against craggy rocks, and hills that are rumored to be the inspiration behind Steinbeck's writing. Point Lobos State Natural Reserve is the crown jewel of California State Parks, with eight different beaches and various hiking trails that lead to ocean coves. A stop at
Eddison and Melrose
for the most well-made blueberry scones I've had in the US became a picnic beach at Del Monte Beach in Monterey. And because after a long hike, one must reward oneself with wine and food, the tasting flight at
Caraccioli Cellars
followed by a Oaxacan-inspired outdoor dinner at
Cultura
closed the day off just right.
Checked Into:
Bernardus Lodge
and
La Playa Carmel
. Bernardus Lodge is set on 28 acres of sweeping vines and lavender, with villa accommodations that feature alfresco fire pits, free-standing soaking tubs, wet rooms with wall and rain showers, radiant heat floors, double-sided fireplaces and alfresco showers, and terraces featuring vineyard or Santa Lucia Mountain views. This spacious property has a meditation garden that is worth the check-in alone, and Chef Cal Stamenov's farm-to-table creations from the on-property garden will remind you why fresh and natural is always the way to go.
La Playa Carmel set the scene for the best sunlit skies over an ocean that is just steps away from the hotel. The 75-room hotel features gardens, intimate patios, and quiet courtyards that come alive at night with guests enjoying local bottles of wine. The heart of downtown Carmel is also just a few minutes away by foot.
Let This Inspire:
Supporting national parks, a romantic seaside adventure, a day at the beach with a local wine.
HALF MOON BAY
Just an hour south of San Francisco, Half Moon Bay is a seaside town that proudly moves at a slower pace than Silicon Valley.
Checked Into:
The
Ritz Carlton, Half Moon Bay
. Located on a foggy bluff, this stunner is the outdoor retreat for anyone that appreciates ocean views shrouded in a bit of mystery, locally sourced seafood, and quiet nooks to read a book and people-watch. The resort offers a driving experience that unfolds in a series of five distinct regions, including the historic main street with shopping, dining, and art experiences; pumpkin farms with flowers, fruit stands, and the world's largest pumpkin festival; California Redwood forests with hiking trails, biking, horseback riding, and dining; the Santa Cruz mountains with wineries; and the coastal beaches, marine reserves, surfing, and panoramic views.
Let This Inspire:
A weekend getaway from the city that includes a room with a view and programs to highlight local outdoor activities and produce, like farms and hiking trails.
MENDOCINO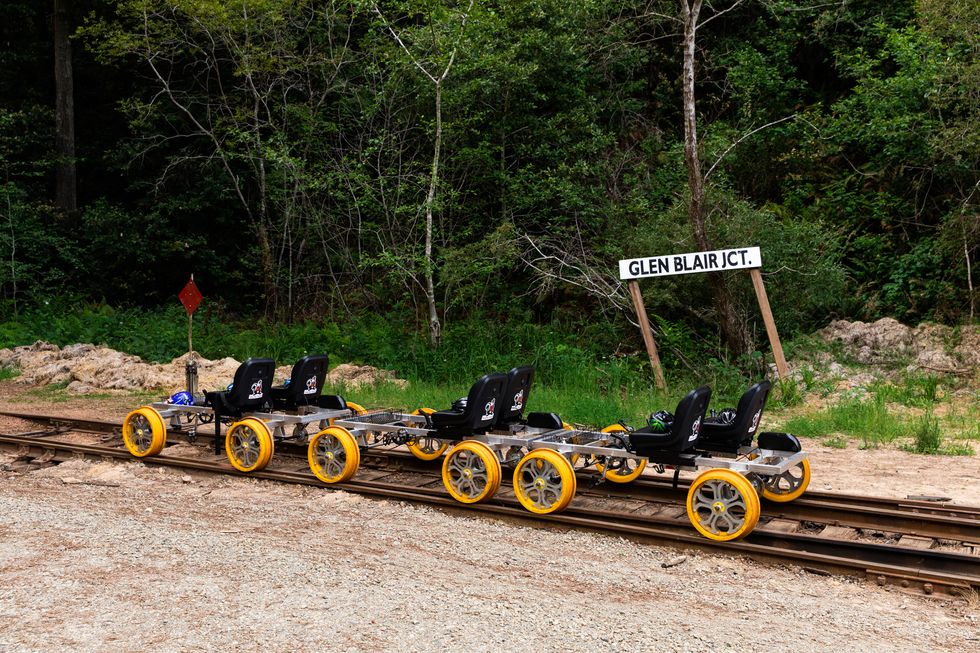 Photo: Courtesy of Skunk Train
Mendocino is the type of place you wish you'd discovered sooner, or at least that's how I felt as soon as I found myself oohing and aahing over and over again as I drove under gigantic redwood trees along Highway 128.
Checked Into:
Brewery Gulch Inn
. This bed-and-breakfast reaffirmed all my love for the intimate hotel experience, with fireplaces, outdoor decks, and a patio that overlooks Smuggler's Cove beach. Each day, Brewery Gulch's chef whips up the most impressive cooked-to-order breakfasts and afternoon plates that highlight Mendocino's impressive bounty alongside local wines.
How I Got Outdoors:
In the nearby town of Philo, an outdoor wine-tasting experience at
GoldenEye Winery
included their award-winning pinot noirs and a decadent caviar and bubbly tasting. The only thing that could make this experience better (and it did) was the picturesque vineyard view in the distance. In Mendocino, it was all aboard with an outdoor experience on the
Skunk Train
rail bikes. The two-person bike delivers a thrilling ride into ancient redwood groves, laced with blue herons, osprey, and flora. Mendocino is also a playground for hiking, with Hendy Woods and Fern Canyon being two top picks.
Let This Inspire:
A local outdoor activity you haven't tried yet, like rail biking or forest bathing. A check-in at a bed-and-breakfast with an intimate feel and open-air spaces.
SONOMA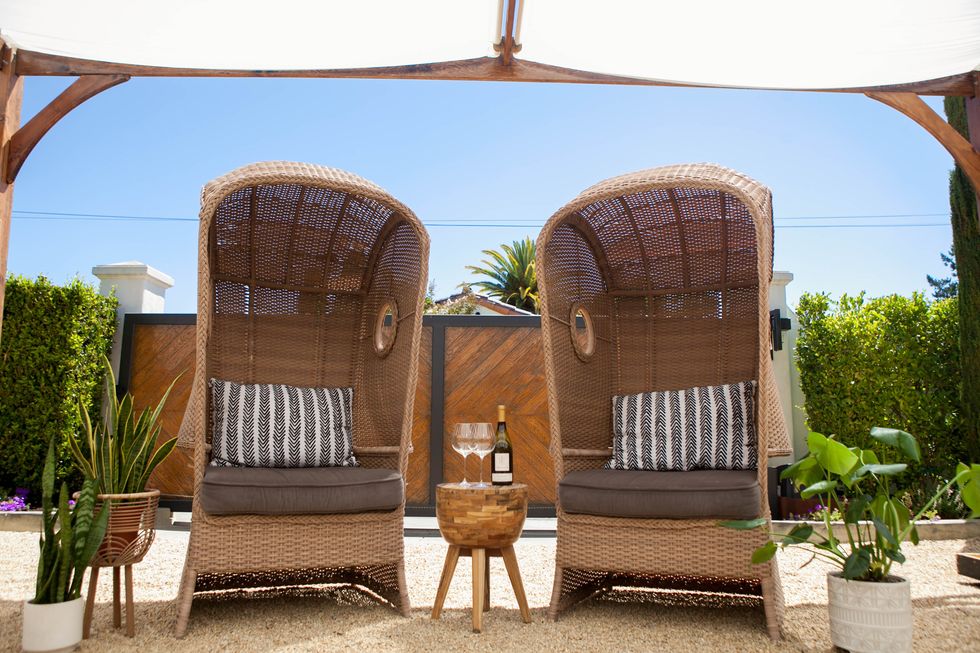 Photo: Courtesy of Three Sticks Wines
Often known as Napa's more laid-back sibling, Sonoma is a region I find myself returning to each year for just that reason. Quality wines, great people, and a number of outdoor activity options that extend far beyond lifting your wineglass in different vineyards (although I do that too).
Checked Into:
Carneros Resort
. In nearby Napa, I found a safe haven of luxury in their cottages, which are secluded and arranged within private neighborhoods named after local flora and fauna indigenous to the region, such as Lavender, Fig, and Juniper, among others. The pool overlooks a scenic vineyard, and property restaurants
Farm
and
Boon Fly Cafe
highlight the diverse produce of local farmers with creative twists that include a carrot-shaped cake.
How I Got Outdoors:
Let's start with tastings, of course.
Corner 103
was just named best tasting room in the US by
USA Today
, and after one sip of their sparkling rosé and Marsanne Roussanne, I can see why. Owner Lloyd Davis is just as memorable as his wines. Just down the road at
Three Sticks Wines
, an outdoor tasting room is minimalist with pops of warm wood tones that perfectly complement their warm, woodsy pinot noirs (the William James being one of the best I've ever tasted). I could have spent hours at their adobe, with its spacious, socially safe seating and laid-back vibes. At the
Donum Estate
, art and wine lovers will find the best of both worlds on this estate that is also home to over 40 large-scale open sculptures. Outdoor tastings that are paired with light bites from Chef Aaron LeRoi can also be included with an art walk around Donum.
When you're ready to try something other than wine, family-owned
Hanson of Sonoma
offers vodka flight tastings that include flavors like habanero and seasonal blackberry in a quaint outdoor garden. Naturally, the pizzas from their wood-burning oven are a must, especially after a few vodka cocktails. At night, the place to dine outdoors in Sonoma is Michal Mina's
Wit and Wisdom
, which is easily the best food experience I've had all year. Why, you ask? With impeccable service and menu items like a short-rib-braised pop tart, lobster pot pie, and a citrus crepe cake with Valrhona white chocolate cream and fresh raspberries that I dream of daily…that's why. For an outdoor brunch with live music, head to
Kivelstadt Cellars Wine Garden & Eatery
, where executive chef Oscar Bendeck makes everything from the Bloody Maries to a smoked chicken and slap-your-knee-good scones.
Let This Inspire:
A wine escape, complete with your own outdoor picnics in vineyards, private cabana tastings like the ones offered at
Cline Cellars
, and outdoor farm-to-table food experiences.
SAN LUIS OBISPO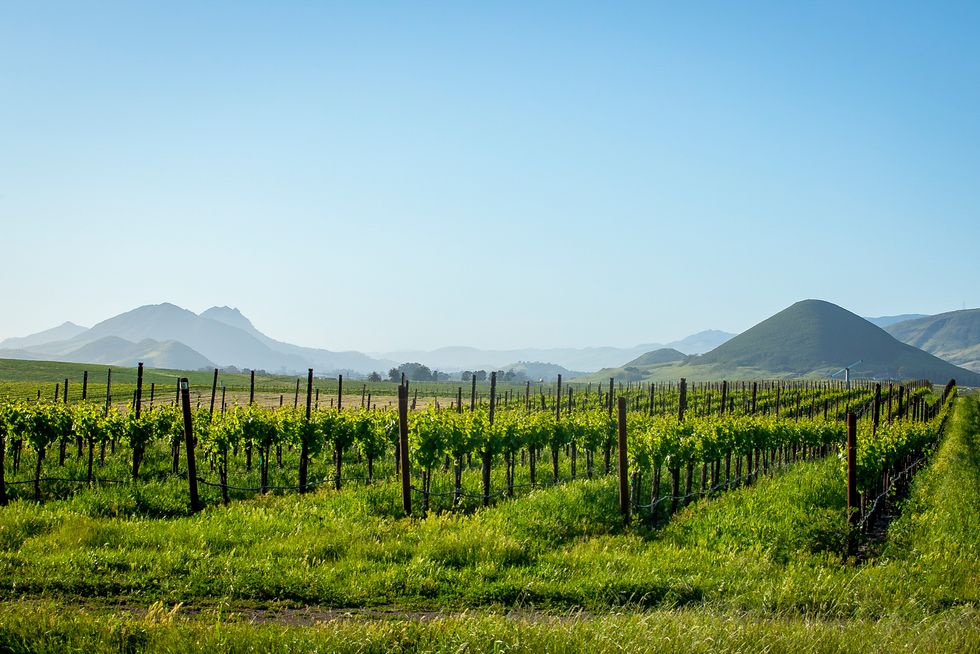 Photo: Courtesy of Edna Valley Winery
This scenic city on California's central coast is filled with vineyards, alfresco dining, and plenty of outdoor activities like hiking that are just minutes away from the city center. Halfway between Los Angeles and San Francisco on historic Highway 1, SLO enjoys year-round sun that helps grow some of the best wine in Central California. SLO's arts district has over 100 unique pieces of public art ranging from murals and mosaics to sculptures, and there's even a skate park.
Checked Into:
Hotel San Luis Obispo
. I checked into one of Hotel SLO's welcoming Morro Suites, which offer 800+ square feet of indoor and outdoor living space and a separate living area. The suites are named after the Morros, the nine volcanic mountains and hills in western San Luis Obispo County. What I loved most about this hotel, including its proximity to everything, was the welcoming staff (shout out and major gratitude to everyone in the service industry during a pandemic) and the live outdoor music by the pool.
How I Got Outdoors:
Because if you haven't noticed yet, the theme of my outdoor experiences always includes wine, I visited
Edna Valley Winery
, which produces award-winning chardonnays and five other varietal wines nationwide: merlot, cabernet sauvignon, pinot noir, pinot grigio, and sauvignon blanc. The views here include peaceful panoramic views of the vineyards that produce the wine you're sipping. I could have easily spent all afternoon on their terrace with my book. In the morning, a five-minute drive led me to Terrace Hill, a hike that rewards you with scenic views of San Luis Obispo, especially during golden hour.
Let This Inspire:
A city escape with easily accessible outdoor activities and outdoor art walks and exhibits, especially before the weather gets too cold in certain parts of the country.