Everything You Need for a Solo Road Trip
Hit the road.
Travel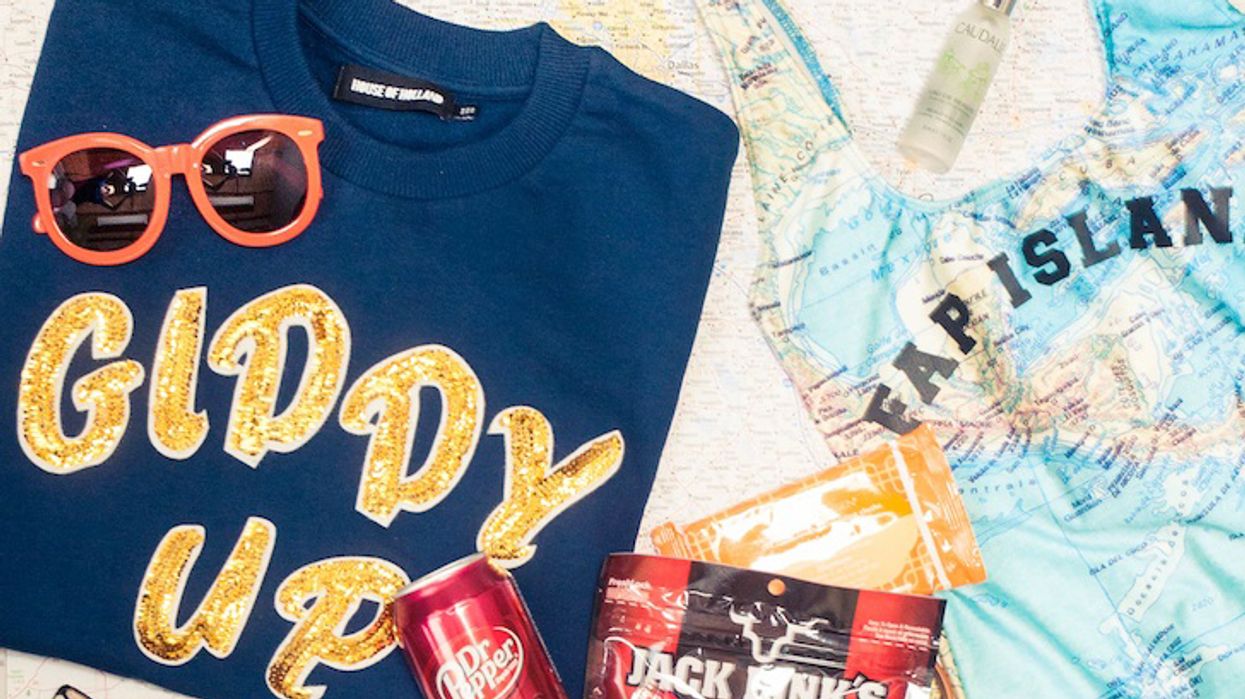 While 2020 has caused many travel dreams to be put on hold, there are still ways to get creative with exploring new terrain in our own backyards and beyond. Scroll through any IG or travel news, and it's clear that the year of the road trip is upon us. All the days I'd spent glancing longingly at my passport have been replaced with mapping out an epic solo road trip.

My first foray on the great wide adventure included a two-hour drive from Los Angeles to a desert oasis in Palm Springs. Visions of my Thelma-without-the-Louise escapade included everything from a curated music playlist to picnic stops with fashionable attire and as many mini-sized items as possible.

When being sheltered at home begins to weigh on the spirit, hitting the road is great nourishment for those moments of much-needed recalibration. If a plane trip is not in your foreseeable future but you're longing for a new travel experience, here are all the essentials you'll need to make the most of your time on the road.


I was wary of going into a car rental place for a number of reasons, including wait time and safety protocols, so
Kyte
has been my go-to for any road trip journey. In the age of social distancing, Kyte is the perfect remedy to any car-rental concerns. The California-based company thoroughly sanitizes all cars, and a "surfer" will deliver your ride straight to your door. They will also pick up your car once you return and refuel at market-rate prices. Another major perk: If your rental is over a week, you'll receive a 30 percent discount.
This essential app is an amazing resource for anyone looking to navigate a road trip with ease. All you have to do is share your start and end point, and Roadtrippers will share not only the best directions, but also restaurants, points of interest, hotels, and more along the way.
Refuge provides safe restroom access for transgender, intersex, and gender-nonconforming individuals. While you're on the road, the app allows users to search for restrooms by proximity to a search location and add new restroom listings, as well as comment and rate existing listings.
---
SpectraSpray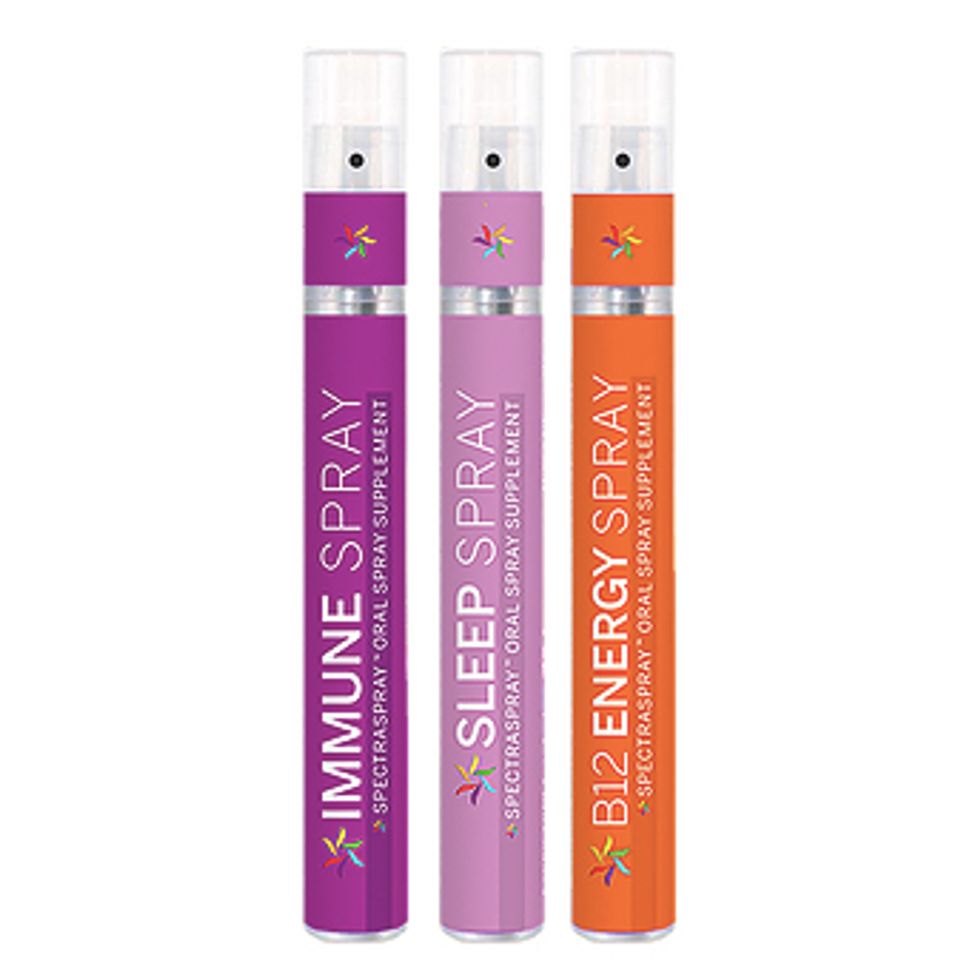 Keeping my immunity and energy strong during a road trip is critical. SpectraSpray Travel Spray Vitamin Kit is the perfect size for travelers on the go and includes B12, vitamin C, vitamin D, zinc, and lysine, which create a barrier from germs and viruses when you spray orally. The kit provides a natural way to stay healthy and alert on the road while you embark on your adventure.
The Judy Mover Max
It doesn't get any easier to prepare for the unexpected or must-haves on the road than with the essentials packed into the Judy Mover Max . The ready-to-go bag is stocked with a first-aid kit, tools, hand sanitizer, quick-dry towel, and more.
OUTDOOR STOP ESSENTIALS
Whether you're camping out in a tent, having a picnic along the way, or staying in a cute bed-and-breakfast, easy-to-carry dining items and beverages are ideal for any road trip. Travel-sized cocktails are my go-to when I have safely arrived at a new location for an overnight stay.
Yeti Tundra Hard Coolers
Not only does this cooler come in lovely pastel colors, it also makes insulating your food and drinks for the road so easy. That's because the rotomolded walls are several inches thick and filled with PermaFrost insulation to provide a day's worth of ice retention. For solo road trippers, the 24-inch is the perfect size. It's also thin enough to fit behind the driver's seat.
Rixo
The brainchild of best friends Henrietta Rix and Orlagh McCloskey, this vintage clothing line is my absolute obsession and inspiration for feeling free on the road. Their patterned dresses are inspired by natural themes and give countryside chic a whole new meaning. Two of my favorites to enlist during a fabulous outdoor adventure include the Mimi Smudge Print and Thelma Multi Retro Woodstock .
Rixo
Whispering Angel
When I found out that Château d'Esclans released mini bottles of their well-loved Whispering Angel rosé wine, I knew immediately it would be the perfect option for a solo getaway without the stress of larger bottles. This wine is my forever go-to, particularly on a warm summer day.
Canned Goods
Two other perfect transportable options that I love include Maker's new sparkling sauvignon blanc from winemaker Chris Christensen . The 250 ml single-serving cans is the perfect summer sparkling wine with lemon-lime aromas with citrus and passion fruit flavors. Maker also has a number of other wines from small producers. Volley , founded by husband and wife duo Christopher Wirth and Camila Soriano, is the first 100 percent blue agave tequila-based seltzer. Made from 100% organic fruit juice, Volley's four flavors include Zesty Lime, Spicy Ginger, Sharp Grapefruit, and Tropical Mango.
Maker
Maker
Volley
SILVR SILVERWARE
When it's time to make a stop to eat, Silvr is my go-to for an alternative to plastic forks. The eco-friendly, reusable line uses anti-microbial 304 stainless steel with a light aluminum handle, making it light to carry and easy to wash. The variety of chic styles is also a fun way to liven up your outdoor dining experience.