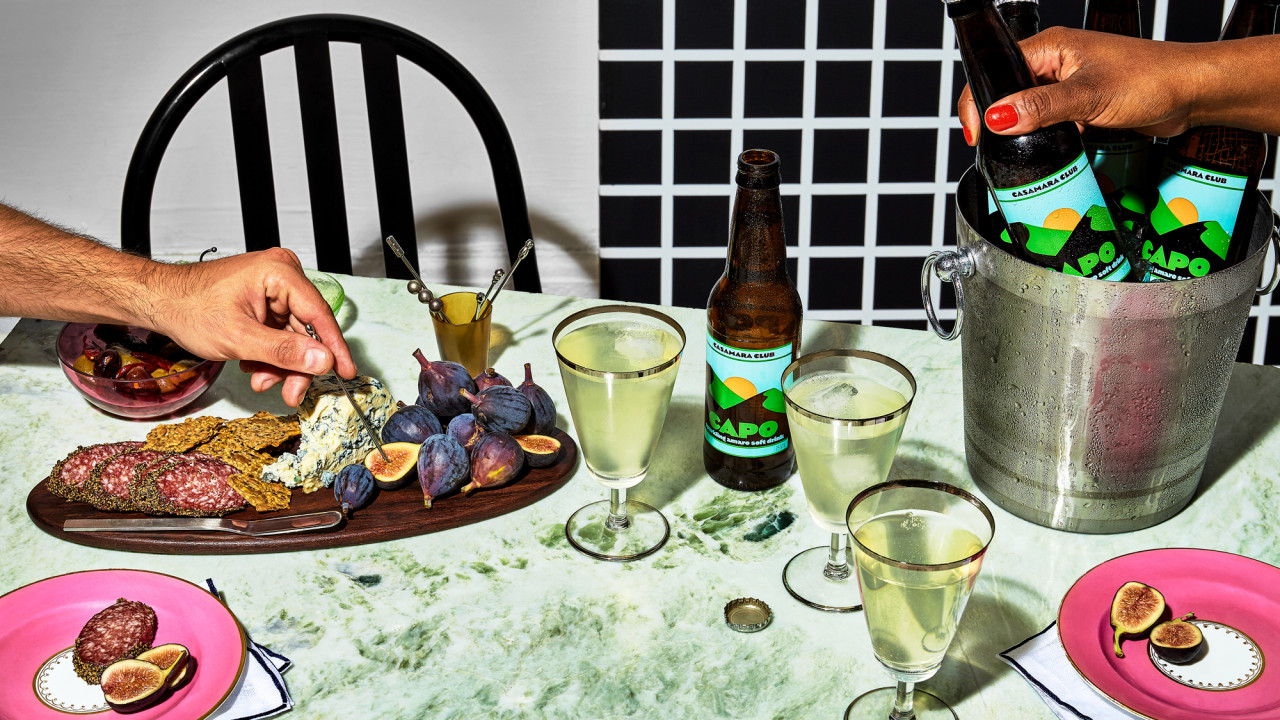 No Alcohol Doesn't Mean No Fun: Four Booze-Free Drinks to Know
Elevated options, indeed.
Whether you don't drink alcohol at all, you're on a drinking hiatus (maybe you're pregnant), or you're looking to detox after too many wine-fueled evenings during the pandemic, there are more interesting booze-free options to pick from than ever before.
While the market is flooded with non-alcoholic options that are either too sugary or so watery that they don't taste much like anything at all, we've recently discovered a few options we love. These drinks are complex, adult concoctions that fit in well sitting on the bar at top-tier restaurants like Eleven Madison Park, The NoMad, Momofuku, and Daniel (their thoughtful, artfully designed packaging also helps). They range from "wellness tonics"—think adaptogen-filled and CBD-infused concoctions—to aperitivo culture-inspired drinks to alcohol-replacement beverages. It just depends on what sort of adventure you're looking for. Ahead, a few of our favorites out there right now.
After Melanie Masarin was diagnosed with Crohn's disease, Masarin decided to cut out alcohol almost entirely.
"I used to love wine and the occasional dirty martini and Negroni, but the next day I just didn't feel good. But I loved eating out, and I didn't want to not eat out because I didn't want to drink. I wished there were more non-alcoholic options at restaurants, and that was something that really bothered me," says Masarin (previously creative at DIG and Glossier). "The idea with Ghia is it's an invitation to participate. There is a social stigma that if you aren't drinking, you aren't participating."
Ghia, a spirit-free aperitif inspired by Masarin's summers spent with her family near the Mediterranean, first launched in June (just when people had tired of the pandemic slump they had fallen into of too much banana bread/sourdough/wine binges/"Quarantino" cocktails and were ready to detox). A combination of natural ingredients like gentian root, lemon balm, yuzu, fig, and elderflower makes for a delicious balance of citrus, floral, and bitter flavors. "I feel pretty confident saying this is actually the cleanest drink on the market today because it's only extracts. There's no flavoring and no added sugar," she says.
Masarin's favorite way to drink Ghia is on the rocks, but if you want to elevate it a bit, Ghia is also delicious with a spritz of club soda and a sprig of rosemary or an orange slice (very reminiscent of an Aperol Spritz or Campari soda) to make it a little extra festive, or with ginger beer (a crowd favorite). Masarin is busy dreaming up new additions to the Ghia line, as well as single servings of Ghia, and we can't wait.
We must admit, it was the beautifully designed bottles that first drew us to Casamara Club's spritzy, non-alcoholic sodas. But then we started looking into what was in them—think Italian chinotto, juniper berry, mandarin peel, allspice berry, aniseed, lemon juice, and sparkling water. These "sparkling amaro soft drinks" are made with minimal, high-quality ingredients, and as an added bonus, they are low in calories (about 15 calories per bottle). What's not to love here?
"I had been planning to start an amaro company. I was doing lots of tincturing, blending, and making my own bitters and amaro at home, and tasting whatever I could get my hands on at the liquor store," says Casamara Club founder Jason La Valla. "Eventually, I decided I wasn't interested in competing against these Italian amaro companies that have spent the last century or more perfecting their recipes. Meanwhile, my workday seltzer habit wasn't satisfying anymore. I started adding bitters, citrus juice, and whatever syrups we had laying around the office, trying to balance it as if I was making a real cocktail. It wasn't long before I realized that there were so many others like me, people who wanted their non-alcoholic drinks to taste as good as their alcoholic drinks."
From there, Casamara Club was born. The current line of botanical amaro club sodas includes four flavors, including Alta (dubbed the "aperitivo club soda," it's reminiscent of a spritzy Negroni), Onda (LaValla calls it a "coastal spritz in the style of Sicilian amarao"), Capo (think the Italian Alps in springtime), and Sera ("the after-hours club soda," it's their "late-night take on the Aperol Spritz"). These leisure sodas are the perfect afternoon pick-me-up (when you've had too much coffee but it's not time for cocktails yet), enjoy it with dinner (award-winning restaurants like Olmsted in Brooklyn and Mister Jiu's in SF serve Casamara Club sodas), or use it as a mixer.
While booze-free drinks like Ghia and Casamara Club focus more on the leisure lifestyle, Rasāsvāda, Connor Godrey's line of "spirit restoratives," touts both its health-boosting wellness benefits and its functionality as a great mixer for cocktails.
"The beauty of Rasāsvāda's range of spirit restoratives is its multi-functionality," says Godfrey, who officially launched the line in June. "Rasa can be consumed at any time throughout the day, for example, Black Ginger at your favorite workout class to assist with performance and recovery."
In addition to Black Ginger, Rasa's line of uber-sleek, zero-proof spirits includes Ruby Artemisia and Rose Bergamot. The Black Ginger, for example, is a complex combination of black ginger, dark roasted chicory, cardamom, saffron, dandelion root, Turkish rhubarb, eucalyptus, adaptogenic mushrooms, and other 100 percent whole-plant ingredients that lend themselves to a bittersweet, herbaceous flavor profile. In terms of health benefits, the beautiful book that comes with your order promotes the Black Ginger drink (one of our favorites) as good for the following: libido boosting, liver cleansing, vitality, fatigue recovery, and gut health. Keep it simple and serve it over ice in a Collins glass with equal parts sparkling water, or make it fancy and add ginger juice, sparkling water, and a lemon wedge. If you're adding booze, try it with whiskey, lemon juice, simple syrup, egg white, and garnish with a lime twist. And if you happen to have had too much alcohol last night, the Ruby Artemisia is being promoted as the perfect antidote to that—a hangover cure. Drink it with equal parts sparkling water.
Kin, launched by Jen Batchelor in 2018, also fits in the non-alcoholic, functional adult wellness drink category. Batchelor, who grew up in Saudi Arabia (where drinking is not legal), applied her background in ayurvedic herbology and psychology to Kin.
"It helps you to achieve a sense of well-being, but also joyous celebration," says Batchelor of her line of Euphorics, which, according to the website, is "a new category of nonalcoholic nightlife beverage crafted for conscious connection. The secret is in the stack: balancing adaptogens (herbs that help the body adapt to stress), replenishing nootropics (compounds that help enhance cognition), and nourishing botanics (plants that balance flavor and function). Stack them together, and you get euphorics that lift the mind and relax the body so we can more deeply connect with others."
The line of herb- and floral-flavored drinks (which, like the aforementioned brands, come in attractive, well-designed bottles with plenty of millennial appeal) includes High Rhode (intended to help the body's response to stress), Dream Light (intended to support deep sleep), and Kin Spritz. Serve them straight up or, in the case of High Rhode, mix it up like a cocktail and serve it shaken over ice with your favorite bitters or juice.
Top photo: Courtesy of Casamara Club
Want more stories like this?
India Hicks Shares Her Secrets to Gracious Entertaining in the Midst of a Pandemic
Move Over, Wine—Sake Is Our New Go-To Beverage for Fall
In the Kitchen with New Orleans Food Blogger Natalie Tate