How to Care for Your New Tattoo, According to the Experts
Six tattoo artists share the best practices for healing fresh ink.
Living
I don't know about you, but as soon as tattoo shops got the green light to reopen after months of pandemic-induced shutdowns, I immediately contacted my favorite artist to get on the books. Blame it on months of being cooped up indoors or the fact that, 25+ tattoos later, I'm thoroughly invested (er, addicted?) to growing my collection of body ink, but I knew that I needed something new, stat.

As exciting as a new tattoo can be, there are a lot of dos and don'ts that go into properly caring for them post-going under the needle. As you may know, they're, uh, very permanent , which means taking good care of them both during the healing process and for the many years afterwards is imperative, and failing to do so can potentially lead to blurred or blown-out linework, infection, or having to shell out for a touch-up appointment or laser removal down the road.

That said, we turned to six tattoo artists and experts to get their take on the best aftercare practices, sharing their tips for healing new ink and maintaining older tattoos alike. This way, you can be sure that years from now, your design will look just as fresh as it did when you stepped out of the shop. Your definitive guide to tattoo care awaits, below.


LESS IS MORE
When it comes to caring for a new tattoo, the general consensus amongst the artists is that it's best to take a simple, "less is more" approach. "I think the one thing that people tend to do is overdo it," says L.A.-based celebrity tattoo artist
Dr. Woo
. "People think they have to actively try to heal their tattoos with antibacterial creams or products with a lot of ingredients. Let nature do its thing, and let it heal on its own. Give your tattoo ample oxygen and leave it be—the less you do, the better it'll heal."
Simplicity in mind, you'll still need to keep the area clean and moisturized—but that's all there really is to it. For cleaning, all you'll need is some warm water and unscented soap. What you use to moisturize it will depend on where you are in the healing process, as explained more thoroughly below.
THE FIRST DAY VS. THE FIRST FEW WEEKS
You may be eager to immediately show the world your sweet new ink, but don't be so quick to unwrap it and post to the
'
Gram. "Leave it covered with the dressing the tattoo artist applies for three to four hours," recommends NYC-based tattoo artist
Minka Sicklinger
. Afterwards, she recommends removing the dressing and gently washing the area. While she's a fan of using Dr. Bronner's Castile Soap, any plain and simple unscented soap will do. NYC-based tattoo artist Mira "
@GirlKnewYork
" Mariah, who's
inked the likes of Ariana Grande
, recommends opting for something that foams. "I personally find that cleaning with some kind of foaming soap—especially a simple antibacterial soap like Dial—works so much better because it's much softer and gentler and the lather really works for you."
Once you've cleaned the area, gently pat it dry with a clean, dry paper towel. While your first instinct may be to immediately slather on a healing ointment, Sicklinger recommends letting the tattoo air-dry overnight.
After showering or cleaning the tattoo on the second day, the tattoo should air-dry before a thin layer of healing ointment—such as
Aquaphor
or a natural alternative like
Hustle Butter
or
Tattoo Goo
—is applied. You should follow this regimen at least twice a day until a scab has formed. How long it takes for the tattoo to scab will depend on the size, detail, and location, but generally, it'll be about three days.
Once a scab forms, you're on to the next stage of healing! Aftercare still doesn't need to be complicated, so stick to your daily regimen of cleaning and moisturizing. However, you now can swap your heavier healing ointment for a lotion. According to NYC-based tattoo artist
Cake Robles
, you shouldn't reach for your usual body cream during the healing process. Instead, she recommends opting for a simple, unscented lotion for those first few weeks while the scab starts to flake and eventually falls off, indicating that the tattoo has fully healed.
The placement of your tattoo will also dictate how—and how often—you care for it. "Areas with higher than normal movement, such as the inner elbow or back of the knee, as well as fingers, will need extra moisturizing during the healing process," says Sicklinger. Additionally, any areas that are usually covered by tight clothing—such as a bra strap—will need some extra breathing room following your appointment. "I always advise to avoid the restriction for at least the first few days of the healing process to minimize the risk of additional irritation, which can compromise the healing process," she says.
According to the artists, hands and
fingers are the trickiest
to heal and require the most care. "When it comes to finger and hand tattoos, the ink generally doesn't stick well in those areas," explains Bay Area tattoo artist Suranghee, aka
@suroshinn
. "This is because we use our hands frequently, especially now that washing and using hand sanitizer have become second nature." Be sure to moisturize them much more often than you would other areas, or else you might not be too pleased with the result. "If they aren't moisturized consistently, the ink will tend to pull out," says Dr. Woo, meaning they'll heal faded and blurred.
WHAT TO AVOID
Sunlight can fade and age completely healed tattoos, so it's definitely a good idea to keep a fresh one out of the sun entirely—especially since you can't yet apply sunscreen to the area without causing irritation. "I encourage people to keep their tattoos out of sunlight in general, but
definitely
out of direct sunlight while healing," says Mariah. "If your tattoo is on your arm and you're planning to go outdoors for the day, tie a bandana around it or wear a long-sleeve shirt."
You'll also want to avoid getting the area wet, especially for a longer period of time, aside from when you're washing it. "When a tattoo is healing, it's very important to avoid submerging it in water," says Dr. Woo. "So no baths or swimming, and take it easy when it comes to working out—sweat pushes bacteria into the skin, which leads to infections." That said, make sure you book your appointment after summer or your next beach vacation.
If it's not your first rodeo, then you know that when a tattoo begins to scab, it itches like crazy. "
Do not
pick or scratch at your tattoo!" urges Suranghee. "If it's unbearable, the best thing to do is to tap it nicely." If you're someone that just can't resist picking at a scab or think you'll end up scratching it in your sleep (like me!), Mariah recommends applying
Saniderm
, a second-skin-like antibacterial adhesive wrap, in between cleaning and moisturizing to protect it from any itching or picking.
OPT FOR NATURAL INGREDIENTS
Whether you decide to grab Aquaphor and basic moisturizer from a nearby drugstore or seek out more natural, tattoo-specific products, it's important to pay attention to the ingredient lists of any aftercare products you use. This doesn't mean you need anything fancy, but there are ingredients to look for and ones to avoid.
"The immediate aftercare of a tattoo is the most sensitive step, as at this point your tattoo is an open wound," says Jeremie Lahmi, founder of the soon-to-launch tattoo-minded skin-care brand
People of Substance
. "Therefore, you have to be very careful with what you apply on it. For instance, you'll want to stay away from petroleum-based products as they clog the pores of your skin and can trap bacteria while doing so. You also want to avoid products with chemicals like vitamin E, fragrance, and alcohol for a little while as they can cause allergic reactions."
With that said, you wouldn't want to reach for a product like Vaseline in this instance, and though a totally natural product isn't necessary, it's much healthier for your tattoo and your skin in general. Lahmi formulated his first product for People of Substance, the soon-to-launch Art Preservation Stick, with soothing, skin-loving oils such as apricot, hemp, and argan, while Sicklinger favors applying naturally antibacterial coconut oil to her tattoos for the last few days of the healing process.
GOOD HYGIENE AND HEALTH IS KEY
Chances are you hear the phrase "wash your hands" in your sleep at this point, but we can't fail to mention the importance of caring for tattoos with clean hands. "I like to remind people to always wash their hands before washing their tattoo," says Mariah. "It seems really obvious, and we're having a lot of conversations around hand washing and we're all doing a really great job—but still,
always
wash your hands before you wash your tattoo, just like you would your face." Touching your tattoo with unclean hands can lead to an infection, especially during the early days of the healing process.
Additionally, good health is just as important as good hygiene when it comes to proper healing. "Something that isn't spoken of enough is that overall health is so important when it comes to your tattoos," says Sicklinger. "Your skin is your largest organ, and if your health is compromised, it will show up in your skin—both in its texture as well as its healing process. So rather than just thinking topically and 'skin deep,' what you're eating and your lifestyle choices are just as important to the healing process as any aftercare products you're applying."
AFTER YOUR TATTOO HAS HEALED
Taking special care of your tattoos shouldn't end once they've healed. In order to ensure your tats remain as vibrant and clear as possible over time, you have to put in the work to keep your skin as healthy as possible. "Tattoo care and skin care are one and the same," says Robles. "Keeping your skin moisturized and protected with sunscreen is best for your tattoo and overall skin."
With that said, know that the sun and your tattoos are not friends, and that overexposure without SPF can cause fading, discoloration, and blurring. "The sun ages your tattoos just like it ages your skin," explains Robles. However, what level of SPF is required to protect your ink when you can't avoid being in the sun is up for debate. She recommends using a sunscreen with SPF 50 or higher, while Dr. Woo says a minimum of SPF 30 is just as effective, stating that "something super high won't actually change how much it protects your ink."
Regardless—you should be wearing a
daily SPF
on any exposed skin, tattoos or not, so be sure you're taking this necessary step for the sake of the overall health of your skin.
Exfoliation is great for skin health in general, and according to Mariah, it should be a part of your weekly skin-care routine if you're boasting a larger collection of body art. "For those who are more covered in tattoos, a weekly or bi-weekly body exfoliant before a really good moisturizer is a great way to keep older, already healed tattoos vibrant," she says.
Regardless of how well you take care of your skin, anyone with tattoos must take into consideration that no matter how much you care for them, it's inevitable that they
will
somewhat change over time. "In the end, we all age, and so will your tattoos," says Sicklinger. "There will always be some amount of fading over time, but that's part of the process. Skin is living and always changing, so anything on it—such as a tattoo—also has the potential to change over time."
With that said, before taking the plunge and getting a tattoo, make sure it's something you know you'll still love years from now—even if it is slightly faded, blurred, or dulled. They are forever, after all.
---
Check out the nine aftercare products the artists swear by:
Dr. Woo's very own aftercare kit contains everything you need to care for your new tat during the healing process: a gentle, coconut-based soap bar to cleanse the area, and a soothing and calming moisturizer formulated with shea butter, vitamin E, sesame seed oil, and chamomile. Both products are safe for even the most sensitive skin.
Dr. Woo, Suranghee, and Robles all recommend classic Aquaphor for healing new tattoos. Not only does it soothe freshly inked skin—which is, technically, an open wound— but it creates a breathable barrier on the skin that holds in moisture and protects against environmental stressors without clogging pores.
Sponsored
Mariah, Sicklinger, and Robles agree that Hustle Butter is the real deal—and a great natural alternative to Aquaphor. "It's great for healing, and it's formulated [with] really good oils," says Mariah. "It contains coconut oil, as well as mango oil to combat coconut oil's antibacterial properties that can otherwise degrade the skin." Plus, it doesn't contain any petroleum-based ingredients, and according to Sicklinger, it smells amazing.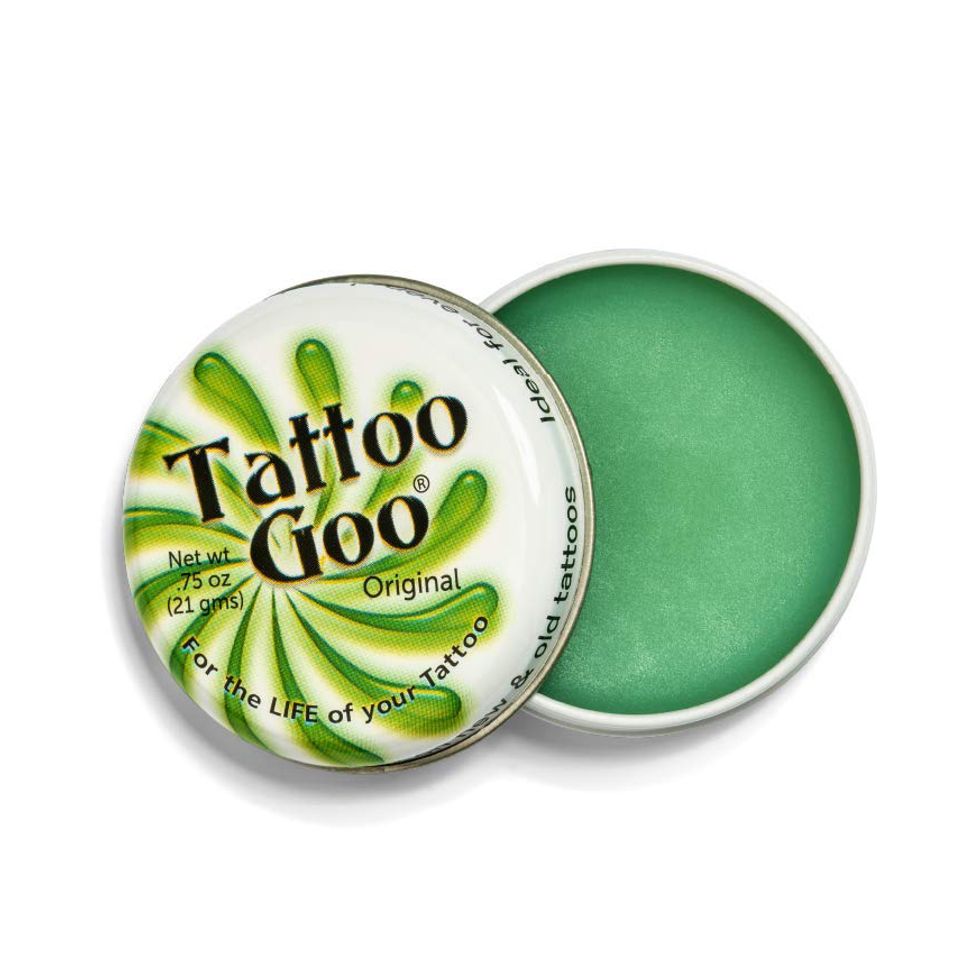 Tattoo Goo is an antioxidant-rich healing balm formulated with natural humectants and essential oils to not only keep tattoos moisturized, but to help brighten their appearance. Like Hustle Butter, Robles loves that Tattoo Goo is thicker and not as oily as Aquaphor—and the fact that it's specifically made for tattoos.
Cleaning your healing tattoo is just as important as keeping it moisturized. If you're not a fan of classic antibacterial soap, both Sha and Sicklinger recommend Dr. Bronner's multi-purpose castile soap. "This is the best when it comes to washing off your tattoo," says Suranghee. "You'll only need a drop or two diluted with water, and it does the job well! It's also my favorite body wash at this point!"
A cult classic, Dr. Woo recommends this fragrance-free moisturizer for keeping body tattoos moisturized sans any irritation. Emollients and humectants work to attract and bind water to your skin to keep your healing tattoo fresh and hydrated.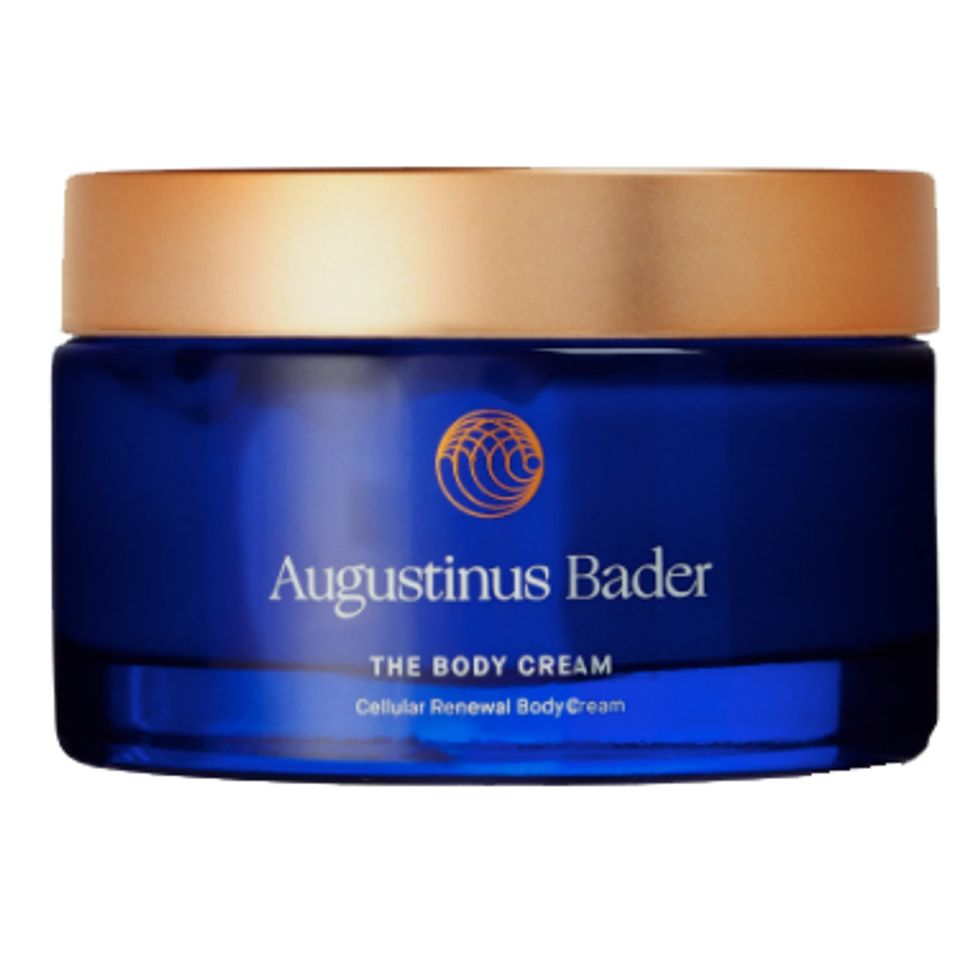 This may be on the pricier side, but Mariah absolutely swears by this cream for keeping the skin moisturized and reviving the look of older tattoos. "It's a pretty hefty price tag, but it's amazingly nourishing. It's even made some of my older tattoos look way more vibrant," says Mariah.
SPF is key in maintaining vibrancy and preventing fading over time, and this SPF 50 sunscreen from Banana Boat is a favorite of Suranghee. "I love the sun—catch me at a pool or the beach with this spray in my hand," she says. "My tattoos still look great, as people tell me constantly."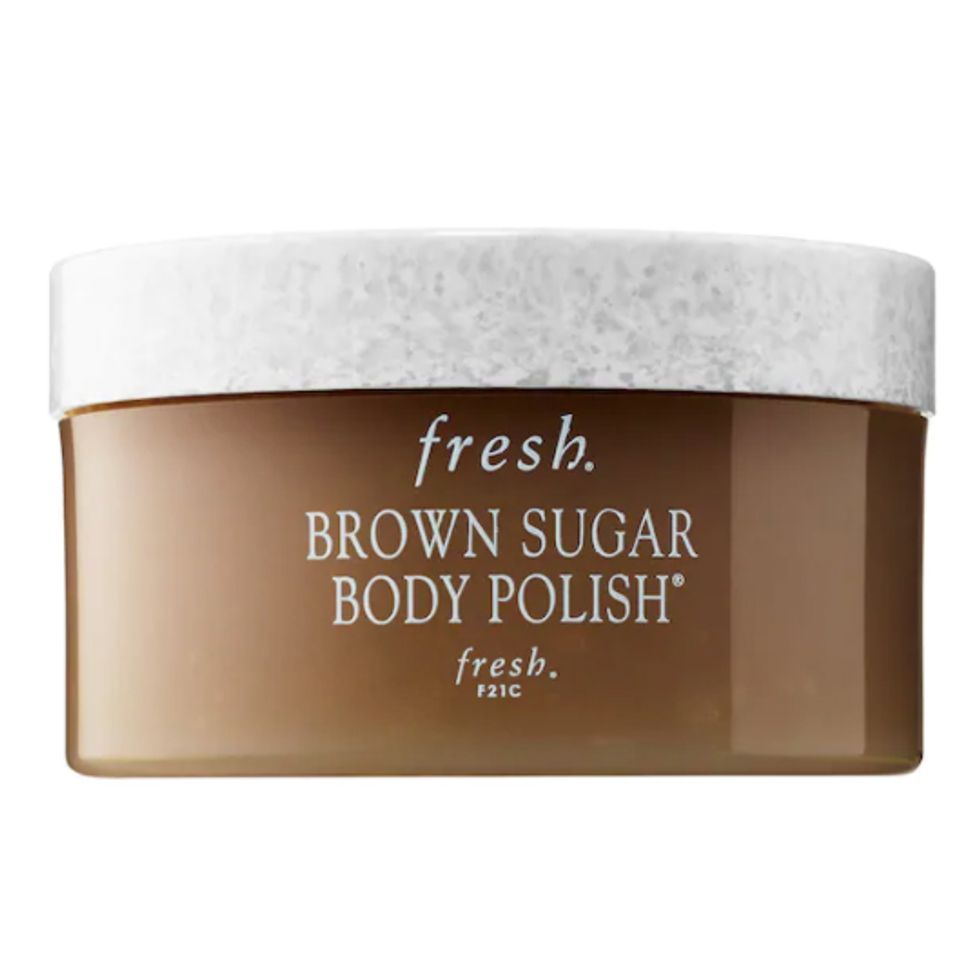 According to Mariah, weekly or bi-weekly exfoliation is a great way to keep a larger tattoo (or many tattoos) looking fresh and vibrant. This moisturizing sugar scrub from Fresh is one of her favorites, gently buffing away dead skin cells while keeping the skin smooth and moisturized for up to 24 hours.