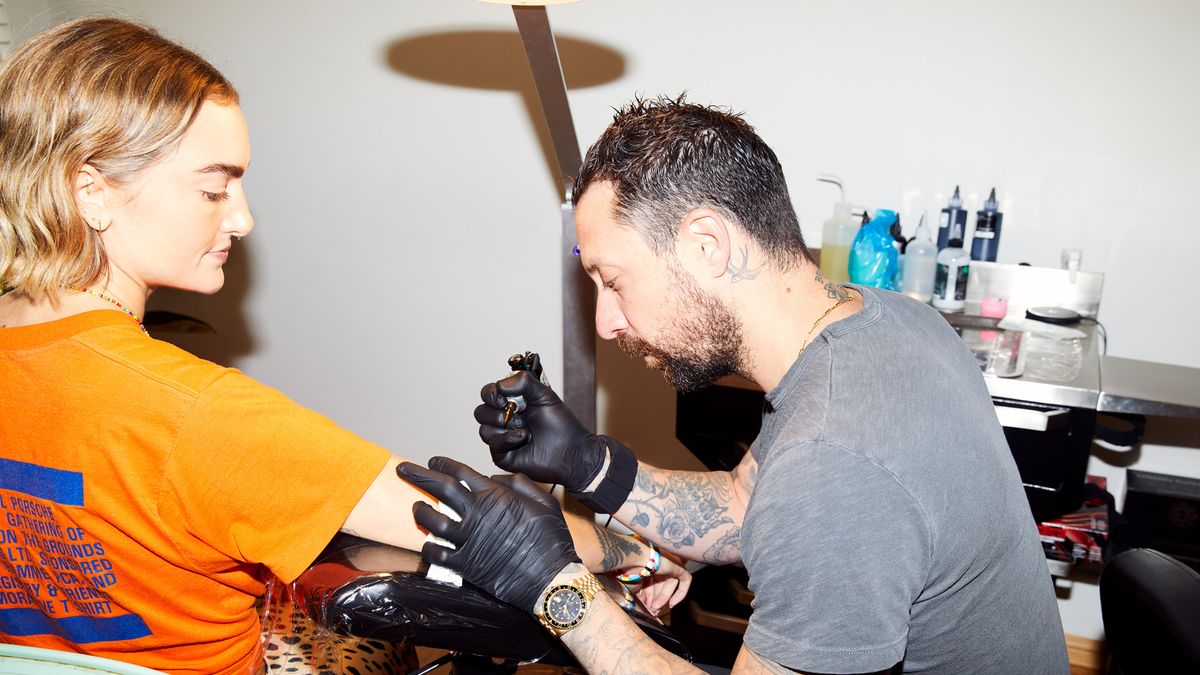 Series
Tattoo Jewelry Is a Thing, and This Is the Artist Who Does It Best
Daniel Winter, aka @winterstone, gave me my first fine-line micro tattoo.
Tristan Kallas
I used to panic that I had 
been tattooed
one too many times, but then my parents went on and got multiple tattoos in the past year, and with that the last sliver of guilt flew right out the window. Since I was 18, my arms, neck, and ribs have been dotted with a variety of pieces—from one-word script to an elaborate moth coverup. And although I love my large-scale tattoos, lately I've been craving daintier micro designs, almost like freckles sprinkled across my body. This kind of work takes a delicate hand, especially with the single-needle style that I prefer, so when I discovered
@winterstone
, I knew I had found the man for the job.
Daniel Winter
is the artist behind the much-lauded Instagram account, and with upwards of 217K followers, it's clear I'm not the first person to lust after his designs. His L.A. studio is just outside of Beverly Hills—where he grew up—so when I found myself on the West Coast a few weeks ago, I had to pay him a visit.
---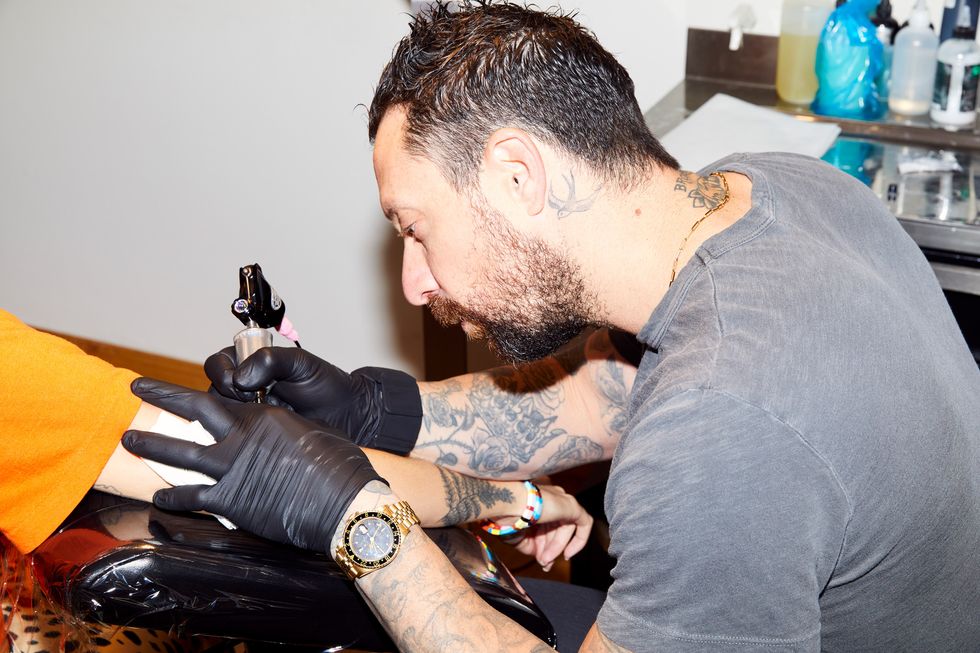 "As a child I always drew with a .3 lead pencil, the finest little drawings," he explains as we settle onto his waiting room couch. "I realized I was good at it when people started asking me to draw on them in middle school, [like] little initials." After refining his creative vision doing graphic design at Disney, and later founding a clothing line with his brother, Winter eventually fell into tattooing at the suggestion of friends. "I realized that I was good at fine line [because] I didn't like things to be messy—clean, straight to the point." His office and studio reflect this aesthetic perfectly. There are no superfluous sheets of flash on the walls, or a desk cluttered with paper. Except for a large eagle painting and a few recent tracing papers pinned above his computer, the two rooms are largely sparse and open. "One person said I shouldn't do [it], and it kind of lit a fire under my ass. I went straight for it."

He asks me what kind of tattoo I'm imagining, and I mention that I want to balance out the diamond above my left elbow. Ever the fan of simple, graphic imagery, he agrees that a half-inch lightning bolt will complement it nicely. But instead of preparing a traditional coil tattoo machine, he grabs what appears to be a FitBit-type band attached to a needle. "These are rotary machines," he explains while applying the stencil to my right arm. "I use the Bishop rotary—they're like the Ferrari of tattoo machines." This type of model inhibits the needle from moving left to right, meaning Winter's line work is always painstakingly even. "Every part of it is precise, and that's what you need to do what I do. It has to be precise."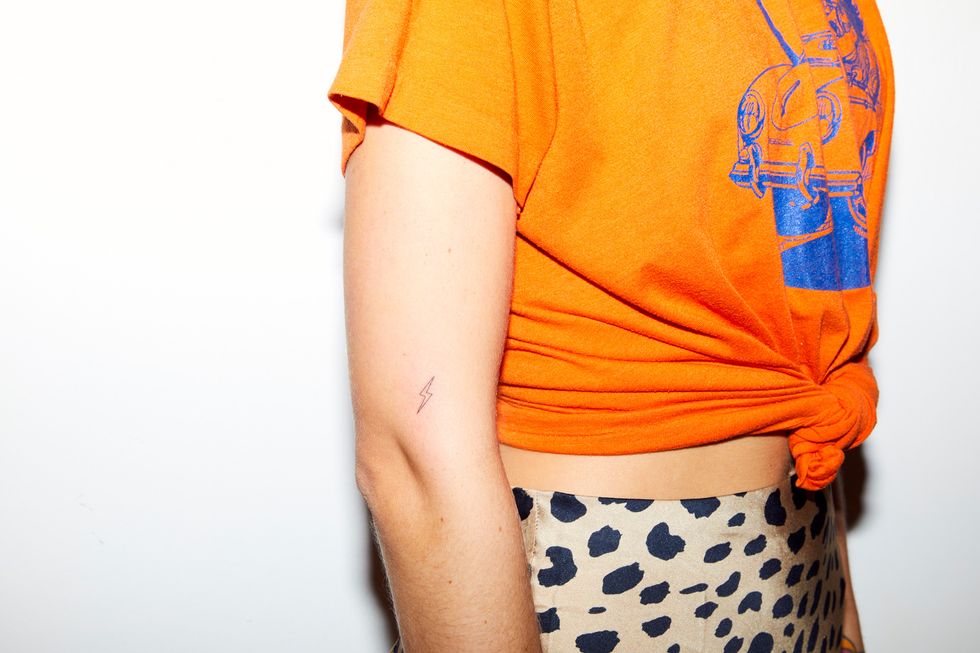 As the soft buzz of the needle hums to life, I inquire about the rising popularity of
fine-line tattoos
. "Traditional tattooing is very important in the tattoo world," he says, moving the needle down my elbow with laser-like focus. "The bold line is where it all started. Now it's evolving. You can do so many more ideas with fine line, because it opens the door to designs that you never thought you could put on the skin, like the finest script that your mom or dad wrote you. You can transfer the exact line weight [so] that it doesn't have to be a thick line." He motions down to my nearly finished tattoo. "Stuff like this—the microscopic portraits. You can't do that with a thicker needle. It just doesn't look the same. It becomes more cartoony, whereas this is very realistic."
In less than three minutes, Winter wipes down my elbow, and a crisp black lightning bolt is revealed. The ink is almost impossibly thin—I doubt I've ever applied eyeliner so finely. "I look at it as tattoo jewelry," he says as I admire my new piece from every angle. "It's like little trinkets, little memoirs. It holds a very special meaning to people."
Such a delicate aesthetic skews more feminine than the traditional style, which might explain why 86 percent of his clientele are women. "I think it's the lightness of the touch," he says while he cleans and wraps my fresh tattoo, which honestly hurt less than scratching a sunburn. If you don't have a large collection of tattoos, I can see why Winter would be the ideal artist for your first. And for those of us who want to
explore this micro-tattoo trend
, it would be dangerously easy to scoop up a new design every few weeks, if you can get an appointment. His books are filling up fast—including sessions with celebrity clients like
Emma Roberts
and
Mandy Moore
—but don't expect Winter to slow down anytime soon. "I love it. For me, it's what I love to do. You're in and out, we have a quick hour together. It's just fun." And with that, I'm out the door, already eager to return for my next design.
Want more stories like this?
16 Hand-Poke Tattoo Artists Taking Over Instagram
This Delicate Tattoo Trend Is Taking Over Our Instagram Feeds
I Went to This Cult-Favorite Tattoo Artist and Ariana Grande Immediately Copied Me