I Went to This Cult-Favorite Tattoo Artist and Ariana Grande Immediately Copied Me
Why fashion insiders can't stop talking about @GirlKnewYork.
Series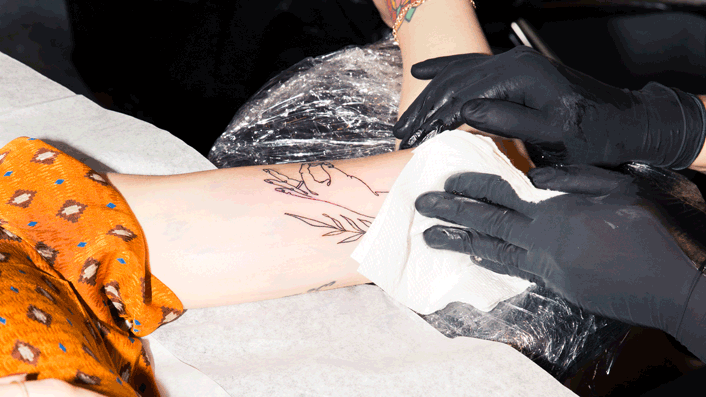 Like many young people, the day I turned 18 I waltzed into a tattoo shop determined to capitalize on my newfound adulthood with some carefully considered (read: impulsive) ink. An hour later, I left with two tiny black stars on my left wrist, feeling badass and undeniably *cool*. Just like that, I was hooked. Ten years and 12 tattoos later, that design is now hidden beneath a much more elaborate piece of art, but in the right light, I can still spot the faded lines that ignited my tattoo obsession.
Having spent the last decade collecting various tattoos on my arms, ribs, neck, and back, I fully admit to stalking hashtags and
Instagram accounts
to find the most talented artists. That's why, when I first stumbled upon
@GirlKnewYork
, I could barely contain my excitement over her delicate, feminine designs.
Mira Mariah
is the artist I and several friends can't stop talking about, including my totally real bestie
Ariana Grande
, who
recently posted
the new bumblebee tattoo behind her left ear (an homage to the Manchester attack). Despite swearing up and down that my 11th tattoo was my last (
laugh
), I set up an appointment. 
---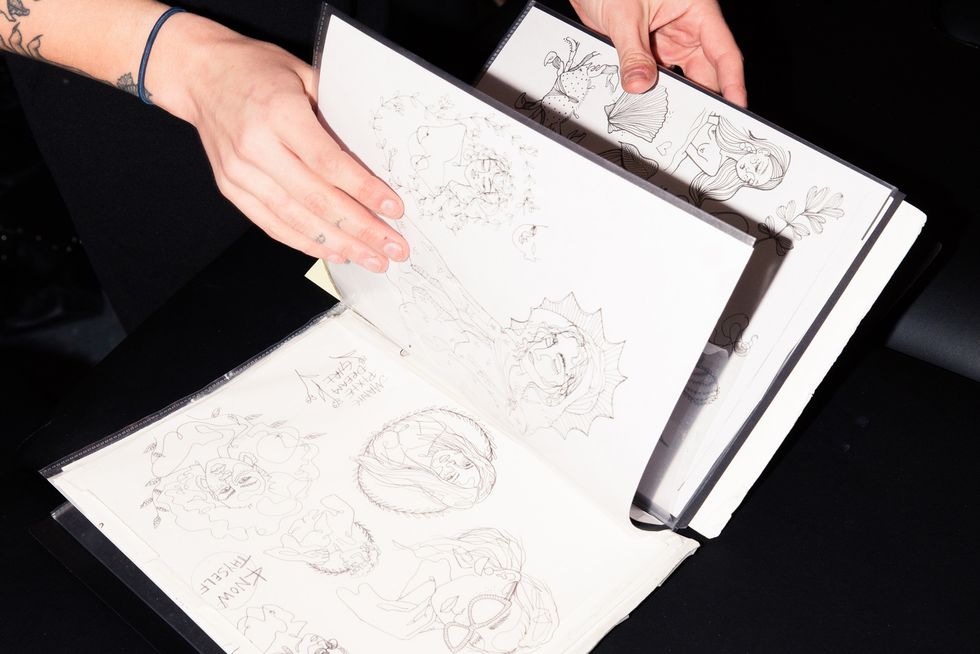 "I've always loved illustration and drawing," explains Mariah when we stop by the new outpost of
Fleur Noire Tattoo Parlour
in Williamsburg, Brooklyn. "I think a lot of my tattoos look like little fashion illustrations because they're that fast sketch style." Her signature approach is thanks in large part to her background in fashion, but after interning at Betsey Johnson post-FIT graduation and getting recruited to design at American Rag, she eventually left the industry for a year-long tattoo apprenticeship. "I was really not wanting to do fast fashion anymore. [I was] really uninterested in contributing to the impact that has [on] climate change."
While we snack on candy—it helps prevent clients from fainting—and meander around the
minimalist-chic
shop, Mariah adds the finishing touches to my new design: a woman's hand (she actually traced mine) with long nails holding a tooth. It's beautifully high-femme, and after a few minor tweaks—she adds a small branch to complement my other tattoos—I'm back on the padded table, ready to go. "Everyone wants women, which is so exciting," she says of her clientele as the familiar buzz of the machine roars to life. "I use a lot of references from traditional Renaissance art and Hellenistic statues. I like taking traditional art and doing something kind of radical with it, like doing Botticelli's Venus, but she
'
s obese, [or] Mother Mary texting. Naked women spilling wine on the floor. Pieces like that are very interesting to me."
With her warm, relaxed demeanor, chatting with Mariah feels more akin to gossiping with your girlfriends than a
tattoo appointment
. "I'm
@girlknewyork
because I love New York girls," she laughs, wiping a bit of ink from my inner bicep. "I like L.A. girls too, but New York girls are so open. They just sit in my chair, and they're like, 'I work 60 hours a week and here's my dog and I fucking hate my roommate and I have a crush on this girl.' I love that for ten minutes to two hours, I get to be their best friend." We continue to talk about everything from the tattoos that dot her arms, to her 70-year-old client who does reiki, to her recent trip to Paris, where her husband bought her a pair of classic CHANEL flats. "I took my daughter, and she loved it," she smiles. "It was New Year
'
s Eve [and] the best day ever."
Roughly 25 minutes later, Mariah declares my arm complete, and I rush towards the floor-length mirror in the corner. There, in a few swirling, dainty lines, is my newest tattoo, looking as though it was always nestled in the soft space above my elbow. I can't stop staring at it. "I think it's exciting to see women get tattoos and be able to get tattooed by women," she muses as she gently bandages my arm. "When girls get tattoos on their bodies, it's a reclamation. Like, 'This is mine, and I will do with it what I want to.'" I recall how various people, mostly men, have asked why I would want to
cover myself in tattoos
as if I would no longer look pretty without bare skin. She sympathizes. "To do something that you know makes you unattractive to the typical older white man is very comforting. I understand that comes from a place of privilege, but it's exciting to be like, 'No, I don't need to look that way if I don't want to.'" Freshly tattooed and with a promise to return for another soon, I give her a final hug and walk back out into the Brooklyn sunshine, my tiny act of rebellion proudly on display.
Want more stories like this?
This Delicate Tattoo Trend Is Taking Over Our Instagram Feeds
Dr. Woo Tattooed His Céline Bag and It Actually Made It More Valuable
What 4 Female Tattoo Artists Have to Say About "Tat-Calling"