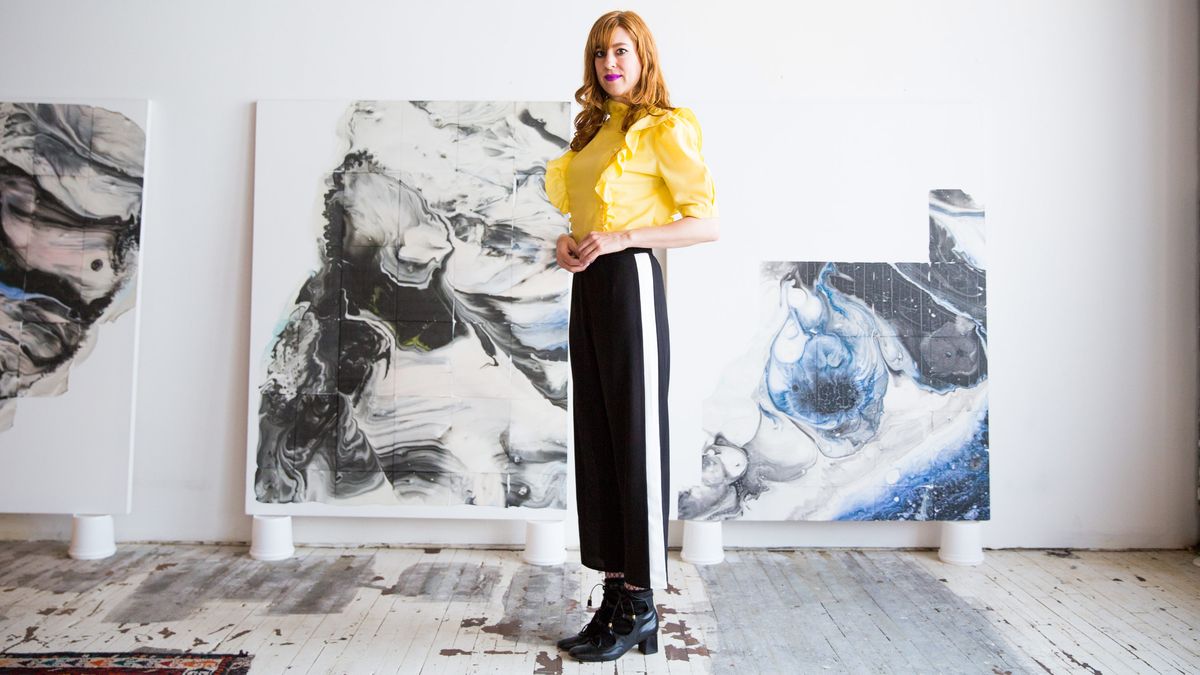 Culture
Amanda Wachob's work is so prized, it's nearly impossible to get an appointment with her.
Alec Kugler
When stripped down to its essentials, tattooing requires little more than a needle, some ink, and a willing participant, which creates a unique challenge for any artist attempting to push the boundaries of the artform. Some are purists who uphold the industry standard of thick black lines and flash-type artwork—the basis of American tattoo culture—and by all accounts that traditional style is what makes it great. However, Amanda Wachob is not your typical tattoo artist. One look at her stunning Instagram will convince you of that. Her renderings of watercolor flowers, delicate jewels, and abstract designs look more like paintings than tattooed skin, and unsurprisingly, her unique aesthetic has gained her a cult-like following, all waiting for her coveted guest spots and walk-in flash appointments. 
---

"Initially people thought that I was totally insane," muses the artist as we sip coffee in her airy Brooklyn studio. Five-foot canvases, crafted in her signature dreamy style, are scattered throughout the otherwise minimalist space. Numerous bottles of tattoo ink line a shelf by her station next to a neat array of machines. Everything is orderly and, in contrast to what many might imagine a typical tattoo shop to look like, undeniably chic. "[They] didn't really understand what I was trying to do, especially when I started to make a lot of the abstract work." She's referencing, of course, the watercolor-style tattoos for which she is now infamous both in and outside the industry. "I had the idea that perhaps an abstract image is more capable of representing something intangible, like an emotion, since so much of who we are is an abstract thought." As someone who has frequented many a tattoo shop, I can safely say that I have never had an artist summarize a tattoo in this way, and I'm sure that many of her clients can agree. That might be why it is almost impossible to get an appointment with her these days. For those who do, it is well worth the wait.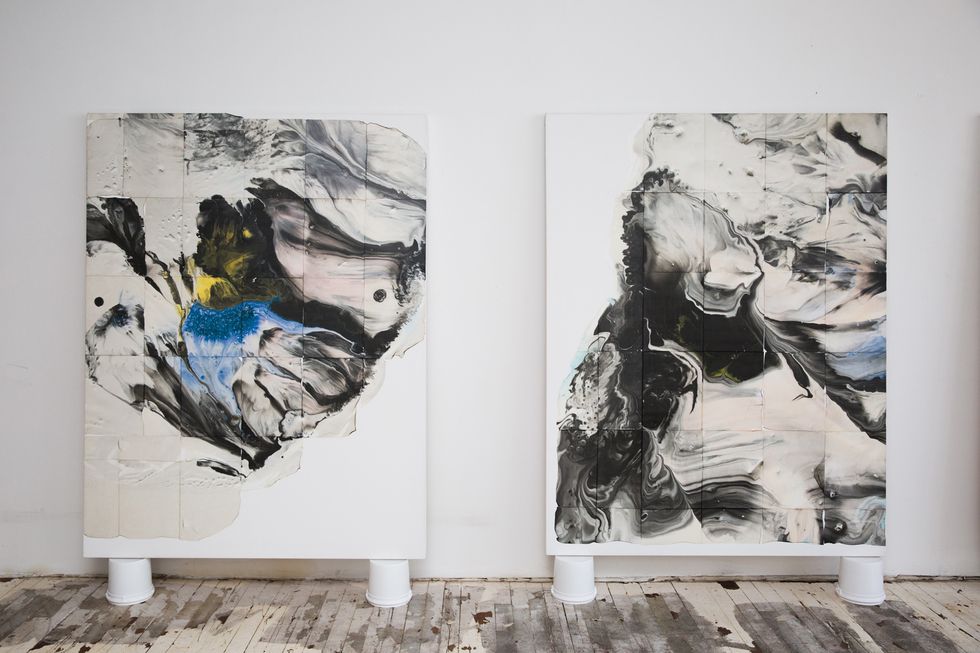 From the onset of her apprenticeship, Wachob found herself rebelling against the traditional rules of tattooing, meaning an artist should begin a piece with a black outline and work from dark to light ink. "People would bring in a photograph of a flower from their garden and want it to look like [that]," she explains. "It didn't make sense for me to make [the tattoo] resemble a cartoon and throw a black outline around it." More and more people embraced her soft, colorful aesthetic, and it soon became her signature.
"It was a very intentional act of rebellion and defiance against my industry to work that way," she says casually. "There is a lot of group-think, and it's actually very conservative. There are right ways to do things, and there are wrong ways to do things." Whether or not her style is wrong in the eyes of other tattooers is not a huge concern for Wachob, who never felt like she fit the tattooer mold perfectly. These days, her method for creating some of the larger abstract tattoos begins with a painting for each person. "I tell people I'll make three, but I usually wind up making ten to fifteen. I always ask [them] to bring a reference for me, [like] a photograph of a sunset, or a piece of fabric—anything that contains the colors they'd like to see in their tattoo so I can get a better sense of what they want."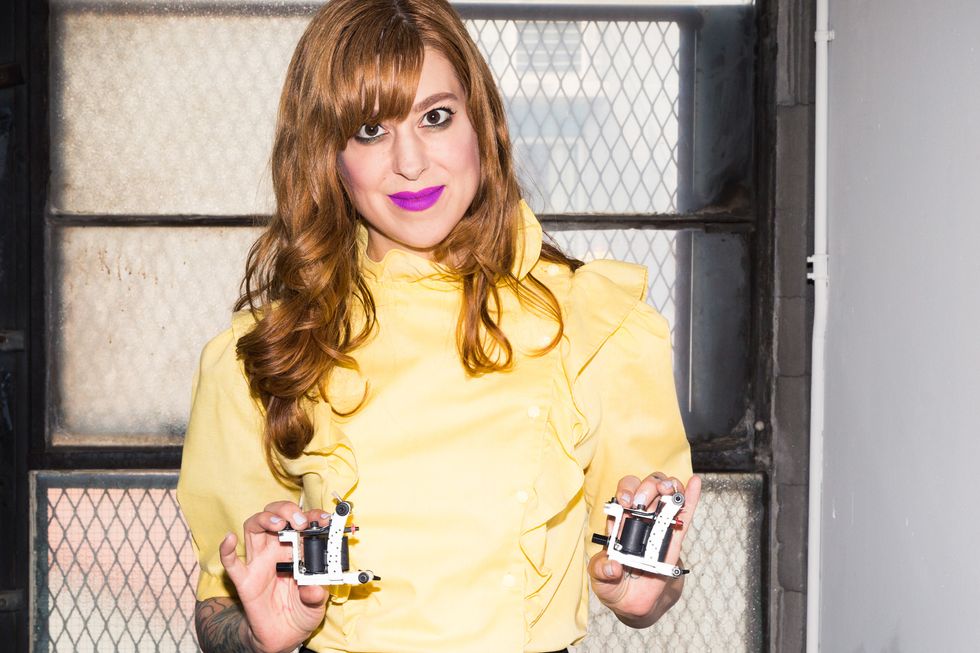 Now that she has carved out her own specialized niche within the tattoo world, the artist is embracing various outside projects, including a collaboration with the Metropolitan Museum of Art. "I did four different projects with [the Met] where they had me tattooing lemons. I did some workshops with teens [where] I went around the room and just scribbled little silly things on them with tattoo markers and then have them try to figure out a way to disguise [it with] a cover-up. It was fun!"
The artist also frequently shows her own work, and her paintings throughout the space seamlessly blend the worlds of tattooing and fine art. "This painting is a surrealistic technique called decalcomania," she says pointing to a grey-and-white marbled canvas. "Max Ernst was one of the painters that used this technique. It's kind of like a Rorschach." The overall effect is stunning, to say the least, and I quickly find myself daydreaming about what the design would look like on my arm. Luckily, for those who, like me, are anxiously awaiting a spot on her schedule, you'll never find her without a machine in her hand for too long. "[I love] just about anything involving a tattoo needle. On canvas, some fruit. I love the weight of the machine now. I feel like it grounds me."
Want more stories like this?
This Ancient Tattoo Style Is Filling Up Our Instagram Feeds
What 4 Female Tattoo Artists Have to Say about "Tat-Calling"
The Instagram Accounts We Turn To for Tattoo Inspiration