Is Virtual Reality Fashion's Next Frontier?
Marc Jacobs and Sandy Liang seem to think so.
Fashion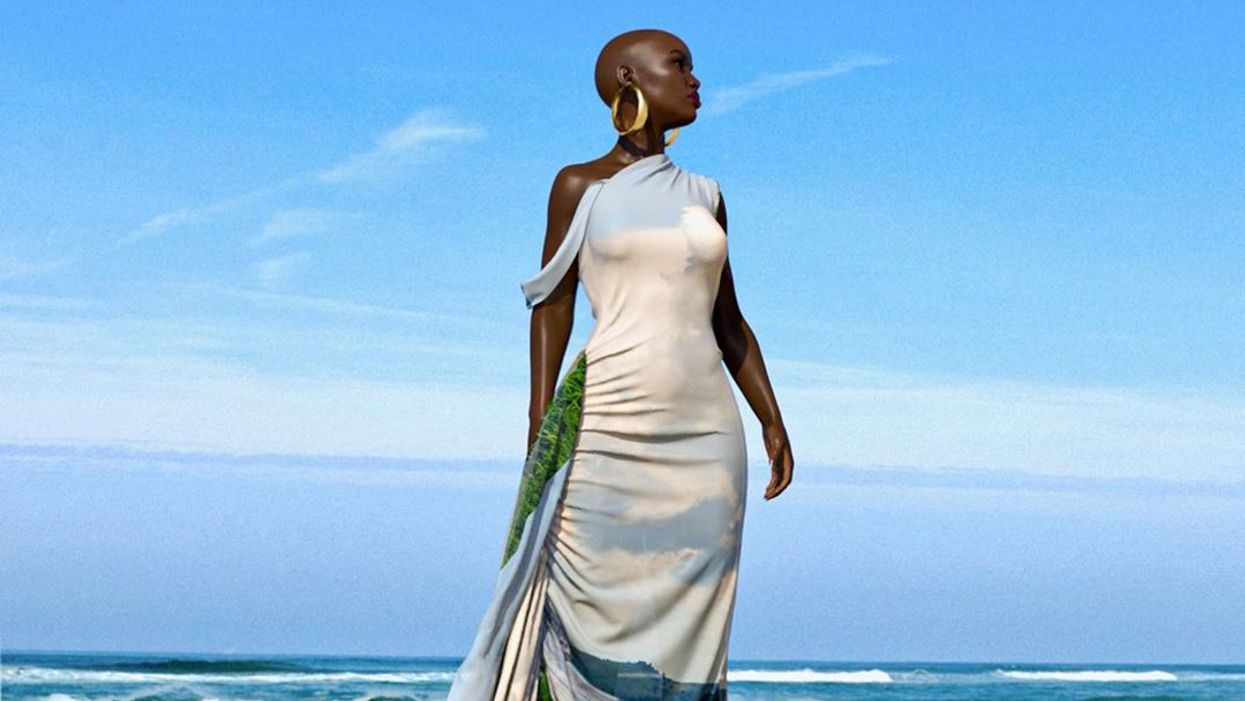 Alongside the rise of CGI influencers and virtual models, including
Miquela
,
Bermuda
,
Shudu
, and
Imma
, fashion brands have started making virtual clothes. For a few years now, cutting-edge designers at the forefront of the movement, such as
The Fabricant
,
Happy99
,
Carlings
, and
Cat Taylor (DIGI-GAL)
, have been pushing the boundaries on what is tangible, creating virtual items that are rendered on real or hyperreal bodies. It's a concept that very well may be the biggest fashion trend of 2020—apart from sweatsuits. With people spending more time indoors this year than ever, it's no wonder interest in style that lives solely in the digital realm is gaining serious interest.
As more brands jump on the bandwagon, digital innovation is growing:
Price On Request
, an IRL clothing brand based in Croatia, has started selling "upcycled" digital clothing during COVID-19, while months ago
Hanifa
staged a live 3-D fashion show on its social media platforms.
Marc Jacobs
has partnered with
@AnimalCrossingFashionArchive
to bring six of the brand's favorite The Marc Jacobs pieces to the game. Designer Sandy Liang even hosted a digital pop-up that featured her latest collections and signature styles, bringing offline awareness to the nonprofit
Give Directly
. With brands already tapping into the space with smart and enjoyable user experiences, someday not so far off, virtual fashion could turn a real profit.
Then there's the rise of TikTok, which is now launching its own version of digital fashion month, live-streaming two shows a week, including Louis Vuitton and Saint Laurent. From DIY tie-dye to the cottagecore aesthetic, this is the platform's first official foray into fashion. With the platform's popularity (and virality) growing bigger each day, this is a solid confirmation that virtual clothing is something people in the fashion world and beyond should be paying attention to.
Why? "Entering into the digital world offers a sense of freedom that has yet to be fully experienced IRL," says Rachael Gentner, pattern and graphics editor at
Fashion Snoops
. "As our external and internal anxieties collide in a 2020 storm of unpredictable chaos, these virtual escapes become a safe place where fantasy offers a synthesized yet oddly warming embrace of comfort." Gentner's Animal Crossing character gets an outfit update often unlike her real self. After seven months of quarantine life, she, like many of us, has found herself feeling less inspired to dress up for the Zoom calls taking over her schedule. 
---
Nostalgia also plays a part, and millennials who grew up with the Game Boy and Nintendo 64 controllers glued to their hands seem to be taking to the movement. "Valentino, Marc Jacobs, Anna Sui, and more have redefined what it is to 'window shop,' allowing the pixel-perfect garments to appear in our handheld devices and returning the shopping experience back to nostalgic consumers," Gentner says. With Nicolas Ghesquière designing an exclusive virtual Louis Vuitton drop for League of Legends and Jeremy Scott bringing a Moschino twist to the classic Sims wardrobe, Gentner thinks it's safe to say that the fashion world is shaking up our nostalgia-tinged games from the past with a modern refresh that inspires on- and offline.
Unlike the fashion industry, the gaming industry has been making money on digital-only products for a very long time, says Julia Krantz, founder of 3-D fashion blog
Magic Fabric
. She says interest in 3-D fashion is booming, with lots of brands and retailers making huge investments into virtualizing and digitizing their product cycles as well as incorporating 3-D in their consumer experiences. For example, the online gaming platform Fortnite brought $1.8 billion in revenue in 2019 on virtual goods.
The gaming industry is an attractive market for fashion brands and an alternate platform to build relationships and interact with shoppers all over the world; in fact, brands such as Nike Air Jordan and Adidas have teamed up with Fortnite, allowing the players to show off their personal style and earning virtual clout through V-Buck purchased status skins. With our habits becoming more hardwired to digital lifestyles, it's only a matter of time before shoppers begin to care just as much about their virtual style as they do their real style and put real dollars behind it.
"Virtual fashion is not new, but our current reality has made it more influential now than ever before," says Gentner. She believes that the spiral of social media created such a hyper attention to the #OOTD and the need for the latest 'fit that younger people craved a steamrolling wardrobe to keep up. "Digital clothing is becoming as instantaneous as an Instagram like, with the garments merging the line between virtual and reality in a hybrid closet of customized pixels." Plus, there's also the fact that younger, digitally native audiences are becoming more of a focus for luxury brands, necessitating innovations in the context of gaming and virtual reality.
The team at Fashion Snoops has been tracking the evolution of digital fashion for years, watching brands new and old enter the virtual ring with an intent to capture the attention of younger shoppers as the designs seamlessly integrate throughout our smartphones and video games in a mounting blur of synthetic cognition. "The ongoing pandemic of COVID-19 catapulted the digital fashion world into the mainstream audience as our online personalities have metamorphosed into our only sense of interaction and really redefined what it means to get dressed in the morning." Gentner believes that what may have seemed gimmicky or too "out-there" a few months ago quickly has become the new normal as our virtual presence gets stronger every day.

As digital adoption continues to increase during the pandemic, e-commerce and social media have all been critical for brands. "Because the physical landscape of retail remains uncertain, it's important to consider digital advancements in the scope of virtual solutions," Melissa Moylan, Fashion Snoops' VP of Creative Womenswear, explains. "The technology behind augmented reality platforms like Zeekit allows users to upload a full-length body photo to try on clothes, with the hopes that it gives customers more confidence (and fewer returns) for online purchases."

Companies that were already going through a digital transformation are likely finding themselves accelerating these processes, as it has become a little bit of a "now or never" scenario. "The spring '21 women's fashion weeks are the first truly hybrid runway season due to the pandemic, and we could expect to see more videos and digital activations in addition to some physical (socially distant) fashion shows, many of which will be livestreamed," Moylan says. According to her, Burberry is at the forefront of "phygital" experiences from its first "social retail" store that opened last month in China, which boasts scannable in-store products that also connect to interactive social experiences.

"It wouldn't be fair to say that the pandemic is driving progress and innovation in a situation where companies are cutting down on both people and resources," says Krantz, though she thinks it's likely that in a few years we'll see changes and developments that matured because of it. When it comes to digitizing products, there's an endless list of other advantages including manufacturing, fit, customization, and balancing supply and demand.


After all, the pandemic has forced the entire industry to rethink the traditional ways of building collections, including the adoption of digital processes that take designs from concept to production. "Three-D visualization can provide value beyond a cool experience," Krantz says. "We are now seeing interesting experiments where brands are challenging the relatively one-sided brand-and-consumer dialogue and giving the consumer the ability to interact with products already at the idea stage, whereas the brands can then collect data and insights to improve their designs." With
NYFW alone accounting for 37 percent of all carbon emissions
produced by fashion weeks around the globe, sustainability and growing environmental concerns also play a major part in this. Gentner says virtual samples mean less pollution through lack of factory production, parsimoniously destroyed stock, and landfill drops at the end of their trend cycle.
Virtualizing products will continue to become one of the industry's key building blocks, with consumers of tomorrow wanting to interact, manipulate, and virtually try on products before they buy. "As we grow more accustomed to digital solutions, as an industry we will re-evaluate what's really necessary and undoubtedly cut down on travel (and carbon emissions) as digital solutions streamline the design process," Moylan says.
"Three-hundred-sixty-degree views, hyper-digital lookbooks, AR projections, and AI fit models allow consumers to shop from the couch, while 3-D samples and virtual fit sessions pave the way for a more integrated design process," says Gentner. While there's space for both physical and digital fashion to get people's attention, it's definitely time to reconsider traditional approaches. "With designers showing digital collections complete with lookbooks and virtual try-on stations within the tulip-covered Animal Crossing, it makes me wonder—what's next?"
Top photo: Courtesy of Instagram/@hanifaofficialWant more stories like this?
This Brooklyn-Based Stylist Has a 4,000-Piece Fashion Archive in Her Basement
What Does Power Dressing Look Like for the Next Generation?
Who Gets to Be Casual? Not Plus-Size Women