Celebrity
Michelle Pfeiffer on Pheromones, Spending Time with Her Husband, and Why She Always Wears Perfume
The actress opens up about life in quarantine.
To chat with
Michelle Pfeiffer
in Los Angeles from your kitchen table in Brooklyn in the middle of a pandemic is a little surreal. Pfeiffer, first of all, has such a dreamy and calm demeanor that it's easy to forget whatever stress du jour might be buzzing around, much less the fact that it's still quarantine times, whatever that might look like for you.
Pfeiffer's as stunned as anyone else that many of us are still managing to function on a semi-normal level, even as wild as this year has been. "Who would've thought that we would actually be able to continue to get things done and run companies and work?" Pfeiffer says at the beginning of our conversation. Yeah—not us.
The wildfires in California were just getting strong when we spoke, and Pfeiffer noted that her morning hike might not have been such a great idea. "I am so oblivious, but I noticed it was really hazy and I thought, 'Oh, it's just smoggy,'" she says. "I went for a hike this morning—I probably shouldn't have."
This might be particularly true for Pfeiffer, who has "a pretty good sense of smell," she says. That really came in handy for her a few years ago when she launched her perfume line,
Henry Rose
. "I've been obsessed with scent my whole life, it turns out," she says, though she wasn't acutely aware of how scent-focused she was until she started turning her attention toward fragrance.
Pfeiffer is a
Taurus
; so am I, along with my boyfriend and my brother, so I like to think I know a thing or two about the astrologically bullish types. One supposed common trait of Taureans is a strong sense of smell—we're known for liking the finer things in life, creating cozy homes, and all that goes with those elements.
This was news to Pfeiffer, though she went with it. "I did not know that that was a trait of being a Taurus," Pfeiffer says. "But I guess it makes sense, no pun intended."
Pfeiffer really never tuned into her olfactory inclinations until later in life. "I certainly didn't know that I was obsessed with smell," she says. "Things are just normal for you growing up, you don't think you're any different from anyone else. But now that I think about it looking back, I literally would go in my neighbor's yard and just sniff their jasmine."
If Tauruses are known for their comfy homes, Pfeiffer has really made use of hers this year. "One of my new year's resolutions in January, and it was a big one for me, was to not travel so much," Pfeiffer says. "Be careful what you wish for."
Ruefulness aside, Pfeiffer says this new rhythm has had its benefits. "I do think that being forced to be in one place and being introspective and being self-reliant and finding that you really don't need a lot of things that you thought were so important and that were must-haves—we really can get by on much less than we think—I think that's actually really empowering to know that," she says. 
---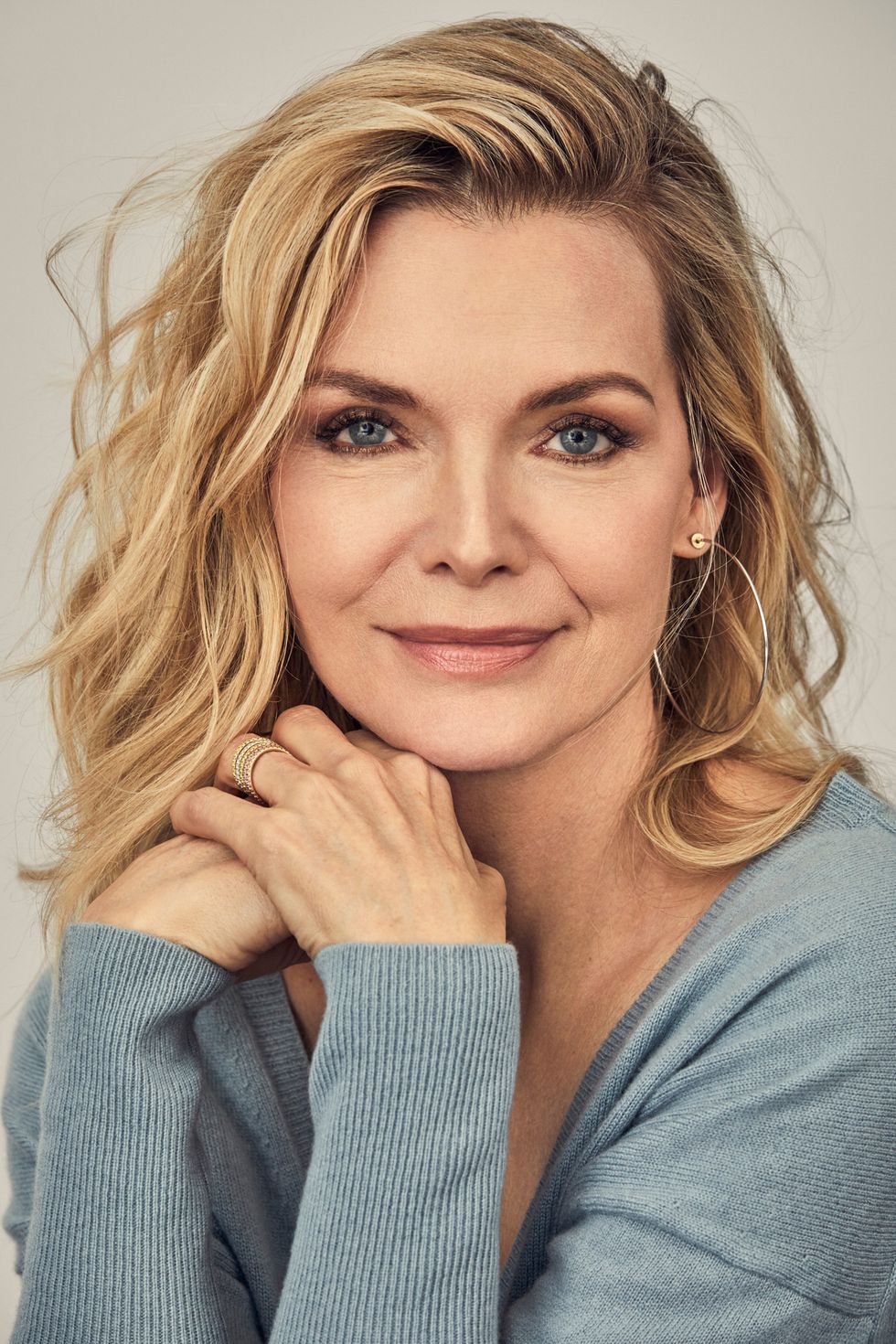 Photo: Courtesy of Henry Rose
"Obviously, it's certainly made me appreciate everything I take for granted," she says, "including people that you just want to have dinner with, seeing my family and friends, and freedom. We're just used to moving around and doing what we want, when we want."

Though Pfeiffer acknowledges that the year has been quite something—or, as she puts it, "2020's been a really interesting year on so many levels"—there have definitely been some of those silver linings that everyone's talking about.

"Look, my husband and I haven't spent this much one-on-one time together ever," Pfeiffer says of her husband of 26 years, TV writer and producer David E. Kelley. "One of us is always traveling. We've been together now since December, so—that is really a blessing."

Quarantine hasn't just been good for her personal life—it's also good on a professional level. "I'm not distracted with work or a million other things," Pfeffer says, so "I've really been able to focus on the company and really think about what's coming up."

Pfeiffer launched Henry Rose two years ago, after she "couldn't find a perfume or fragrance that I loved," she says. This became doubly difficult "once I became aware of the potentially harmful ingredients in everything, really—in food and in personal care," she says.

"Fragrance at that time was sort of the last glass box," she says. About 10 years ago, she stopped wearing commercial fragrances, and as she continued to eliminate any potentially toxic products, she tried more all-natural scents, but found she wasn't a fan.

"I tried everything—all sorts of natural, organic, and plant-based, those kinds of things," she says. "But I was wanting and missing that complex fragrance."

Pfeiffer's fragrances are genderless, EWG-verified, free of endocrine disruptors, parabens, phthalates, and carcinogens, and offer 100 percent ingredient transparency.

If you're thinking, Hmm, Michelle Pfeiffer, as in Scarface Michelle Pfeiffer? The Age of Innocence Michelle Pfeiffer? Going around sniffing perfume? Well, yes—though there has been a steep learning curve, and just becoming familiar with the vernacular was a process.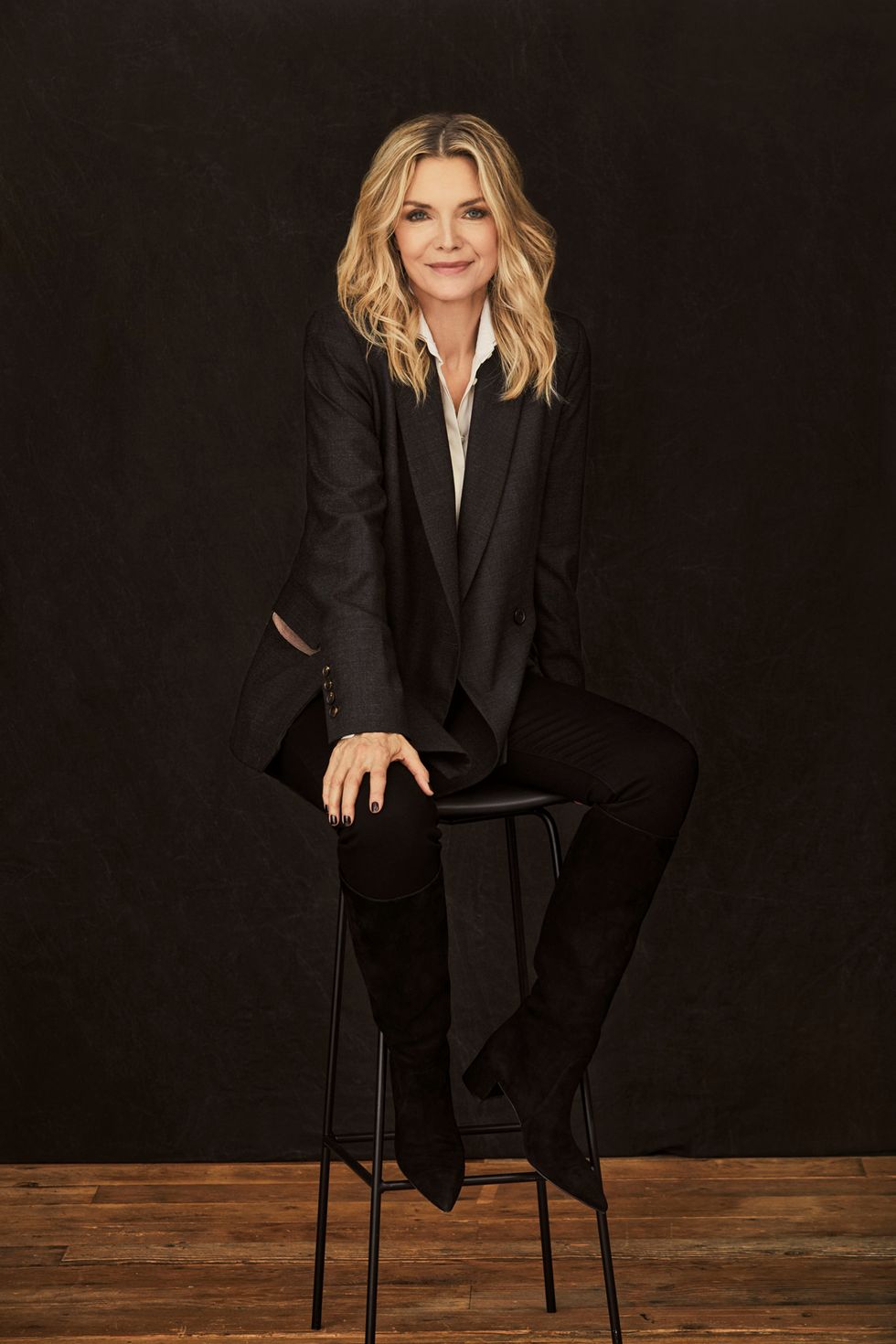 Photo: Courtesy of Henry Rose
"My brain was wanting to explode by the end of each and every day," Pfeiffer says. "And it's been doing this for at least four years. It's been very exciting, and I had to learn a whole new language with the perfumers."
In fact, Pfeiffer never actually meant to helm a fragrance empire—she just wanted a natural perfume that smelled exactly how she wanted it to smell. "It was purely selfish," she says.
"I was going after this one scent," Pfeiffer says. "By the time we launched, we ended up launching with five." Fast-forward a year, and she's up to seven (including her latest,
Smyth
), with an eighth coming in October.
Her acting chops have come in handy for this new, uh, role she's in. To choose scents that would appeal to everyone, not just herself, "I had to almost use my acting skills in a way," she says. "I had to step inside of another character."
Apparently, Pfeiffer is biologically attuned to scent—recently, her doctor told her something new. "I found out one thing about myself; I don't really understand it, I need to research it more," she says. "I was at the doctor, he was examining my throat. [He said], 'You don't have a sinus infection or anything, but you do have something unusual.'"
He continued: "Many centuries ago, we all had the pheromone gland in our throat. Over time, over evolution, very few people have that anymore, but you have it."
Pfeffer says she needs to look into this further. "I know that pheromones do have something to do with scent," she says. "I have to dig into that more. I keep googling it, and things about animals keep showing up… It's weird that no one ever said that to me before. I've had my throat examined many times in my life."
Sounds like a bit more research is in order. In the meantime, Pfeiffer will be out in California, spritzing on perfume even on the days she doesn't wash her hair. "You can talk yourself out of working out today, or maybe even taking a shower or getting dressed, maybe I'm just not gonna wash my hair," she says of life these days.
"But spritzing on a little fragrance—it's so easy," she says. We'll be taking a page or two from her playbook over here, spending more time with our loved ones, focusing on being introspective and being self-reliant, and sure, spraying on a dash of perfume from time to time, even if we're the only ones who'll smell it.
Photos: Courtesy of Henry RoseWant more stories like this?
Shrankhla Holecek on How to Practice Ayurveda at Home
Friends of Coveteur on How They're Finding Unexpected Joy in Quarantine
10 Small Business Owners on How They Are Shaping Their Businesses for the Better