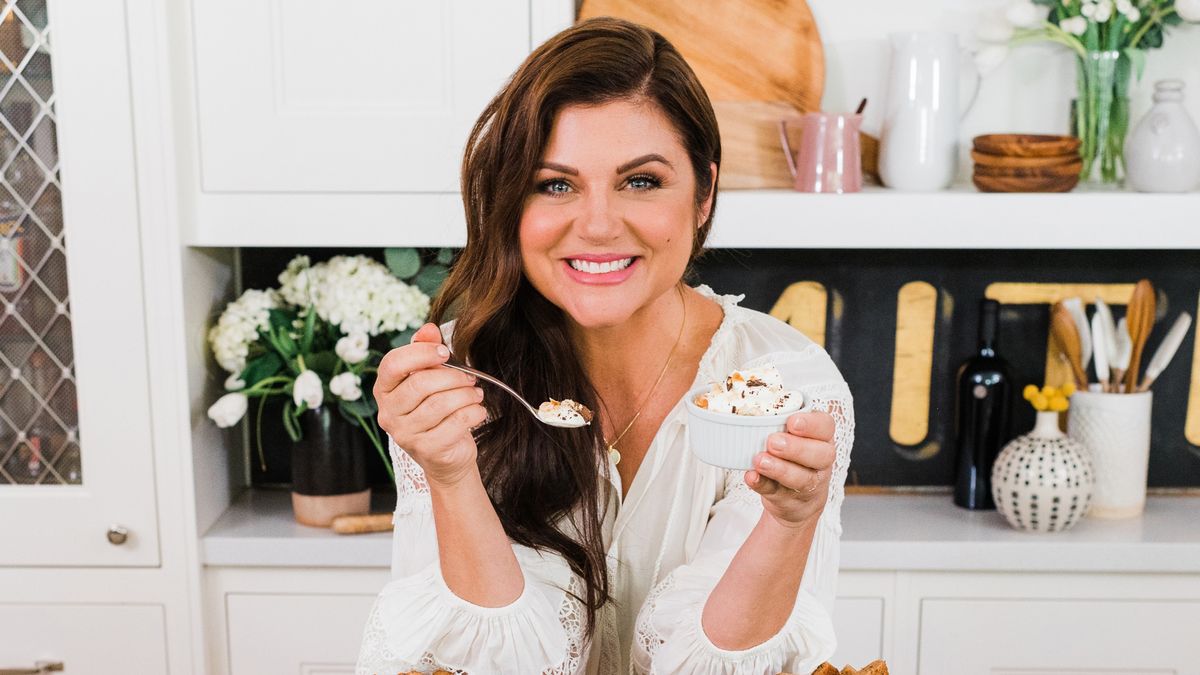 Celebrity
Plus, her blackberry ice cream recipe will blow your Ben & Jerry's away.
Raise your hand if you were obsessed with
Saved by the Bell
in the nineties. Though the show only ran four seasons, it was a pitch-perfect encapsulation of the late eighties and early nineties, and if you didn't have a crush on Zach Morris or Kelly Kapowski, you probably didn't watch the show.
Kelly, of course, was played by powerhouse
Tiffani Thiessen
, also known for her role as Valerie Malone on
Beverly Hills, 90210
and a whole slew of other shows over the years. These days, while she's still acting—you might've caught her in
Alexa & Katie
on Netflix—she has also launched a
lifestyle blog
, complete with recipes, decor tips, posts about her family, and more.
Thiessen, who's also the celebrity spokesperson for
Sensodyne
and
Pronamel
as the brands prepare to launch their newest dual-action product,
Sensodyne Sensitivity & Gum
, shared with us what she's been up to in quarantine, which sounds pretty dreamy.
Thiessen's Instagram
is full of shots of family, food, cocktails, and dogs, and to hear her tell it, quarantine hasn't been all bad. Read on to discover her blackberry ice cream recipe, her backyard camping trips, and the show she just finished for a great escape.
---
What's your go-to summer recipe?
"We make ice cream from scratch each week using a different fruit. It's so easy—I have a delicious recipe for blackberry ice cream that's perfect for this summer weather:
Ingredients:
1 lb fresh blackberries, washed
1 ½ cups sugar
1 ½ cups milk
1 ½ cups skim milk
2 cups heavy cream



Directions:
1. "In a medium saucepan over medium-low heat, combine the blackberries and
1⁄2
cup of sugar.
2. "Cook, stirring often, until the blackberries are just starting to break down and produce liquid, about 10 minutes.
3. "Then take half the cooked blackberries and the milk, skim milk, heavy cream, and remaining sugar, and place in a blender till combined and smooth.
4. "Pour the mixture into your ice cream maker (following the instructions of your machine).
5. "Once the ice cream is done, fold in the remaining reserved blackberries. Serve immediately or store in an airtight container in the freezer."
What are your home essentials right now, as we spend so much time at home?
​
"Since the new school year will be distance learning, I'm really leaning heavily on my blender, knives, Dutch oven, outdoor grill, freezer bags, and, of course, coffee machine!"

We'd love your cooking tips—any hacks that are making it easier to feed yourself and your family right now?

​"Having fun with it is the most important thing right now, and getting your kids involved. But some nights I'm just too tired, so I just call for takeout! I've thrown a tray of snacks together and called it a night, as well. We all need a break every now and then."

We know it's important to you to raise a healthy family. Are there certain ingredients you've been really into this summer?

"We're so lucky to have a garden where we can grow fresh produce—that's been a staple right now. We're also always making sure to drink plenty of water and making sure to get outside and move our bodies."

We know you're Sensodyne's new spokesperson (and as an aside, I am a longtime Sensodyne fan—supersensitive teeth and gums!) Can you share how your sensitive teeth and gums have affected what foods you eat and how that has changed over the years?

"For the longest time, I couldn't eat citrus because my teeth were just too sensitive. Luckily, I haven't had that issue for a while, and it's completely renewed my love for food and cooking. I'm celebrating this summer by enjoying the foods I couldn't have before."

What are your kids' favorite foods?

"They absolutely love the fresh fruits and vegetables we grow in our garden. And, of course, the classics like smoothies, pasta, pizza, and anything on the grill."


What are your favorite snacks to make for your family this summer?
"It's so hot here in California, we've been making tons of ice cream from scratch! We've also made many homemade tarts, and we're grilling up a storm."
We loved your post about backyard camping! Any tips for our readers who might want to try it for themselves?
"All you truly need is a tent, sleeping bags, a flashlight, and an adventurous attitude. Oh, and I would recommend bug spray!"
We also loved your post about missing lipstick—totally! What lipsticks are your faves when you do swipe some on for a Zoom?
"There are so many favorites, it's tough to narrow it down, but when in doubt you can never go wrong with a tinted lip balm or CBD lip balm."
What are you streaming at home right now?
"I just finished the entire
Schitt's Creek
! It's a great show if you're looking for a nice escape and a lot of laughs."
Do you ever go back and watch any
Saved by the Bell
or
Beverly Hills, 90210
?
"​I've never been one to go back and watch old stuff, at least my work. And people think this is funny, but my husband has never seen my old shows either!"
Top photo: Courtesy of Sensodyne
Want more stories like this?
Laura Dern on Black Lives Matter and FaceTiming with David Lynch During Quarantine
Friends of Coveteur on How They're Finding Unexpected Joy in Quarantine
Rouje Founder Jeanne Damas on Her Go-To Fashion Formulas