Rouje Founder Jeanne Damas on Her Go-To Fashion Formulas
The entrepreneur talks personal style and what's next for the brand.
Fashion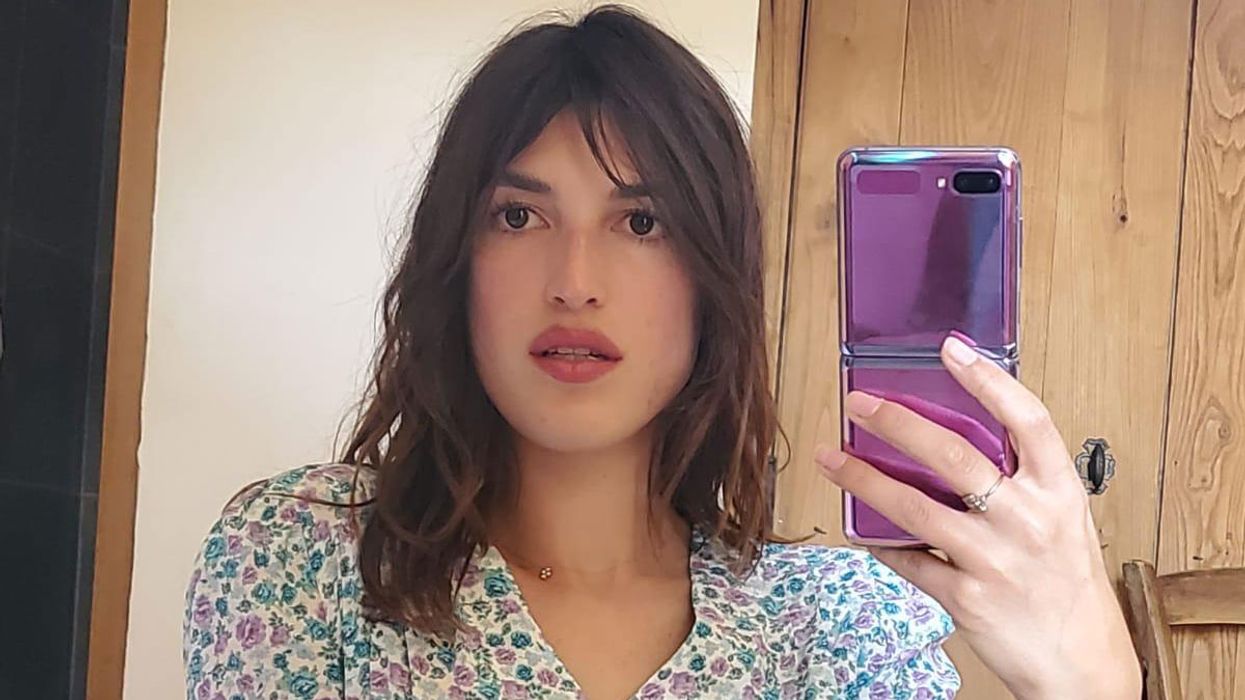 My first experience with Rouje was last year, when I accosted a woman who was bundling up for December weather with an oversized cream-colored wool jacket. I asked if it was vintage. In fact, it wasn't, she said—she'd just snagged it at a pop-up shop nearby. She showed me the label; I dragged my mom there with me the next day.

Let it go down in history that I didn't buy the most perfect shoes of all time that day, because they only had them up to size 40 and I am a 41. And I never ordered them online, because I didn't want to pay for shipping from France. (And also I try not to buy leather new.) Reader, I am an idiot. I'll kick myself for all time about this one.

In any event, I've been style-stalking Rouje and the hyper-stylish woman behind the brand, Jeanne Damas, ever since that fateful day at Pilates. And when I had the chance to interview her about founding her badass brand, full of the sexy, simple silhouettes I drool over every time I'm in Paris, I jumped at the chance.

Ahead, discover everything from Damas' plans to open a shop in NYC to her go-to fashion formulas—and find out what's next for the entrepreneur.

 
---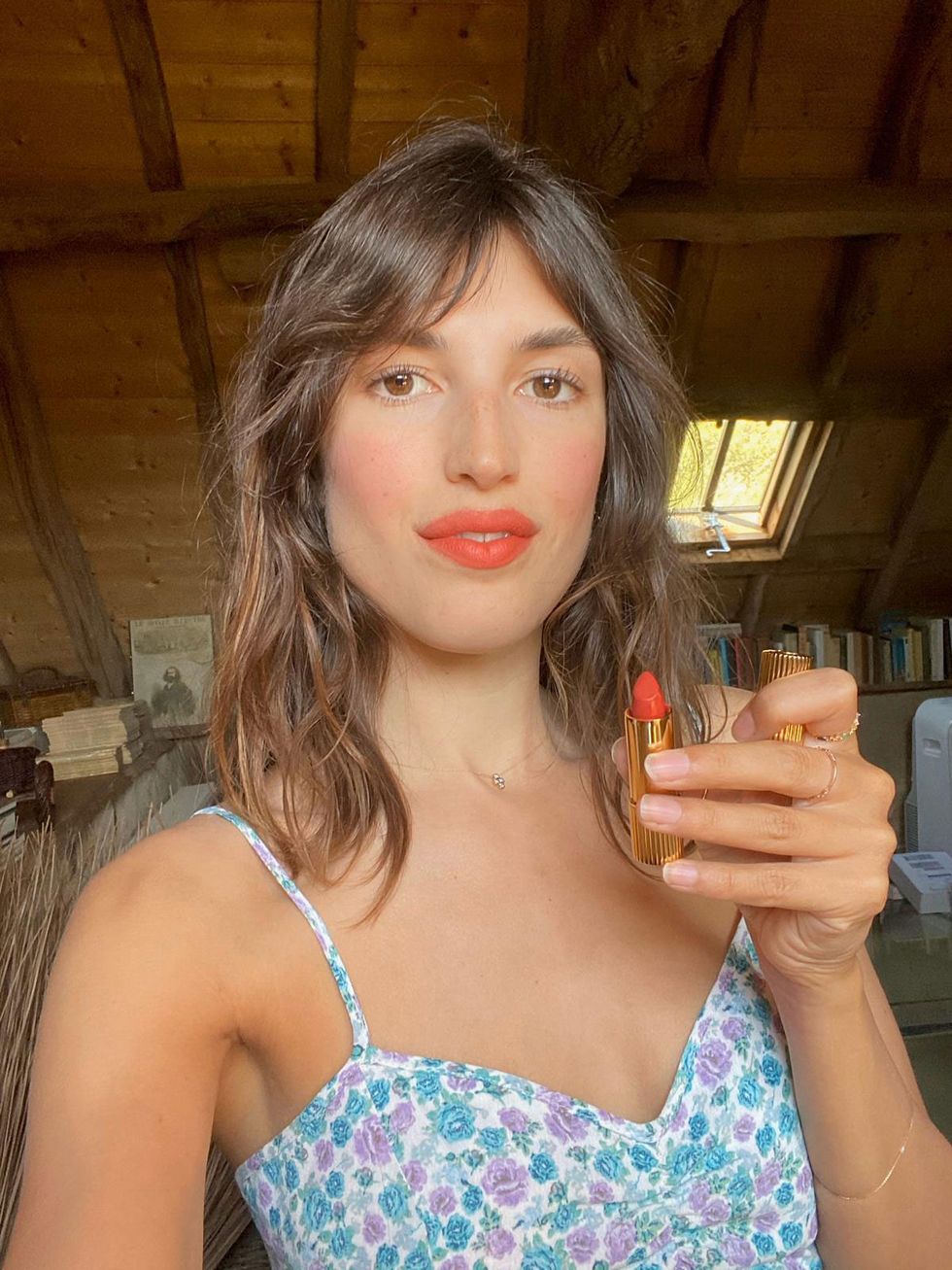 Photo: Courtesy of Jeanne Damas
We love your designs. Are you designing from home now? Anything you can share about things that will make it into your next collection?

"We're all working from home now and have already finished designing the next fall/winter collection. There are collections that are in production currently, so we're trying to plan out future photo shoots.

"I love the knitwear that we've developed, which I think are very cute and so soft. We like to pair them with our bodysuits or tank tops that you can also wear under a dress or with a skirt or jeans."

How do you get your inspiration for your styles and designs?

"Everywhere! Women in the streets, my mother, my friends, movies."

Any getting-dressed-at-home fashion tips that you can share? 

"I get dressed in two minutes, and it's the same for makeup. It's actually always me who waits for my fiancé in the morning. I know exactly what I'm going to wear, and I have some go-to uniforms that I rely on, so I don't have to spend too much time thinking about it."

What are your go-to formulas?

"I like to dress with slight juxtapositions. I feel contradictions create the right balance. A mix of nostalgia and modernity, masculine and feminine, or casual and elegant.

"For example, if I'm wearing a t-shirt and jeans, I'll put on a coral lipstick and add pearl hoops. Or if I am wearing a wrap dress with heeled mules, I'll throw my boyfriend's oversized jacket on top—or one of the boyfriend jackets I designed for Rouje precisely to get that effect."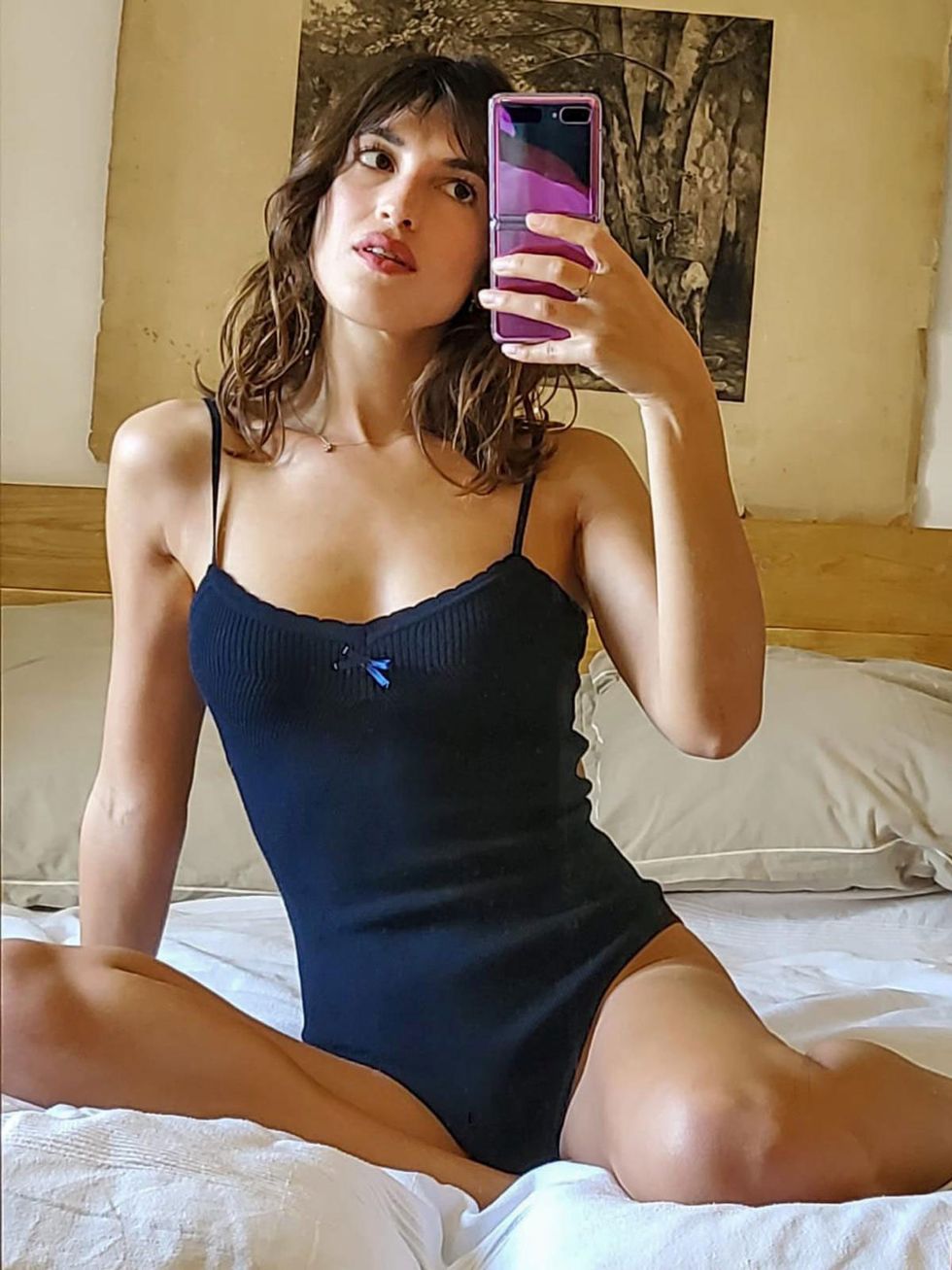 Photo: Courtesy of Jeanne Damas
What are you dying to wear out when this pandemic is finally over?
"I can't wait to wear nothing at all and jump into the ocean! But in Paris, it's all about comfort for me, and I'm excited to wear a wrap dress or flowing pants with a blouse while I roam the streets and drink
cafés
on terraces with my loved ones again."
What are you wearing at home? Are there certain items of clothing you find yourself wearing over and over? Where are they from?
"Dresses! I like the ability to get ready in five minutes or less. My go-to is a classic wrap dress, like our popular
Gabin dress
. They're flattering for every body type and easy to lounge in.
"The Rouje spring/summer collection has one of my new favorites, the
Mathilda dress
, which is a perfect flowing shirtdress in floral patterns with a tie at the waist and pretty pearl-like buttons.
"Also, I'm very excited about our new dress styles, including the return of our iconic
Laura
, a midi-length dress with a strong waist, soft neckline, and bows on each sleeve."
Rouje
Rouje
Rouje
Where are you riding this out? How are you passing the time?
"I'm currently quarantined with my sister. We did a fun
makeup tutorial
!"
What are the biggest lessons you've learned, and what are you most proud of in your career so far?
"A lot has changed and evolved since we started. We were a team of three squatting at a friend's office the first year. Now there are around 30 of us at Rouje, and we have a studio and our own office space near our flagship store and restaurant.
"I'm quite proud of what we have achieved, and I would really like to nurture the family we've built and [the] brand authenticity, which are such a huge part of the success of Rouje. I work with people that I feel a close connection to.
"I'm learning new things every day since launching Rouje, all different sides of the business, and I manage my brand while always following my instinct and vision, which has gotten me here. I'm proud of my team and our collective hard work. Nothing can be done alone. I've always believed in the people and chance encounters that have shaped my journey."
I loved your pop-up in Nolita. Will you open a store in the USA one day?
"I've always loved Nolita because I love the mix of cultures in that neighborhood—there's a little European side there, too. We'd love to open a shop in the US. It's actually our next big project, and it'll be in New York City! But of course, with what is happening at the moment, there are delays with planning. We are putting a pause on future projects for now and assessing things day by day."
Photo: Courtesy of Jeanne Damas
You have a beauty line, accessories, a Paris flagship store, and even a restaurant, Chez Jeanne, attached to your store. What's next?
"Buying an organic farm in the middle of the countryside and breeding cows! I started very early, so I always said to myself that I would have several lives. I always see myself having and growing Rouje and continuing to work with artists, getting to know many different people, organizing exhibitions, providing a voice for those who inspire me.
"What I like most about life is the unexpected and the surprises it offers us, which we must know how to catch or to recognize when they come up. I let myself be led by my instinct. I would also like to create a foundation to help women around the world and give them access to education and to gain their independence by working."
What inspired you to open a restaurant?
"I grew up basically living in Square Trousseau, a very Parisian brasserie run by my parents for 20 years. We lived on the first floor with my sister. [
Ed. note: In France, the first floor is the equivalent of the American second floor.
]
"We ate there with the staff or customers every day, and it felt like our own little village. It felt incredibly rich and lively to be able to meet new people all the time. That experience has really influenced my way of working today. I would never have imagined that I'd open a restaurant, understanding the realities of the business from my parent's experience.
"But when we found the Rouje shop location, there was this large space we were wondering what to do with, and we shyly thought it could be perfect for a restaurant. I have a chef friend, Alexandre Arnal, who I proposed the project to, and he was thrilled. As I managed to build an experienced team to run Chez Jeanne, we started to feel more assured that it was the right decision. You can imagine the emotion and pride my parents feel—they eat there all the time."
Photos: Courtesy of Jeanne DamasWant more stories like this?
How to Shop Like Shoe Designer and Nail Artist Jessica Washick
Need a Distraction? The Best Shows, Movies, and Books to Delve Into
Friends of Coveteur on What They're Doing to Take Care of Themselves Right Now