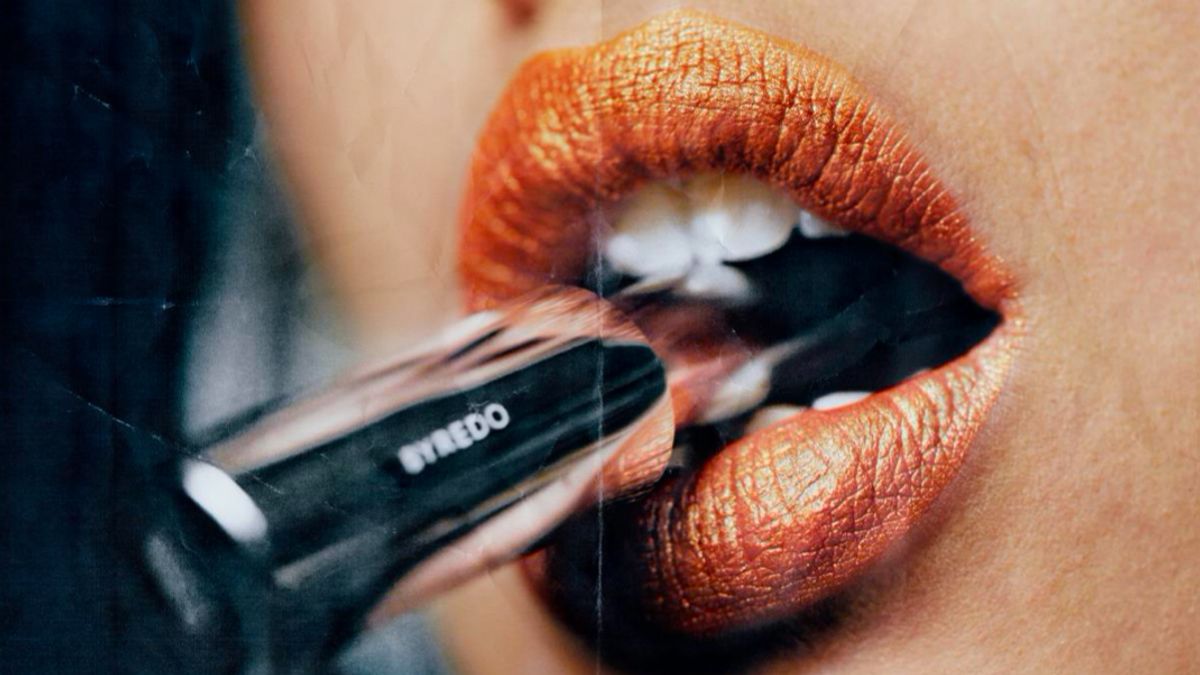 Makeup
The collaboration with makeup artist Isamaya Ffrench is seriously chic.
Let's be honest—Byredo's inaugural makeup collection is long overdue. Amassing a cult following in just 14 years, there's a reason why we all rave about the brand's phenomenal scents, creams, candles, and handbags.
Now, after two years in the making, Byredo's trailblazing approach to beauty is evident yet again in its first-ever makeup collection, in collaboration with makeup artist
Isamaya Ffrench
. "As I started to really look at the beauty world, I found much of it conservative and conventional," explained founder Ben Gorham via the brand's press release. "I thought,
We can do this, and we can do it differently
. Ultimately, beauty is subjective—Byredo Makeup had to reflect that."
The goal of the collection is to allow individuals to express themselves without the limits imposed by gender or society's outdated beauty standards. Said Ffrench of the collaboration, "I've always wanted to redefine the approach to creating a makeup collection. I don't want to tell people how to wear cosmetics, just to inspire them. Byredo can be anything—that's what we are trying to establish."
The first launch is composed of six core products: the Colour Stick, Lipstick, Lip Balm, Eyeshadow Palette, Mascara, and Eyeliner. Each product is designed to inspire the user to follow his or her instincts in order to "reflect the idea of subjective beauty at the heart of the brand."
However, what truly differentiates this makeup collection from others on the market is the innovative packaging, which is composed of alluring shapes and timeless metals. The intent is for consumers to begin viewing the form and function of products as something vital, rather than disposable (which would certainly be a major coup in the fight for more environmental responsibility across the beauty industry). The anthracite lip bullet, as well as the cherry-red mascara tube, both seem to defy gravity with sensual curvature, while the eyeshadow palette is comparable to a perfectly imperfect golden pebble. Truly, no detail was spared in terms of design, and happily, that ethos extended to the formulation as well.
---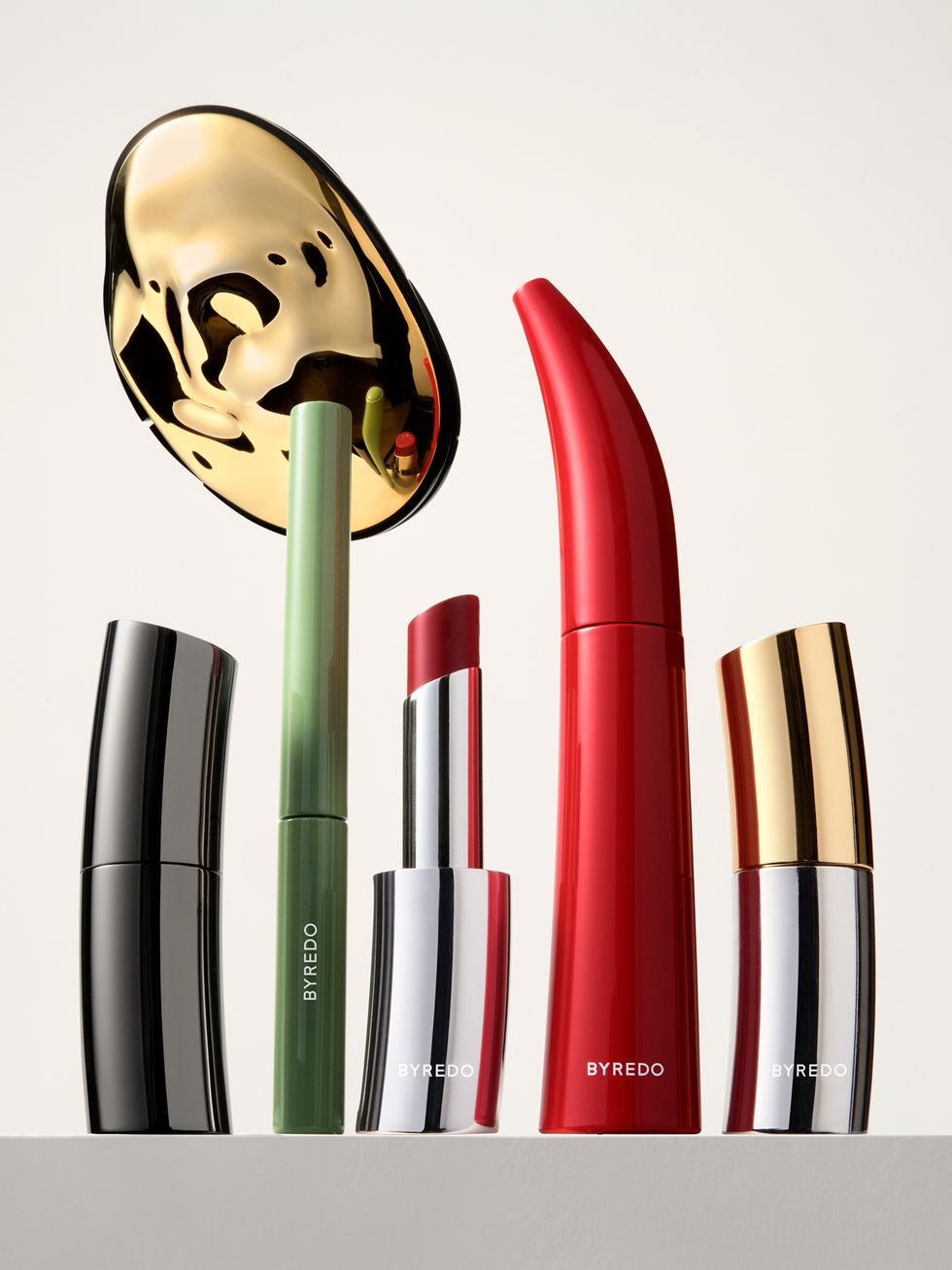 Photo: Bohman+Sjöstrand
Known as the universal product of the collection, the Colour Stick can be used on your eyes, cheeks, or lips and works well alone or worn in tandem with other colors to achieve your desired look. The 16 shades range from bold blues to subtle nudes and are available in either a creamy or matte finish (both of which are easily blended with your fingers or your favorite brush). The curved bullet tip also helps to distribute the ideal amount of product each and every time you use it.
Byredo's clear Lip Balm is exactly what you want out of this type of product—ultra-hydrating, non-sticky, and made with clean, natural ingredients. Similar to the Lip Balm, the Lipstick arrives in a sleek silver-gold metal casing and is intended to be an everyday extravagance (even if you only wear it from within the safety of your home). The 15 shades arrive in either a satin or silky matte finish with colors varying from Dance Hall Queen, a deep plum, to Divorce, the power red you never knew you needed. Bonus points for applying the balm prior to the lipstick for a quick conditioning treatment.
The three eyeshadow palettes in the collection—Sciomancer, Syren, and Corporate Colors—each revolve around a different color story and are composed of five pressed, long-lasting, lightweight powders in matte, metallic, and glitter finishes. The metal compact case is designed to look like raindrops falling on water, illustrating yet again the obscure yet beautiful approach to packaging design.
Last but not least, the Eyeliner and Mascara are available in classic black—the ultimate staple in your personal makeup collection. Both are executed with peak performance, precision, and endurance in mind, with the applicators offering maximum flexibility to achieve a crisp wing flick or root-to-tip coverage and volume.
If you're as excited as us for the launch, all items, except for the eyeshadow palette (which launches in November), will be available starting October 1st exclusively at Byredo.com, in Byredo stores worldwide, and at select retail partners.
Photos: Josh Wilks and Bohman+Sjöstrand
Want more stories like this?
The Best CC Creams for a Just-Like-Skin Finish, According to a K-beauty Expert
Here's What Happens When You Start Your Day with a Cold Shower Shock
Fine Lines and Wrinkles Are No Match for These Retinol Eye Creams