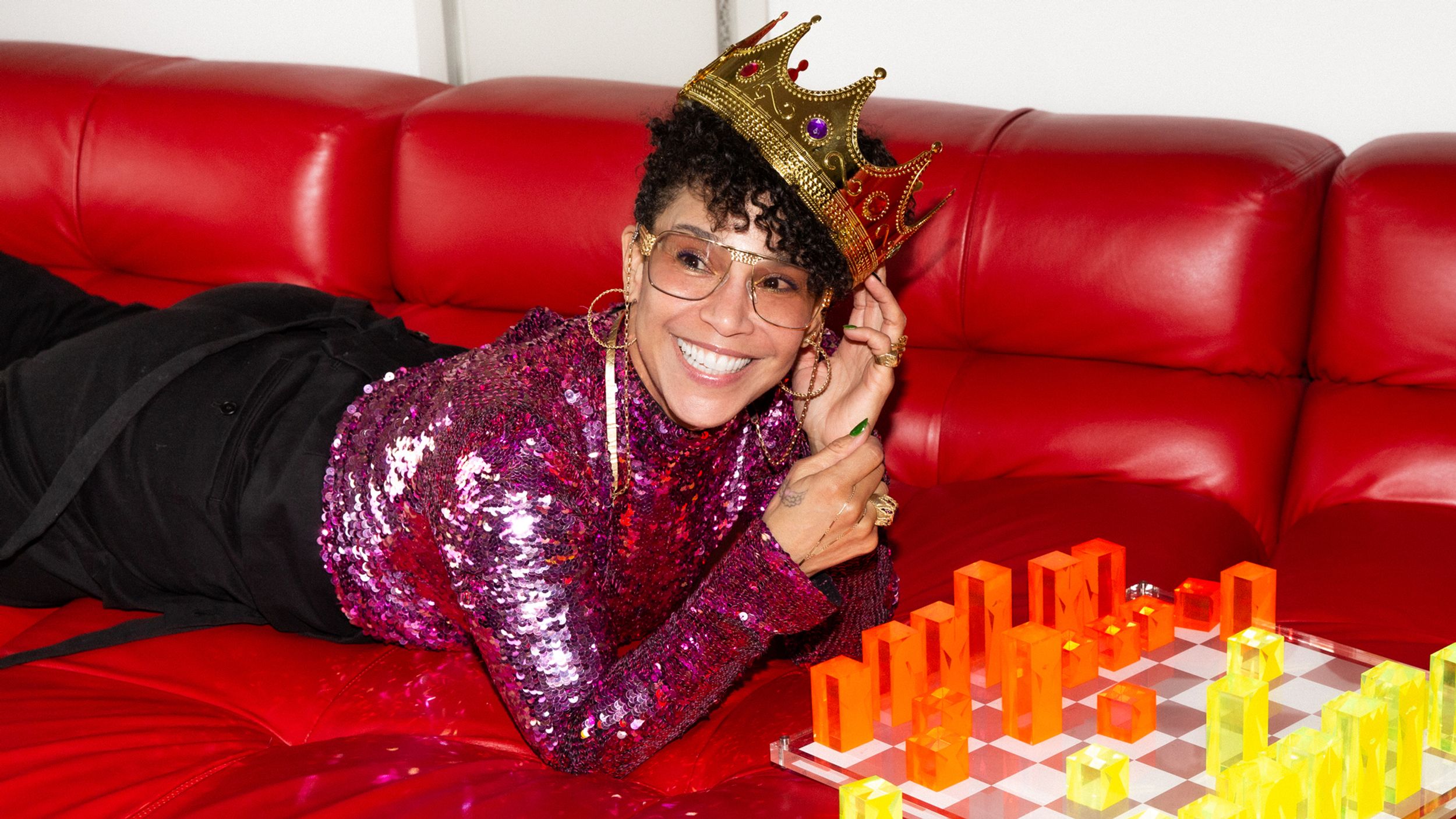 Living
Joy is your birthright, and she's not afraid to tell you exactly how to find it.
My FaceTime with joy strategist
Grace Harry
was supposed to be a "
playdate
," but we mostly just talked about life. "If there's anything I've learned from this experience [of quarantine], it's [to] go with the flow," Harry said, once her very kind and calm partner helped her battle the Zoom gods and finally
connect
—literally and metaphysically.
Once upon a time, we would have met at her studio in Lower Manhattan and hashed it out—maybe finger painted, maybe doused ourselves in glitter. But instead, we two born-and-bred NYC women—one from the East Village, one from Clinton Hill, back when both of those neighborhoods were quite different from what they are today—had a truly delightful digital conversation about joy and all that comes with it on a sunny Thursday afternoon.
Though Harry has been upstate for most of quarantine, I caught her at home in Manhattan, so I got to see the space she uses to help people get in touch with joy. Like a bad connection between cell-phone towers, Harry described our state of affairs with joy as a society as tenuous at best, but the exuberant, ever-hopeful joy proliferator isn't giving up on finding a signal.
It starts with these strange times we find ourselves in now. For those of us who were looking at 2020 as being a moment of growth or upward motion, we got it, but not in the way we might've envisioned it would be. "This period is really about— I joke all the time to my friends and clients, it didn't say the year would be fun or a perfect adventure," Harry says.
"If you've been doing any personal work prior to this quarantine lockdown, you're really benefiting from some deep understandings and truths right now," says Harry. "We were living a complete swipe-right life."
And now, in the quiet, she says, "families are getting together, conversations are bringing more intimacy." People are asking the real questions: "OK, I'm single—
why
am I single?" she says. "Our choices in partners are more real."
---
Above all, if you want to get out of this in a more evolved place than when you went in, it's all about being "flexible and resilient, going with the flow," Harry says.

Harry found joy—from a professional standpoint—when she was "on the verge of divorce number three," she says, to, in case you didn't know, a little R&B star by the name of Usher. Harry had been a creative director in the music industry for 29 years, and she was ready for a change.

"I've gotta stop this Groundhog Day," she found herself saying. "I want off this ride." When her marriage ended, she did some deep work and figured out a few things.

As a "recovering fear-of-rejection-ite," she realized she was "running a scam on the universe," going to and fro without ever stopping to really ask the big question: "So—what do I want?" she says.

"I never exercised that muscle," Harry says. And so began an "opportunity for a second childhood," as she puts it.

In a period of exploration, Harry started feeling her way into what had a charge for her. "Let me figure out what I do like," she told herself. "The more I went to pleasure and joy, the more all these bizarre societal beliefs—all these shoulds and can'ts—came up."


Real talk, though: "The heart is the imagination, and it brings in the opportunity for anything," she says. The mind is more fickle. Our brains are wired in such a way that someone could yell "there's a lion behind you!" as she says, and then, later, the thought that someone "didn't call you back registers as the same intensity as the lion." How true it is.

So Harry started observing the people in our world who find joy naturally. For example, you might see a little kid swinging their arms while they're in a conversation. "Later on, when they're adults, we spend $40 to go to kundalini class and do the same thing," she says. LOL—but she's right.

Our "fascination, excitement, expectation for joy" ended when we started adopting these types of beliefs: "You have to be married, sexy as hell, cook a five-course meal, entertain the community, be available for sex all the time, love every in-law, create humans," and on and on, Harry says, ticking down the list on her fingers.

Enough. "I'm leading a revolution of joy to get back to truth," Harry says, and at that moment I'm about ready to throw my boring old to-do list out the window and join her on her quest. Harry is nothing if not convincing AF.

So for those of us who might not be lucky enough to have a playdate or a heart-to-heart with Harry, there's one simple but powerful question you can ask yourself to invoke joy: "What makes me feel joyful?"

For Harry, "I went back to age 11, the last time I really felt I was living for myself," she says, "before our hormones were raging and we wanted to be alluring for people in our lives." The key, she says, is "getting back to people's origin stories—those pre-verbal stories about being wanted or not wanted, loved, etc."


Like it or not, it's up to you to find joy. "Nobody is teaching us a daily connection of a toolbox that leads us to joy," she says. "It starts with a relationship with you and you."

Whatever your first thought is when you close your eyes and answer that question of what makes you feel joy is the right one. "Your first thought is your connection with source," she says.

But the mind is a trickster. As soon as you get your answer, you might "hear a saboteur," Harry says, "that mean, bossy brain that's recycling old shit."

For instance, she might think of wanting to fly off to Morocco at a moment's notice. At first it sounds like a great idea (under normal circumstances, at least). And then the mind kicks in: "Oh, there was that guy, and what's Moroccan food like, the color red, I don't like that dress…" she says, and suddenly you've talked yourself out of booking the trip of a lifetime.

If you're doing "affirmations, yoga, and life is still not working," you just might be missing that relationship with joy, Harry says. In that case, "your subconscious brain is still driving the bus," she says. "We believe infinite possibility in our heart."

It's also about the people with whom you're spending time. Harry created "me sessions" with her crew, her "starting five"—as in, her five realest, most authentic, genuine friends—and challenged all of her friendships in the process. (She also offers these sessions as part of her joy business.)


"Who are the people you're going to win the game of life with?" she says. "That person and I both like yoga" isn't always enough to sustain a deep friendship.

"For dating and intimate relationships in our life, we need people who are aligned with our goals," Harry says. These are the people who "never drain or tax you."

If you are lucky enough to have a playdate with Harry, you get to go over to Harry's place—just like those sparkly playdates of yore, those shiny childhood memories—and play with the multifold objects in her studio, which include things like Magna-Tiles and maracas.

Before you arrive, you fill out a form, answering questions about "toys you liked, soundtracks you like," so Harry can plan ahead and supply you with some of those toys, have some of that music on the stereo when you walk in.

Harry helps you "figure out practices to start your day," she says, "getting you out of the habit of waking up and grabbing your phone." That's a big no-no in the joy journey: Start with yourself first—not your phone.

"Even talking to your partner, your dog, I don't care," she says. Just, please, anything but the phone as soon as you open your eyes.

"I don't focus on goals; I focus on feelings," Harry says. She has her playdate partners "visualize how they want to feel five years from now," she says.


There's a lot more to it, but there are a few practical things you can do right now—that is, if any of these ideas sound joyful to you. For example, if travel brings you joy and you can't travel abroad right now, you could make food from other cultures, Harry says.
Or if you're feeling isolated and socializing brings you joy, plan three "FaceTimes with friends to do something fun and international" every week, Harry says. Instead of just talking—which can get draining, especially if you Zoom a lot for work—make dinner together, or watch a movie, or have a virtual dance party.
No matter what you do, Harry is here to remind you that joy is not the cherry on top—it's the whole cake. "What I want to get across to people is that joy is your birthright," Harry says. "You need to put it in the same bucket as getting dressed, eating, making sure you're safe, washing your body."
Here, she gets serious. "Before you work for anyone else, every single day of your life, choose yourself first," she says. "Literally. That's an order. It's not frivolous."
Joy is fun, but it can also be a serious matter. Someday, after the cloud of quarantine has passed, Harry very generously invited me to her studio for a real-life playdate, and I can't think of anything I'd rather do. Until then, I'll be resisting the urge to check my phone upon awakening—and shaking my ass to Drake over here in Brooklyn, finding joy.
Top photo: Courtesy of Grace Harry
Want more stories like this?
How to Build Emotional Resilience Right Now
Shrankhla Holecek on How to Practice Ayurveda at Home
Nana Oforiatta Ayim on Quarantine in Accra and Deconstructing Privilege