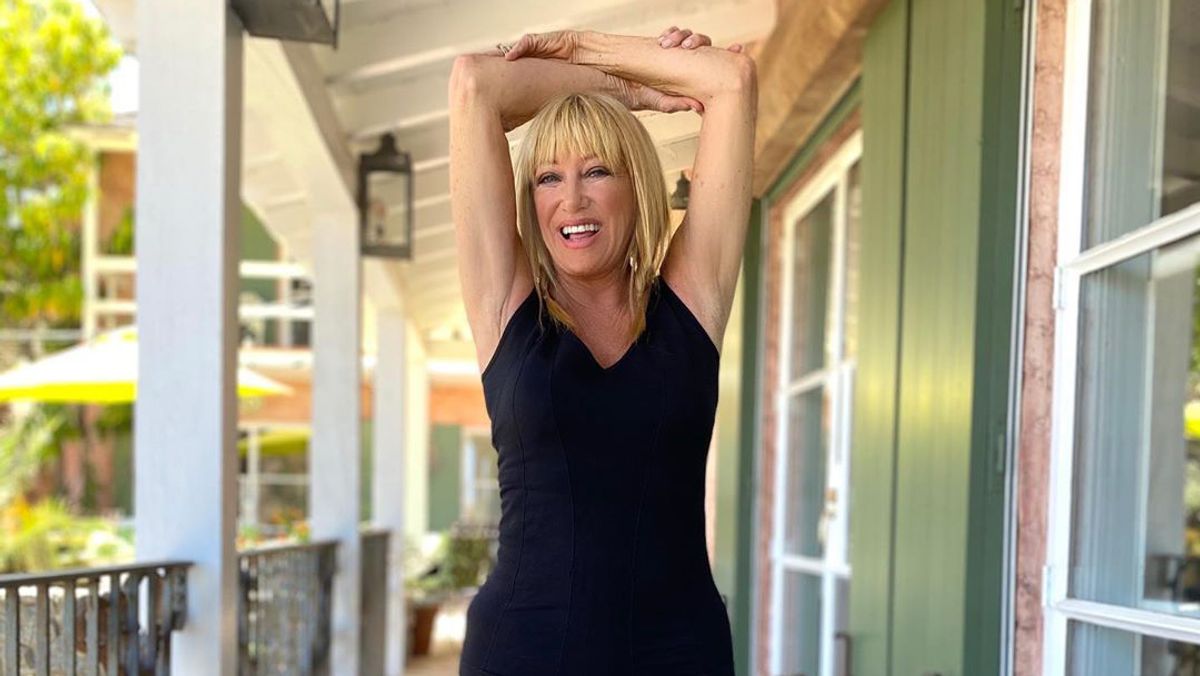 Beauty
Suzanne Somers Doesn't Want You to Have "Neck Envy"
She played "the dumbest woman on television" and still outsmarted everyone at the top.
"I know I played the dumbest woman on television as Chrissy Snow, but she really wasn't," explains Suzanne Somers, an entrepreneur, best-selling author, actress, and founder of Suzanne Organics (a comprehensive range of skin care, makeup, and hair products). "I gave her a circuitous route to logic. Everything made sense to her. And she got under the skin of the people watching."

Whether you grasped the subtle nuances infused in her iconic character on Three's Company or not, there's one thing we're certain about Somers after a recent Zoom call: One should never underestimate the presumably dumb blonde. At the proud age of 73, Somers has built an empire that encompasses beauty, fashion, and health. As a fellow editor relayed to me, she's the original Gwyneth Paltrow in that she preceded Goop as a one-woman crusade for holistic living.

Somers first started digging deeper into the everyday choices she was making after being diagnosed with breast cancer 20 years ago. "I couldn't accept that I'm supposed to live the rest of my life without a quality of life," she says, and thus, her personal path to healing began. "I decided to change my life. I decided that I would eat as though my life depended upon it, which I believed it did. I would value sleep because I hadn't been. I used to get up at two o'clock in the morning and write until seven, thinking I'm way ahead of the game because there are no phone calls, there are no interruptions. I believe the choices that I made saved my life."

Somers continues to advocate for organic food, clean skin care (which she creates under her eponymous brand), and exercise. Yes, the face of the ThighMaster (which she whipped out mid-Zoom) is still squeezing her way to a toned body—even if she's had to modify her fitness plan slightly due to a stress fracture in her hip.

"You have to turn lemons into lemonade," she said. "Don't get frustrated. Instead, look at what is going on in your life. Be it a pandemic, be it cancer, be it an inability to move for a while—whatever your issue is, make it work for you."

If there's anyone who is living and breathing proof of the power of positivity, it's Somers. "I decided to turn this whole thing from 20 years ago, from cancer, into [what I've built today]," she adds. "Let [a setback] be your opportunity rather than what brought you down."

Ahead, six life secrets from Somers herself.
 

Believe in love—and tequila
"My husband thinks I'm beautiful with nothing," says Somers of Alan Hamel, the man she's been happily married to for 43 years. "I'm lucky. Do all husbands? I don't know. Sometimes they leave—not very nice of them. But when you have the good fortune of finding true love, which I have, you're going to do everything to live as long as you can so you can get more and more of it. It's a party you don't want to leave."
One of her top tips for a successful relationship is to hit the bar regularly. "Five o'clock every night, meet at your bar—or whatever your facsimile of a bar is in your house—and pour yourselves a tequila or whatever it is that you drink. Usually, we have a Patrón Silver on ice. We turn on the music and we dance. Even with my fractured hip, we figured out how to dance, hold each other, and say really nice things to one another. I happen to like Diana Krall and her [Spotify] station, especially around five or six o'clock. It's like she knows what we're doing!"
Join Hamel and Somers for cocktails and a Q&A every Tuesday and Friday night via
Facebook Live
. "Al and I sit there and we drink our tequila. He gets a little high and behaves badly, but it gives me something to bounce off of." 
Stop stalling
"Don't get into a position where you say to yourself, 'I should have made better choices.' It's never too late to start. If you've got a big, upward hill to climb, it's just not easy," she says. "Start today when you get lunch. You could go to a farm-to-table [restaurant], or you could go to a fast food place that serves excitotoxins, [a class of chemicals that] literally excite the neurons in your brain to death. Make the right choice…What you want to pile up in your body are good choices." 
Avoid "neck envy"
"A neck goes. I feel so awful…but I used to grab my mother's neck when I was a little girl and go 'Gobble, gobble, gobble!'" says Somers of the woman on whom she based her inimitable Chrissy Snow character (along with her niece, Erin). "When I look at the 40- and 50-year-old anchors on the news, I'm transfixed by their beautiful necks. I admit it. I have neck envy."
While many in Hollywood would turn to surgery as a solution, Somers remains firm about embracing the effects of life. "I don't think that it's good for my brand to fix my neck," she says. "I like the way I'm aging—and I never thought I'd like the way I'm aging. I like being 73. You never hear a woman say that."
In lieu of going under the knife, the brand founder developed her latest skin duo—
Neck Firming Serum
and
Neck Firming Creme
—to specifically treat this trouble area. Infused with powerful botanical actives like acetyl tetrapeptides, Swiss apple stem cells, hyaluronic acid, and Peruvian Tara gum, Somers slathers on both collagen-boosting formulas twice daily. She refuses to let a few fine lines frighten her. "If you're afraid of aging, you will fail for sure," says Somers. 
Keep it moving
In addition to news anchors and their smooth, swan-like necks, Somers envies her flexible feline. The self-proclaimed yoga lover who says she'll downward dog until she dies was sidelined by a hip fracture. "Right now I'm stiff. I get out of bed in the morning, and I look at my cat, who does all this stuff," says Somers, who was deeply committed to her
yoga practice
up until recently. Luckily, she's still got the spring-loaded device that sparked a fitness revolution by her side. "I've been able to lie in bed and do isometric [holds]," she says while squeezing the
ThighMaster
between both hands. "I can feel my upper arms shaking from the strength of this. I also put it between my knees and squeeze." 
Find power in perseverance
"If you plan it, I think you're going in the wrong direction. I think you become successful as an entrepreneur out of passion," says Somers. "Sometimes the worst things that happen to you in life are the best things. I've always believed in the silver lining." The successful and prolific author says it's life's unexpected setbacks that often serve as her jumping-off point for her next best-seller. "I take the worst thing that's happened to me—be it health, be it my alcoholic father, be it my son being run over by a car—whatever that moment is in your life that you think you'll never survive," she says. "Start on page one with that, and then roll back. It always works for me." 
Know that you are always in control
"You're in total control of your health and your happiness," says Somers. "Sometimes life sends you a blow where health seems elusive, but if you lean back (I call that the wisdom) and float above (that's the perspective), the answer will come to you…[Every blow] is always, always, always a lesson. Down the road the lesson becomes more and more profound, so listen to the voices in your head."
Long before Hollywood A-listers like Viola Davis, Octavia Spencer, Michelle Williams,
Taraji P. Henson
,
Jessica Chastain
, and Juliana Margulies shed the spotlight on Hollywood's wage gap, Somers raised her hand and received a pink slip in return. "My first big life blow was being fired from
Three's Company
for—listen to this, ladies—having the audacity to ask to be paid what John Ritter and the rest of the men in television were being paid," says Somers. "I had the highest demographics of any woman in television at that time, and they wanted to make an example, so I was the lucky patsy."
Her response was to focus on the one thing she could control: her mind and her actions moving forward. "I could've rolled up in the fetal position and felt sorry for myself. But I heard a voice in my head—listen to those voices in your head; it's your wisdom—and the voice said, 'Why are you focused on what you don't have? Why don't you focus on what you do have? And what you do have is enormous visibility. Everybody in this country and most parts of the world know your name,'" she says. "That was a shoulder-shaking [moment] for me. I thought, 'That's true. Most everybody, wherever I go, knows my name. So what can I do with that? And that's when I decided that I would change my life with the food I eat, the sleep I get, the love I have, and the thoughts I think."
If anyone is having the last laugh right now, it's Somers, who has 27 books (and counting), 25 million books in print globally, and an eponymous line with over a thousand products. "I'm really proud of the fact that I got fired and everybody thought I was washed up," she says.
---
Shop the Story: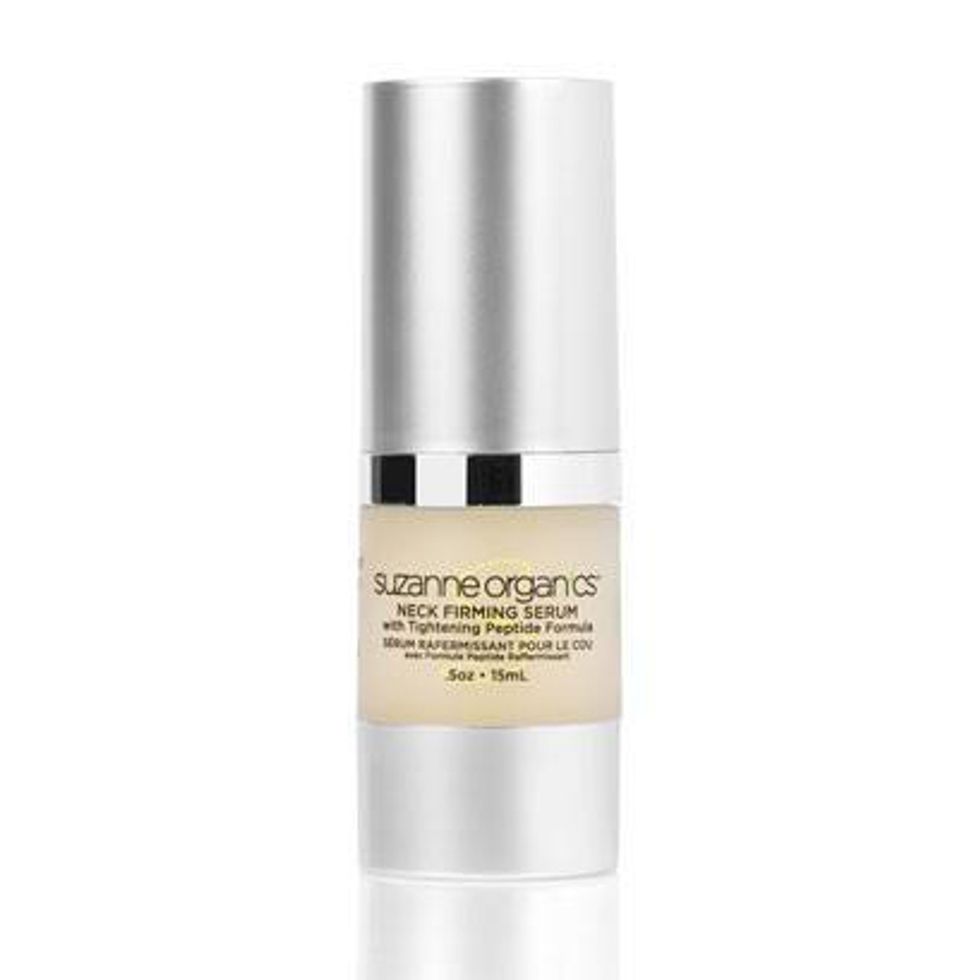 Suzanne Organics
Suzanne Organics
Suzanne Organics