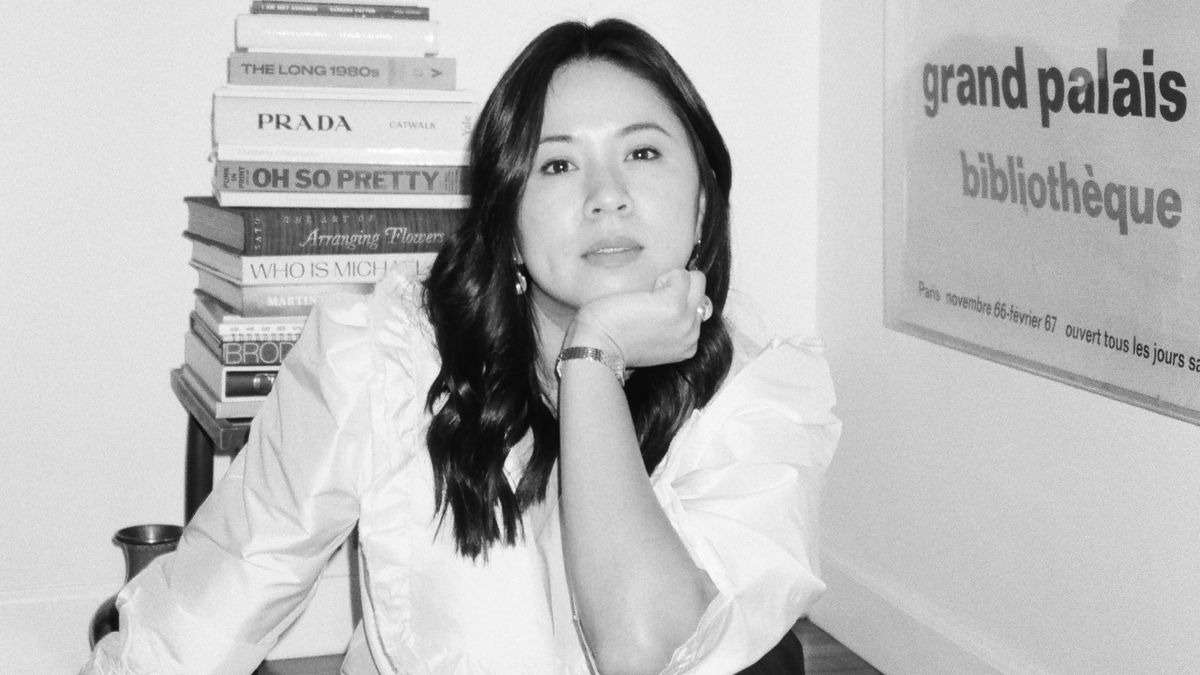 Designers
Meet the Designer Making Elegant Clothes for Cool Girls
Chelsea Mak is designing her fantasy wardrobe.
If you've spent any time scrolling through Instagram during quarantine—and who hasn't?—you're probably acquainted with the
Chelsea Mak
muse. Or at least you've caught sight of her:
making orange juice
in a crispy tie-back dress;
eating pancakes
in a breezy deep V-neck blouse; or
taking a mirror selfie
in the label's viral ruffle-shouldered top. We've seen the muses, but who is Chelsea Mak? After graduating from Parsons and cutting her teeth at a number of high-profile American brands, the Los Angeles
–
based designer decided to strike out on her own, launching her namesake label in 2018.
Since then, Mak's been slowly building a fantastical wardrobe—and a whole world—that's just as vibrant and rich as the silk taffeta she uses to create her covetable garments. Drawing inspiration equally from childhood trips to Shanghai and British Hong Kong, and today's easy-going L.A. vibe, Mak's collections are rife with eclectic, sometimes juxtaposing references. High-tea culture, Austrian duchesses, Kraftwerk, and the films of Wong Kar-wai all figure into the label's whimsical and anachronistic separates. "I like to describe the label as Norma Kamali skipped cotillion and went to a punk show. Then she had to meet up with her hotel heir godfather for dim sum before going to her '80s internship," she says.
We caught up with the designer via Zoom to talk about launching her own label, Shanghai's fabric markets, vintage clothing, and creating her dream wardrobe. Enter the fantasy realm of Chelsea Mak.
---
Photo: Courtesy of Chelsea Mak
On her start in fashion:

"My love for fashion really began in childhood. I loved looking through my mom's fashion magazines, going window shopping with her, and watching her getting dressed up for events. When I was in high school, she started going on business trips to Shanghai. Part of the deal was that if I went with her on these trips, we would go to the city's fabric markets and then make clothes together. I always knew I wanted to work in fashion, so I ended up attending Parsons for fashion design. After graduating, I worked for a few L.A. brands, including Band of Outsiders, Raquel Allegra, and Entireworld, before starting my own brand."

On launching her own label:

"After designing under so many other people, starting my own label really came out of the necessity to express myself creatively and spiritually. I was finally able to have my own voice, not only from a design perspective, but as a human being. I've learned so much about myself during this process that wouldn't have been possible otherwise.

"I saw a niche in the market for clothes that were interesting and tasteful but easy to wear. I think that feeling comfortable has definitely taken precedence over looking presentable in fashion these days, so I wanted to create a line that allowed women to be dressed up and leisurely at the same time. For example, I use a lot of silk taffetas, which one would usually associate with uncomfortable clothing reserved for stuffy occasions, but I use it in easy, everyday silhouettes."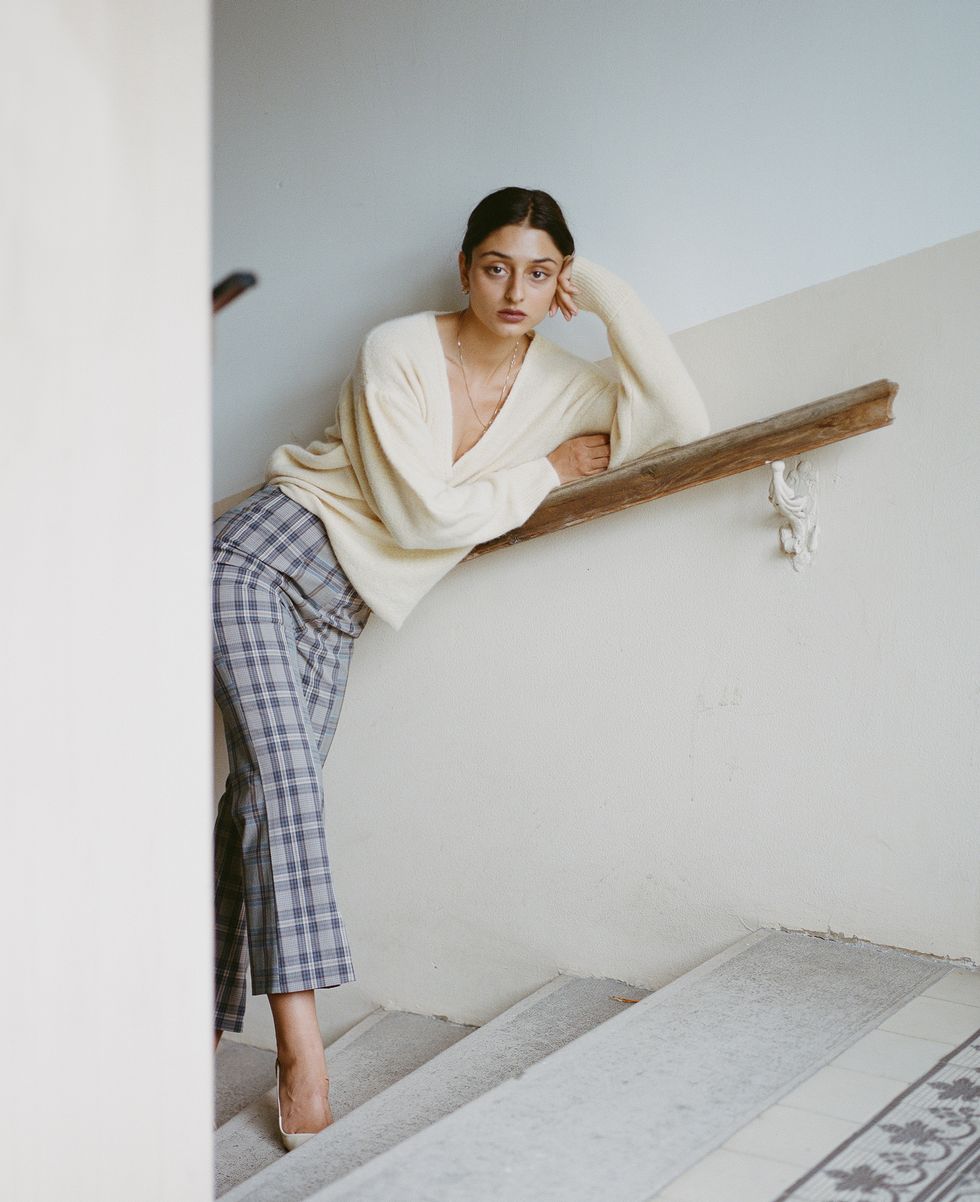 Chelsea Mak Fall 2020
Photo: Courtesy of Chelsea Mak
On the spirit of the brand and her design inspirations:
"The spirit of the brand is really this relaxed elegance and homage to the Old World. I spent a lot of my childhood in Hong Kong, so a lot of the brand is a romanticization of how I perceived the late '80s and early '90s British Hong Kong to be. British Hong Kong is so interesting because it's such a mix of East and West. You could be walking down a street named Kingsbury Road and see an old Chinese lady in her tacky, mismatched floral outfit selling fruit to an expat from France. All of this is ingrained in my mind, countered by being born in Los Angeles, where fashion is ultimately laid-back and you learn to master the art of looking casual. It's all such an interesting mix that I try to convey through my brand.
"I'm also really influenced by music. I like listening to a lot of post-punk, New Order, The Clean. When I was growing up, I loved
Dookie
-era Green Day. My childhood bedroom was such a juxtaposition because my walls were covered in Green Day, Blink-182, and KoRn posters, but then I had these very Laura Ashley
–
esque floral princess curtains with a matching bedspread. My brand is very much a blend of these things: high-brow and low-brow, masculine and feminine. At first look, the designs are very feminine, very Marie Antoinette with silk taffetas, but when you get to the shapes and the attitude, it's androgynous, laid-back, and easy.
"I'm really inspired by vintage clothing, and I live in L.A., so there's lots of great vintage shopping. But I feel that once you reach a certain age, it's maybe not as appropriate to wear something that's really old; you need to look a little bit more polished. I think that's why I started making my own clothing. I wanted to re-create the aesthetic that vintage clothing provides, but in modern fabrics and shapes. I really hope that in 20 to 40 years people will pick up a piece of my clothing in the same way they would an Yves Saint Laurent blouse at a consignment store, now. It has that same time-capsule quality."
On sourcing her one-of-a-kind fabrics:
"A lot of my design decisions are ultimately informed by the fabrics I'm able to source. Most of the silk fabrics I use are dead stock, which is why I can only make a limited number of each style every season. But I definitely plan on continuing to use dead-stock fabrics because you just can't find those prints and colors at fabric shows nowadays. I found this one shop in Shanghai where I source most of my taffetas, and it's almost like walking into an issue of
The World of Interiors
from 1987."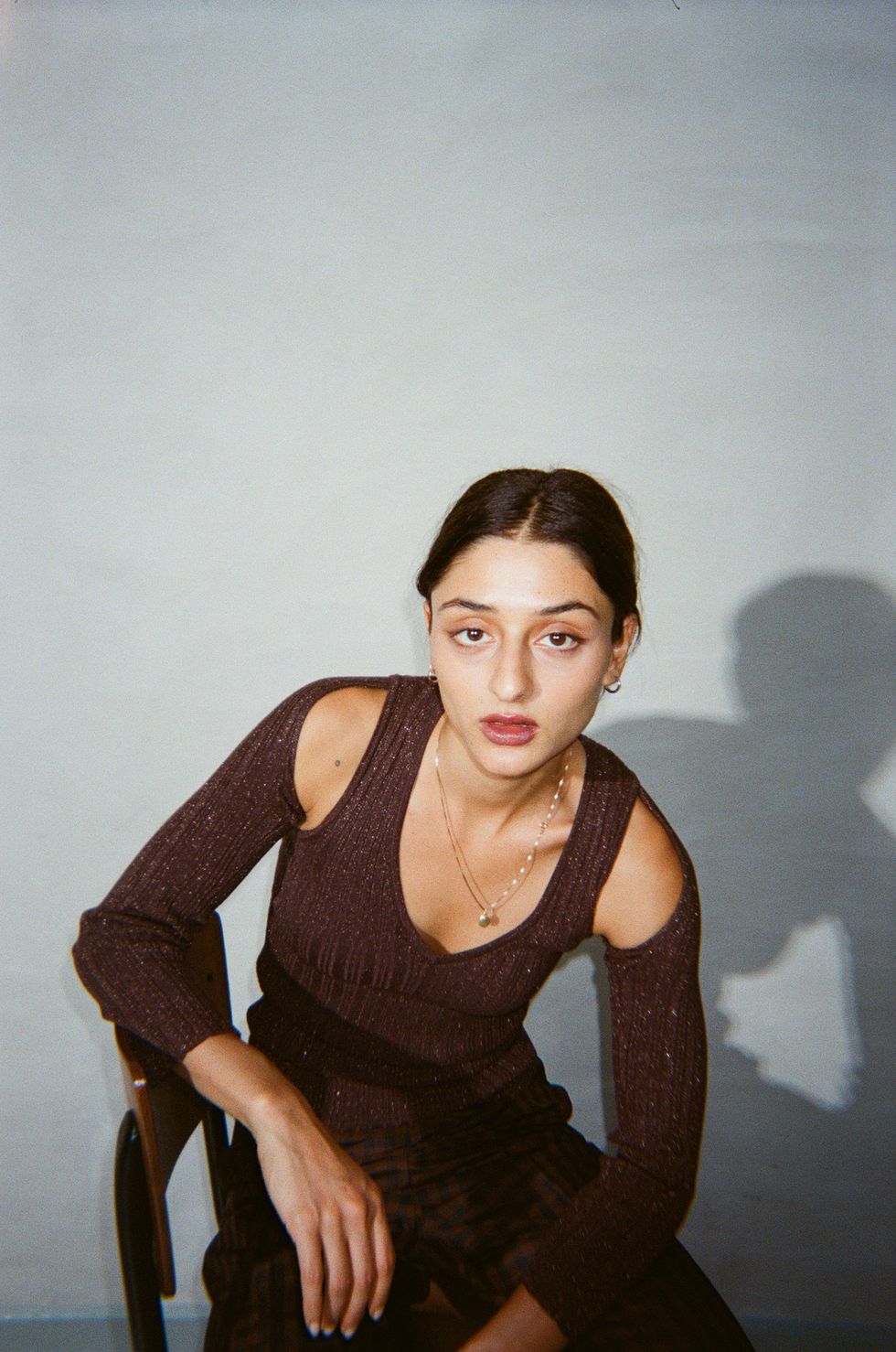 Chelsea Mak Fall 2020
Photo: Courtesy of Chelsea Mak
On her new fall/winter 2020 collection:
"Fall/winter 2020 is as though the Chelmak muse went on a trip to Eastern Europe and got lost in a nightclub. It's really inspired by Sofie Fatouretchi, an Iranian-Austrian DJ and artist. I love her style. The way Hong Kong, Taiwan, and China have that tacky, low-brow style, I also find it in Eastern European fashion. Sophie encapsulates that: She'll wear a CHANEL visor with a V-neck t-shirt and biker shorts.
"I was also reading a lot about Brutalist architecture. It has this stark grandness that really inspired me this season. The collection's not minimalist, but it's Brutalist in the sense that I've stripped down these Marie Antoinette
–
inspired corset silhouettes of all their frills and transformed them into cold sculptures."
On her "ChelMak" muses:
"Building the community of women is definitely one of my favorite things about having the brand. I'm a one-person company, so I was looking for a really grassroots way to market the brand, and I landed upon this old-fashioned Tupperware party
–
esque, word-of-mouth situation. It's about getting real women in the clothing. The best way to test a piece of clothing is to see how your friends are wearing it or to see which styles they gravitate towards. There are so many strong, interesting women in L.A. who are not in fashion per se. By getting to know them, they became such strong ambassadors of the brand. One of my favorite parts of the brand is getting to know and collaborate with other women—they're muses to me, and their lifestyles encapsulate the brand."
On how her personal style influences her designs:
"With my label, I'm building a dream wardrobe for the ChelMak muse, who's actually kind of a fantasy version of myself, if I held a lot of dinner parties or vernissages. I create my collections according to how I want to dress every day, and they could almost be separated into my day outfits, night outfits, even my tea-party outfits. Honestly, I would rather wear the same top and pants every single day (as long as it's hygienic!), but have them be really well made from high-quality fabrics. I think it's an age thing: As you get older, you're not as interested in having a huge closet full of clothing."
What She's Shopping For:
Jasmin Shokrian
Emme Parsons
Rollerblade
MoMa Design Store
Ceres Sport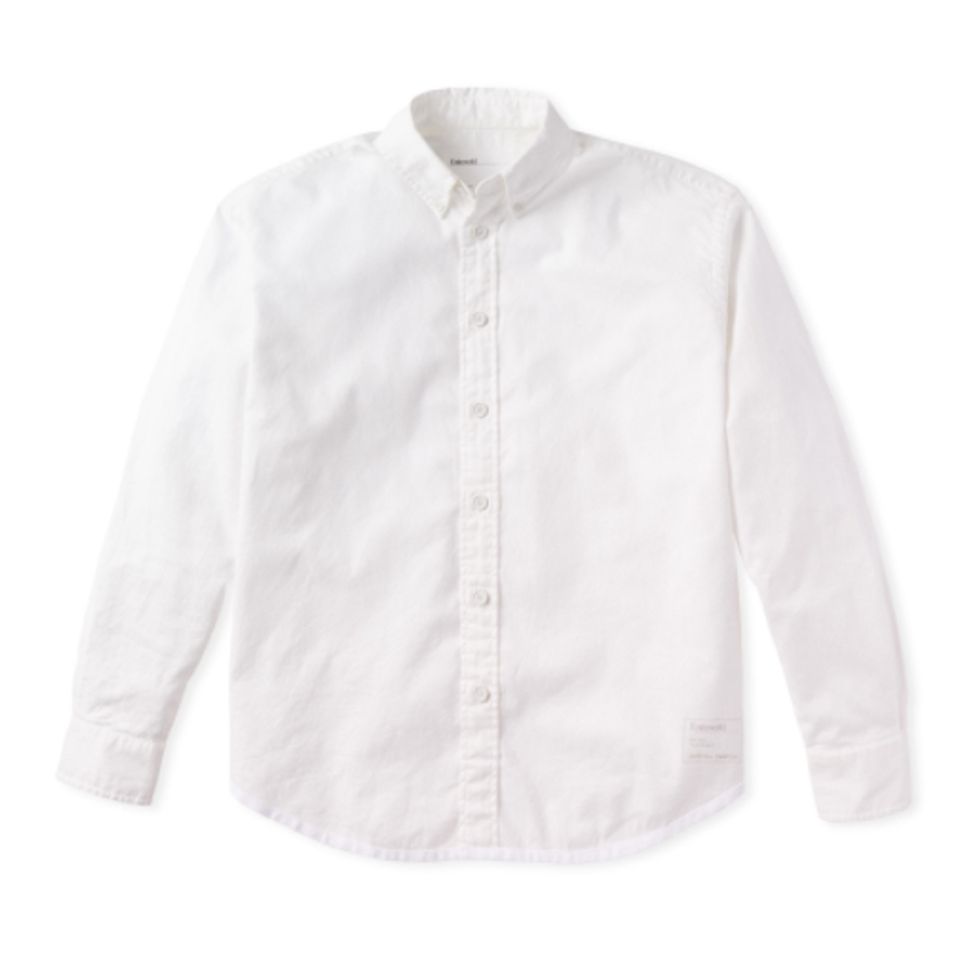 Entireworld
D.H. Lawrence