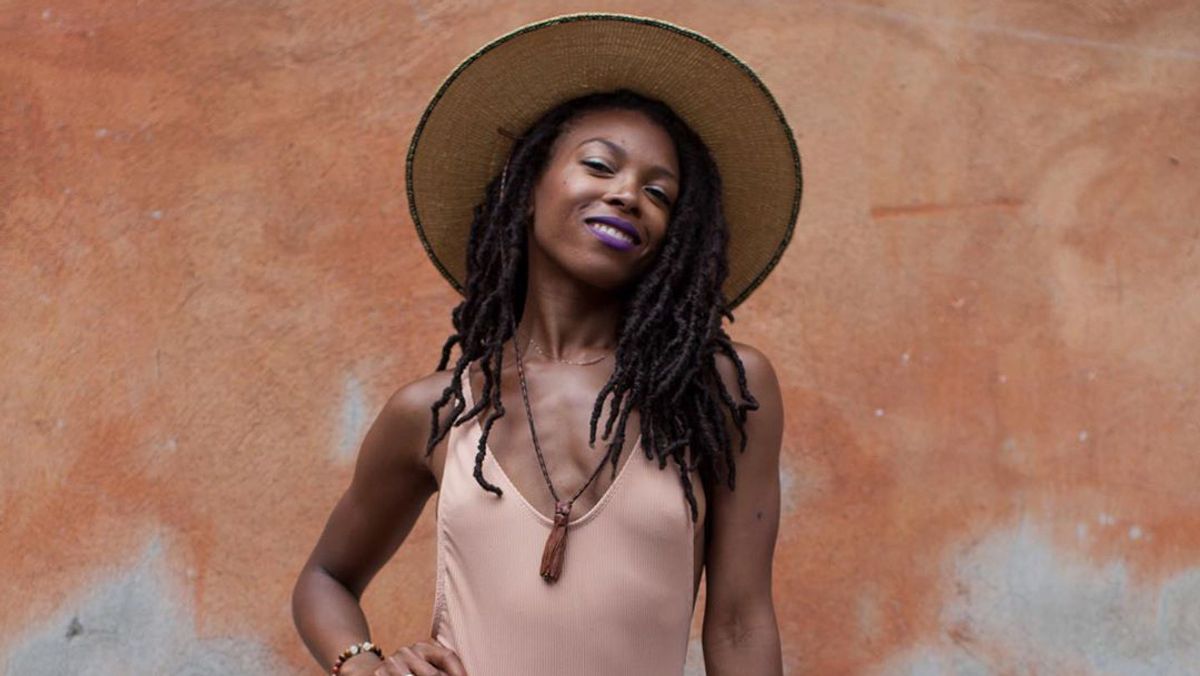 Food
The vegan chef and author shows us how to make delicious sweet-potato noodles. In collaboration with Le Creuset.
In this episode of
In the Kitchen
, we follow vegan chef
Jenné Claiborne
. If you're a vegan or, like me, have partaken in one too many summer (socially distanced) barbecues, her recipe for sweet-potato noodles is a godsend. The finished dish is an edible rainbow filled with nutritious veggies and topped with a delectable, creamy almond sauce. Pro tip: Double the sauce recipe to have some left over to drizzle atop salads. The bright dish pops beautifully in Jenné's Sea Salt 
Le Creuset
cookware, which double as cooking tools and serving platters. Check out her recipe, and shop her must-have kitchenware below!
---
Equipment:
Paderno World Cuisine
Le Creuset
Le Creuset
Sweet-Potato Noodles
You can use a julienne peeler to make the sweet-potato noodles, though a spiralizer will allow for longer and thicker noodles. If you do use a julienne peeler, only cook the noodles for five to eight minutes.
Serves: 2–4
Ingredients
¼ cup almond butter or peanut butter
⅔ cup water
juice of 2 limes
4 tbsp soy sauce
1 tbsp ginger, minced
1 tbsp garlic, minced
1 tbsp maple syrup, coconut nectar, or agave
1–2 tbsp coconut or grapeseed oil
½ yellow onion, chopped or thinly sliced
1 Thai chili pepper, chopped (seeded if you don't like it very spicy) or ½ jalapeño pepper
½ red pepper, chopped or thinly sliced
1 cup red cabbage, chopped
1 cup broccoli, chopped
½ package extra-firm tofu, about 1 cup, cubed
2 medium sweet potatoes, peeled and tips cut off
½ cup cilantro, chopped
¼ cup toasted chopped almonds or peanuts
lime wedges for serving



Directions
1. Pour your sauce ingredients (almond butter, water, lime juice, soy sauce, ginger, garlic, and maple syrup) into a sauce pot on medium heat.
2. Whisk vigorously until smooth as the contents begin to simmer.
3. Reduce to low heat, cover, and allow the sauce to continue cooking.
4. Heat oil in a large skillet on medium-high heat.
5. Add the onion, Thai chili, and red pepper, and cook until the veggies begin to soften, about three minutes.
6. Add the red cabbage and broccoli, and cook for another five minutes.
7. Make a space in the middle of the skillet and add the cubed tofu. Allow it to brown on each side for a few minutes before stirring all the veggies and tofu together.
8. Cook for another five minutes or until the broccoli is tender.
9. While the veggies are cooking, spiralize the sweet potatoes.
10. Once the veggies are cooked, remove them from the skillet.
11. Pour the almond sauce into the skillet on medium heat immediately followed by the spiralized sweet-potato noodles.
12. Stir to coat and combine.
13. Cover and allow the sauce and noodles to cook for eight minutes. After eight minutes, stir and taste to see if the sweet potatoes are soft enough to your liking. They will need no more than 15 minutes to cook. Be careful to not overcook them.
14. Remove from heat, and stir in the cooked vegetables.
15. Serve with chopped cilantro, toasted almonds/peanuts, and a lime wedge.
16. Enjoy hot, room-temperature, or chilled.