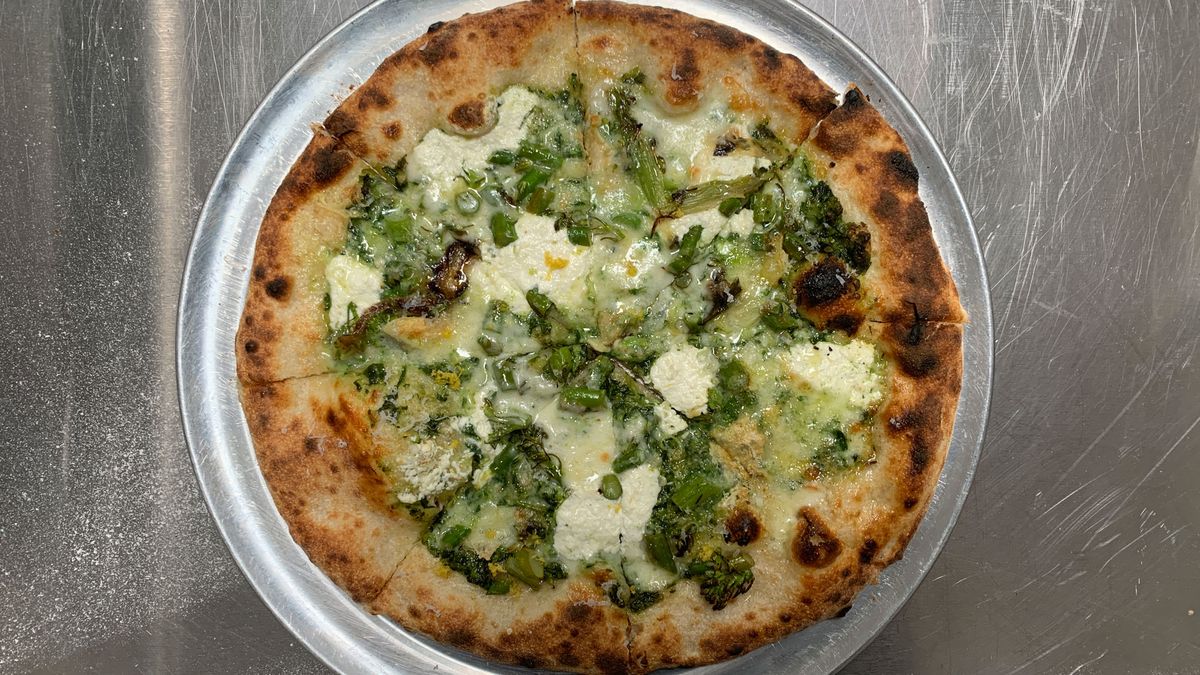 Food
Nothing beats a fresh-out-of-the-oven pizza. In collaboration with Le Creuset.
In this episode of
In the Kitchen
, we follow international pizza consultant and self-proclaimed "Global Pizza Man"
Anthony Falco
.
Here, Falco shares a recipe for a New Yorkers
–
approved pizza (let's just say we're a
picky
bunch!). The secret to his success? Not just the finest ingredients, but also the best cookware, specifically from
Le Creuset
.
Ready to master pizza? It's just three easy steps away. Step 1: Build the perfect dough that will yield drool-worthy, leopard-spotted crust. Step 2: Whip up a vibrant pesto with fresh parsley and arugula. Step 3: Top the pizza with cheese, broccoli rabe, and more cheese to make for the most splendid bite of ooey-gooey deliciousness.
Watch the video below to see how you can make this dish yourself, and shop the links to get your own colorful cookware from Le Creuset.
---
Equipment: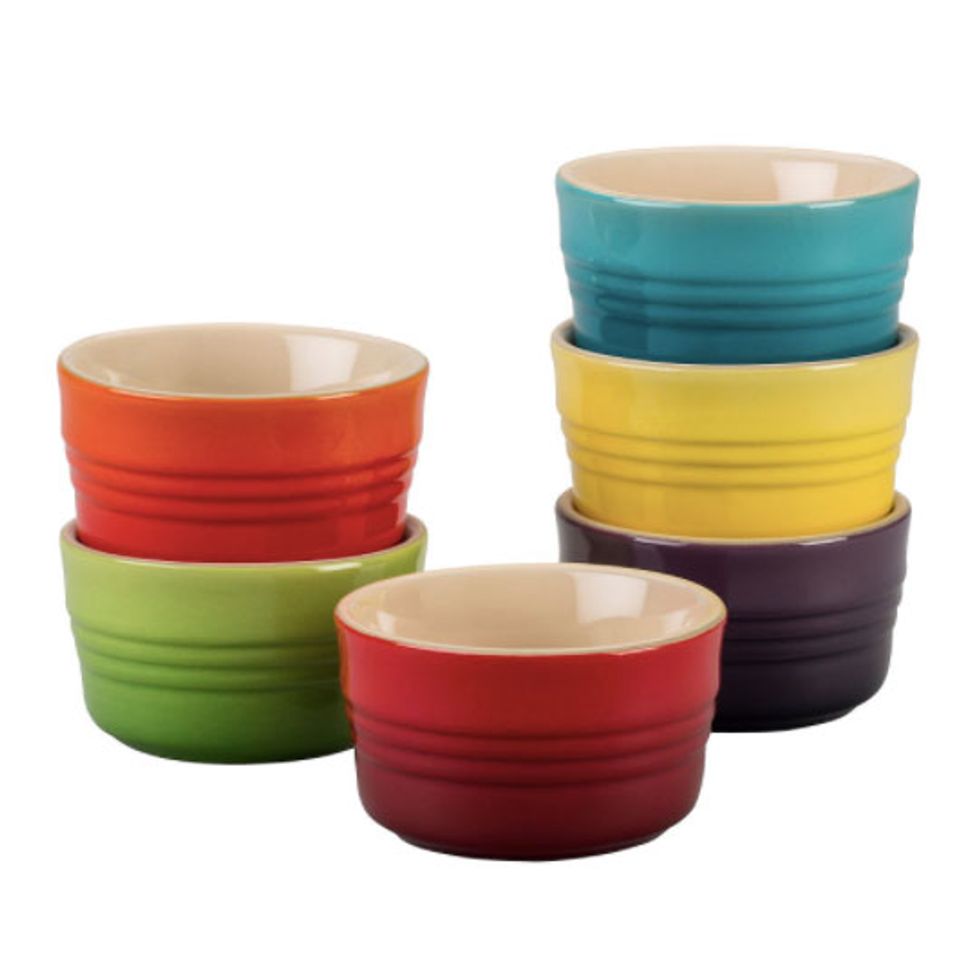 Le Creuset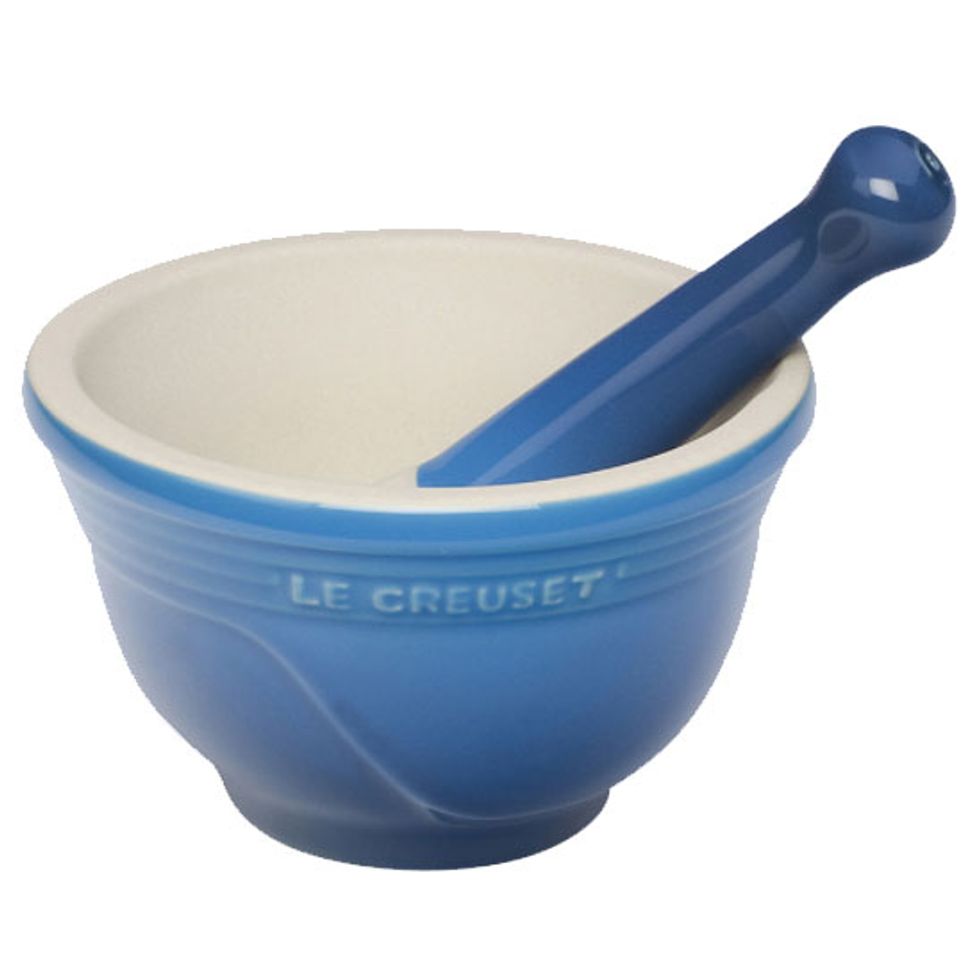 Le Creuset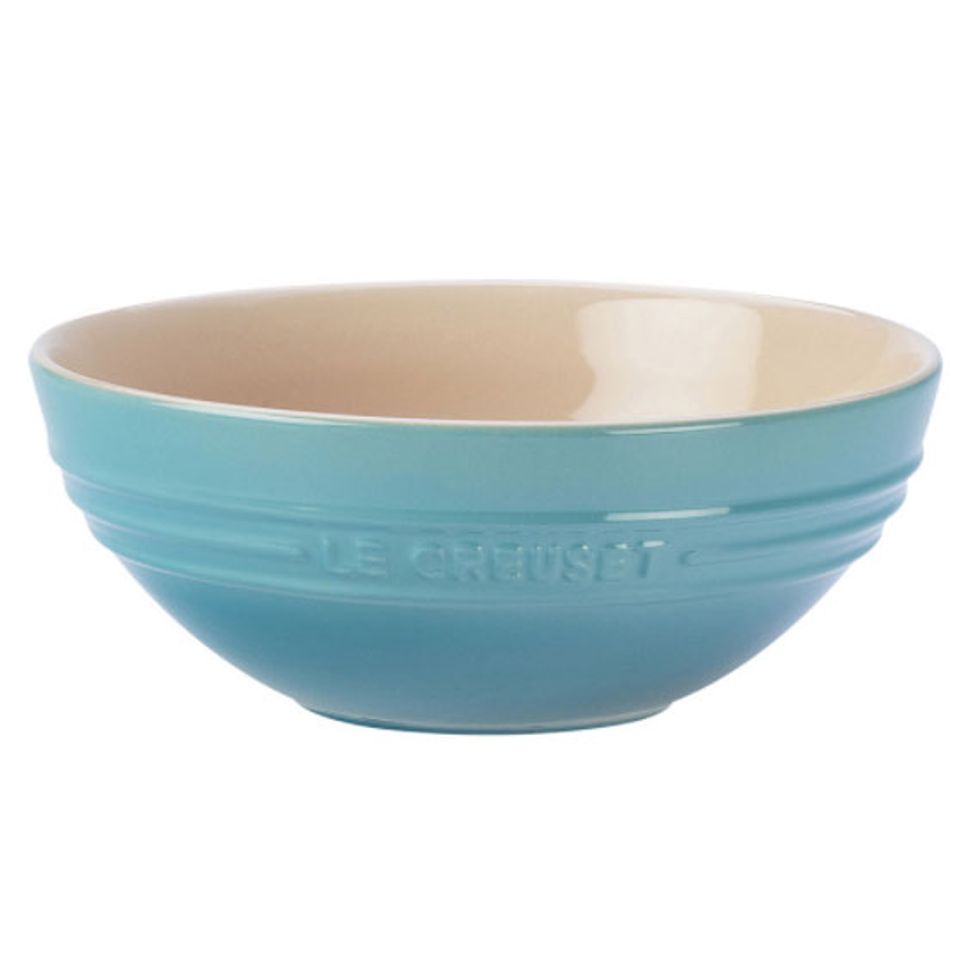 Le Creuset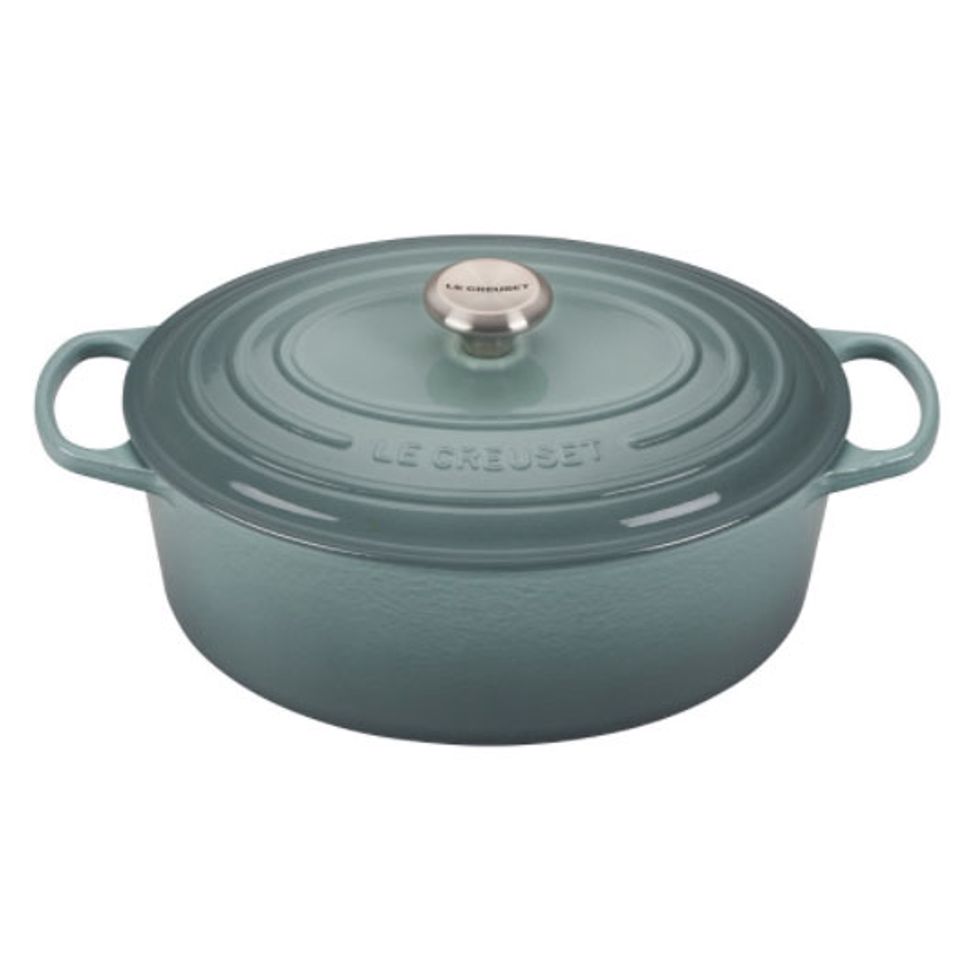 Le Creuset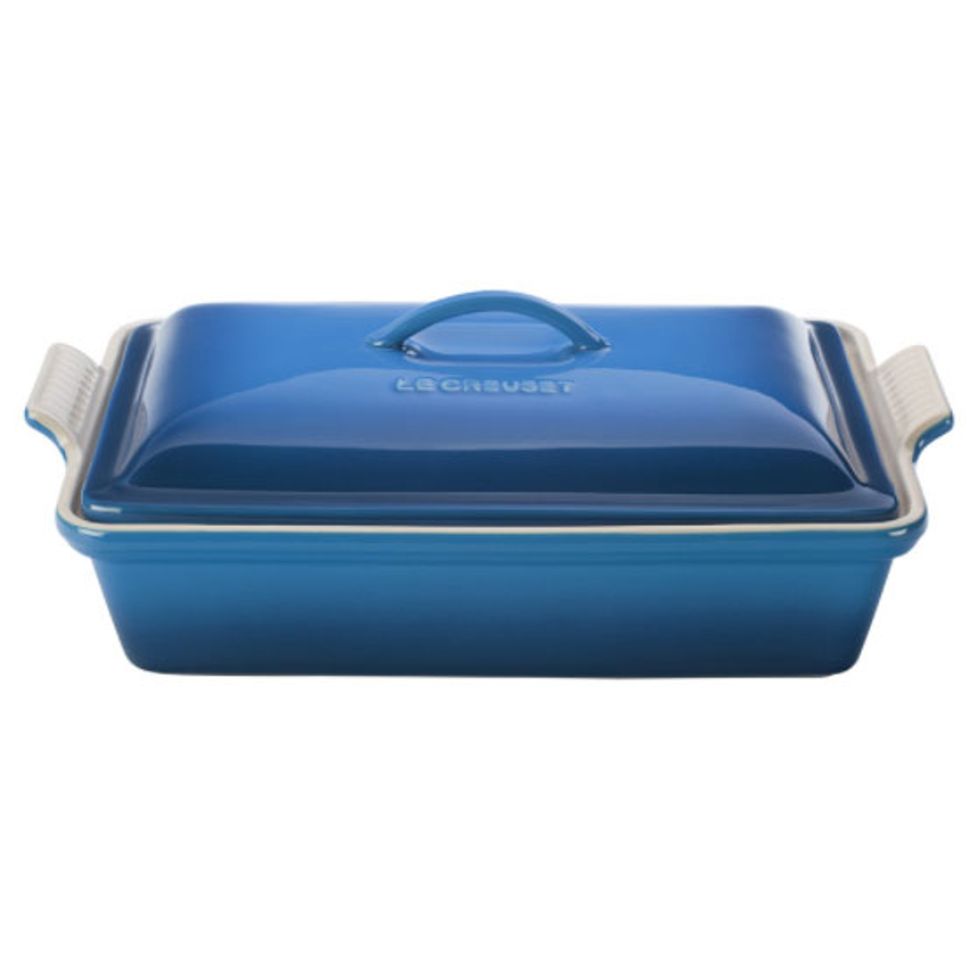 Le Creuset
Neapolitan-ish Dough Recipe
Yields seven 250 g dough balls
Ingredients
1,000 g [8 cups] flour (90 percent strong bread flour and 10 percent whole-grain flour)
630 g [2 ¾ cups] water at room temperature (68–72° F)
150 g [¾ cup] sourdough starter or biga (room temperature 3–12 hours after feeding; see recipe)
20 g [2 tbsp] extra virgin olive oil
30 g [2 tbsp] sea salt
Bakers Percentages
100 percent flour
63 percent water
15 percent starter
2 percent extra virgin olive oil
3 percent sea salt
Pre-ferment instructions (aka biga, sponge, poolish)


80 g [½ cup] high-protein or bread flour


70 g [6 tbsp] water


0.5 g [¼ tsp] instant yeast


In a bowl, add room-temperature water and instant yeast. Mix together until dissolved. Add flour, and mix vigorously until it completely comes together. Cover bowl and allow to sit at room temperature—use anywhere from three to 15 hours later before making pizza dough, or as a substitute for sourdough starter.
Directions
1. Weigh out all ingredients in separate containers; remove 10 g of water and reserve.
2. In a large mixing bowl, add flours.
3. In a large mixing bowl, add water and starter; break up starter into the water.
4. Create a crater in the flour, and pour starter and water mixture in the center.
5. Begin mixing with just one hand in the center of the bowl in a clockwise fashion until the dough all comes together into one ball of dough. Pour in the olive oil and continue to mix, squishing the oil into the dough. When the ball has just come together and the bowl is clean, stop mixing and cover the bowl with plastic wrap.
6. Rest for 30 minutes.
7. Uncover the dough ball and begin mixing by hand. Add the 10 g of water that had been set aside. Slowly add the 30 g of sea salt as you mix by hand.
8. In a large, lightly oiled container, add the entire dough ball; cover and rest for five hours at room temperature. Give one stretch-and-fold hold halfway through.
9. Remove entire dough ball and place on a lightly floured surface.
10. Very lightly flour your hands, and using your dough cutter and scale, begin portioning the dough into 250 g dough balls.
11. Form a dough ball by folding it in on itself, stitching up the bottom, and creating a smooth ball. Be careful to handle the ball quickly and gently so as to not transfer too much heat.
12. Place the dough balls on a lightly floured half sheet (3 x 2). Lightly flour the surface and cover with plastic wrap and half-sheet cover.
13. Proof for 12
–
18 hours at a cool room temperature or until the dough balls have doubled in size (if the room is warmer, proof for less time). Use to make pizza or move to the refrigerator.
14. Dough will be usable for up to 48 hours in the refrigerator.
GREEN-THINGS PESTO
Ingredients
30 g (1 oz) pine nuts, toasted
20 g (1 oz) flat-leaf parsley
20 g (1 oz) basil
20 g (1 oz) arugula
10 g spring garlic (about 1 clove)
0.5 g salt (2 pinches)
20 g (1 oz) extra virgin olive oil
10 g (1 oz) finely grated parmigiano reggiano



Directions
Prepare ingredients by picking herbs, washing, and drying thoroughly. Peel garlic, and gently toast pine nuts in an oven at 350° F for one minute.
In a pestle and mortar
1. Add pine nuts to mortar—grind into a rough paste.
2. Add the garlic and grind into the pine-nut paste.
3. Add the salt and herbs and continue to grind.
4. Fold parmigiano and olive oil together into the pesto.
5. Adjust seasoning to taste with salt.
In a blender or Cuisinart
1. Combine the pine nuts, basil, arugula, garlic, parmigiano, and salt in a blender or food processor and process until the nuts are pea-sized.
2. Continue to blend while slowly incorporating the olive oil until the paste is emulsified but not completely smooth. Taste and adjust seasoning; transfer to a container and refrigerate until ready to use (up to one week).
GREEN SPRING PIZZA
Ingredients
1 (200 g) Neapolitan-ish dough ball
35 g (2 oz) green-things pesto
20 g (1 oz ) shredded mozzarella
5 g (½ oz) sliced spring garlic
10 g (½ oz) Willoughby cheese or taleggio
20 g (1 oz) ricotta
4 pieces sauteed broccoli rabe seasoned with salt and olive oil, chopped 
15 g (2 oz) parmigiano reggiano



Directions
1. Stretch out the dough by dimpling dough everywhere except a ring of crust about 1 inch from the outside edge. Stretch the dough by hand until the pizza is about 11 inches in diameter.
2. Spread out pesto in one thin layer everywhere on the dough except the one-inch crust area around the outside edge.
3. Tear nickel-sized pieces of Willoughby cheese from the outside edge in, topping the pizza evenly.
4. Evenly top with sliced spring garlic.
5. Evenly top with the shredded mozzarella.
6. Place quarter-sized dollops of ricotta evenly, starting from the outside edge.
7. Evenly top with chopped broccoli rabe.
8. Transfer to the oven and bake directly on the pizza stone for five minutes or until the crust is nicely browned. Rotate, if necessary, for an evenly colored crust.
9. Cut pizza into six slices, and finish with grated parmigiano reggiano and lemon zest.