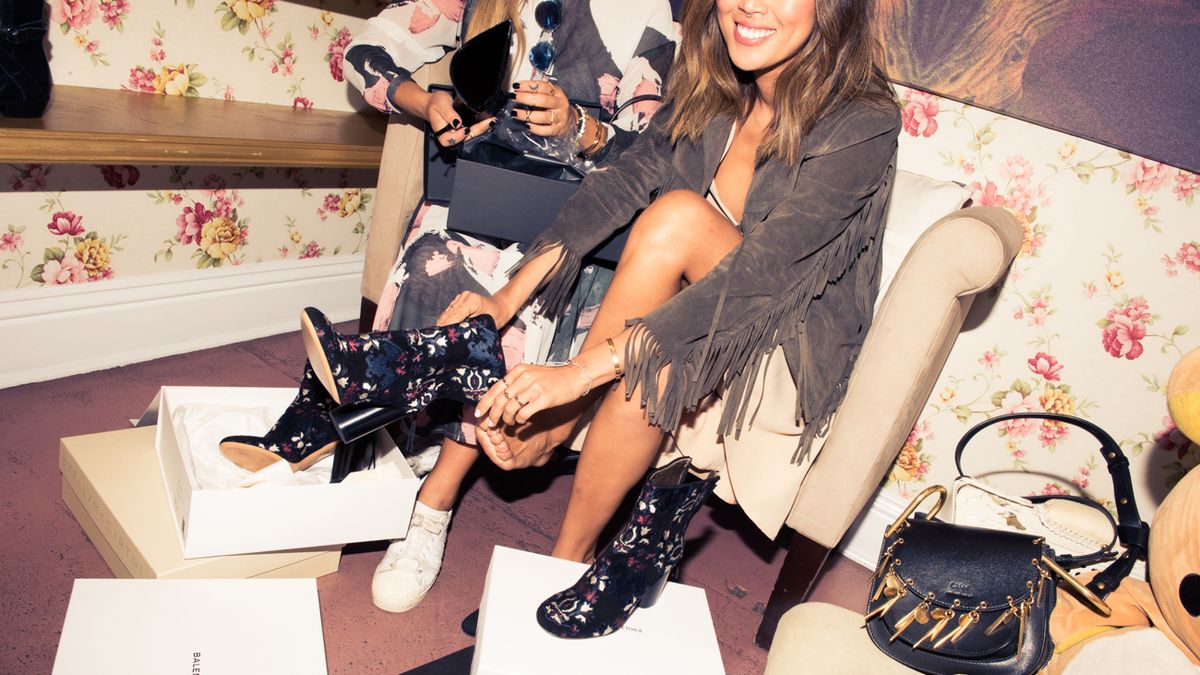 Fashion
They are shifting both what and how they are buying.
To say the past few months have been a tumultuous roller-coaster ride would be a bit of an understatement. Between the pandemic and the racial fallout alone, our lives have shifted entirely. Not to mention, many people's financial situations are nothing like what they were in 2019. When dealing with such heavy issues, something as unessential as shopping can often seem almost frivolous.
As someone who has always believed in the power of fashion beyond enjoying a pretty dress, I think new clothes still have a place in our lives as long as we shift our perspective a bit. Everyone keeps talking about finding the silver lining, and when it comes to clothing, there are definitely lessons to be learned.
Fashionista recently conducted a survey
amongst their readership to see how their current approach to shopping has changed. It noted that not only are most people still shopping despite everything going on, but also how purchases are trending toward more basic, minimalist items and how people are putting a lot more thought into who their money is actually supporting.
We wanted to get a little more specific and poll a few friends that actually work in or adjacent to the industry, who genuinely love fashion as much as we do, to discuss how their shopping habits have changed in the past couple of months. These are people with great style and a deep-rooted respect for designers' creativity. We wanted to find out how they are spending their money and whether they have a new outlook on fashion or something totally separate from fashion entirely.
---
"The last few months have reset for all of us what's truly important and how little we really 'need.' But I will say...I miss beautiful clothes. With no market appointments, no stores to visit daily, no fashion shows, I miss the sensory stimulation. Instead, I've been spending time virtual-window shopping, visiting designer archives, and finding new talent. Getting dressed is such a vital piece of self-expression that I guess I just don't really feel like myself in sweatpants! Getting capital D Dressed energizes me, makes me focused and optimistic of what's to come.

"And yes, shopping with intention has been a huge priority. When I do find something I can't live without (a Christopher John Rogers strong-shouldered floral blazer! a Kenneth Ize woven fringed shirt dress!) I am prioritizing investment in Black design talent and retailers. And for anyone who needs to hear it: no. more. fast. fashion. Use this extra time to find higher-quality, more sustainable vintage options—I guarantee what you get will be much cooler."


Ida Petersson, Womenswear and Menswear Buying Director, Browns Fashion
"Lockdown has given many people the time to stop and think and assess what their needs are versus what they desire, which has had a direct impact on their shopping habits, with the majority of customers seeking out forever pieces and investing in fine jewelry and watches rather than one-hit-wonder accessories. It has also highlighted the excessive consumption that we have all been contributing to, with the need to consume more—responsibility is now taking center stage. It's not just the consumer asking for change; we've also seen this in the collections for SS21, where designers are upcycling and revisiting their fabric archives to a greater extent than previously, and it's clear that sustainable production is at the forefront of most people's mind. Some of this will have been fueled by necessity, where fabrics were not being produced; however, with the customer increasingly asking for this sort of product, I hope these initiatives are not just here to stay, but will soon become the norm."


"All in all, my shopping habits have shifted in a direction toward a more necessity-based model, with more thoughtful buying and spending. I've found myself shifting away from clothing-based shopping over to investing in home furnishings and affordable, independent print and art pieces made by creatives I personally know or have been referred to online. Due to the economic climate for entrepreneurs and freelance creatives, I've found it's so important, now more than ever, to buy from artists, local businesses, and creators within your network when and where you are able. I have also found myself spending more time, research, and money on higher-end beauty products that are healthy for my skin and more so a part of my self-care routines in quarantine. (The shimmer of silver lining coming out of all of this is I am more focused on how I'm sustainably taking care of myself and my body.) Wardrobe-wise, I've found myself just spending less time on overthinking pulling outfits and looks together, and it's been so therapeutic to dress in alignment with true convenience and functionality, knowing my environment's not shifting much day to day. I've found the time back really rewarding and have allocated that creativity toward other endeavors and DIY creative projects at home."


Christina Pacelli, stylist
"I sense there will be a shift towards purchasing staple pieces from brands in which we understand their brand values clearly and where they are from—either American or other parts of the world that support the Black Lives Matter and the Black Trans Lives Matter civil rights movement, and from designers who are BIPOC or LGBTQIA+. I anticipate people will be very eager to shop again to add new pieces to their wardrobe once life and work start to resume again. OUT with the old guard, and IN with the new socially, politically, and ethically conscious future."


Savannah Engel, Founder/CEO, Savannah Engel Public Relations
"To be honest, when I was in Mississippi during quarantine, I was not shopping AT ALL at first. I mean not a drop of money spent. Reasons are likely obvious
—
I lost business, no one knew what was going on or how long this would last, etc. THEN, I started to shop
—
honestly, out of boredom and shopping for dreams. Literally buying dresses that I 100 percent will not be wearing this summer. The thought or dream that MAYBE, just maybe, in August I might...validated my purchase. The price of the clothing I am buying has changed. I am buying much more in the contemporary market and reallyyyyy taking advantage of retailer sales. Still shopping to get that dopamine level up during all of this."
Tiffany Hsu, Fashion Buying Director at Mytheresa
"I think my shopping behavior is similar to what it was before. Maybe a little less, as I don't have any big events to attend or anywhere to go at the moment. Bu, if I see something I truly like, I will still buy it for future use. However, I am making sure that I don't buy anything I am only going to wear once. I have done less emotional shopping, as I have more time to consider what I really need, and I definitely want to be more conscious about the longevity of things. The type of clothing I am into hasn't changed, though, as I always only buy what I love, and I want to stay true to my style and clothes that fit me best."


Halle Lagatta, Associate Creative Producer, Coveteur
"I wish I could say I'm buying less since quarantine has started, but that's simply not the case. As a crazed Sagittarius shopping addict, my thirst for new things won't be satiated or put on hold simply because it's 'not advisable' to be spending money right now. The only thing that has changed is what I'm buying. Back when financial security was a thing (feels like ages ago), I felt confident in my purchasing habits. I long ago swore off fast fashion and committed myself to making lasting investments. The RealReal became my passion, and finding a solid pair of lightly worn Jil Sander coats on eBay, my religion. Since then, I've come to terms with the fact that my closet is where it needs to be. I'm perfectly content with the last few years' worth of treasure hunting and have shifted my focus to my home.
"Home is where I'll be for the foreseeable future, so why not make it the oasis I've always dreamed of? My skill set of finding incredible savings for clothing has been put to new use. Now I find myself on Craigslist, Instagram e-stores, 1stdibs, and more to find pieces large and small to fill my home. If Bunny Williams (currently obsessed with watching videos of her on YouTube) has taught me anything, it's that a home is not completed overnight. The fun of interior decorating is prolonged, and the process is not one that needs to be rushed. In fact, a huge part of the process is removing items I already own, which has encouraged me to really think twice about my purchases. This 'slow and steady' method keeps my craving for change and new pieces at bay and my bank account in a comfortable place."
Want more stories like this?
Statement Jewelry to Wear When It's Too Hot to Layer
The Downtown Vintage Store Bringing Inclusivity Into Fashion
How to Shop Like Sneaker Aficionado and Visual Artist Julie Gray