How to Shop Like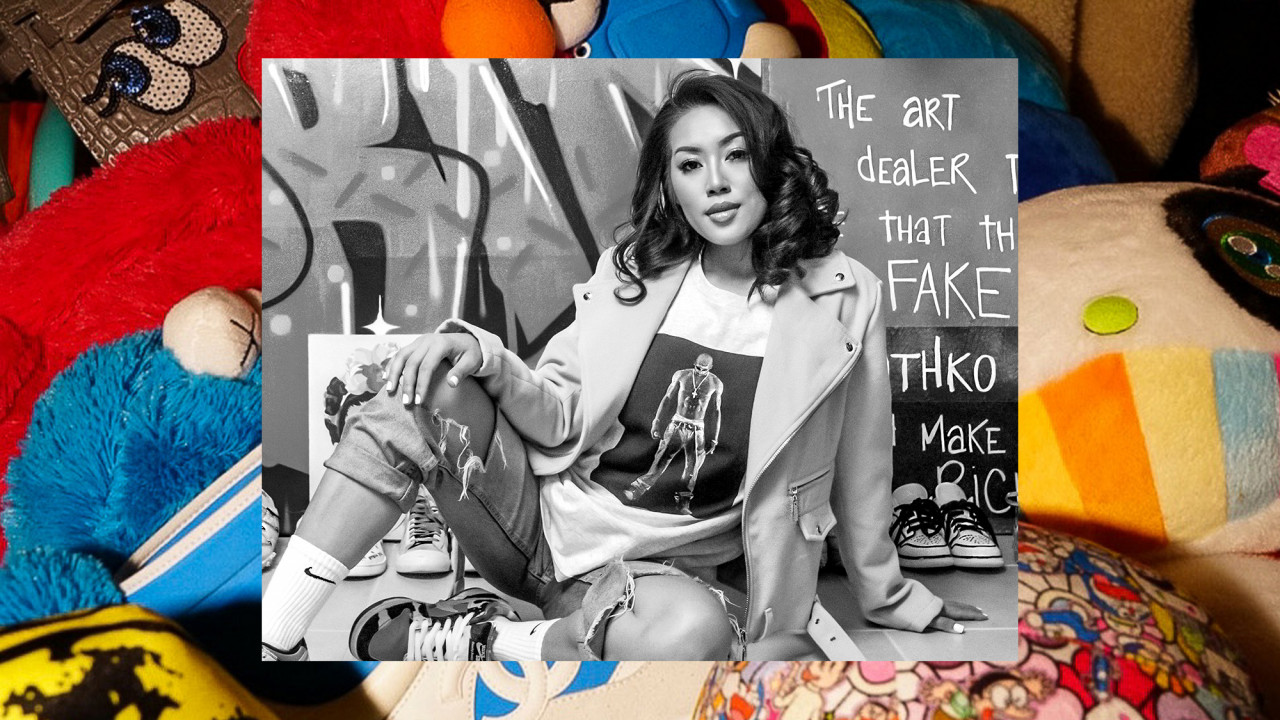 How to Shop Like Sneaker Aficionado and Visual Artist Julie Gray
Where street art and high fashion meet.
Julie Gray is the definition of "reinventing yourself." After going through a divorce and experiencing the death of a loved one, you would think most would be ready to throw in the towel. Not Julie Gray. Wanting a change from her previous life as a housewife and also having a desire to impact her community, Gray decided to go back to her childhood love of painting and founded PlayHaus District One HTX. Today the interactive pop-up street-art gallery is every bit of a reflection of Gray in that it is the intersection of fashion and art. And with a closet bursting at the seams with holy-grail street-wear pieces and designer dresses, down to the latest sneaker collaborations, Gray has collected it all. We had the pleasure of catching up with Gray to talk sneakers, street art, and how she shops—keep reading to find out more.
When did you first realize you fell in love with art and wanted to be an artist?
"I've always loved art since I was a child, but I think more so as an adult. After I moved to Houston, I was going through a divorce, and my mother died. After [being] a housewife the entire time I was married, I knew that I wanted to do something that I loved, and I've always had this idea of doing a street-art gallery, but I never had the chance to because I lived in Europe. When I moved to Houston, I thought to myself, What can I bring here that is me, that I can give back to the people here in Houston? And that's how I came up with PlayHaus."
So what exactly is PlayHaus?
"PlayHaus is a pop-up interactive street-art gallery located in downtown Houston that has 11 installations, along with endless murals done by eight local Houston artists and [me]. I had them come in and put murals on the walls that highlight street art. Instead of it being on the outside four walls, I wanted it on the inside, where people can touch and feel the different brush strokes of the paint. Usually street art is on the outside of buildings and people can't stand so close. I [wanted] it on the inside of walls so people can be up close and personal with it. I'm actually right now working on another one. This one will be over in the Washington Heights area, so it's a different part of town, but the same look and feel."
Do you imagine yourself bringing PlayHaus to other cities?
"I do! A lot of people have told me from other cities that have come to PlayHaus, 'You should do it in this city or that city, because we don't have anything like that there.' That's why [PlayHaus] is so awesome to me, because it's so unique—it gives everyone a different one-on-one experience. I sat at that door every single day to make sure I met every single person that walked through, so I could understand how they felt about art and what they felt about our art once they left."
How would you describe your personal style?
"I feel like my personal style is like 'tomboy glam.' I love to be comfortable, and I was a tomboy as a child growing up because I had an older brother, so I've always loved baggy clothes and oversize t-shirts. But in the same aspect, I'll throw on some really nice heels with it, or I can go the opposite route and wear a really fancy dress and have sneakers on."
What's your process when getting dressed and putting together an outfit?
"It really depends on how I'm feeling that day. How I get dressed is how I feel in that moment or what my mood is."
Do you have a uniform?
"Anyone who knows me will probably tell you a designer baby tee, petite pants, and Air Force 1s."
What are your top five sneakers at the moment?
"The high-top OG Jordan 1s, preferably the Bred colorway. Obviously, a pair of clean white Air Forces. My CHANEL x Pharrell sneakers—those are one of my favorite collabs. Any of my Off-White x Nike collab sneakers. [Lastly], my newest fav that I just picked up are the Ben & Jerry's Chunky Dunky Nike SB collab."
What was it like to work with Nike?
"So, years ago, I was modeling when I was a teenager, and I did my first collaboration with Nike. I did a whole Nike running campaign with them out in Miami. I was around 17 then. Recently, I've done a lot of work with them in Houston. I worked on a series of events for [Travis Scott's] AstroWorldFest and commissioned this really dope mural for it in a parking lot here. I also work with SNKRS from time to time and with the women's Jordan brand, trying to put Houston on the map for sneaker culture."
As a woman, how do you feel participating in street-wear culture?
"I've always been one to go against the grain—I prefer to be different. I'm more about comfort. The boys are wearing jerseys or sneakers, and they're comfortable doing that. I've always been the one to say, 'Well, I'm a girl, why can't I wear that? I want to wear that too,' and I never really thought about it because at the end of the day what makes me comfortable is more important than what anybody thinks of me."
Do you prefer an in-store experience or online retailers?
"As I've gotten older, I realize I hate the mall now. I will do anything to always shop online—it's easier to find what I want online versus going in-store. Especially here in Houston, we don't have too many stores that carry a wide variety of designers."
Who are some of your favorite online retailers?
"Ssense has always been my favorite—they carry a lot of the brands and designers I like to wear. Over recent years, one of my favorite brands has been Vetements—they're just different."
If you had to pick five staple pieces from your closet, what would they be?
"After living in Europe for so long, I love winter clothes and I love layering. Being that it's hot as hell here in Texas, I don't get to wear them as much as I would like to. But I have this amazing caramel-colored Alice + Olivia oversize faux fur coat—it's like a teddy. If I could wear that every day, I would be good. My basic Fear of God hoodie, my Vetements Levi jeans—those are my absolute favorite pair of jeans. This leopard Dolce & Gabbana minidress is perfect for the summer, and lastly, my Chicago Bulls Mitchell & Ness basketball shorts."
Sneakers or heels?
"Sneakers."
What does your current WFH wardrobe look like?
"Well, first off all, it's everywhere—haha. Since it's so hot here now, I've definitely been throwing on a pair of biker shorts, a little baby t-shirt, and tying a flannel around my waist and then whatever sneakers I'm feeling that day."
If money was no object and you could splurge on anything, what would it be?
"This is a tough one… I would probably get a Rolls-Royce Cullinan. I'm that girl, I like cars."
What is one shopping regret that you have?
"My highlighter phase. Remember that time like, last year or two years ago when everyone was wearing and making highlighter-colored stuff? I have a bunch of it in my closet, and I just look at it like, What the hell was I thinking?!"
6 Items Julie Gray currently has in her shopping cart: