A Ride Through Ally Love's Colorful Life
The Peloton instructor breaks down fashion, femme power, and keeping the positive vibes.
Living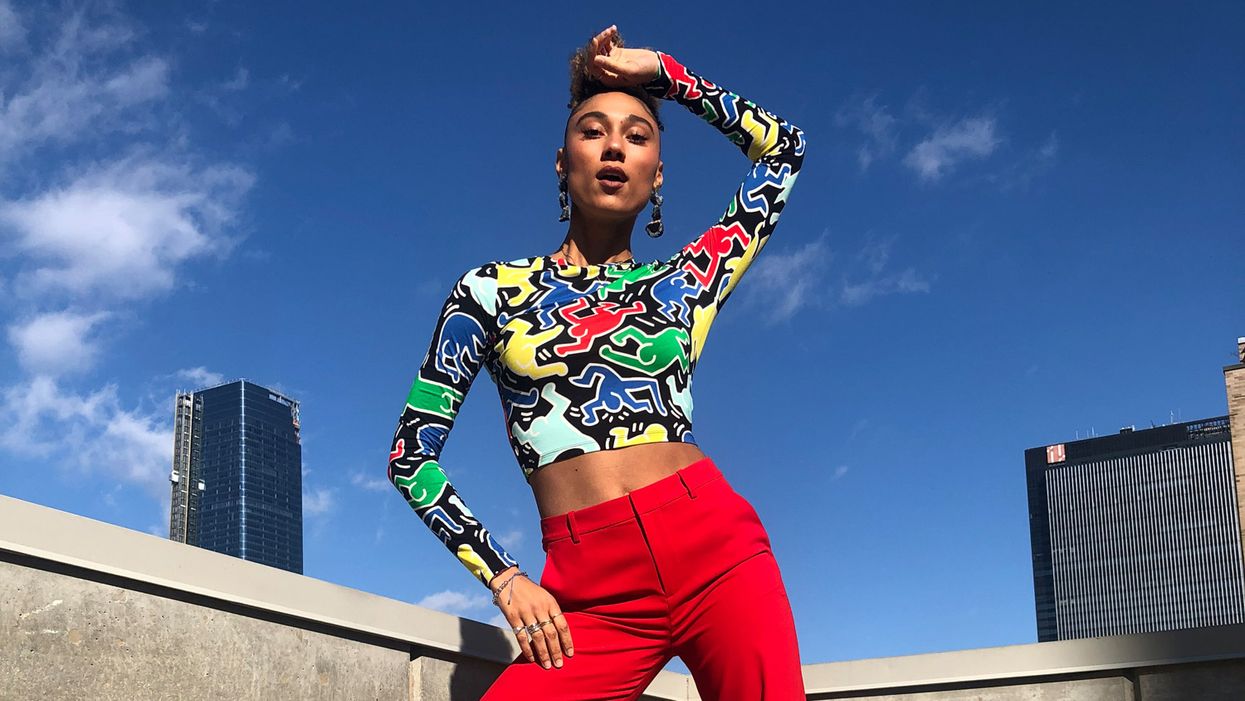 Founder and CEO of Love Squad
Ally Love
is a multifaceted boss, not only pioneering the slash generation, but coaching us on and off the Peloton bike and serving up some of the best looks, period. The host of the Brooklyn Nets (did we say multifaceted?) has also been wearing some of the best quarantine looks, all while creating a global space for us to celebrate and champion diversity in race and culture through conversation and sweat. We had the honor of chatting with Love on her riveting journey through fashion, wellness, and entrepreneurship. 
---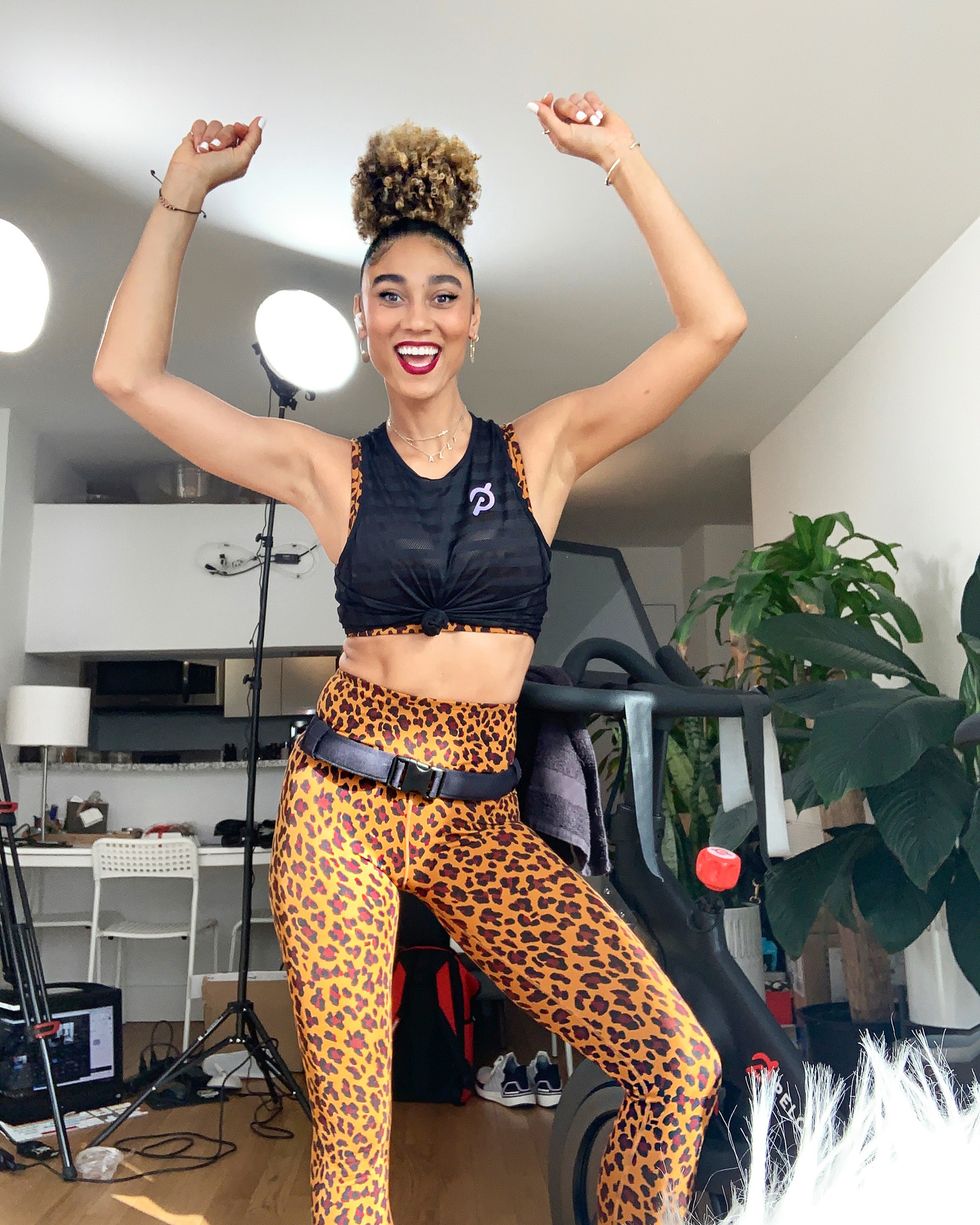 Photo: Courtesy of Ally Love
Have you always been active in sports and wellness? At what point did you pursue a career in fitness?
"I started as a dancer; I went to New World School of the Arts for high school and Fordham University's Alvin Ailey Program for college. After I graduated, I started with hot yoga and became more of a runner, and after I started hosting for the Brooklyn Nets was when Peloton reached out. I did not have any career goals to become a fitness instructor, but it was when Peloton reached out that I saw how innovative, exceptional, and really cool Peloton was that I really considered becoming an instructor. They offered me an opportunity to audition—I auditioned and am now one of 33 instructors that service the globe! I look at my job as not just in fitness; it's really in the well-being of people, because we are the intersectionality of media, technology, and fitness. So being able to put our community first and change people's minds by changing their hearts through the words that I say on the bike or on the mat is what I do."
How did you begin your career as the host for the Brooklyn Nets?
"While I was in college and I was dancing, I started modeling and got signed to Wilhelmina. During my stint of being a model for quite a long time, I knew there was something more I wanted to do
—
I wanted to use my voice. I started taking commercial and hosting classes and discovered that this was exactly what I wanted to do. I created a reel and sent it to everyone in my contacts list and was like,
'
I will host your kids birthday parties for free, and charity events for free, just to get exposure.
'
The Brooklyn Nets Organization found my reel through some people that worked with them that were in my contact list, and when they moved from New Jersey to Brooklyn, they reached out, as they were looking for a host, and from my reel they basically offered me the job. I host in front of 8,000 fans, 41 home games, pre-season and playoffs as well. That's how I became the host of the Brooklyn Nets, and I have been there ever since."
How would you describe your style?
"So I think of my style as pretty unique in the sense that it is so undefined. My hair plays a role just as much as my pants or my shoes. It is a total package. When people think of a wardrobe, they think of only what they are wearing, but forget about all the accessories. I get dressed up with a theme in mind, and it all plays a role in how I'm feeling and what my creative choices are that day, morning, night. I wear my feelings in my entire look, and it's a vibe undefined, but it's such a vibe! It's not necessarily athleisure or street wear, but I would say it's my own personal flair in the sense that I love to accessorize, mix and match clothing and raw materials, and I love to have texture in what I
'
m wearing. If something is falling flat, I will throw a cross-body bag on or a fanny pack across my chest. I love to have the colors flow and just tell a story through what I'm wearing, like YOU can tell how I'm feeling by what I wear."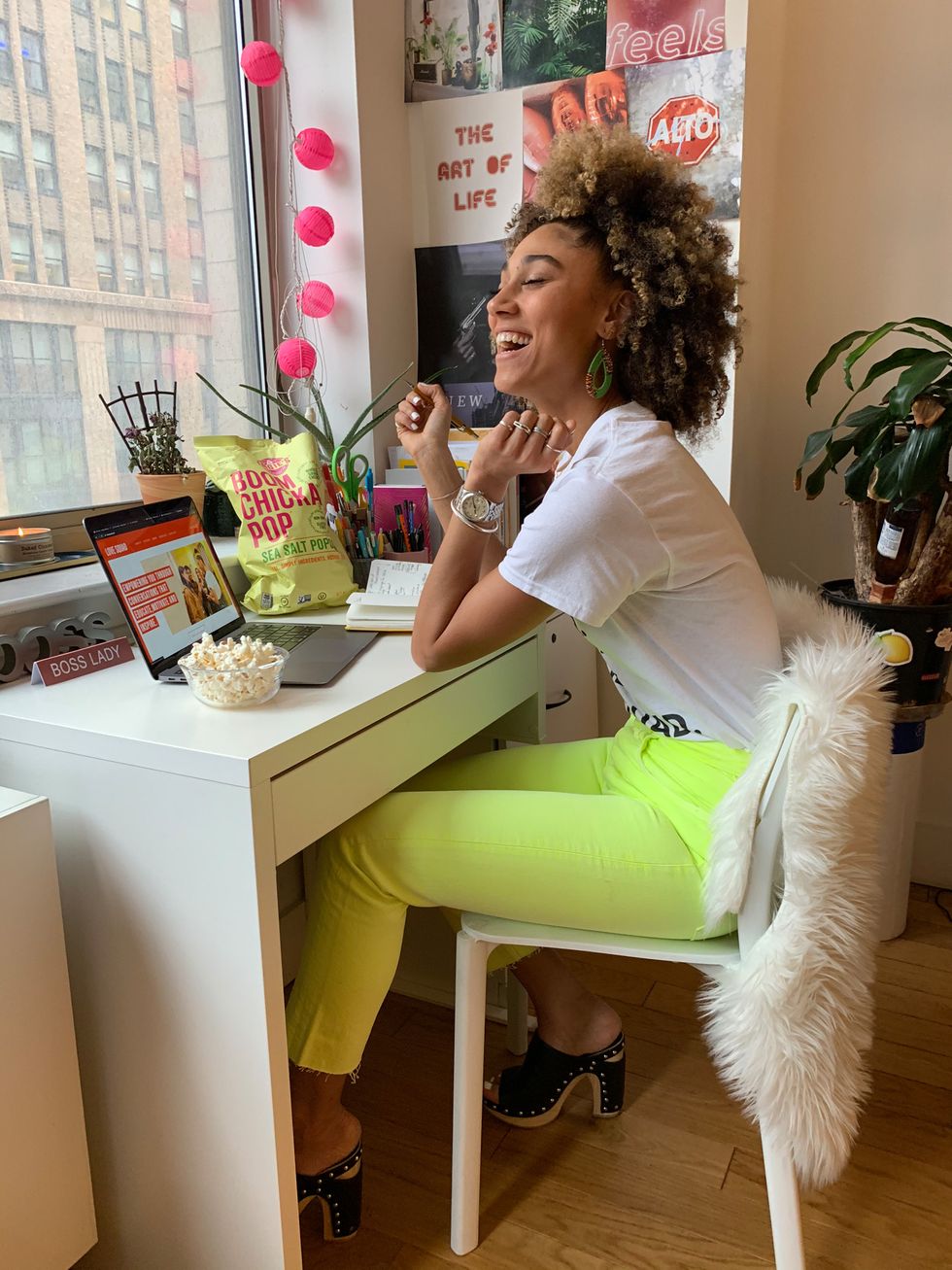 Photo: Courtesy of Ally Love
What brand/designer takes up a majority of your closet?
"I will say there's not one brand or designer that takes up most of my closet. I love Elie Saab, but I don't wear that all the time. I do love Kenzo
—
I think Kenzo is really cool. I'm always in for Zara or a great vintage piece, Rebecca Minkoff, or Cynthia Rowley for a little bit of a lighter touch. I feel like I mix and match so much that there isn't one designer that takes up my closet. I do find that my particular sense of style comes from being a model. I worked with Victoria's Secret for a while and learned a lot about the process of creating garments, fit modeling, and have also worked with a lot of brands as a model. You become aware of mini brands that stick out to you, and you figure out how to piece it all together."
Your bright energy and vibe can be felt through your posts—how does this translate into your Peloton classes as you guide an international community with daily positivity?
"I understand that everything that I am feeling at some point, someone who is listening to me is or has felt those emotions. The connectivity for me is humanity. I know that I am teaching to humans that want to be better, that want to do better and show up on that bike or mat to be the best version of themselves. I want to cultivate a community that is approachable and inclusive and diverse. This is all profound in my messaging, it bleeds through my posts; I want to be a beacon of light and want us all to be light leaders! I call those that follow me Love Squad; it's always hard to be the example, and everything we go through on the Peloton bike we go through at some point in real life. It's challenging, but we learn to overcome it on the bike so we know how to apply the exact same principles throughout life, even though the situations vary."
Can you explain the origin of Love Squad and how it correlates to your personal and professional life?
"Love Squad is an inclusive collective of women created out of a sheer lack of resources and sheer frustration as a young woman, where I didn't have funds to go out to networking events to figure out how I wanted to transition from college to my professional life. I decided to create a website and started writing about things that I knew
—
how to get up early, discipline myself, take a workout class, be aware and manage my anxiety, time management, the importance of being a jill- or jack-of-all-trades and not just a master of one. From there, I had my first event; to have all my readers in NYC come out… I only had about 3,000 followers on Instagram, had a 50-person capacity and a wait list of 75 people and grew from there. Love Squad has evolved into an event space, and I hold panel discussions and one-on-one conversations with experts or women in the field that are doing things where I can share tips at a low to no cost to make sure our community [always feels] welcomed and included. I never want lack of resources or funding to be a roadblock for other women to find out information that can change their personal and professional life."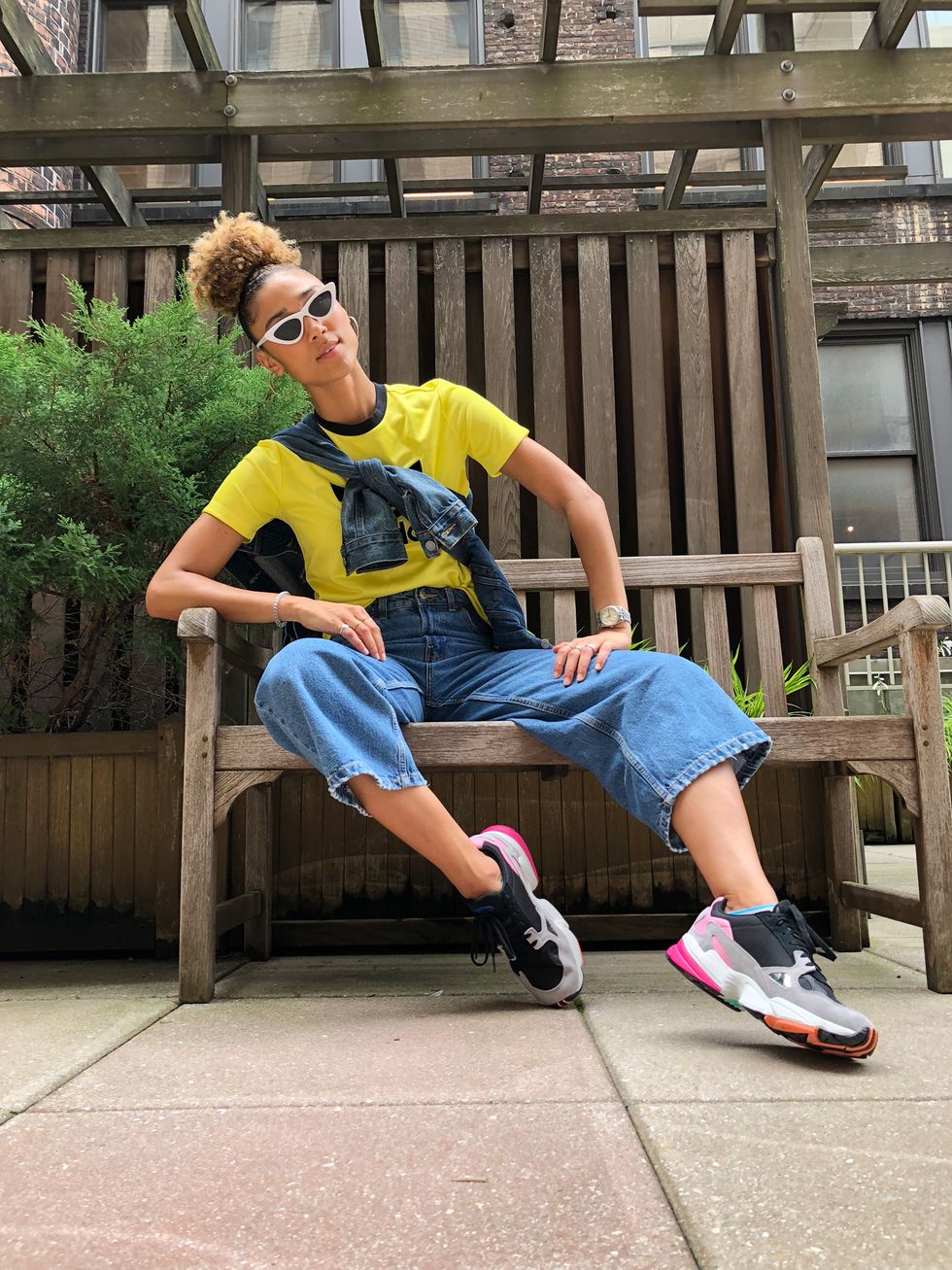 Photo: Courtesy of Ally Love
What has been making you the happiest during this quarantine period?
"Connecting to my community, being able to connect on social, being able to ride; I have a home bike at my house as well as being an instructor. Being able to ride with my Love Squad community, do Instagram lives, and really allow people to get to know me a little bit more than when I'm just always busy and on the go."
What luxury of "normal" life do you miss the most?
"Being able to hug my friends and go out to dinner with them! Going out to dinner and having a glass of wine and getting dressed up. That's so important to me
—
I miss being able to get dressed up. I've been getting dressed up at home, actually, and do my hair and makeup. I still show my personality even if I'm home by myself."
What is the most rewarding/heartfelt thing you have done or taken part of during the last four months?
"Black Lives Matter has been a hashtag and social movement for seven years. Being able to be a part of this experience while also experiencing a pandemic in my home is rewarding and heartfelt. It has allowed for some serious soul searching
—
to get grounded in my own experiences and the resurfacing of racial traumas and re-learning material from experts, leaning into resources, having open conversations with colleagues, friends, and family around anti-racism. Being able to say those words and know that this is a turning point, not only in the world, but my personal life, in the sense [that] when I look back I'm going to remember these moments of how the world has gotten better and taken shape. How there has been a momentous change to rectify [a] history of oppression... This is only the beginning...or a couple of steps in the beginning. It has also just been nice to spend time with my boyfriend, Andrew
—
he is awesome, and we are usually just always both on the go... We live in NYC. Being able to just sit and be in the house, have quality time and have really thoughtful and in-depth conversations. We are a couple that converses a lot, no matter how busy we are. We talk about issues a LOT and work through a lot of things and are very in tune with what is happening topically and culturally. So being able to enjoy that time at home is pretty much a silver lining for me. It comes in an unfortunate circumstance, but if I had to find a silver lining, that would be it."
Photos: Courtesy of Ally LoveWant more stories like this?
The Ultimate Summer Entertaining Guide
Tommy Dorfman Is Not Here for the Faux-Woke
Meet the Director Changing the Narrative of Black Women in America