How to Donate Beauty Products to Healthcare Workers
The founders of Donate Beauty emphasize the importance of self-care for doctors and nurses during COVID-19.
Beauty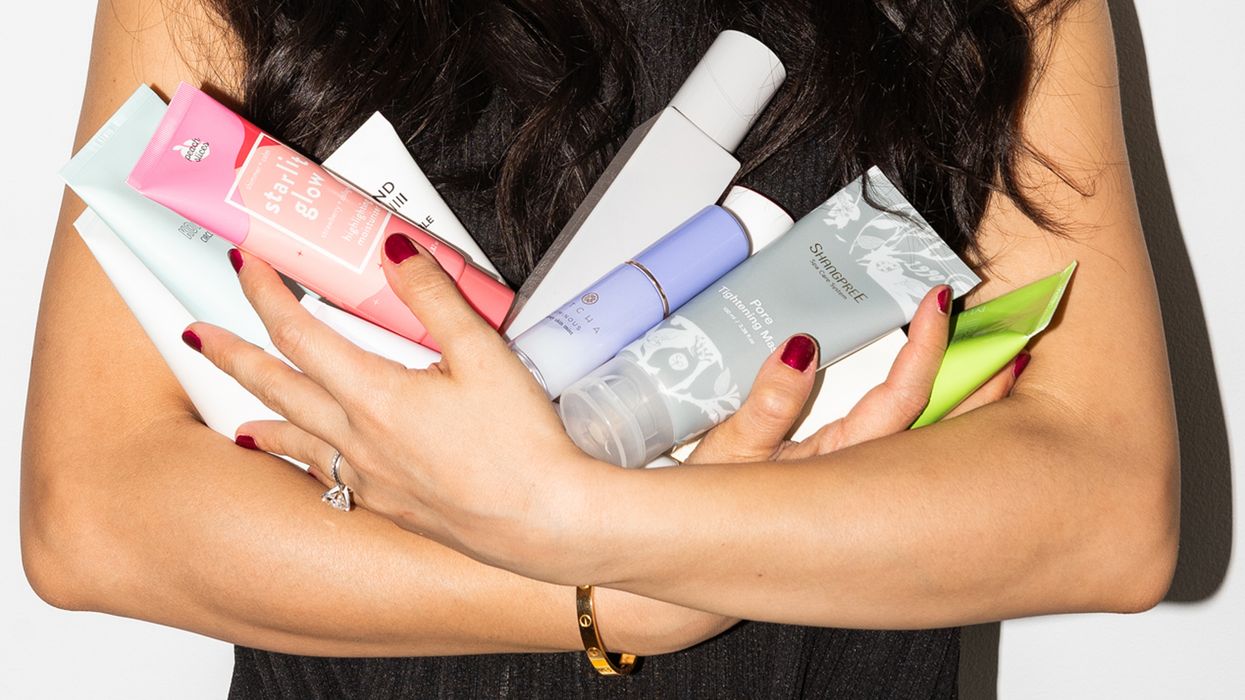 As much as we might gripe about our extended quarantine and how
social distancing
has weighed on our anxiety levels, we never fail to acknowledge the people fighting on the front lines of the COVID-19 pandemic—healthcare workers. These men and women are heroes, period, full stop. Without them, we would have a 0-percent chance of curbing the current outbreak, not to mention ensuring that the people who have contracted the virus receive the treatment they need. Even as we call for the local, state, and federal governments to provide doctors and nurses with the personal protective equipment they desperately need, we've been searching for other ways to give back to those who are working day and night to keep us healthy (often sacrificing their own safety in the process).
Beauty products might seem insignificant compared to rubber gloves and N95 masks, but when your hands and face are chapped as a result of a 14-hour shift at the hospital, they can provide the faintest glimmer of relief in an otherwise high-stress day. Happily, two of our fellow beauty editors,
Kristina Rodulfo
and
Kathleen Hou
, along with their pals
Caroline Moss
and
Cheryl Wischhover
, who is a former nurse, started an initiative called 
Donate Beauty
to supply overworked healthcare workers with products like hand cream, sheet masks, and sunscreen. Over the last four weeks, roughly 140,000 products (!!) have been donated to workers at 250+ hospitals across the country.
"Cheryl heard from friends that the masks were making their skin incredibly dry and chapped," explains Hou. "We've seen videos and photos of the toll that wearing them all day can have—bruises, dark indents, extreme irritation, and acne. She posted about wanting to start something on Twitter, and then [writer] Caroline Moss, myself, and Kristina reached out."
Below, Hou and Rodulfo (whose mom is a nurse at the MSKCC ward in New York) share more about how they've managed to coordinate with brands across the industry to distribute products to those in need, as well as other ways for people to donate beauty supplies to doctors and nurses in their communities. 
---
What was the response from brands when you reached out about donating products?
Kathleen Hou:
"Brands were incredibly generous and offered to donate right away! They've gone above and beyond. Every day, more and more brands reach out, wanting to get involved. We are so grateful to all of the PRs. Also, their warehouse workers are truly doing all the heavy lifting and logistics, by coordinating multiple shipments and shipping it out."
Kristina Rodulfo:
"Even if samples weren't immediately available because of office closings, brands and PR reps made donations happen no matter what. Courtney Weiss from Estée Lauder, for example, didn't have access to stock but decided to round up all the unopened products in her own apartment to drop off a big bag of goods to a nurse at a hospital near her apartment in the Upper East Side!"
Why are beauty products an essential item for healthcare workers during this time? 
KH:
"As one nurse said to us, it's not about trying to be beautiful—it's for morale. Beauty products can help them feel a little more normal [during] abnormal times. Their skin wouldn't normally be this dry; they wouldn't normally have to work 12+ hour shifts with a mask suffocating their skin and making it hard to breathe. It's a little way to provide them some comfort at a time when they're putting their life on the line for the greater good."
What has the response been from the people who have received products?
KH:
"Happy tears! Pure joy. Every happy emoji possible."
KR:
"Every day we get tagged in dozens of photos from front-line workers, [receive] emails, and get DMs from people who are so grateful and say the packages have made their days, cleared their skin, and reminded them to take a moment of self-care while they're busy caring for others. One group in a New York hospital got sent hand creams and sent us this particularly touching note:
'
We received our box of Clarins hand cream today, and everyone is so excited! Thank you so much!! Multiple people have said it has made their day. It's been a roller coaster of emotions, so every act of positivity and kindness helps.
'
Messages like that really light a fire under us to keep giving to as many people as we can."
How can people contribute to Donate Beauty if they want to help?KH:

"Like a lot of things in life, it's not about size. Not everyone can donate 100-plus products, and that's completely fine—any quantity is appreciated. We have some smaller hospitals who would also love care packages. If you're an individual with unopened, unused hand creams, lip balms, face moisturizers, acne treatments, and are willing to mail some out, please let us know! For example, Andrea of Bear Necessities bought Chapstick and hair ties herself and included them in her shipment of her products she sent out."

What recommendations do you have for people looking to donate products to healthcare professionals in their area?KH:

"We can help! We have our spreadsheet, which has hospitals in almost every area of the US. We can help connect you. Also, if you're based in the UK,

Beauty Banks

, started by Sali Hughes and Jo Jones, inspired us.

Front Line Beauty Canada

is also serving Canada, with an initiative started by Mari Santos and Chloe Hatzitolios. It's also important to not forget about other healthcare centers, like nursing homes, senior citizen centers, or homeless shelters. They need resources, too."

What types of products are requested most often?KH:

"Anything moisturizing—people have dry everything! Hand creams and lip balms are our number one request. Face moisturizers, gentle cleansers, hair care, personal care items for overnight, any kind of salve, hair ties for holding their hair back during shifts, and face masks are also very appreciated. They also love fragrance-free items [since] some hospitals have a policy in place against fragrance because patients are sensitive."

KR:

"When it comes to donating, think practical. I'd prioritize giving away the no-fuss, use-every-day kinds of goods! Acne treatments are also a popular request because wearing PPE—and all the added stress—causes more breakouts."

What else can people do, either through your organization or on a more local basis, to support their area

'

s healthcare professionals in need?KH:

"The wonderful thing is that there are a lot of initiatives to support. Here are some of my favorites:

"

Mask For Heroes

: a PPE fundraiser that is getting healthcare workers the masks they need. Mimi Cheng has a Go Fund Me called 

Dumplings for Doctors

: a Go Fund Me to provide NYC-area healthcare workers with hot food. Moonlynn Tsai of Kopitiam has created a

fundraiser

to provide meals to senior citizens in Chinatown. Madame Vo is accepting $10

Venmo donations

to provide a meal for a hospital worker."

KR:

"If there's anything we've learned so far, it's that word of mouth goes a really long way. My mom, who delivered some donations to her colleagues at Memorial Sloan, told me that she's really happy we went the grassroots route and reached out to healthcare workers directly (as opposed to more 'formal' channels)—that way, the impact really reaches those on the front lines. In addition to supporting local fundraisers, ask any healthcare workers you know if you could help in any way, or if people know someone looking for support (whether it's beauty products, services, etc). For example, my friend Vivian Pang is an out-of-work florist right now, but decided to start

creating custom coasters

to raise money to pay for hospital staffs

'

breakfasts and lunches. Small things like that make a difference for morale. Use your talents!"

How has coordinating this initiative affected you personally?KH:

"[This is] just a reminder that people can be and are kind.  Beauty can be a lot of things. It can feel, at times, frivolous or complicated, but at its purest form, when given freely without any strings being attached, it can also be a source of pleasure, happiness, and relief."

KR:

"Along with my mom, a lot of my closest friends work in the medical field and are directly affected. This cause is close to my heart, so it's been incredibly encouraging to see all the generosity pouring in. I honestly cry reading some of the messages from recipients about how hard it has been. The beauty industry can, at times, feel like a shallow place, but this effort has reminded me of how lip balms, moisturizers, and the like aren't just

things

—they can be tools to restore a sense of normalcy, control, and levity when it feels like everything else is out of your hands."

Want more stories like this?I Have Seen the End of Our Mani-Pedis and Our Nails Will Be Fine10 Sustainable Beauty Tools You Need in Your BathroomRead This Before Dying Your Roots at Home