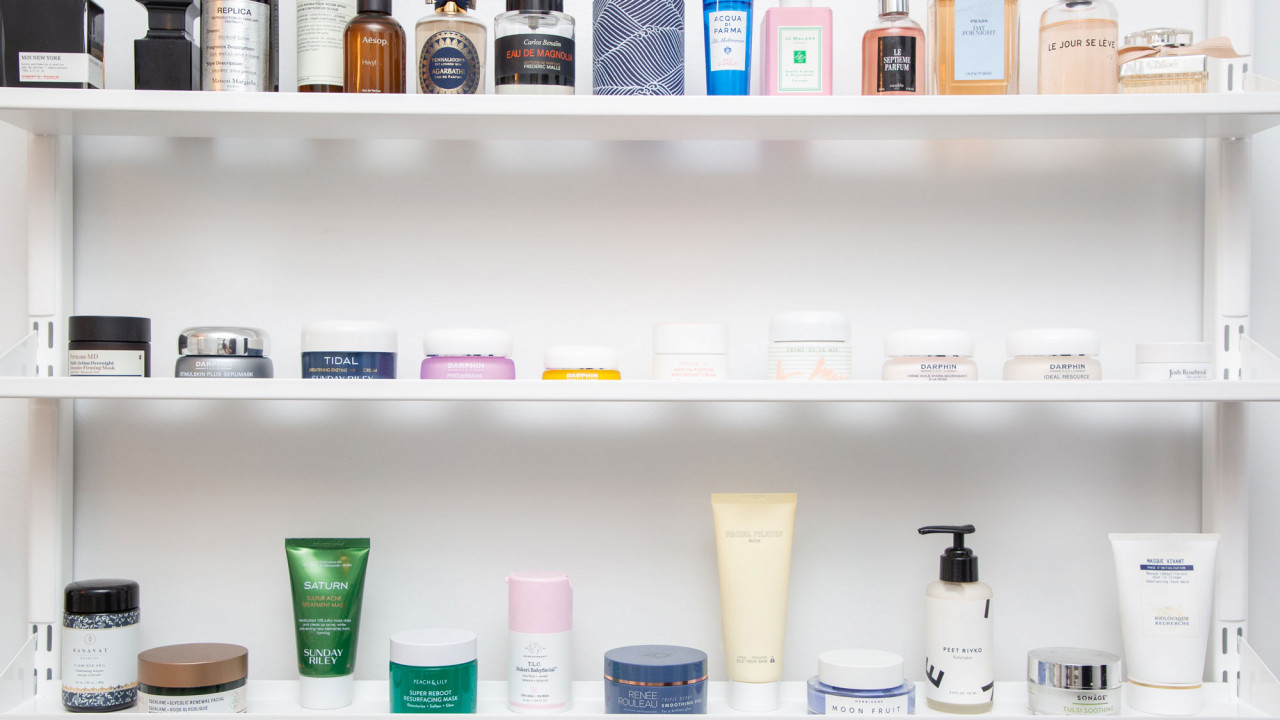 How Beauty Editors Organize *All* Those Products
Small-space solutions for the most glamorous of hoarders.
Let me fill you in on a little secret: Beauty editors love products. OK, maybe that's not such a major revelation, but when your job is to test, play, and research everything beauty related under the sun, you start to truly appreciate (and collect a lot of) jars and tubes. And while we'll never complain about having access to anything and everything in the makeup, skin, hair, and nail industries, the truth is we're just like everybody else when it comes to storage, or rather, a lack of it. Especially those of us who live in cities like New York or L.A. Big metropolises usually mean little space, so we've learned to capitalize on what we've got—with plenty of help from the Container Store, Target, and any other space-saving bin, box, or drawer. Because when you're taking home 30 lipsticks or face creams every week, things can get out of hand, and fast.
So, without further ado, here's how 12 beauty editors store every last one of those beauty products. Hopefully, it will help inspire you to organize your own stash of essentials.
Kayla Greaves
Senior Beauty Editor, InStyle.com
"Going from having an entire beauty closet (and extra desk space) in the office, to having to store all my products at home, has been challenging. I've tried to keep my mailers to a minimum not only for my own sake, but also to keep delivery workers in mind. Yet I've still accumulated a lot. I try to only keep one of each type of product (i.e., one serum, one toner, one moisturizer, etc.) in my bathroom vanity at a time, and thankfully, I got a pair of these storage drawers from Target way back when to store everything else.
"I have them stacked on top of each other to save floor space and to keep myself as organized as possible. I use the bottom drawer for shampoos and conditioners, the second for hairstyling products, the third for body care, the fourth for skin care, the fifth for makeup, and the top shelf is for nail products.
"Even though I've remained semi-organized, it's getting to the point now where things are overflowing. So I've been saving some boxes from mailers to send out care packages to loved ones who need a little pick-me-up as well as others in need."
Katie Becker
Beauty & Health Director, Elle
"By New York standards, I have a large bathroom that attaches to my main closet. There is a little hallway-like area where I have set up a three-drawer dresser that holds: 1) makeup organized in small random boxes, 2) hair tools and accessories, and 3) skin-care tools, self-tanner, and nail polish. There is a giant Glamcor Riki mirror on top.
"Across from the dresser is my real showpiece. A wall of four-inch-deep Elfa shelving from The Container Store that holds all my fragrance, skin care, and hairstyling products. It looks like the world's biggest shelfie and acts as a background when I film tutorials, but it also holds a ton of products so I can essentially 'shop' everything I need to test. In the shower, I've never found suction cup baskets that stick or fit, so I can't say enough about the Umbra bins that work in any shower no matter your tile situation and have a flexible band across the front so you can squeeze in extra products—essential!"
Maya Allen
Beauty Editor, MarieClaire.com
"I have some serious purging to do before quarantine is over. Anyway, what is organized is my makeup vanity, which is my pride and joy. It's where I keep all my faves front and center, color-coordinated, organized by brands and categories. I'm a very visual person, so I enjoy that my vanity doubles as décor in my room. I've sworn by these makeup organizers since my college dorm-room days. They're completely transparent, which makes it super easy to spot that one teeny-tiny eyeliner or lip liner I need buried under the rest of my beauty products. Plus, they look very clean and minimal. My vanity also comes with drawers that come in handy. Since I have a surplus of the same products, I dedicate one entire drawer to concealers, foundations, blush, highlighter, et cetera."
Christina Grasso
Digital Content Manager, Flesh Beauty
"Aside from my medicine cabinet, which is home to my everyday, holy-grail products, I devote nearly an entire closet (which doesn't say much because it's New York City and my closets are tiny!) to store some of my most prized possessions: beauty products. I use a couple of these shelves from IKEA and organize/label them by product category (hair, body, masks/exfoliants, serums/oils, toners/essences, cleansers, moisturizers, and 'new in') with a sort of old-school label maker.
"For makeup products, I use several sets of clear, acrylic drawers I found at Muji, and also organize them by type (base, blush/highlighter, eye, lip, etc.).
"Since there is so much inbound product, it's kind of always beautiful chaos despite my best efforts to stick to a system. I clean out and consolidate rather frequently and donate unused, unwanted products to charitable organizations or give to friends, my mom, etc., which also helps free up space and keep me from ending up as a guest on Dr. Phil."
Stephanie Saltzman
Beauty Director, Fashionista
"I love this leaning mirror (I have it in white) because it's compact but comes with built-in storage. I use the hooks on the right to hang my robe as well as some of my bath and beauty accessories: my dry brush (which has a loop for hanging upside-down), my blow-dryer (also has a loop!), my flat iron (which doesn't have a loop, but I coil the cord up neatly into a figure eight, use the Velcro piece to secure it, and hang it upside-down by that loop). I use the lower rungs for spare towels.
"I have basically no storage built into my bathroom, so I like woven baskets like this one to store bigger items, like beauty tools and gadgets (my NuFace, hair tools, my Theragun, etc.), [to] keep them accessible yet organized.
"For skin and body products I can't fit into my annoyingly tiny medicine cabinet, I installed a small shelf on my wall. I store the products I use most often in my medicine cabinet, and then the wall shelf is for secondary products I use more sporadically, like intensive masks, treatments, self-tanner, etc. The actual one I have is sold out now, but these are some good options."
Amber Kallor
Freelance Beauty Writer
"Everyone knows Monica's closet from Friends. I, too, have a chamber of beauty secrets—one of the many perks that comes with moving cross-country from Brooklyn to L.A. While I'm lucky enough to have an entire closet dedicated to beauty products, keeping it organized isn't exactly my strong suit (though stadium-style seating for my nail polish collection helps, as do plastic bins from 99 Cents Only). It's just too easy to shut the door and hide the chaos!
"Every now and again, I enlist a really decisive friend to help me make the tough calls on what to keep or sell for charity at my barre studio. Judging by my collection, one might think that I'm a beauty maximalist (you just never know when you're going to need 40 shades of glitter), but my day-to-day routine is actually super minimal. I keep the products I'm using perched on two IKEA picture ledges in my bathroom. All of my must-have makeup is stashed in a small drawstring pouch so that I can easily transfer it from a bathroom drawer to my bag and get ready while sitting in traffic."
Margaux Anbouba
Associate Beauty Editor, ELLE
"My dad's girlfriend owns Neat Method Highland Park, so I'm always video chatting with her to discuss the organizing dilemmas of living in a tiny New York City apartment. Of course, the worst offender of all is my beauty-product collection. I don't have the system down perfectly, but here's what works for me. Each of the shelves in my medicine cabinet is dedicated to a specific purpose: morning routine, evening routine, situational products (aka zit patches or face masks), and things I need to try for work.
"Next to that, I have an Elfa mesh drawer set, which I love because it's really easy to clean if there's ever a product explosion, and the drawers glide in a really smooth and satisfying way. The bottom, largest drawer holds hair tools, then the rest are dedicated to makeup. Lips, face, and eyes each have their own drawer, and then every category (so brow products, mascaras, black eyeliners, colored eyeliners) is housed in a labeled Glossier pouch (I love the giant ones, and it makes me happy to find a new purpose to something really cute but that could otherwise be wasted).
"On top I have body products and fragrance. I like to let them sit up there freely with the theory that if they are falling off, there are too many! Under the sink is where my hair products live, in a narrow Elfa mesh drawer. It's a pretty intricate system, but it makes finding things so much easier…at least, when I take the time to put them up where they belong!"
Jamie Rosen
Contributing Editor, Town & Country
"I have so many thoughts on beauty organization, but my main ones are this: I keep whatever it is that I'm actually using in my bathroom—lining up skin care in step order on the bottom shelf of my medicine cabinet, keeping makeup in Muji organizers in drawers (storing cream blush upside-down has made it easier to find what I'm looking for), and brushes in an empty Cire Trudon candle (the labels come off nicely, so it's plain dark glass). I keep everything I'm not using/want to try/will use next in IKEA cabinets in my office, which serves as an at-home beauty closet of sorts."
Megan McIntyre
Freelance Beauty Writer
"I switch up my skin care based on how my skin is feeling, meaning I use a rotation of about three serums and two moisturizers over the course of a week (not to mention sunscreen, toners, masks, and oils), so I like everything to be where I can see it for easy access. Otherwise I have to dig around in my 'beauty closet' for what I'm looking for, and it's overwhelming, given the amount of products I have stuffed in there waiting to be tested. I just moved to a new place with a much larger bathroom, and while there is ample counter space and drawers, there's no medicine cabinet—meaning I'm very involved with shelving. I just bought four floating ones in a few different sizes that I love. I need something with edges, because I'm a klutz and will knock everything off a flat shelf, which would undoubtedly lead to me breaking a cherished serum. I don't need that kind of heartbreak in my life right now."
Kara McGrath
Deputy Editor, Allure.com
"I've tried a lot of different drawers, chests, shelves, and piles of boxes in attempts to organize all my products, but the most efficient by far has been these clear stackable drawers from The Container Store. I use the sweater drawers for my taller products (like shampoo, hairspray, and body wash), the shirt and accessory drawers for my skin-care products, the large shoe drawers for hair accessories and nail polish, and the small shoe drawers for all my makeup. You can buy dividers for them too, to keep things even more organized—something I haven't done yet but probably should."
Beauty Director, Cosmopolitan
"My apartment is truly like a mini beauty boutique (much to my husband's horror, but he knows who he married!). For the most part, my lotions, potions, makeup, and hair products are stored in fabric bins I picked up at IKEA. Not only are they lightweight and roomy, but they were $4 each! For the products that are in heavy rotation, I use clear acrylic boxes and marble trays—which are actually cheese trays! I place them on my nightstand, in my bathroom, and on various bookshelves and tables throughout the apartment. Let's be honest, there are plenty of perfume bottles, lipsticks, and compacts that are pretty enough to look at all the time."
Beauty Editor-at-Large, The Cut
"There's a linen closet in our bathroom, whose shelves I've taken over (take a hike, towels!). I've generously given my husband one shelf, and there's another that houses utility stuff like light bulbs, first aid, toilet paper, and the iron. But the eye-level shelf holds all my shit—LOTS of skin care (right now I've got Biologique Recherche, Renée Rouleau, Dr. Loretta, and a new line I just learned about, Terre d'Afrique, on rotation). I house all of my makeup in this sizable Tom Ford silk-lined box that some fragrance launch probably came in.
"The top shelf is where I keep all the hair products (except the blow-dryer, brushes, and styling products live in a basket on the utility shelf) on one side, and bath salts (Kneipp!), body washes (Red Flower, Native!), and dog shampoos on the other. I'm lucky to have so much room, and yet, I'm always running out of space. Sigh..."
Want more stories like this?
Beyond Parabens: The New Frontier of Preservatives
The 41 Best Beauty Products That Launched in April
Watch Patrick Ta's Glowy Skin Makeup Routine