WWWRN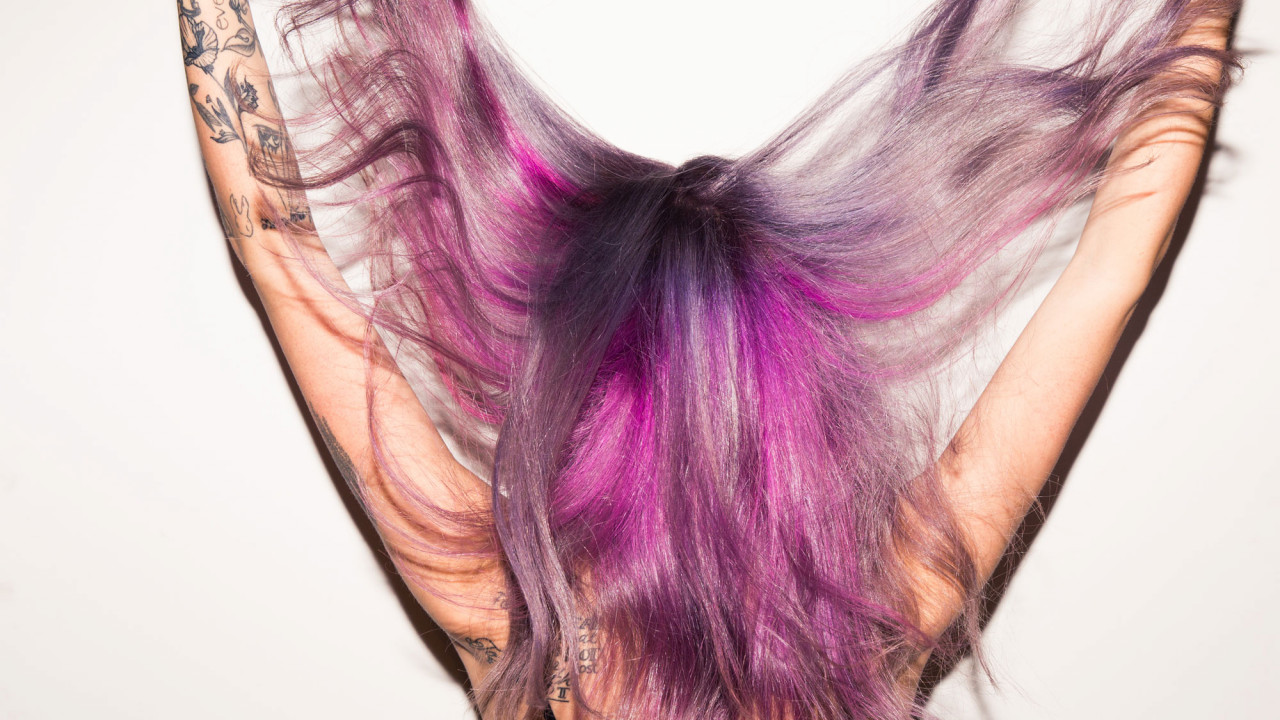 How to Color Your Hair at Home, According to the Pros
Amateur colorists, put down the gloves and read this first.
Do you remember three months ago when the worst trauma our hair might endure was from us sleeping the wrong way? Well, now we're all flipping out about our roots, and no one's sleeping anyway. From makes total sense to sorry, what now?, here are the reasons people have given us for coloring their own hair:
"My stylist premixed my color for me to pick up outside their house." (More on this below)
"I'm on video calls and don't want to look like I've let myself go."
"I am not able to emotionally confront grey hair on top of navigating the chaos of COVID-19."
"My world has shrunk to my apartment. It's easy to focus inward and obsess over what we can control."
"I saw someone on YouTube do highlights, and they look awesome."
"I've done dumber."
The obvious choice is to do nothing, help our hair heal, and reacquaint ourselves with our natural shades, especially since we may not have this kind of time "away" again. But humans are natural-born optimists who diminish risks and focus on the outcome we want. We are all her. (According to beauty data powerhouse Spate, searches for "root touch-up" have increased almost 350% in the last month. You guys!)
Since we simply cannot help ourselves, we asked three stylists who've cared for hair of all textures and hues about how to cause the least damage possible before our butts are back in their chairs. From general coloring tips to the best advice specific to blondes, brunettes, and redheads, don't go into your at-home coloring session without reading these first.
At-Home Hair Dye 101
Text your stylist first, even though this can feel uncomfortable. Coloring your hair is their livelihood, and you know they don't want to have to fix your mistakes, but they're good humans first and foremost, and they want to help. "Your stylist could recommend a brand or product they like and something they'll know how to remove if it goes south," says Amber Maynard Bolt, who looks after Demi Lovato's ever-evolving hair. "Consider toning products. I love Celeb Luxury Colored Shampoo and Conditioner."
Condition your hair to high heaven. Colleen Flaherty, a master colorist and educator at Spoke and Weal, just went from red to blond-blond and is following this restorative plan herself: "Use the KhairPep K18 Masque once every four shampoos to strengthen your hair. It's the absolute best."
Thirst your way to hydration. "I'm all about Joico's Defy Damage line. It's bond-building and unbelievably moisturizing. Their mask is next level," says Maynard Bolt. Joico's pretty beloved, and she recommends the newer Moisture Recovery line as well. (The finer-haired folks on Reddit are raving this month about the Lotion for Fine and Normal Hair.)
Introduce something new to your routine. If you've ever admired Hailey Baldwin's blond, congrats, you've discovered the artistry of Ryan Pearl. He suggests working in just one new product at a time, as it's easier to identify what it does for you, good or bad. "I'm big on having a few key products that you know work for you," says Pearl, who recommends experimenting within a brand your hair already loves. "For example, if you always use Redken Color Extend Magnetics Sulfate-Free products, try Redken All-Soft Shampoo and Color Magnetics Conditioner."
Take a vitamin. Pearl is a healthy dude across the board (please cease and desist), which is why he regularly recommends a vitamin with hair-happy ingredients like Hush&hush "Deeply Rooted." They take time, he reminds clients, and he suggests supporting its work with a recovery mask like Redken Extreme Bleach Recovery Leave-In Cream. "These are great for anyone who colors their hair, not just someone who lightens."
Try a gloss or tint before color. Especially for blondes, tone is the first thing to go. "I'm mixing up toner for my blondes because their hair does turn orangey yellow," says Maynard Bolt.
No fancy salon tricks. Don't cover your hair with foil or saran wrap. It speeds up color development and can cause major damage. And since we will—say it with us—not be highlighting our own hair, this won't be an issue anyway. Do create a barrier along your hairline with an occlusive like Aquaphor or vaseline to avoid staining on your skin.
For Brunettes
Flaherty encourages a start-small approach. "I tell my brunettes to only do their hairline and part—the only area that people would really notice." The goal is to connect your regrowth to the top of your color. "I also recommend they start with something temporary. I can suggest something permanent, but I can't promise it will match perfectly."
Glosses are a wonderful option for brunettes, too, as they can soften the regrowth line and give the appearance of consistency. "Keep it simple, and just brighten up your regular color," says Pearl. Like a lip stain, for example, glosses and glazes deposit a little color superficially. Most at-home products won't even lift the cuticle to deposit color from the inside. The ever-lovely stylist Kristin Ess offers multiple hues of In-Shower Gloss that are soy-, silicone-, sulfate-, and gluten-free.
For Redheads
It's almost as if red hair doesn't want to stay red, given how quickly it fades. Some must-follow advice: Cut your wash frequency in half, and use cold water. Then, start using a rinse-out tint calibrated to your desired tone. eSalon Tint Rinse guides you through a mini Myers-Briggs: "Is your hair warm? Intense? Deep?" The award-winning company will also mix custom dye and get you on a group chat with a color-specific therapist stylist.
Red color is often layered on top of bleached hair. Since lightening your own hair at home is a universally panned idea—skip to the blond section below; it's harsh—toners are your best bet. Flaherty recommends a color-depositing conditioner, as it sits on hair longer than shampoo. Davines Alchemic Conditioner cools down brassy tones. Aveda Clove Color Conditioner was formulated for warm brunettes but co-opted by redheads. Punky Cherry On Top is, in their own words, "outrageous."
For Covering Greys
This is Maynard Bolt's more frequent request, and she's been mixing kits for clients whose hair she knows well. In addition to contact-less pickups for his pre-mixed kits, Pearl will hold your hand through the process. "It's actually pretty easy, and if people are really unsure, I FaceTime them and walk them through it."
Whether you're camouflaging patches of grey—anywhere from 5 to 10 percent of your hair—or you're coloring all-over regrowth, there are a few pieces of universal advice.
Start with a product that is semi-permanent, meaning free of ammonia. It's lower risk when you're trying to match your exact shade (which is trickier than it seems). Clairol Natural Instincts Demi-Permanent Hair Color is beloved for jobs like this. People have used it since its introduction in 1996 (!!), though some take umbrage with the switch from a liquid to a cream formula. Something less runny is easier for first-timers, so why the hate?
Be sure to always color your hair in the morning or afternoon in natural light—it's very difficult to match color under artificial or dim light, so you want to give yourself as good a chance as possible. And don't worry—this doesn't have to (and likely won't be) an exact match. It's a Band-Aid.
Within the month it takes to wear off, you might be back in your colorist's chair (fingers crossed), though Pearl makes the good point that porous grey hair can be resistant to ammonia-free dye. So if you're happy with the semi-permanent color in the mirror and for selfies in bright and dim lighting, you can graduate to something more permanent that will better cover those pesky greys. L'Oréal Paris Excellence Creme Hair Color came up more than a few times in our colorists' recommendations; it includes ceramides, which are little hydration powerhouses in moisturizers like CeraVe PM Facial Lotion. (Join me in r/skincareaddiction, won't you?) They'll ensure that your hair doesn't feel crispy after your coloring session. And just remember, at this point, you're just trying to not create more work (i.e., color correction) for your colorist once you can see him or her again.
For Neons and Crazy Shades
Those who've been technicolor before know hair needs to be brightened first to see a major allover change, but even darker hair can take on a wild tone. Flaherty points her clients toward Uberliss's colored Bond Sustainer, the OG Manic Panic, or Pulp Riot. "Err on the side of caution, and choose a pastel shade. The brighter they are, the slower it will fade. But I promise, eventually, it will."
Maynard Bolt builds on Flaherty's suggestion of Pulp Riot: "Dilute the color with equal parts conditioner. You have more control and tend to have fewer accidents. But I really love Celeb Luxury colored shampoo and conditioner. They keep hair really soft and have tones for all shades, not just wild colors."
For Blondes
Queens, you're at the bottom for a reason—not only is lightening the trickiest to get right, but your hair's the most damaged already.
Says Pearl, "Doing highlights at home is a huge NO." Maynard Bolt adds, "A blonde client reached out to me, and I said, 'Absolutely not. I love you to death. But do not do your own highlights.'" Flaherty's list of don'ts include "double processes, highlights, and any lightning service. You'll damage your hair to no return, get splotchy color, and it will most likely be orange. I wouldn't even lighten my own hair."
So what can you do? You better start treating your hair like it's antique lace. Comb your hair after conditioning from ends to roots with a wide-tooth comb like Fromm's Shower Detangler. Blot hair with a microfiber towel, and resist the urge to twist it up into a turban. Mist damp hair with the expensive-for-a-drugstore It's a 10 Spray, and coat ends with OGX Renewing Moroccan Argan Oil. The cool kids of TikTok have been raving about L'Oréal Wonder Water, which amps up shine and temporarily calms irritated cuticles, both of which distract from harsh regrowth lines.
For all of us, though, Pearl offers these comforting words: "Salons will reopen soon enough. The best thing you can do is hydrate and give your hair a break. I have faith in all of you!"
Part of the series:
WWWRN