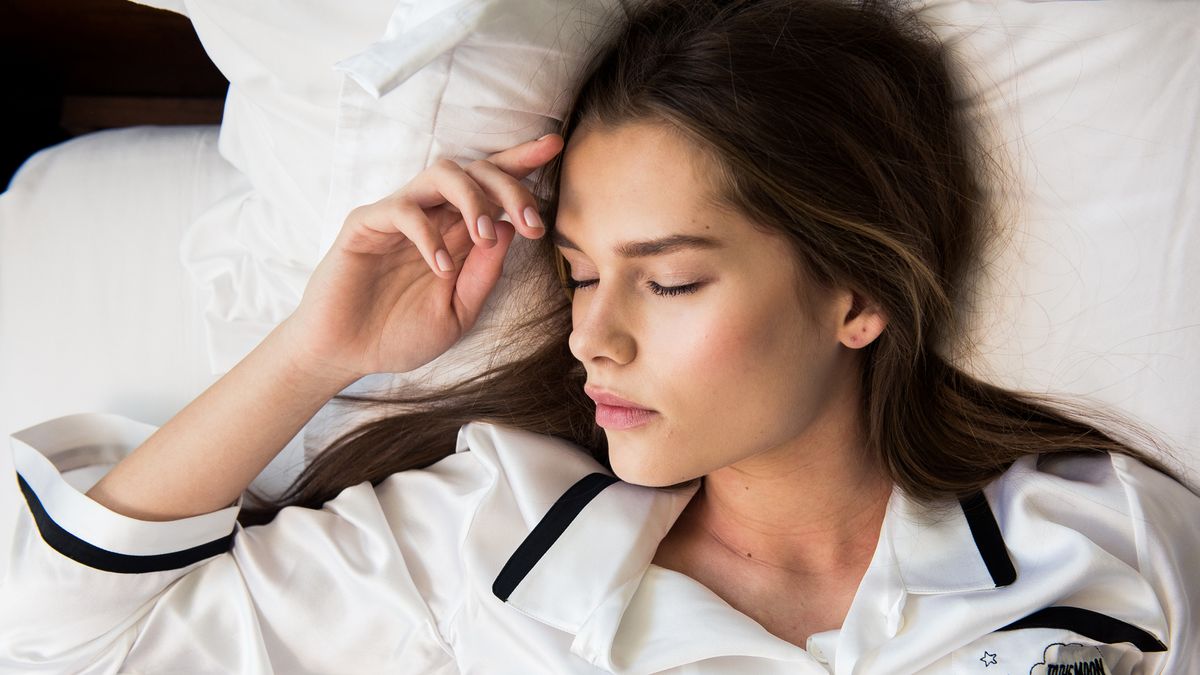 Hair
What's happening, and how to put an end to it.
Meagan Wilson
Sleep. It's
something we long for
, lust after, and ultimately avoid. But when it comes to looking
and
feeling great, catching some z's is hands-down the best way to do it. Sort of. While you're off in the land of dreams, you actually could be sending your delicate strands into the land of nightmares.
Seemingly harmless habits like snoozing with wet hair, using cotton pillowcases, and over-brushing, can cause tangles, breakage, and even mold (gross). We got the skinny from three top stylists to help right all our hair-care wrongs.
---
Become a Silk (or Satin) Sleeper
Consider this like a negligee for your hair. "Your hair should 
always
be preserved, whether it
'
s placing the hair in a loose bun, wrapping it with a silk/satin scarf, or even sleeping with a silk/satin pillowcase," explains celebrity hairstylist
Tym Wallace
, who tends to
Taraji P. Henson
. Think about it: Tossing and turning on a smooth surface allows hair to glide—not get roughed up.
It might seem over-cautious to switch up your bedding, but regardless of your texture, breakage can happen to
anyone
. "Although there is a strong emphasis in African-American culture on taking care of the hair at night, all hair types should be cautious of how their hair is handled when going to bed."
Product suggestion:
Slip Silk Pillowcase, $85,
Sephora.com
.
Put In Some Strokes
Would you feel good going to bed without brushing your teeth? We didn't think so. So naturally the same principle applies to your hair. "I love brushing my hair every night with a Mason Pearson brush before going to bed. It helps distribute natural oils to condition my hair while I sleep," explains
GLOSS Moderne Clean Luxury Haircare
founder Kuen Rameson. Note to self: That 1,000 brushstrokes beauty myth is just that. Wallace reminds us to keep it minimal: "Too much of
anything
can ruin your hair," he adds.
Product suggestion:
 Mason Pearson Handy Mixture Brush, $175,
Bloomingdales.com
.
Maximize Your Evenings
Beat the morning rush by thinking ahead—not scrambling in the AM. "Wash, dry, and style your hair before bed. If you have smooth, sleek hair, do a wrap starting at the nape and wrap your hair around the head, securing with bobby pins," shares
Rocky Vitelli
, global artist for Farouk Systems. "If you have curly or wavy hair, twist your hair nice and tight into a topknot, securing on the highest point of the head. Use a fabric scrunchie to secure it instead of elastics." The next morning, simply unravel and apply a little serum to style.
Product suggestion:
CHI Royal Treatment Pearl Complex, $44,
Chi.com
.
Skip Out on Wet Hair
Going to bed with wet hair is the ultimate no-no, according to all of our experts. "Don't do it! When the hair is wet, the elasticity is loosened, which makes it easier to snap and break," advises Wallace, who also works with Brandy, Skai Jackson, and Zendaya Coleman. "It also causes friction and can create tangles in the hair."
Product suggestion:
Drybar Buttercup Blow Dryer, $195,
Ulta.com
.
Moisturize! Moisturize! Moisturize!
Like our skin, our hair also regenerates the most while we sleep. So make the most of those hours with an overnight masque. Comb it through the hair, pulling longer pieces into a loose bun. To protect your sheets, toss a towel or super-worn t-shirt over your pillowcase.
The catch? "Only sleep with [a] masque [that] is designed for periodic overnight treatment," explains Rameson. "It
'
s quite possible that many of the ingredients in a typical conditioner could cause damage to your hair with a prolonged application. Mostly this would be due to the nature of the ingredients in a typical conditioner; an overnight treatment isn't the same."
Product suggestion:
GLOSS Moderne High-Gloss Masque, $65,
Neimanmarcus.com
.
Photo: Shot on site at 6 Columbus, a Sixty Hotel. On Solveig: Pajamas, Morgan Lane; Rings, Azlee, Baker & Black; Hair, Angela Soto; Makeup, Andriani
.
Want more stories like this? 
16 Beauty Tools That Are Worth the Investment
Warning Signs Your Skin Hates Your Moisturizer
5 Pretty Hairstyles That Might Convince You to Wear a Tiara