WWWRN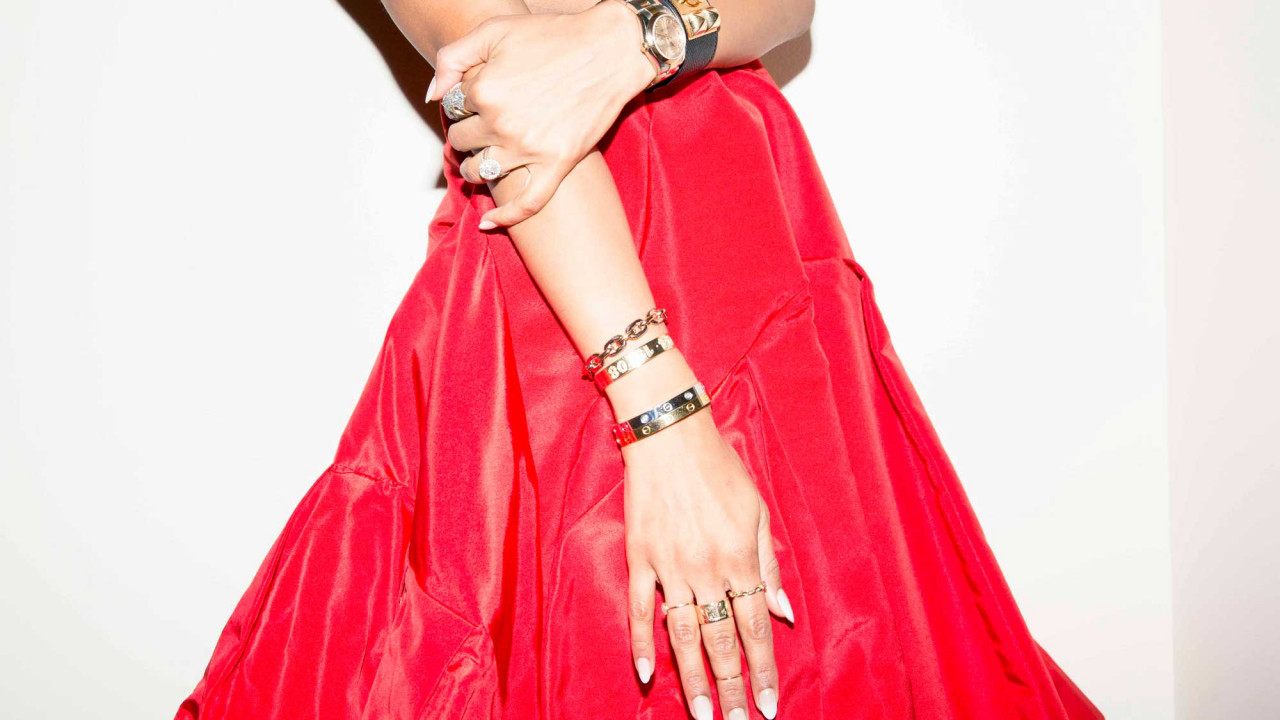 The Jewelry Coveteur Staffers Are Wearing Every Day
We think your WFH 'fit needs some accessories.
These days our fashion choices look very different than they did a few months ago. We've traded denim for sweatpants and stuffy blouses for cozy sweaters. I don't think anyone has put on shoes in weeks. The one thing that we haven't had to alter too significantly: our jewelry. Although those fortunate enough to work from home are wearing loungewear almost every day, you can still throw on a few layers of gold chains and a pair of dainty hoops. In fact, we highly recommend keeping your regular jewelry in rotation to keep up some semblance of normalcy and to spice up whatever t-shirt you're wearing. Continue scrolling to discover what Coveteur staffers have on their everyday jewelry rotation.
---
Olivia Kenney
Creative Producer & Social Media Manager
1. Garbage NY Rolling Charm: I am a freak and can sleep in a stack of necklaces and hoops, so if I am buying a piece of jewelry, quality is my biggest box to check. This small but mighty female-owned brand will give you a dose of New York cool girl and ensure that each of your pieces were sustainably brought into fruition. If I had to snag a new piece, it would be this dice charm—red is my statement color of choice and complements gold oh so well.
2. Mejuri Sapphire Hoops: OK—I'm 100 percent sure everyone owns these, but that doesn't mean that they will ever leave my ears. For someone who has been attempting to expand their piercing count, these are the perfect place holder for a second or third hole. Sweats or a skirt, these gold accessories always make me feel dressed for the part—and they never tarnish!
3. Bagatiba Letter Box Necklace: This was a gift (a very thoughtful one, if you're in the market), but I would buy it for myself in a heartbeat. I am a sucker for a monogram or initial moment—something about lettering on jewelry adds an extra dose of charm. I have invested in so many of Jessi's pieces and can attest the quality is as amazing as her timeless designs.
---
Hannah Baxter
Senior Beauty Editor
1. Local Eclectic Solid Gold Diamond Studs: Considering I have 14 ear piercings, I've come to appreciate the earrings that I can just leave in place for months without experiencing any irritation. That means investing in fine pieces, like gold and diamonds. These 9 k yellow-gold babies are the perfect size for stacking and are actually crazy affordable (without sacrificing an ounce of design).
2. Wwake Small Rhodes Necklace: I am obsessed with herringbone chains. It's the perfect combination of delicate and statement, so on most days you can catch me wearing one alongside my regular dainty charm necklaces. Wwake always has the most delicious opal pieces, so I think it's time to snag this style—with its little hanging gemstone—to add to my collection.
3. Yi Collection Emerald Petite Circle Ring: It's been really hard to not wear my usual array of rings during quarantine, but I appreciate that it's easier to keep your hands clean without all that jewelry. However, I can't help but rock this cute little emerald on my left pinky. The band is so thin that I can easily move it around when I wash my hands, and the pop of green simply brings me joy. I love it.
---
Abby Miller
Head of Production
1. Gold Charm Necklaces from New Top Jewelry: New Top is basically the be-all and end-all for Instagrammable gold accessories, made famous by its ultra chic clientele including Mellany Sanchez, Paloma Elsesser, Madeline Poole, A$AP Rocky, and even Travis Scott. Walking by the store, you might actually miss it, as this unassuming Chinatown gold shop blends in with all the rest on Centre St. But inside, the shop's owner, Jane, will guide you through trays and trays of amazing charms including Virgin Maries, custom nameplates, Playboy Bunnies, etc. I have two that I never take off: a rose and an A.
2. Susumi Studio Patchwork Necklace: This is another thing I never take off, and not just because it was custom micro-welded onto me so I can't remove it. Schyler Gately of Susumi makes the delicate and dainty jewelry pieces of my dreams. Though normally based in L.A., she recently did a pop-up in NYC, and I immediately snagged an appointment with her to personally customize an infinity piece (she does necklaces, bracelets, anklets, etc). For someone like me, who is very low-maintenance when it comes to jewelry, an infinity chain is perfect, because I never have to think about it, and these ones in particular are custom-sized for your body so it's always the perfect fit.
3. 108 Studio Gold Sleeper Rings by J. Colby Smith: Another Instagram-famous favorite of mine, Colby is a piercing legend and the go-to piercer for minimalist lovers like me. Appointments with him are always super creative and collaborative as he talks you through the piercing options that will complement you and your style. And these aren't your normal tacky piercing studs he's using—every item he pierces with is hand-crafted and hand-designed so you can walk out of the studio with something you love. I chose the 18 k yellow gold, ultra-thin hoops, which hug my earlobes and give me that subtle and minimal look that I love in my jewelry.
---
Halle Lagatta
Associate Creative Producer
1. Laura Lombardi Brass Drop Earrings: I'm such a huge fan of all of Laura Lombardi's pieces (all handmade with love in NYC), but I especially cherish my brass drop earrings. I learned that the earrings can be worn as hoops if you slip off the bottom pieces, and I love wearing them this way as well. They're perfect as is, but I also love how these look once they've been worn a bit and become tarnished.
2. Old Jewelry: I met the owner of Old Jewelry at my favorite furniture and home decor store in Sagaponack. I spotted her beautiful sterling-silver pieces from across the room and was so excited to hear that she collects and sells vintage jewelry—it's rare that someone with such great taste is willing to share that with the world. Not one day goes by where I do not instantly fall in love with a new acquisition of hers. My most recent purchase was a sterling-silver ring with two silver hearts dangling from the band.
3. Justine Clenquet Steve Necklace: I discovered Justine Clenquet at Opening Ceremony a few years ago and have been a fan ever since. Handmade in France, her unique pieces easily fit into any outfit of mine. I love how she mixes materials. My favorite is a necklace made with silver and gold—it perfectly complements the gold earrings and silver ring listed above!
---
Rachel Pickus
Creative Associate
1. Breda Jane Watch: Outside of my daily rotation of Zoom meetings, I haven't found much reason to keep track of time during quarantine. Which sounds nice until you realize it's 2:00 PM and you have yet to change out of your pajamas, wash your face, or eat a substantial meal (guilty). The Jane watch from Breda has been on my radar since it launched, but something about adding structure to my day via a chic accessory sounds wildly appealing right now…
2. Catbird Baby Pearl Ear Climber: Over the past four years my piercing game has grown at an exponential rate that has me constantly searching for earrings to mix and match with. My most recent discovery? These Catbird baby pearl climbers that had me instantly smitten. They're equally classic as they are unusual, and at $44 a pop, I'm having a hard time saying no.
3. Bychari Soho Anklet: Although the next few months may look very different from the summers of yesteryear, I'm optimistically shopping for all of my warm-weather favorites. Top of my list is this gold chain anklet that I'm eager to pair with the sandals that patiently wait in the back of my closet. 
---
Camille Freestone
Freelance Writer
1. Sophie Buhai Simple Baroque Pearl Collar: I've been really loving pearls lately, especially those with imperfect shapes. They're kind of a modern take on the ladies-who-lunch look. I've been wearing mine layered with gold or silver jewelry and have swung the clasp forward so it purposefully shows.
2. Daniel Wellington Petite Sheffield Watch: My wardrobe is all about mixing menswear-inspired elements with more feminine pieces, and that always leaks into my jewelry collection. I bought this watch five years ago and have worn it almost every day since. It's classic, and I'm not kidding when I tell you it goes with everything. I wear it by itself or layer it with gold chains.
3. Wolf Circus Sadie Hoops: These days I want a pretty earring, but I don't want something so big that it's going to get on my nerves since I'm working from my couch. These hoops have a bit of a vintage feel with the wrapped design, but are super light and can be worn literally every day.
---
Leah Faye Cooper
Editorial Director
Part of the series:
WWWRN