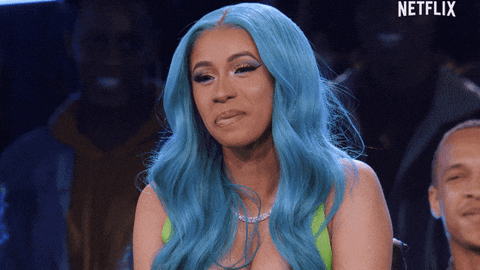 Culture
The Best Entertainment to Watch and Read Right Now
Including a hip-hop show starring Cardi B, a steamy French reality show, and a film about NYC bookstores.
Say what you will about reality TV—and much has been said. But sometimes being spirited away into other people's lives is just what you want, no matter how glossy and gussied up for the camera they might be.

That's never been more true than now, when we're all stuck on our couches. Sometimes, fiction is just what the doctor ordered, and sometimes we want a cold, hard glimpse of someone else's reality to get a break from our own.

The same is true of documentaries, the ugly stepsisters of movies that people often pooh-pooh as boring, or nonfiction, which can sometimes get written off as dull biographies. But if you poke behind the curtain a bit, you'll find documentaries, nonfiction books, and reality TV to be just as exciting as, oh, we don't know, Love Island. Oh, wait, that's reality TV.

Ahead, discover our favorite TV shows, docs, and books to watch right now.

 
---
---
TV Shows
---
Rhythm & Flow

If you haven't watched this yet, seriously, sit down and watch it right now. Starring Cardi B, Chance the Rapper, and T.I. as they search for the next breakout hip-hop star in L.A., New York, Atlanta, and Chicago, it's even better than it sounds.



Too Hot to Handle

This is all my group chat can talk about right now. A bunch of super-effing-hot, young, single people are carted off Punta Mita, Mexico, and given just one task: Don't touch each other. This is basically Love Island mixed with a $100,000 celibacy challenge. You're welcome.



Love Island France

Guess what? The French love their reality TV as much as we do. (OK, maybe not as much, but it's close.) And though you've probably seen the original Love Island, we bet you haven't watched the French version, which just began last month. With host Nabilla Benattia, who's basically France's answer to Kim Kardashian, this is a téléréalité not to be missed.


---
Movies
---
The Booksellers
New York City's booksellers are a breed of their own. Unfortunately, they're an endangered species: Nancy Bass Wyden, co-owner of the
Strand
, proclaims in this frolick of a film that there were 368 bookstores in the city in the 1950s, and now there are 79. (Tragically, there will likely be less than that when quarantine ends.) Watch book dealers make the art of the hunt a spectator sport—and, even better,
rent the film from BAM
and support a local Brooklyn cinema. It was supposed to be in theaters now; alas...
Free Solo
We're all so stressed out about, well, reality, that it can be a welcome relief to be engrossed in being stressed out about an alternate reality. Try this nail-biter of a tale about pro rock climber Alex Honnold's attempt to pull off the first free solo climb of El Capitan
'
s nearly 3,000-foot vertical cliff at Yosemite National Park.
Searching for Sugarman
This movie is even better than a whodunit. In one of the greatest music mysteries of all time, two filmmakers investigate whatever happened to a talented US musician known as Rodriguez, who became a sensation in South Africa in the seventies but dropped off the face of the planet. Though some say he died, the filmmakers try to get to the bottom of a tale that is truly stranger than fiction.
---
Books
---
Out of Sheer Rage
Geoff Dyer is always a pleasure to read, though most of his work balance beams between fiction and nonfiction. (He once famously proclaimed, "Fiction, nonfiction, what's the diff?" at a grad school lecture, which was quoted over and over among my fellow classmates to the point where it stopped having any meaning.) This one, though, is straight nonfiction (well, with Dyer, who knows), and it'll have you chuckling with every turn of the page.
Wild
Sure, you might've seen the film, but have you read the book? Wildly talented writer Cheryl Strayed goes deep here, writing about her experiences of walking through her mother's death and the end of her marriage—literally, hiking more than a thousand miles of the Pacific Crest Trail when she was 22.
Lit
Alcoholics have written many memoirs. These pages are enticing to read, because nothing is more interesting than other people's drama. But many of these stories veer into the lurid or quite frankly aren't terribly well written. Mary Karr's memoir of alcoholism, sobriety, and motherhood is beautifully written and will give you a window into someone else's struggles for a few hours.
Photo: Courtesy of GiphyWant more stories like this?
The Shows, Books, and Movies Our Group Chat Is Into Right Now
The Most Amazing Love Stories We're Watching and Reading
21 Funny Shows and Movies to Stream Right Now