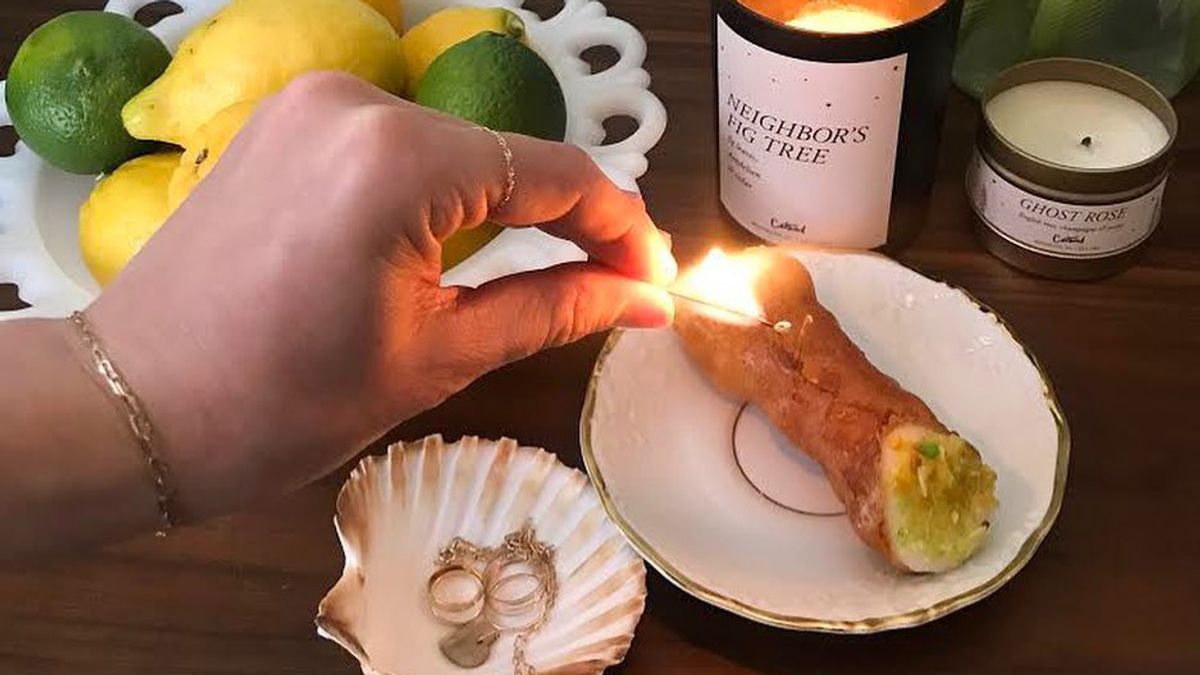 Self Care at Home
How a kitschy pastime has actually become so much more.
It's an odd experience to stare at the same four walls of your apartment each day, unable to leave for anything other than basic necessities. New York is a city that counts the sidewalk as an extension of your living room and the subway as a perfectly acceptable place to catch a 20-minute nap, so by eliminating the possibility of life spilling out your front door, I've had to (like the rest of my fellow Brooklynites) find alternative things to bring me joy. Lately, that has been obsessing over candles that are shaped like food. Allow me to explain.
Back in my pre-quarantine days, I read
an article
about the $90 million Sampuru industry, otherwise known as hyperrealistic plastic food. In Japan, restaurants display these artificial samples in their windows to entice passersby (and non-conversational tourists) to come in and enjoy a meal. But now, as tourism in Japan has exploded exponentially—or at least, it
was
before the pandemic—there has been a surge of interest in collecting these non-edible creations, which can sometimes take an artisan up to a week to craft.
Now, call me crazy, but I genuinely couldn't see the allure of displaying a tray of artificial sushi rolls on your coffee table, no matter how precise the grains of rice. But cut to three weeks ago during one of my endless scrolls through social media, and
an ad for a candle
appeared on my feed. It made sense—my candle collection could be considered by some as slightly over the top. I prefer to qualify it as aggressively enthusiastic. However, this wasn't just any candle. It looked like a sliver of expertly frosted cake topped with an adorable pair of cherries. It took only a few seconds for something within the depths of my lizard brain to cry out,
You need that candle. That candle will make everything better.
Out came my credit card, and a week later it was me who was admiring my faux pastry's lifelike crust, except made out of wax instead of varnished plastic.
But as it often happens with desserts, one measly piece didn't cut it. My current Etsy cart is overflowing with everything from waxy banana splits to jelly donuts, sprinkles and all. There's even a perfectly proportioned bowl of tonkotsu ramen, the meal I miss above all others (and have tried and failed to cook at home) with a wick sticking out of the poached egg. In fact, there are at least a dozen replicas of my favorite meals, all of which I've attempted to recreate myself but never to the same tasty degree as when I visit a restaurant. Coincidence? I'm beginning to doubt it. However, if I decide to actually purchase these faux edibles and scatter them around my apartment, am I resigning myself to the fact that I may never again sit down for table service at my favorite neighborhood Korean spot? Or can I just chalk up my love of these candles to a kitschy hobby, harmless and endearing?
With an untold number of weeks still spent indoors looming over us, I'm realizing how much I miss not only fun social gatherings with my friends, but even the mundane interactions that used to annoy me. Errands like running to the bank for quarters or picking up a prescription at the pharmacy are now borderline exotic, even though they require you to all but bathe in Purell once you're finished. Truth be told, I'm afraid I've reached a point at which I truly don't know if or when this "new normal" can give way to the old one, when a casual hug wasn't cause for alarm. Essentially, as my anxiety grows, so too does my need for candles that look like a bowl of spaghetti and meatballs or a frosty beer stein.
Although I realize that wax replicas of my favorite foods are a poor substitute, I'll gladly accept the stand-in if it means that the world as we know it will eventually resume. By doing nothing except watching them melt into unrecognizable puddles, I'm making the possibility of renewal ever more likely, when all of those delicious in-person events like attending a baseball game, your best friend's birthday party, and yes, eating at a restaurant, will no longer be relics of some bygone era, but just another part of an unremarkable and yet impossibly beautiful day. Seeing these candles on my shelves and coffee table only helps to remind me of that. So until that glorious day arrives, I'll be here, surrounded by a burning four-course dinner, anxiously awaiting the real thing.
---
Catbird
Janie Korn
AJ the Candle Chef
Japan Trend Shop
Japan Trend Shop
AJ the Candle Chef
We Wick Designs
Japan Trend Shop
Living Tree Candles
Yanas Candle Bar
Living Tree Candles