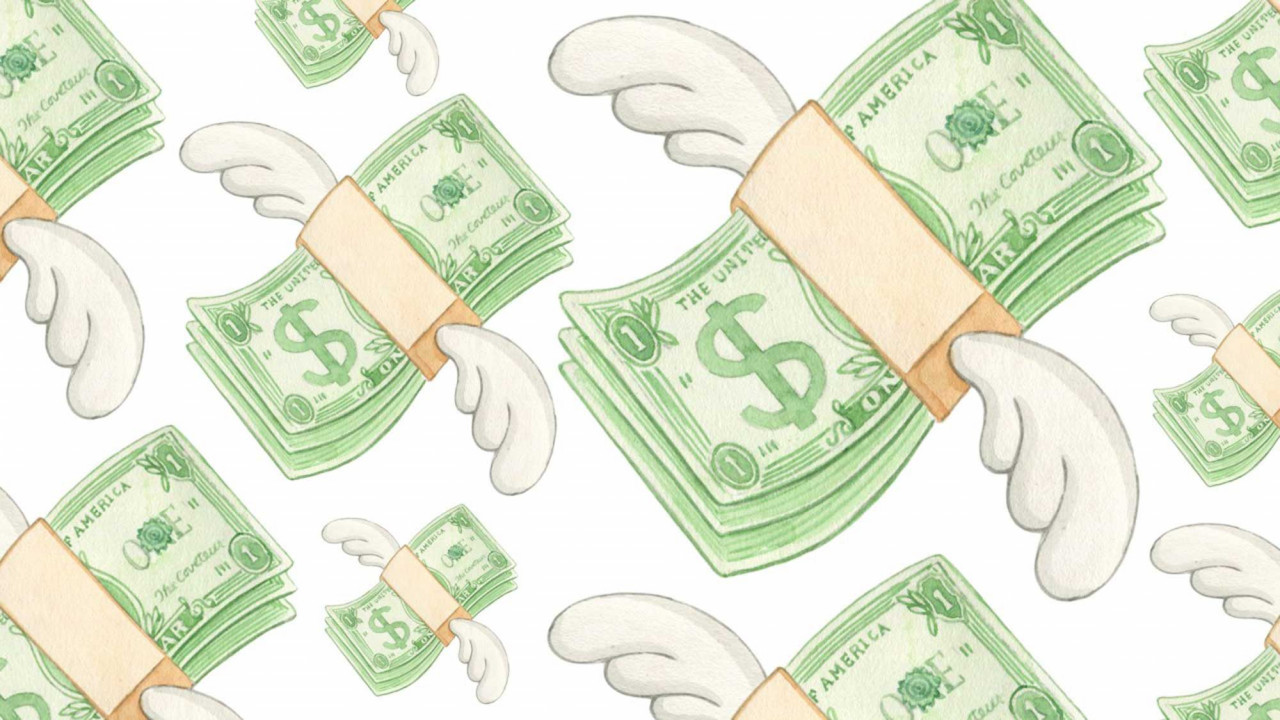 So What Should We Be Doing about Money Right Now?
A financial expert answers your quarantine $$$ questions.
We're all just kind of fumbling around in the dark at the moment, trying to find our way. It seems like every day there's a new situation we never envisioned ourselves to be in, but here we are: Lysoling groceries. Wearing a face mask just to leave our apartment buildings. Waving to parents and friends from 10 feet away.
This applies also to money, that ever-elusive and mysterious phenomenon that no one ever talks about, yet we all have (to greater or lesser degrees). Finances are always tricky—but in this time when we have to get expert opinions just to properly disinfect Amazon packages, what should we be doing to budget, economize, and get smart about weathering this time?
We tapped Kenneth Lin, founder and CEO of Credit Karma, to shed a little light on the situation. First and foremost, he told us that if you're concerned about money and budgeting right now, reality is the watchword. "Everyone's financial situation is different, and it's important to make a realistic plan for your money so that you don't put yourself in financial jeopardy," he told us.
If you don't already have a budget, it's a good idea to begin with an audit of your nonnegotiable expenses. "Start by auditing your current and projected expenses, and create a budget you are willing to stick to," Lin says. "Given the uncertainty around how long the coronavirus pandemic will last, map out your projected expenses over the next three, six, and nine months, which will help you start to budget and save appropriately."
Once your budget is in the bag, it's time to economize. "Now more than ever, Americans need to be extremely diligent with their money, prioritizing the things that matter most, like rent and other necessities," Lin says. Of course, the first things to go are the fun ones.
"Look for ways to cut down on unnecessary expenses," he suggests. "Consider cutting inessential costs, such as autopay subscriptions, and monitor your essential spending—like grocery and utility bills—on a more frequent basis so you can stick to your budget."
It's not a bad tip. When quarantine began, I paused my membership at my favorite Pilates studio, New York Pilates (sob), and canceled my monthly auto-renewal at Pressed Juicery. One large expense and one small, but both worthy. As much as I'd love to support NYP while quarantine rages, I can't justify the expense (though I will definitely be paying for their online classes when "NYP World" launches). And as much as I love getting Pressed discounts, I'm not popping in for a quick Freeze or juice regularly, so that monthly fee will have to wait.
The real question is: How can we get smart about withstanding this time financially? Other than that strict budget, Lin suggests you do a little research. "There may be forms of relief available to you," he says. "The spread of the coronavirus across the US has led federal, state, and local governments to enact a number of emergency relief measures."
So poke around the internet. You could try the Artist Relief Fund or look into coronavirus small business loans and debt relief options, but those are just two ideas out of hundreds. There's help out there if you need it, but it might take some work to track it down—and there is a lot of competition.
Above all, Lin's best piece of advice for all of us is simple: "Right now, cash is king," he says. "That means it's important to preserve the cash you have now. For example, if you expect to receive a stimulus check from the government as a result of the CARES Act, consider putting that money into savings so you have that cash when you need it."
We would be remiss to discuss finances without mentioning taxes, especially so close to the day formerly known as Tax Day (now just known as April 15). We have until July 15 to file this year, though you don't have to wait if you don't need to. "Despite the extension to July 15, we encourage people to file and pay their taxes as soon as they're able," Lin says.
The reason, of course, boils down to cash money. "If you expect a refund, the sooner you file, the sooner you should get your refund," he says. "For many Americans, their tax refund is their biggest paycheck of the year."
If that happens to be true for you, don't spend it all in one place. "Set aside as much of it as you can," he says. "This will help bolster your savings quickly and help ensure you have money when you need it."
You don't have to do anything if you do opt to cool your heels until July 15. "There's no need to notify the IRS or fill out any additional forms to qualify for the coronavirus-related tax filing and payment relief," Lin says.
For those of us who plan to wait a few months to file, Lin has a bit of advice: "Make sure you have a plan for how you're going to pay your tax bill when the new deadline comes around," he suggests. "Start setting aside cash now, so when the new deadline approaches, you'll be ready to pay."
If you're struggling with money right now, you're not alone. It's a scary time for many of us, and with unemployment surging, it can feel cruel to even discuss finances. But it's important to stay ahead of the fear and anxiety around money—and though talking about it doesn't solve financial issues, it's a start.
Reach out and talk to a trusted friend, family member, or mental health professional if you're feeling overwhelmed about your finances. You just might find that you help someone else by talking about your own problems. And when all else fails, don't forget Lin's recommendation: Make a budget. It's a good exercise, and it's calming—and empowering—to see everything in black and white.
Want more stories like this?
Podcast: Checking In with June Ambrose
Need a Distraction? The Best Shows, Movies, and Books to Delve Into
Friends of Coveteur on What They're Doing to Take Care of Themselves Right Now