WWWRN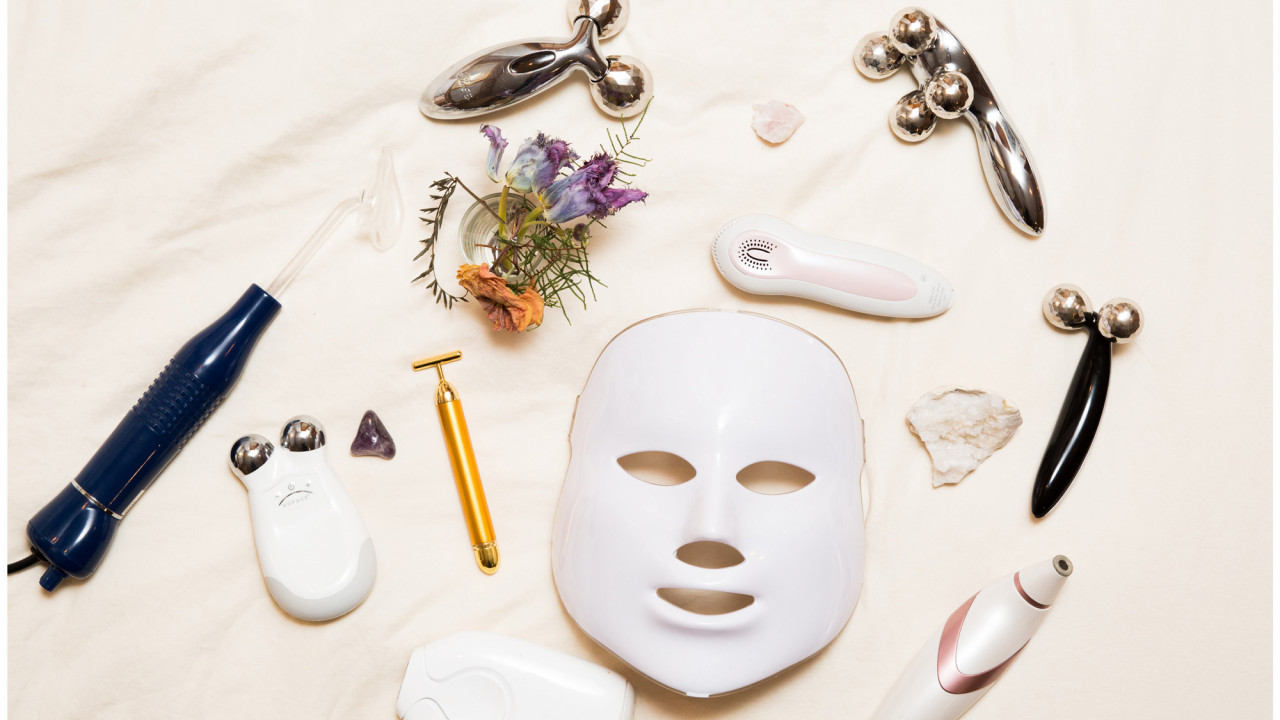 Face Tools Our Editors Swear By for Gorgeous Skin
Stay at home and baby your skin to perfection.
At-home facials and skin care are one of the bright spots of staying home right now, making it a good time to reveal team Coveteur's favorite beauty tools. Some of us love a battery-powered gadget that zaps away at our skin (painlessly, for the most part), while others prefer a manual face massage with the help of a jade or stone roller. This editor is partial to the humble suction cup. All of that and more in our picks for the best face tools below.
---
Hannah Baxter
Senior Beauty Editor
1. Herbivore Rose Quartz Gua Sha: I'm as happy as the next person to invest in all kinds of beauty gadgets and gizmos, but my hands-down favorite beauty tool of all time is a gua sha stone. I have about five in my apartment at any given time, and this Herbivore rose quartz version is one of my go-tos for a super-detailed facial massage. I use the pointed part to target my eyes, which tend to get super puffy (even more so courtesy of all the wine I'm consuming lately) and then go over my jaw and cheekbones with the ridged part to promote lymphatic drainage. Just pair it with your favorite oil cleanser to get adequate slip over your skin.
2. Skin Gym Face Sculptor: As I begin to layer my serums in the morning or at night, I always use a face roller to help push the product into my skin and relax my muscles. It helps give your complexion a sculpted look and encourages any lingering fluid beneath the skin to drain. The one I currently use I bought in Korea, but this one from Skin Gym is a great alternative.
3. Lure Glam Facial Cupping Set: Taylor Worden alerted me to the process of facial cupping, and I find it incredibly soothing. I use my favorite face oil, the larger cups along my cheeks, and the smaller ones around my eyes. They lift the skin and draw more blood and oxygen to your face so you look brighter, more lifted, and less puffy. They're also the funnest of any beauty tools I own.
---
Jessica Teves
Head of Content
1. Microderm Glo Diamond Microdermabrasion Machine: If I can't schedule a monthly facial, I turn to this at-home microdermabrasion tool for its ease of use and always-on-point deep exfoliation of my skin.
2. Purelift Pro: Words cannot even begin to describe how much I love this tool. I try to use it daily and will always be in awe of how much it lifts and tightens the skin. Pro Tip: If you run out of microcurrent gel, just liberally spray your face with face mist, and it works equally well.
3. LightStim: Another tool in my daily rotation that really helps with my hyperpigmentation and overall skin brightening. Definitely not the strongest machine on the market, but I like how handy this one is so I can work or watch TV while using it.
---
Taylor Ford
Head of Social Media
1. Georgia Louise Lift+Sculpt Butterfly Stone: Scary times or not, I love watching ASMR videos in bed to fall asleep, especially ones with face massage or Gua Sha (shout out, itsblitzzz!) and try to do it along on myself. The Georgia Louise Butterfly stone is my favorite; though not a traditional stone shape, the butterfly wings contour around my jaw and cheekbones and help detox at the end of the day.
2. Clarisonic Mia Smart Anti Aging and Cleansing Skincare Device: Waking up, I am typically rushing out the door, but now I have enough time to track the allotted amount of time you're supposed to use your Clarisonic on all four quadrants of your face with the app to track it. It's basically my new step counter.
3. Crystal Clear The Wand: Since I'm home all day in my old East Village apartment, y'know, my brutal radiator dries out my skin quite easily. But with the freedom of working right next to my own bathroom, I'll pop in and do a quick hydration sesh, with a grand finale using the Wand, a vibrating roller that dispenses hyaluronic acid. Gotta keep that skin glowing for the Zoom chats!
---
Isabella Sarlija
Editorial Beauty Fellow
1. Mount Lai The Depuffing Rose Quartz Eye Massage Tool: During these times where I'm living my life *mostly* sans makeup, I've been delving into the tools part of my beauty collection a ton. I like to start my mornings with this massage tool for sculpting and therapeutic lymphatic drainage around my eyes.
2. StackedSkincare Dermaplaning Exfoliation Tool: I'm going to come clean and say it: I have been shaving my face for years. No, hair does not grow back darker, and yes, my skin feels super smooth and dewy after I'm done. When it's time for me to shave, or rather, dermaplane, I use this tool about once every two to three weeks. It does a great job of sloughing dead skin cells from the surface of my skin without causing much irritation.
3. BeautyBio GloPRO Facial Microneedling Tool: Another gadget I've been religiously touching to my face is the BeautyBio GloPRO Microneedling tool. The GloPRO creates tiny pockets in the surface of the skin that allows for it to absorb more skin care. Plus, it stimulates collagen production as it forces the skin to produce new cells.
---
Annie O'Conor
Audience Development Manager
1. QuasarMD Baby Quasar BLUE: If I had to name a "problem area," I'd say mine is my skin. Anything I can do to help in the right direction is a must. This wand is an LED light that works like magic. The blue light destroys bacteria and reduces acne-prone areas. And it's also travel-sized!
2. Kitsch Cleanse Ritual Ice Roller: My face tends to swell easily, whether it be from too much sodium or from my nagging sinuses. I love this cooling roller to help calm any inflammation and depuff in the morning.
3. Jillian Dempsey Gold Sculpting Bar: While the gold bar may have already had its 15 minutes of fame, it remains a staple in my face routine. I use the tool for 10 to 15 minutes every day, hoping to ultimately achieve the elusive anti-aging result.
---
Jodi Taylor
Editor
1. Dr. Dennis Gross Skincare Pro Facial Steamer: I've owned this steamer for more than two years now, and it's always, without fail, my first step in any of my masking routines. After a cleanse, it opens up my pores so that they're clean and ready for whatever detoxifying or hydrating mask I decide to slap on. I tend to up my usage of it in the winter when my skin becomes dry and dull. 10/10 would recommend this product.
2. Herbivore Jade Facial Roller: Basic yet effective. I store my jade roller in my fridge, using it every. single. morning—after I hop out of the shower and before I apply my serum. I swear I can see the difference it's making, especially on the days where I consumed a little too much sugar and/or alcohol the night before.
3. Sigma Foundation Brush: One of the best pieces of advice I've ever received when it comes to skin care was to use a foundation brush when applying face masks. They help to apply the product evenly and save you from transferring the oils from your fingers to your face. Not only that, but it gives you a spa-like feel at home.
Want more stories like this?
8 Face Masks You Can Marinate In All Day Long
The Best Bronzers for Faking a Sun-Kissed Glow
The New Clean Beauty Brands We Can't Stop Talking About
Part of the series:
WWWRN