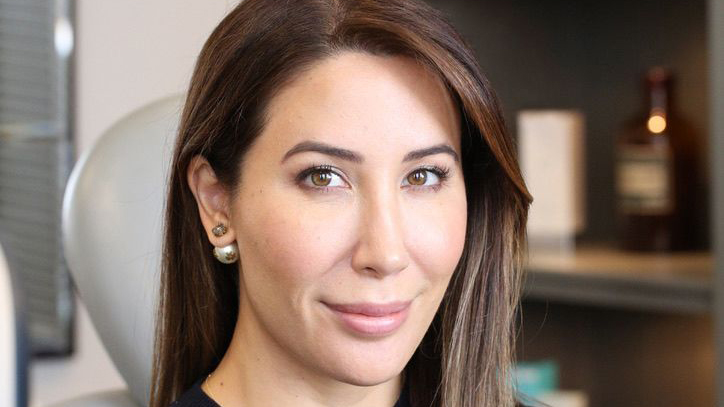 Healthy Aging Secrets from Celebrity Skin Guru Lisa Goodman
Goodskin founder Lisa Goodman shares her healthy aging wellness secrets.
"I am not against aging, wrinkles, or developing other 'signs of my life,'" says Lisa Goodman. That may sound surprising coming from a doctor whose bi-coastal practice, Goodskin, has become a go-to source for those seeking a more youthful countenance. But, as Goodman's patients know, her approach is less about quick cosmetic fixes and more about creating a long-term strategy—and that includes taking into account everything from lifestyle to genetics to scientific research in order to accomplish far-reaching skin maintenance goals. "We embrace the phrase 'healthy aging' at the GoodSkin office," she says. "There are five parts that contribute to facial aging: bone, muscle, skin, fat, and fascia; skin is only one part. If you pick a treatment based on one part alone, it can be money poorly spent. You should only decide on treatments following a proper diagnosis in order to actually address the problems that are unique to your individual aging process."
For Goodman, that could mean prescribing everything from tightening lasers to botox to injectable fillers (one of her signature techniques is called "tacking," which lifts the face by using a blunt-tipped microneedle to inject hyaluronic filler for a more natural look), but it might also mean simply advising a patient to be more mindful of how repetitive, stress-induced clenching of the jaw or nighttime teeth grinding can cause neck muscles to tighten, leading to jowling over time. "Mental health and stress can have a profound effect on how we age," explains Goodman. "Personally, I find that breathing therapy throughout the day works for me, and I can do it anywhere. This allows me to check in with my body and make sure I am not in a state of stress."
To that end, Goodman says there is another thing that could, somewhat counterintuitively, be contributing to visual signs of aging: over-exercising. "More antioxidants and less stress slows the aging process down. Light exercise is one of the first places to start; over-exercising can actually increase cortisol and have an opposing effect on body health." In fact, Goodman says that when she replaced her once-a-day, intense exercise routine with slower, less frequent workouts, it made a noticeable impact on her looks—especially in terms of helping to eliminate one dreaded, telltale sign of aging. "Over-exercising was making my under-eyes dark. I've found that now my overall face looks less tired, and I have a calmer state of mind."
Below, Goodman shares a few more of her favorite healthy aging secrets—including the supplements and diet she follows to keep her skin glowing.
Her healthy-aging eating plan:
"I try to eat protein at every meal and opt for organic, unprocessed foods; I follow a loose paleo diet of some protein and greens at every meal. I focus on high antioxidants and less sugar. I have to enjoy what I am eating, so I generally eat by color: bright greens and naturally vivid hues are a signal of generally healthy food.
"I always start my day with matcha with oat milk. If I have coffee with oat milk, I balance the acid with cottage cheese with berries or an egg with toast and butter.
"For lunch, a typical meal consists of a turkey burger with a half-sprouted bun or something similar—I always do a protein and some kind of healthy carb.
"For dinner, I eat a similar type of meal with a little treat, like a full-fat yogurt, glass of wine, or popcorn."
Her favorite healthy snack for busy days:
"We carry Kind Bars in my office. I'm a fan of the dark chocolate, nut, and sea-salt flavor, so if I can't make a meal or have to work through lunch, I eat one of those. But, generally, I don't snack."
Her go-to healthy cooking hack:
"When I lived in France, I learned how to make the classic French salad dressing, which can make a lot of greens taste delicious, so I can pull that together pretty quickly! All you need is dijon, olive oil, vinegar, salt and pepper. I make this a lot, and then balance the salad with my favorite yogurt or popcorn for a treat."
On how living in France changed her attitude towards food:
"I really got accustomed to not snacking while living in France, aiming to eat real food that tasted good, but less of it. For example, I love eggs mollet, which is French for a soft-boiled egg, alongside a tiny piece of toast with a small amount of real butter. The French really don't snack, with the exception of an afternoon pastry; that style helped me to prioritize regular meals and conscious eating. This works for me, and I find my mental health is better because I don't stress about what I'm eating—it always tastes simple and good."
The supplements she recommends:
"I take digestive enzymes, probiotics, greens, and ashwagandha twice per day, and a GABA supplement at night. Vitamin IVs with a high-dose antioxidant is something I do for my body health when I am feeling run down and can't exercise. I recommend that patients source out a clinic that discloses where they source their vitamins."
The book she recommends to manage stress:
"My psychologist, Dr. Stephen Poulter, wrote a wonderful book called The Shame Factor. Just reading a page or two and sitting with my own body has helped me to manage stress and think more about my daily interactions. This of course influences my breathing, then my health, then my skin, and finally healthy aging. As I reflect on this, I am remembering to do some belly breathing and slow down my mind!"