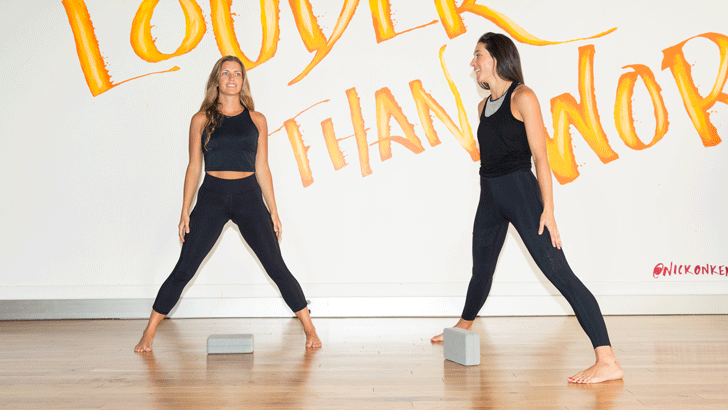 Fitness
If the cult following for the recovery studios is any indication, then yes.
Seemingly overnight, they've been popping up in neighborhoods across New York. No, not more SoulCycles—there's a new cult favorite in town: stretching studios. A spa/boutique fitness studio hybrid, these recovery studios are here to answer the age-old question Are you properly stretching? and show you how to do it right, all with the guidance of pros who get you to release your muscles in the right ways. We spoke to Amanda Freeman, founder and CEO of Stretch*d, to find out what all the hype is about and rounded up a few of our fave spots to check out now.
 

What are the benefits of guided stretches?
"The benefits of one-on-one assisted stretching are vast and include faster recovery, improved performance, increased flexibility, injury prevention, pain reduction, and de-stressing." 
How does going to a stretch studio differ from stretching at home?
"As we say: Why stretch yourself when we can do it for you? Assisted stretch is far superior to a self-stretch because it enables a deeper, more effective stretch. A stretch professional can safely get you into positions that you couldn
'
t get into yourself." 
What can you expect in your first session?
"At Stretch*d, you choose the length of your stretch (25, 55, or 70 minutes) and the areas of focus, as well as any injuries or limitations. From there, you can expect to relax and enjoy being guided into safe but deep stretches that allow your muscles to elongate in a pain-free way. Stretch*rs use a belt to provide them with enhanced leverage and isolate the muscles being worked, so your stretch can be as deep and effective as possible." 
---
Our Favorite Studios:
---
Amanda Freeman already found fitness success with the megaformer (Pilates-meets-cardio) method at SLT. Now she's segued into recovery with her newest venture, Stretch*d, that helps with another integral part of a wellness routine: recovery. 
Offering 30-minute or 60-minute sessions, LYMBR's Stretch Therapists will guide you to better flexibility and loosen tight muscles. 
Unlike other stretching studios, Outer Reach offers group sessions that max out at 12 people. 
SM Stretching is the brainchild of champion gymnast 
Samira Mustafaev
a, who pairs stretching techniques with barre. While her permanent home is in L.A., SM Stretching often holds pop-ups in New York. 
Want more stories like this?
How to Make Wellness a Priority at Work
Is a "Finisher" the Key to a Better Workout?
8 Ab Exercises That Are Better Than Sit-Ups