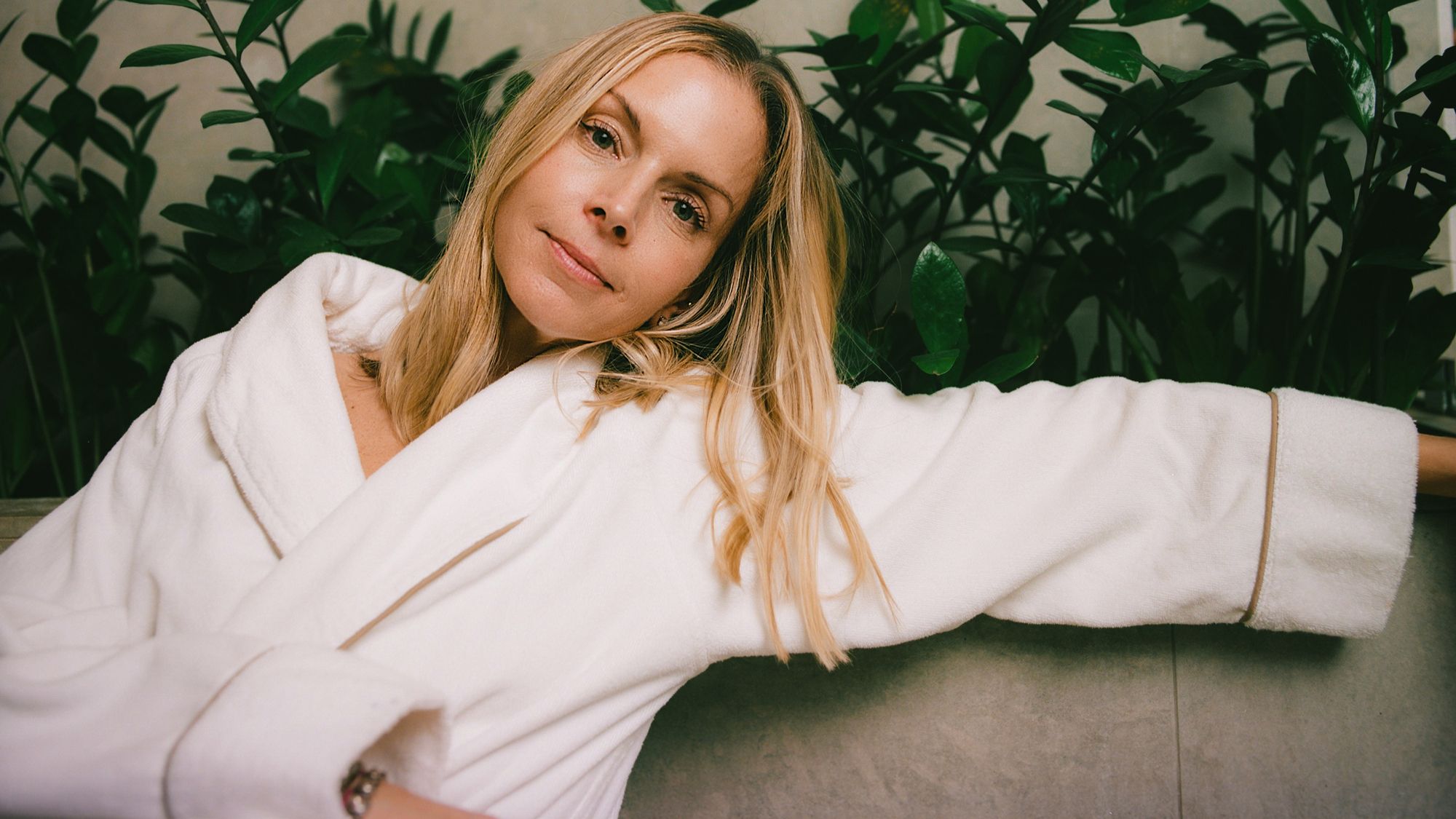 Makeup
La Ligne's Meredith Melling always turns to her hero beauty product to make it through the day (plus a seriously thorough to-do list). In collaboration with Laura Mercier.
If you're looking for someone to emulate when it comes to the whole quitting-your-corporate-gig-and-diving-into-your-own-venture thing, Meredith Melling is pretty much
it
. She was with
Vogue
for 16 years before departing to cofound
La Ligne
, a line of elevated women's basics, aka the kind of clothes you actually want to reach for in the morning.
The occasional struggles of entrepreneurial and start-up life are well documented, but Melling manages to make it look both effortless and stylish while still keeping it real about what it really takes to succeed. And at this point in her career, she's learned to embrace products that actually make her life easier, meaning she can run between her NoHo apartment with her four adorable kids and La Ligne's offices without adding anything else to her incredibly long to-do list. That includes everything from a salty, CBD-infused bath at the end of the day, to her long-standing beauty hero, the Laura Mercier Translucent Loose Setting Powder. It's the perfect thing for setting your makeup and keeping unwanted shine at bay, whether you're a tinted-moisturizer girl or a fan of the full face beat—especially when you factor in the product's 12-hour wear.
From her early mornings (usually at
Tracy Anderson
), to putting out fires around the brand's offices, to what's next for La Ligne, this is how Melling manages to get it all done.
---
What an "average" day means:
"Every day looks different, but there's a pattern. Usually the household is up at 6:30 AM. There's no need to set my phone alarm because I have plenty of children to wake us up. I work on getting them dressed and getting them started with breakfast. I have a babysitter that's there in the morning who helps. My husband finishes breakfast with them and takes them to school, while I work out.
"I go to Tracy Anderson. I love the sweat, the music, everything. I come back home, quickly shower, turn back around, and take the 6 down to Canal Street. Then I get a coffee at Office Coffee in the Canal Street Market. Our office day starts at 10:00 AM and usually goes until 7:00 PM.
"That could include a multitude of things, whether it's fittings, team meetings, digital advertising calls, or campaign planning. Once a week I go up to the store and spend some time with our sales associates while our customers are shopping.
"At the end of the day, I like to put my kids to bed, and then if I have to go out [at night], I'll usually do a quick outfit change. Any excuse to wear another La Ligne outfit!"
What her daily beauty routine looks like:
"I'm a very minimal makeup person. I don't tend to wear a lot of makeup, but I do love that finishing touch. I do moisturizer, a little bit of under-eye concealer, and that little bit of powder to make me feel more polished before I go out the door. I love Laura Mercier's Translucent Loose Setting Powder because it's so light and doesn't settle into fine lines. It gives a finished look that's not too matte, which I love."
Shop the Story
Laura Mercier
Laura Mercier
What it was like going from employee to founder with her brand, La Ligne:
"Transitioning from full-time employee to founder was definitely a shock at first. I was at Vogue for 16 years. When La Ligne first started, it was all out of my living room, so the biggest change was that there was not a lot of work-life separation.
"The second biggest shock was that there's no tech support [laughs], so anything that went wrong was on us to fix or queue up at the Apple store."
What inspired the line:
"With La Ligne, my cofounders and I were coming to a point in our lives where we were really looking for a uniform and to not be on that hamster wheel of new trends, like 'got to have it, got to wear it, now I'm over it.' We wanted things we could wear day in and day out with a bit of playfulness."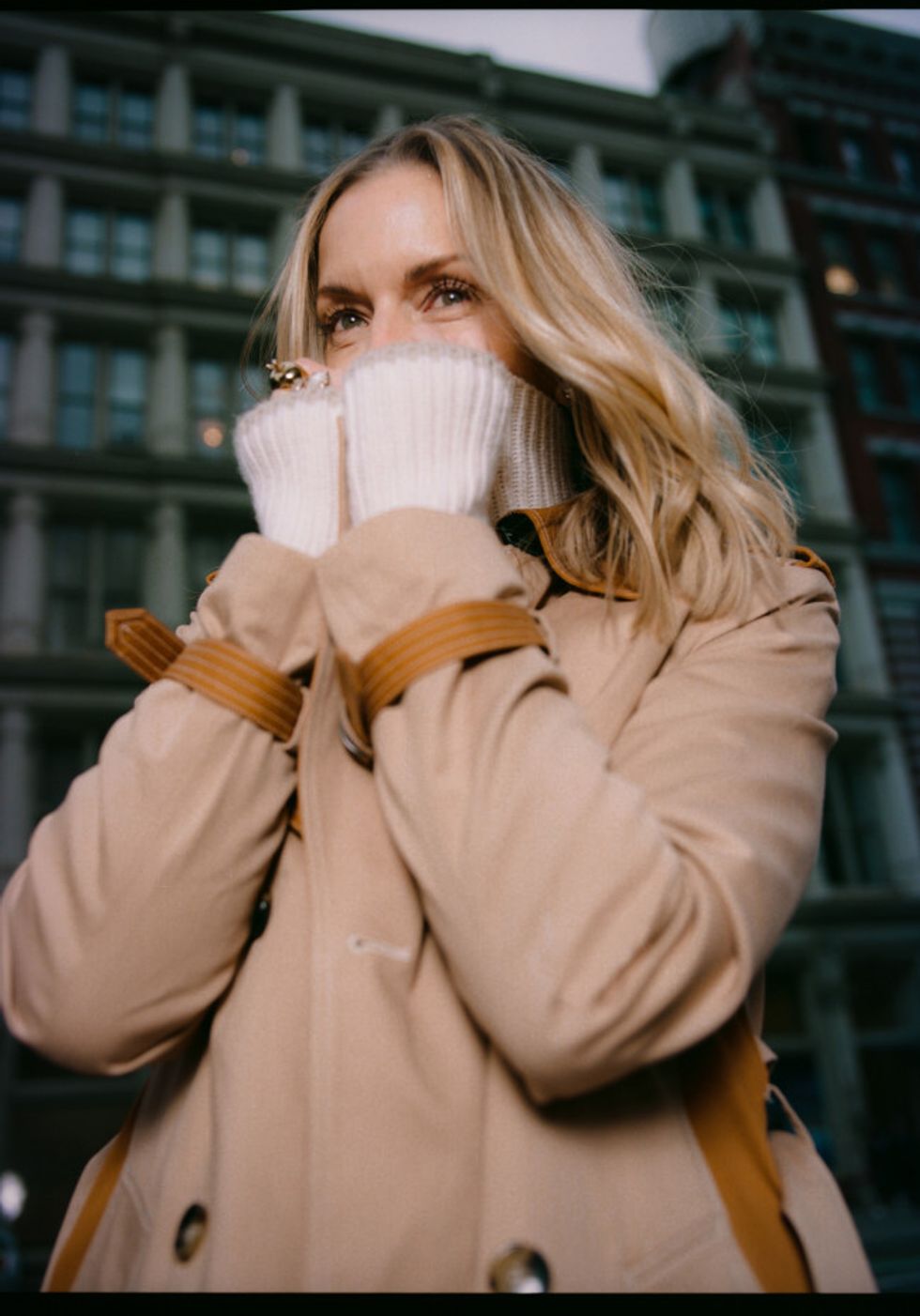 What she loves about start-up life:
"I loved working at Vogue, and I was really worried it was going to be this big letdown afterwards. How could anything compare to how invigorating that environment was? But it was also so energizing to be running a start-up, figuring everything out on your own, and being the final say."
Shop the Story
Laura Mercier
Laura Mercier
How she keeps her cool at work:
"As cofounder, it's necessary for me to remain calm [when something comes up]. In the moment, it's really about taking stock. Sometimes I'll just step out and make a quick call or meet with my cofounders at a coffee shop.
"To reset myself or ground myself, when I come home, I love to take a bath with lots of CBD oils and salts. I don't bring my phone or read; I just kind of…be, especially if it's been a long day."
How she manages to stay on top of it all:
"I'm a list person. I have a written list in a notebook, but also in the Notes app on my phone. It's pretty much my primary way of staying organized."
What she reminds herself of at the end of the day:
"I never get through my list [laughs]. I just re-prioritize my list. I've realized there are so many reasons to be proud of yourself on a day-to-day basis for what you're doing. Punishing ourselves for these small things takes its toll. I make an effort to practice self-forgiveness. Nothing's ever going to be perfect, so we're just going to go with perfectly imperfect."
What's next for La Ligne:
"It's an exciting year for La Ligne! We opened our first store last year, in Manhattan. It's been great for the brand to have that brick-and-mortar experience, and that physical touch point for our customers, so we're looking to open several new stores. We're in talks with a bunch of different markets."