Beauty
The badass pooches of the Westminster Kennel Club Dog Show are as glamorous as it gets. We went behind the scenes.
Tim Buol
Her hair whips back, seemingly in slow motion, as she floats by. It sparkles in the light, and it makes you want (nay, need) to know what she's doing for that glossy 'do. She also swears by her 10-step morning beauty routine, which rivals that of the most dedicated beauty influencers. She also gets a mani-pedi combo weekly. Bare, buffed nails, in case you're wondering. In the words of Fergie, she's glamorous. She's also a border collie.

We're at the Westminster Kennel Club Dog Show, and the shearing scissors and hair mists are flying, primping and prepping for the top prize: Best in Show. It's fluffy, adorable chaos in the most wonderful way. And none other than the voice of the show herself, professional dog handler and Fox Sports Dog Show Analyst Gail Miller Bisher, took us behind the scenes for all the backstage beauty action and gave us a peek into the secretive grooming routines of the world's most fabulous canines.


---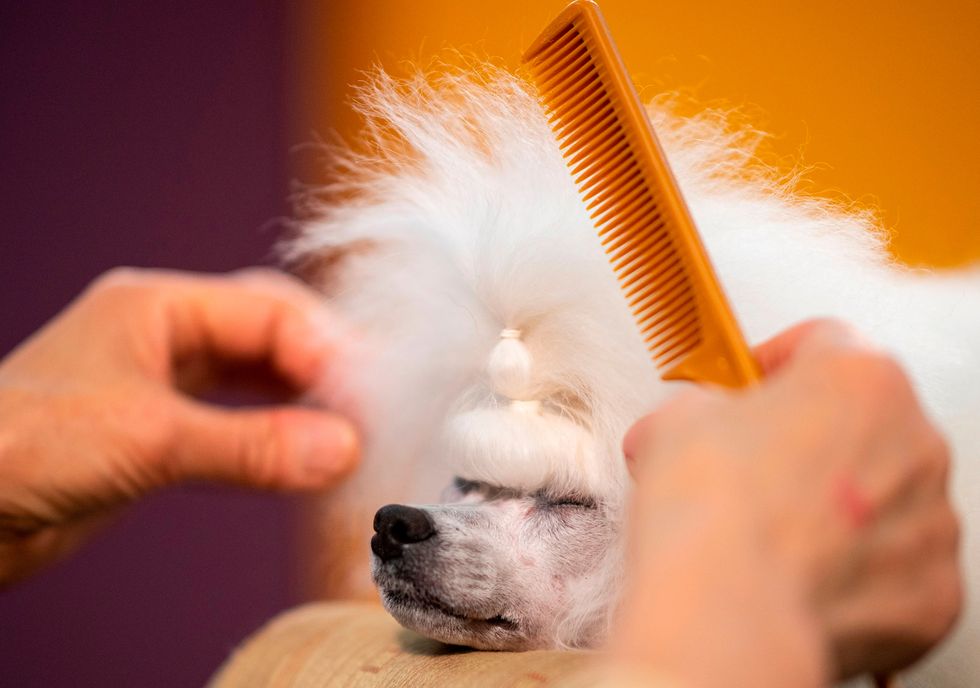 Photo: Getty
What is the typical grooming routine for the dogs of the show?

"With 205 breeds and varieties at our show, there are a lot of different grooming routines and rituals. And one thing to note is by the time the dogs get to Westminster, they're the top of their game. So if you're growing coat or you're trying to create a harsher coat and have to strip it—all that work is done years, months in advance. Making sure your dog's coat is at its prime when you get here is dedication. It's using the right products; it's grooming them properly every few days, if not daily; it's also great nutrition. You have to have really high-quality food so the dog's skin and hair is healthy."

How often are they getting shampooed?

"Of course, it depends on if it's a short-coated breed or a very heavily coated breed. And then it also depends on the texture of the coat, because some of the heavier coats are all coarser texture, and some are very fine and soft.

"If it's a softer coat, those dogs are most likely being bathed every few days and blown out. The products that are being used are gentle on the skin and coat. Oftentimes, handlers and owners will dilute the product just to make sure that it doesn't damage the coat, because coat care is very important in the show ring."

How do they keep their fur in place between showings?

"Once the dog stops showing, you can always clip that off. We put the dog in what we call pajama clip [laughs], so then they're a little more active and don't have to worry about knotting up their fur anymore."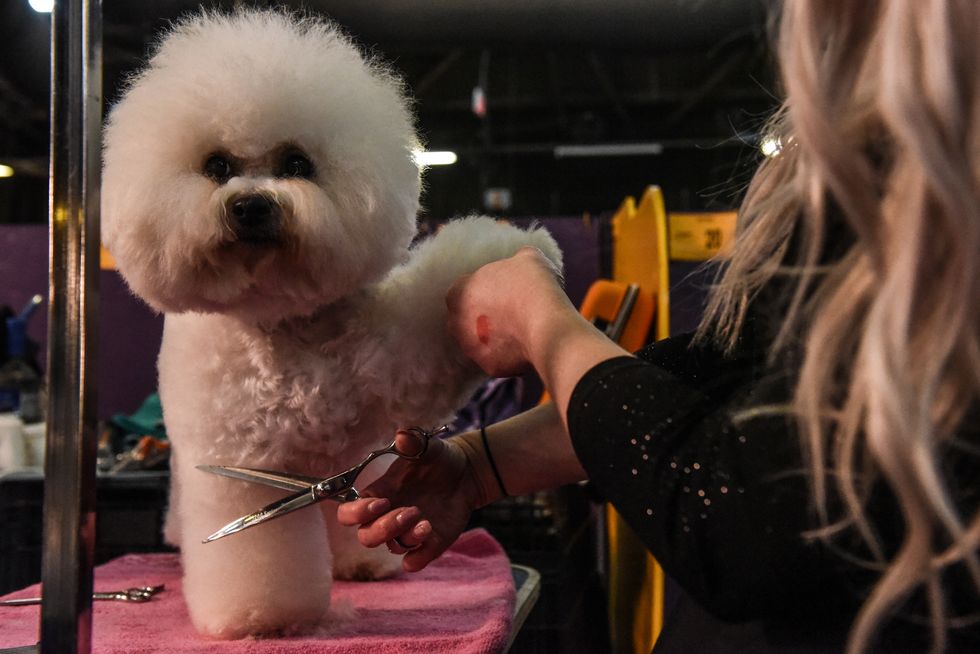 Photo: Getty
What's in a Best-in-Show dog's beauty kit?
"You can walk up and down the benching area at Westminster and look at all the different grooming kits—we call them tech boxes—and you're going to find a few of the same things. There are so many different kinds of pin brushes and and bristle brushes, depending on what your coat needs are. You'll often find combs, you'll find things to do nails and teeth—you might have to do a last-minute nail or teeth cleaning. That's generally something you do in advance, but you have to have everything with you, just in case. You'll find Band-Aids, you'll find water bottles, you'll find coat texturizers, you'll find things to help whiten coats or things to enhance, if you have a rust-color dog or if you have a black dog. There are different things that are used to make that coat really shine and make it look the healthiest as it can be when you're in the ring.
"Blue shampoo is something that is used [often]; it's a waterless shampoo. It's very easy to use in case there's an accident or something."
What are some of the beauty rules or secrets?
"Handlers can be protective about their special secrets that they have with their dogs because, of course, this is a competition. Everyone is here because they want to win. But generally, they have to follow the breed standard. The written standard for each breed goes in detail about the grooming and how the dogs are supposed to appear, their features. And so every handler is really adhering to that written standard. So you can't just do whatever you think is cute. You have to follow that blueprint and make sure you're making your dog look like the breed is supposed to be.
"For example, a wire fox terrier is supposed to have a beard that comes forward and is brushed forward. And so the handlers will make sure that that dog's hair isn't sticking out. So they'll probably blow-dry it to go that direction. They might put a little bit of pomade or something that just kind of keeps it going in that direction. You don't want heavy products on your dog when you go in the ring. That's not the goal here. They need to look natural and look like the breed."
Photos: Getty
Want more stories like this?
The Best Beauty Trends of NYFW: Juicy Red Lips
We're Calling It: Homebody Style Is the Next Big Thing
The Unlikely Winner of the Oscars Red Carpet: Brad Pitt's Hair