WWWRN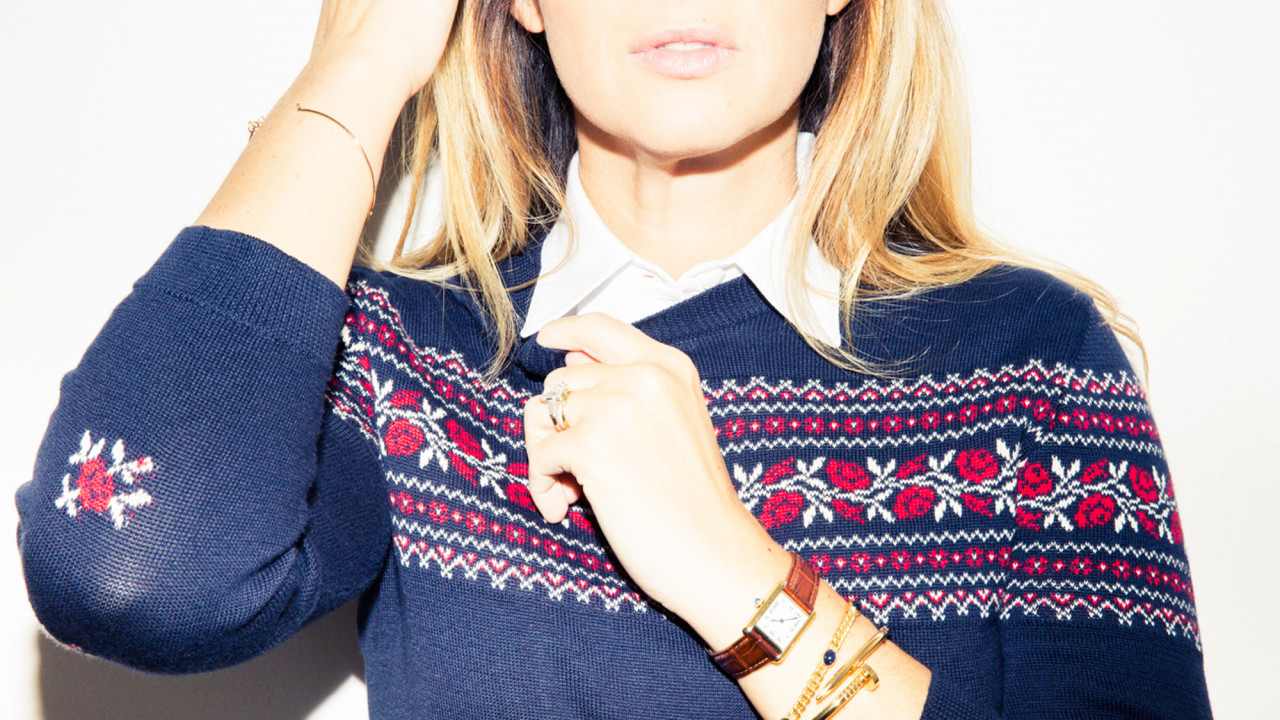 Sweater Weather Is Upon Us—Shop Our Editors' Favorites
Be cozy *and* fashionable.
We don't know about you guys, but at Cov HQ, we're always on the hunt for new sweaters because, well, one can never have too many when living on the east coast. And we're not talking about your everyday black sweater here (as much as we love those)—we're looking for the brightly-colored pieces that have every other person asking you, "Hey, where did you get that sweater from?" And so, without further ado, all of the sweaters our editors are currently shopping.
---
Leah Faye Cooper
Editorial Director
1. Stine Goya Gio Mélange Cable-knit Sweater: Can a sweater be sophisticated without looking totally dull? According to this beauty, yes! I'm picturing myself wearing this, high-waisted jeans, and a block-heeled boot—the perfect winter look.
2. Oak + Fort Textured Sweatshirt: I happen to be wearing this sweater as I type, and I imagine this is what it feels like to be wrapped in a cloud. (An incredibly soft and fun cloud, of course.) I may never take it off.
3. Lirika Matoshi Clouds Knit Sweater: I fell in love with this brand for their ethereal tulle dresses, having no idea that they were also making some of the season's best sweaters. Given that I don't do basic or boring, this is very, very me.
---
Jodi Taylor
Editor
1. Awake x Carhartt WIP Classic Sweatshirt: I'm always kicking myself for liking hype pieces. Not because I don't think they're incredible, but because I'm always shelling out extra money to buy them on resale sites if I miss the drop or am unlucky with it. Such is the case for this cobalt-blue sweater from this month's Carhartt WIP and Awake collaboration, but the sweater is too good for me to pass up.
2. Rosie Assoulin Thousand-in-One Ways Wool-Cotton Sweater: True to its name, this sweater can be worn in a variety of different ways from an actual sweater to a long sleeve, a crop top, or an off-the-shoulder top. I've truly never been so blown away by a piece of knitwear. Gimme.
3. LHLL Cobain Crew Remastered: I'm a huge, huge fan of crewnecks. And plain ones at that. They're the perfect match for a pair of cargo pants or track pants, and this crewneck sweater is exactly what I have been looking for. The color is super hard to come by, so I am running, not walking, to the checkout with this one.
---
Gabby Sgherri
Editorial Intern
1. Danielle Guizio Knit Cropped Cardigan: I love the color of this cardigan, it reminds me of a teddy bear. It's perfect for layering during these cold months or wearing alone as a top (if you're brave like me) with a pair of vintage denim jeans, and voilà, your next cute work-to-drinks outfit.
2. Stussy Color Block Sherpa: This fleece is everything I need in my life. It's warm and fuzzy but oh-so-interesting thanks to the color-block component and would be a statement piece in any outfit. For those days when it's really too cold to wear a crop top (everyone in my life yells at me for this), I'll be bundled up in this fleece.
3. Cotton Citizen Milan Crew: I'm not a big color person in general, but I'll admit I love this tie-dye sweater. Cotton Citizen has the best cozy clothes, and I had to grab this sweater along with a few other winter essentials.
---
Valeriya Chupinina
Editorial Fellow
1. Sita NYC Wide Ribbed Sweater: I usually have to choose between sweating bullets and being cold in the winter, but not with this Sita sweater. It's specialty fabric wicks moisture and neutralizes odor, thus reducing the amount of times I have to use the washer for it. This brand is also super dedicated to sustainability through and through. It's an absolute staple piece in my closet.
2. Khaite Collette Whipstitched Ribbed Cashmere Sweater: This oversized look is so perfect for the winter. I love being able to freely move around while looking extremely chic.
3. Isabel Marant Étoile Kerlo Intarsia Cotton-Blend Sweater: The graphic on this sweater makes me feel that even though it may be way, way in the future, spring is coming. There are so many ways to wear it. Tucked in, with a comfy pair of jeans, or dressed up with a leather skirt.
---
Annie O'Conor
Audience Development Manager
1. Alberta Ferretti 'It's a Wonderful World' Pullover: With a focus on the environment, Aberta Ferretti manufactures this beauty with low-impact chemicals, and this sweater is part of an eco-capsule collection that is both adorable and sustainable.
2. Acne Studios Crewneck Sweater: Acne Studios' navy sweater is made of pure wool (so it's lightweight) and features the brand's classic face-embroidered patch in a light pink. If navy isn't for you, fear not, there are plenty of colors for your choosing from the Swedish powerhouse.
3. Lanvin Pattern Wool Jumper: Did I come across this sweater because of Harry Styles? Maybe so, but I feel in love with it for its François-Xavier Lalanne inspiration. A British pop star and a French artist both are valid reasons to love this wool blend jumper in navy. It's definitely on my wish list—right below that British pop star.
---
Hannah Baxter
Senior Beauty Editor
1. Ambush Intarsia Knit Jumper: A chunky patterned sweater always manages to pull me out of the cold-weather dressing slump. These colors give me relaxation-by-the-pool-in-the-desert vibes, aka exactly where I want to be until spring. I'd pair it with some slouchy jeans and sneakers for a cool and easy winter outfit.
2. Eckhaus Latta Two-Tone Cut-Out Sweater: It's tough to feel sexy in a sweater, but these discreet shoulder cutouts certainly help. The yummy neutrals are just the right amount of minimalist, and you could still wear this with everything from a leather midi skirt to a wool trouser.
3. Alexandra Golovanoff Catherine Cashmere Sweater: Hello, buttery yellow heaven. I'm recently back on the V-neck sweater train, and this oversized style is just begging to join my wardrobe. Plus, it's cashmere for under $500—that's reason enough to snag this beauty before it sells out.
---
Jessica Teves
Head of Content
Part of the series:
WWWRN