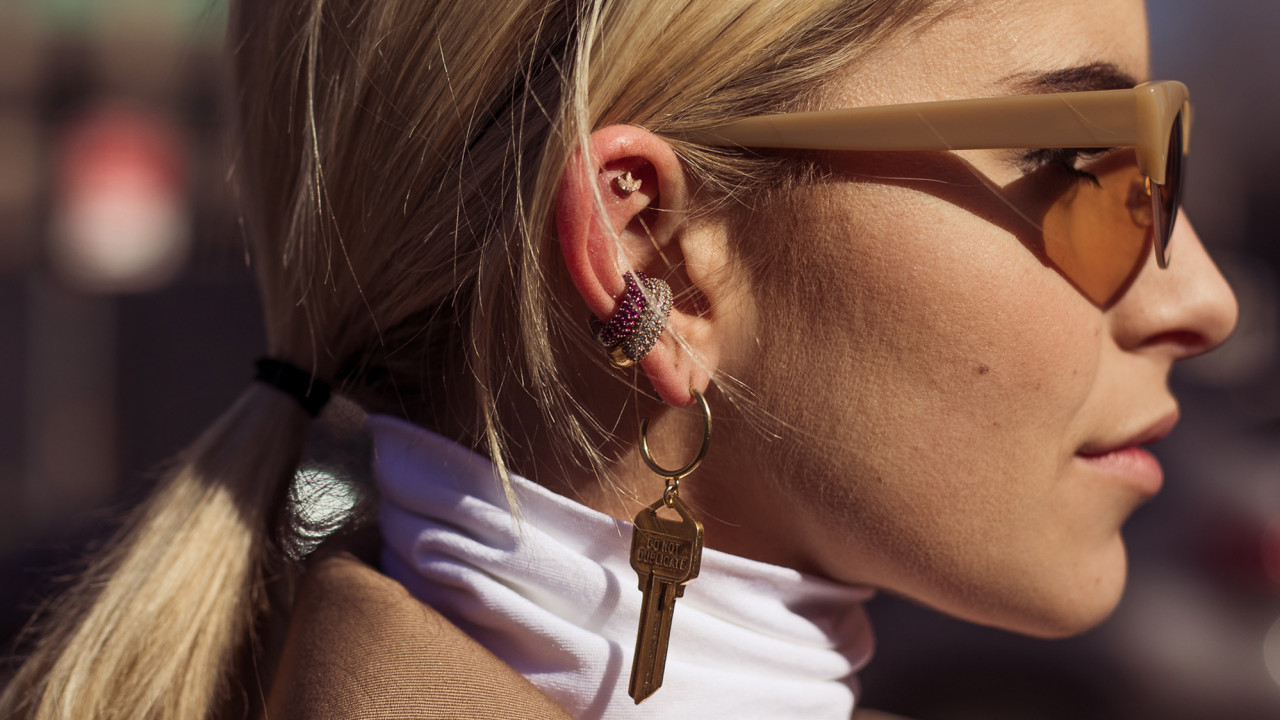 The New Piercing Trends of 2020
And everything else we can't stop talking about this week.
This week on Open Tabs—an assortment of links we have on, well, our open tabs—we're giving you a peek into our own internet habits and the stories and themes we can't seem to stop talking about, like 2020's piercing trends, the newest updates in one of our fav tech apps, an upcoming sneaker collab release, and much, much more.
1. Pay Attention to These 2020 Piercing Trends  (via Cosmopolitan)
This year piercings are all the rage in the beauty world, so if you're in the mood to try something different, take a look at these 2020 trends. New year, new piercing!
2. Jean Paul Gaultier Says Goodbye to the Runway (via The New York Times)
On Wednesday, Jean Paul Gaultier held his last runway show during Couture Fashion Week in Paris. The 67-year-old French designer said farewell to the runway via Instagram last week, stating, "This show celebrating 50 years of Jean Paul Gaultier's career will also be his last. But rest assured, Haute Couture will continue with a new concept."
3. Tinder's Latest Update Might Keep You Safe (via The Cut)
You can never be too safe, especially when online dating (we've all seen Catfish, right?). Well, the OG of dating apps has taken one step further to ensure the safety of its users. Tinder will soon add a "panic button" to the app so users can have their location tracked and notify local police if they suspect an issue. Users will be able to add a badge to their profiles to let other users know that they have the panic button enabled on their app.
4. A Close Look at CLOT x Nike's Rose Gold Silk Collab (via Hypebae)
Sneaker lovers rejoice: The official look of the third and final CLOT x Nike Silk Air Forces are here! Coming in a beautiful pink/rose gold silk upper with a nude leather Swoosh and gum soles, this sneaker is definitely one you'll want to get your hands on. Along with the coveted Air Forces, the two brands also released a limited-edition nylon tracksuit in rose gold to match.
5. Impeachment Trial: All the Updates You Need to Know (via CNN)
It's safe to say that Donald Trump's presidency will definitely leave a mark on American history. Being the third president to get impeached, Democrats in the House of Representatives are working extremely hard to make their case to the Senate for President Trump's removal. Yesterday, Democrats pleaded their case for removal on the grounds of abuse of power, one of two of the articles of impeachment. You can keep up with the trial in real time here.
Want more stories like this?
What Kind of Introvert Are You?
17 Chic Trench Coats You Need This Season
Meet the Designer Behind the Upcycled Streetwear We Can't Get Enough Of