Travel
The Solo Travel Guide to Auckland
Traveling alone means getting to do every. single. thing. you want!
New Zealand is a world all its own. The animals are a little different (most of the birds can't fly), the people are especially laid-back (going barefoot, even on city streets, isn't unheard of), and it's about as far away from North America as you can get. It's also filled with unique style, creative food from a mishmash of cultures, and friendly, driven entrepreneurs who are more than happy to introduce newbies to a brand-new world. If you're traveling solo, try Auckland, NZ,'s largest city, as a safe, easily accessible intro to the country, and spread your wings from there.

It's a long-haul flight to get to New Zealand, so you'll want to travel in comfort. Air New Zealand offers direct service to Auckland from Houston, Los Angeles, San Francisco, Honolulu, and Vancouver with the friendliest airline staff you'll ever meet (wearing the cutest purple-and-blue outfits, btw). Enjoy yummy Kiwi-inspired food and NZ wines in all cabins, but upgrade to Premium Economy (or Business Premier if you're a baller) for more legroom and 50 percent more recline. 


---
Stay
---
---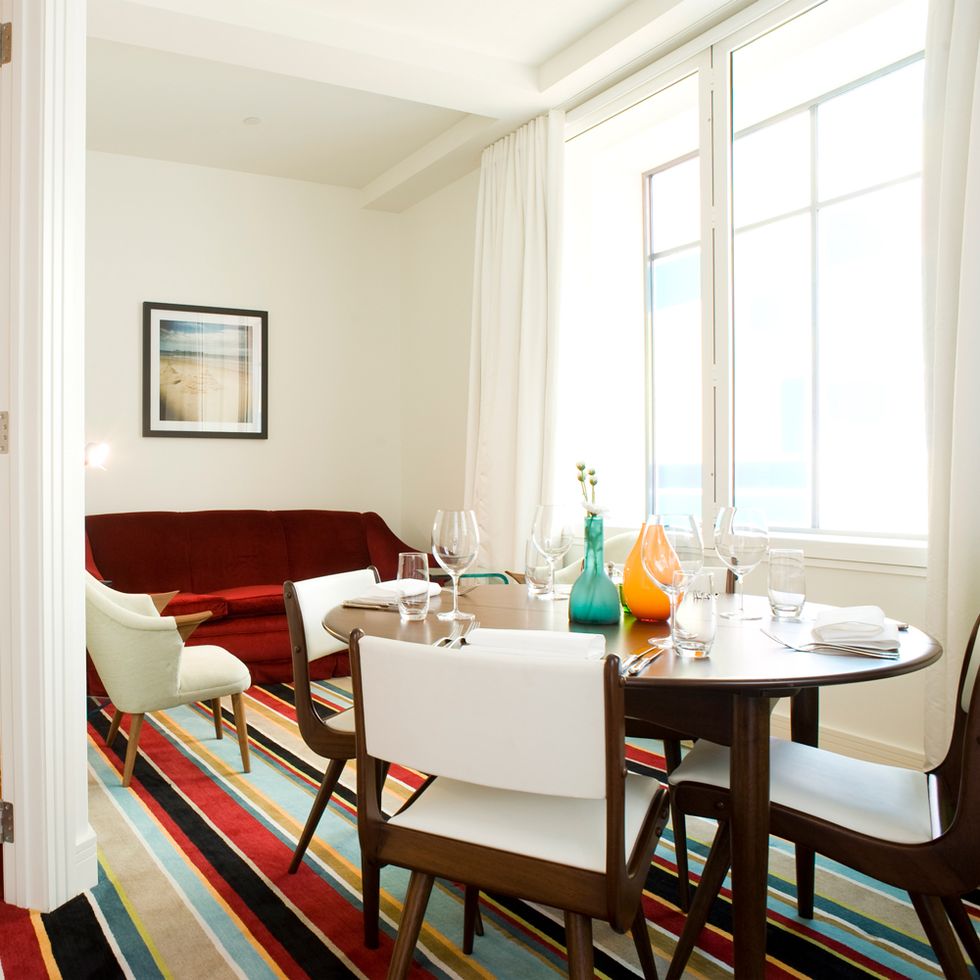 Photo: Courtesy of Hotel DeBrett
Looking for stylish digs? Hotel DeBrett is located in the heart of downtown—a few minutes' walk from the harbor, Britomart shopping district, and Auckland Art Gallery—and is a design lover's dream. Case in point? The striped bespoke carpet made from handwoven New Zealand wool. Nosh on breakfast each morning in the colorful DeBretts Kitchen (try the green eggs and ham omelette), visit Housebar for an après-shop cocktail, and purchase Caroline Mitchell's
beaded purses
in the lobby.
---
Eat
---
Photo: Andrea Karr
Right in the heart of Britomart, a neighborhood of heritage buildings, designer shops, and vibrant nightlife, Ortolana is a tiny bistro with an outdoor patio that uses local ingredients to create European-inspired cuisine. Stop in for lunch and order pear/ginger/cinnamon soda, beetroot gnocchi, house ricotta, or any other number of delicious, carefully crafted bites.
A surprising delight of a restaurant located a short walk from Hotel DeBrett, recently opened The Kimchi Project serves up artful Korean dishes with a modern twist. Try the kimchi waffle fries, the deep-fried chicken and prawn dumplings, and the soy-glazed yakidori. Be sure to save room for dessert: matcha tiramisu or red bean panna cotta.
Margarita lovers must make a pit stop at Mexico, home of a whole menu dedicated to margaritas, plus munchies inspired by Mexican street food. Order the mango-and-passion-fruit marg for a sweet treat, or try feijoa and vanilla if you've fallen for the local kiwi-like fruit. Round out your night with a selection of soft-shell tacos.
A gourmet ice cream shop with out-of-the-box flavors, toppings, and designs, Giapo excites and inspires with its bizarre, flavorful creations. Make a stop in the afternoon when you're hungry from walking and sightseeing because the sweet treats are too much on a full stomach. Vegan options are also available, and they're just as delicious as the real thing.
---
Shop
---
Photo: Andrea Karr
For feminine lingerie, clothing, and swimwear with a boho feel, turn to NZ-based brand Lonely. The bralettes and underwear are particularly exquisite in rich shades of mustard, navy, and olive.
The Poi Room is the perfect spot for purchasing gifts for loved ones or art pieces to adorn your home. All of the items—from ceramics and sculptures to wall prints and jewelry—are made by New Zealand creatives and are carefully curated for a youthful, contemporary feel. Located on MacKelvie Street just off Ponsonby Road, the shop is filled with treasures.
With its selection of supple bags and accessories crafted from locally sourced leathers, Deadly Ponies is a must-visit shop in Auckland. Self-taught founder and designer Liam Bowden envisions each item and recently launched a line of moto jackets that flew off the racks.
Other hot NZ shops include Kate Sylvester, World, and The Shelter in shopping districts like High Street, Ponsonby Road, Parnell Village, and Britomart. If you prefer a personalized shopping tour to get your feet wet, book an afternoon with Fione from
Tour to Shop
. She'll drive you around the city and recommend the best local offerings based on your interests.
---
Do
---
Photo: Courtesy of Auckland Sky Tower
Take the 192-meter plunge off the Sky Tower in downtown Auckland, and see the city from a vantage like no other. It's a base jump, which means you're connected to a wire that controls your fall—reaching a maximum speed of 53 miles per hour—and you'll land on your feet on a square pad that looks impossibly tiny when viewed from the air. The leap is the scariest part, but after that it's a speedy but breathtaking float down to earth.
Unlike the average dinner cruise, Explore Group's 2.5-hour tour of Waitemata Harbour takes place on a small sailboat for a more intimate experience. It's the perfect way to snap pictures of the city skyline, get some sea breeze in your hair, and enjoy a three-course meal in the cabin or out on the deck.
Located a 45-minute drive from downtown Auckland, Brick Bay Wines & Sculpture Trail is a picturesque oasis nestled among trees, ponds, and lush vegetation. Stay for lunch at the restaurant, sample the house wines, and stroll through the sculpture trail, which has dozens of unique artworks and soundscapes situated around the property. If you're not comfortable renting a car and driving on the left side of the road (especially if you'll be tasting wine!), book a day with
Matakana Tours
 to be escorted to various wineries, art galleries, and gardens in the Matakana region.
Top Photo: Courtesy of Explore Group
Want more stories like this?
What to Do in 24 Hours in Mumbai
Your Guide to Vacationing on the Private Island of Mustique
The Most Incredible Palaces in the World Where You Can Stay