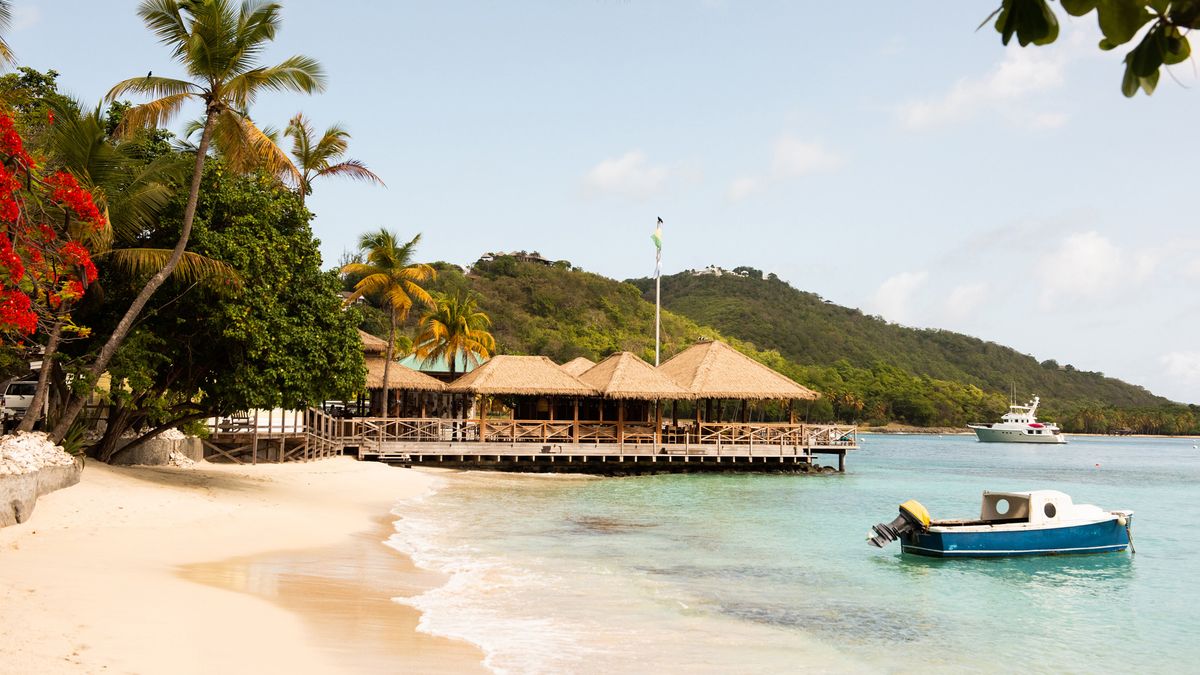 Travel
It doesn't get much more luxurious than this.
A common question that's asked when the island of
Mustique
comes up is: "Where the hell is that?" and to be honest, we wondered the same thing the first time we ever heard the name. Well, it's a private island in Saint Vincent and the Grenadines with 590 km² of lush forests, winding dirt roads, and white sand beaches. You'll only find one small airport on the island, two hotels, a tennis court, a golf course, and a teeny-tiny "downtown" complete with a general-slash-liquor store, a bar, and two or three other small shops. Other than that, there are roughly 100 villas, most of which have a beachfront,
almost all of them
sprawling, with a good handful of them belonging to celebrities such as Mick Jagger, the Duke and Duchess of Cambridge, and
Tommy Hilfiger
. Casual.
While you have to fly in to either Barbados or St. Lucia (unless you have a PJ) and then hop on a propeller plane to get to the private island, it's more than worth it. We promise. Between horseback riding, snorkeling, tennis, sailing, and more, there is no shortage of activities. And while we could continue on about the adorable turtles you'll see sprinting into the water everywhere, or how the weather is pretty much always perfect, we'll just tell you everything we think you should do while on the island—all you'll have left to do is book the flight. Easy, no?
---
STAY: THE COTTON HOUSE
One of two hotels on the island, the 5-star
Cotton House
is a charming property on the northern tip of the island. It's one of those you-never-need-to-leave hotels. Looking for a beach to lie out on? They have one. Feeling adventurous and want to jump on a jet ski? They have those. Craving fresh lobster? Verdana restaurant's got you. We could go on, but we'd be here for days. When it comes to sleeping arrangements, they're just as good (if not better). You have your choice between 17 villas, suites, and cottages. Naturally, the cottages come with their own private veranda and plunge pool. So what are you waiting for? Grab your favorite
summer read
and get out there.
OR AT A PRIVATE VILLA
We get it: Sometimes you don't want to bump shoulders with a stranger (even if they are a celeb) while you're trying to relax and forget about the real world. If that's the case, we suggest calling up
The Mustique Company
(they manage the entire island) and reserving one of the many beautiful villas on Mustique. We suggest the multi-level, six-bedroom villa
Obsidian
, as it's the ultimate getaway. All bedrooms have their own ensuite bathroom, there's a 60 ft. pool, TV room, multiple living rooms, and an incredible six-person staff who will take care of
everything
for you. Oh, and the villa has their own Kawasaki mules so that you can drive yourself around the island with ease.
EXPLORE THE SHOPS
We'll loosely call the area of the island where the shops are located as "downtown." And allow us to say this: Things don't get much cuter than downtown Mustique. On one end are conjoined houses, one pink and one purple, and this is the Sweetie Pie Bakery and coffee shop. Next to pastries and coffee, they sell linen dresses and pants and an assortment of knickknacks.

In this same area, past the local fishermen and at times a small market, you'll find the Mustique Great General Store, aka the part–souvenir shop, part–liquor store situation (please don't leave without a local hot sauce in hand). It's also where the local bar, Basil's, is, but we'll get to that in a second.
GET ACTIVE
Tennis seems to be the activity of choice on Mustique (although water sports and golfing are quick to follow), and the six tennis courts on the island are top-notch. While they're free to use, we highly recommend
booking yourself
in with the resident island tennis coach. He'll improve your game if you're already a regular, or teach you the basics if you're still learning the ropes. Either way, we think it's the best way to work up a sweat on the island (other than lying in the sun with a spritz in hand, of course).
LISTEN TO LIVE MUSIC